A car with that special feeling, in its engineering, assembly, the way it feels and sounds, and even the way it looks.
The hot hatchback assault on us continues. It's hard to disagree with the overall package: five-door space and practicality, turbocharged engines, manual transmissions, all-wheel drive, and genuine everyday usability. The Volkswagen Golf R (reviewed here) has carved out its own space on the market for its focus on luxury and fun, while the Ford Focus RS brings mind-bending track credentials to the mass market. The Focus RS possesses hardware that allows it to do magical things on the track, to a level I haven't felt before. It wasn't without its flaws, but I was able to overlook most of them, thanks to its go-fast capabilities.
Notably absent these days is Honda – until now. The current-generation Civic (reviewed here) has won awards for its smart engineering, practical design, and availability in three unique body styles. The Civic has always been a favourite for sporting drivers interested in frugal fun, but those in the know, will know about the Type R. In the past, the any Honda bestowed with the Type R badge meant business: hand-balanced engines that revved to the moon, light weight, and supreme inputs that represented the best in dynamic purity. In short, anything badged with the Type R branding was to be taken seriously – these little Hondas were known for taking down much more powerful machines, on the racetrack. We were sent over a 2017 Honda Civic Type R (#26 on the Type-R placard just behind the shifter) painted in a shade of Crystal Black Pearl for an exciting evaluation. This car has a lot of hype to live up to, but does it live up to that hype?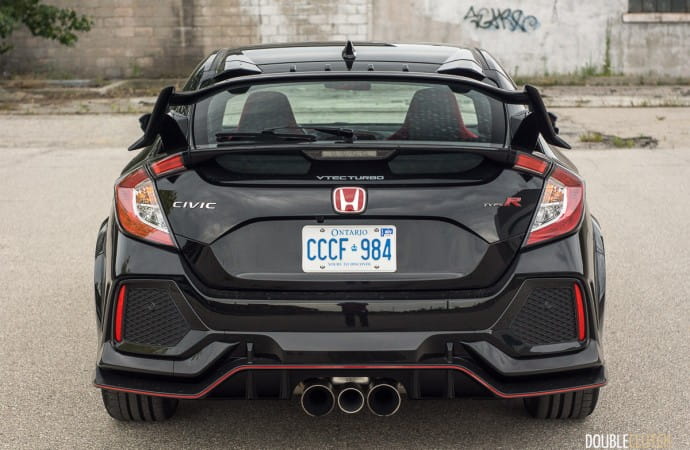 The Civic has its fair share of detractors, due to the way it looks. Even down to the base DX and LX models, there is a lot going on, in general. Simulated air intakes around the fog light surrounds add a sense of design for design's sake on standard Civic models, but the Type R utilizes this space to add brake cooling ducts and aerodynamic tweaks. Looking straight on at the front of the Type R, you'll see the heavily-flared front fenders – they're much wider to accommodate the much wider front track (distance between the left and right wheels) and the 245-section tires located at all four corners. These Continental ContiSportContact 6 tires are wrapped around large 20-inch wheels, with a 30-series (!) sidewall. In short, there's a lot of wheel, and not a lot of sidewall.
The Honda Civic Type R comes in a five-door hatchback body format only. The first thing most people will really notice is the large high-profile wing sitting on top of the rear hatch, which is shaped similarly to the wing found on the Subaru WRX STi (reviewed here). To add to that, vortex generators on the trailing edge of the roof are purported to further improve aerodynamics. It's this latter item that will probably go overlooked, but enthusiasts will appreciate these little details, and the fact that they're factory equipped makes it even better. The aluminum hood features a hood scoop, but if you're expecting to see a top-mount air-to-air intercooler, you'll be disappointed. Instead, the Type R features a more efficient front-mount intercooler – the hood scoop provides general engine bay cooling and another channel for air to flow through the car, rather than around it. The front lower splitter, side skirts, and rear lower diffuser all contribute to the pro-tuner theme, as well.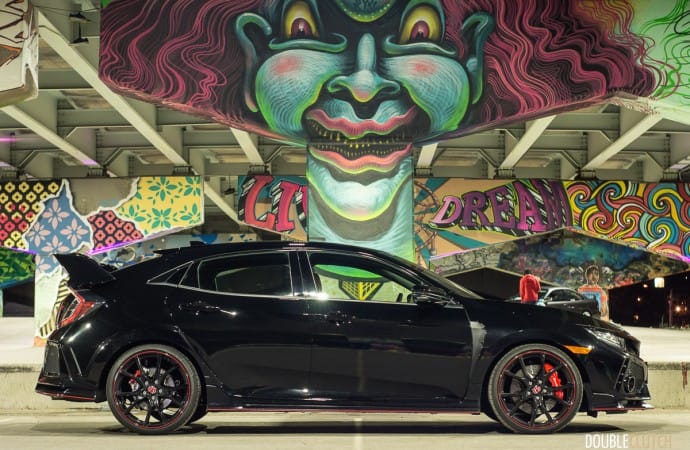 The Civic Type R seems to be full of design-focused styling decisions, and the triple exhaust setup contributes to that ongoing discussion. The exhaust (with two different diameters, because why not?) seems like it is one step too far. Honda's engineers insist that it is a functional design, with the smaller centre portion consisting of a passive two-mode resonator that helps cut down the annoying drone at high cruising speeds. It's also worth noting that the Civic Type R doesn't feature any artificial sounds played through the speakers, and there aren't any complicated electronic valves that open and close – this is a good-sounding turbocharged four-cylinder engine.
While there seems to be so much going on externally, the Civic Type R is a little more buttoned down, inside. The branded bright red seats are the real deal – fantastic at holding you in place, while not inflicting too much pain, assuming you can properly fit into them. One trade-off is that you lose seat heating functionality, but all things considered, the Civic Type R is a surprisingly well-appointed vehicle. Since these cars are essentially built off the Civic Touring feature set, you get goodies such as Qi wireless phone charging, automatic climate control, full Android Auto and Apple CarPlay integration, and a fully-digital instrument cluster, among other things. The parking brake is also of the electronic variety.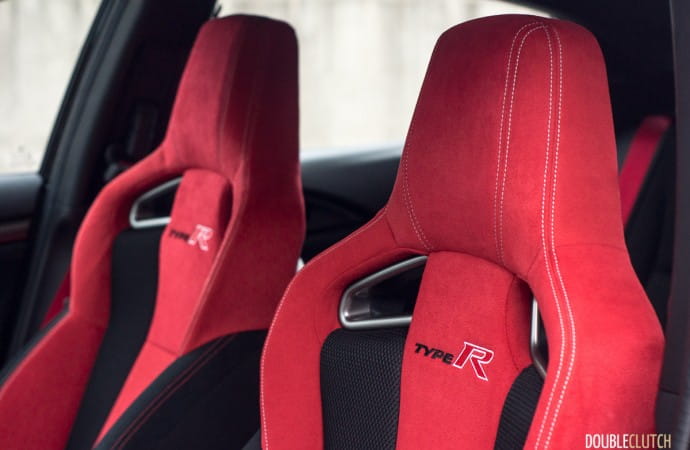 There are many things that make the Civic Type R special, and the powertrain is a large part of it. Most people know about the new turbocharged engine, and many fondly remember the days of small-displacement four-cylinder engines topping out at over 8,000RPM. Honda's VTEC (Variable Valve Timing and Lift, Electronic Control) implementation allows for an addicting rush of horsepower as the tachometer needle shoots toward redline, making it a technology that has come to define the brand since the early 90s. Detractors liked to point out the lack of torque, especially when compared to the lofty horsepower numbers, but understanding a twin-cam VTEC Honda is only possible from the driver's seat, rather than forums on the Internet.
Nowadays, the Honda Civic Type R still employs VTEC, but this engine (codenamed K20C1) also throws in direct injection, as well as a ton of forced induction from a single-scroll turbo delivering up to 23psi. Power is rated at 306 horsepower at 6,500RPM, and 295 lb-ft. of torque from 2,500-4,500RPM. It's this last figure that is uncharacteristic of the old-school Type R engines we've come to love in the past, but usable torque is also nice to have. Some turbo lag is present, but not a show-stopper. Power is sent only to the front wheels through a six-speed manual transmission, and mechanical helical limited-slip differential. Many will dismiss the Civic Type R simply because it is front-wheel drive, rather than all-wheel drive, but there's a lot more to the story than what one can glean from spec sheets.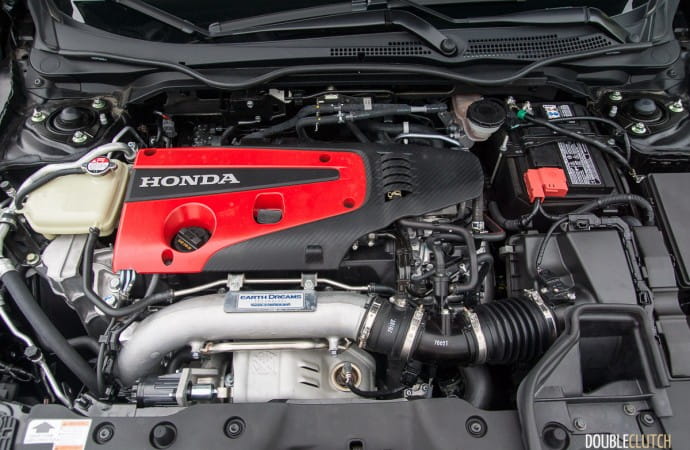 Generally, when you combine high horsepower and torque figures with front-wheel drive, you end up with an unwieldy mess of torque steer and a general lack of traction. We've all been spoiled by the convenience of all-wheel drive – cars like the Ford Focus RS (reviewed here) demonstrates that the added complexity and weight can be of great benefit to the performance driver. Volkswagen is enjoying success in this segment, with the all-wheel drive Golf R. What Honda does with the Civic Type R is nothing short of magical. The limited-slip differential, equal-length drive shafts, and the upgraded suspension geometry work astonishingly well – even if you get into boost with the steering wheel turned, the nose of the car simply stays pointed in the direction you want it to go. You'll feel a bit of a tug in the steering wheel as you reach full power, but that's really it. Even if you want to induce torque steer and imperfect traction, the Civic Type R just manages to put its power down to the road in a way I haven't seen in a long time.
Traction is one thing, but overall road-holding and feel are also hallmarks of the Type R marque. Firmer springs (twice as stiff as the standard Civic LX Hatchback), bushings, and R-specific control arms contribute by offering more aggressive wheel camber and caster. The Type R features adjustable dampers that actually provide a tangible difference between the three modes: Comfort, Sport and +R. The Civic Type R shows that Honda's engineers still "get it", when it comes to chassis tuning and set up. The wheel and body control in this car is some of the best I've seen in a long time, but the ride quality is genuinely surprising. Even in the hardest +R mode, the ride is soft enough to soak up large bumps, without sending all that spring travel straight to your spine. This suspension setup is one I can totally live with every day, even in what should be the most aggressive settings. To haul all that speed down to a stop, the front brakes are aluminum four-piston Brembo units, with drilled front rotors. The Type R even helps you with downshift rev-matching – those who would prefer to do it themselves can just turn this function off in the menus. It's a feature that works pretty well, most of the time.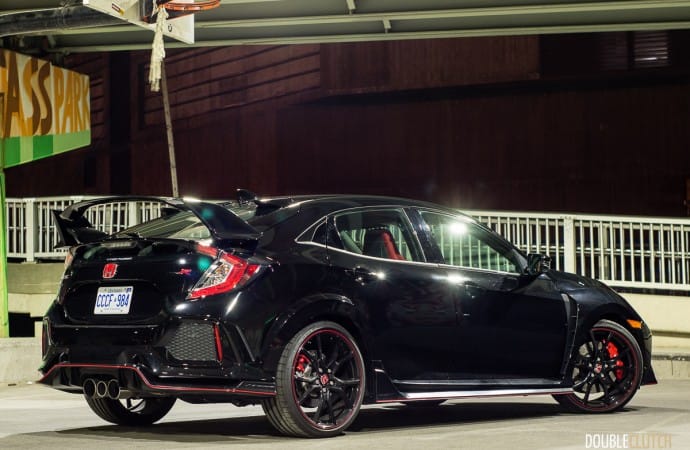 Even with all that turbo boost and horsepower, the Civic Type R even manages to be fairly frugal. Honda Canada rates it at 10.6L/100km in the city, 8.3L/100km on the highway, and 9.6L/100km in a combined cycle. During my week of mixed driving (with copious amounts of turbo boost), I ended up with an indicated average of 9.8L/100km – impressive considering its sheer capabilities. It should go without saying, but you can expect the numbers to quickly worsen, once you hit the track. The Civic Type R asks for premium 91-octane fuel, though the tank will only hold about 47L of it.
Pricing for the Honda Civic Type R is simple: $40,890. There are no factory options – just about the only choice you'll have to make is whether you want it in black or white. Championship White (a very slightly creamy off-white) has been a long-time colour associated with Honda's performance vehicles, and it would be my choice. On the other hand, Crystal Black Pearl does a good job hiding a lot of the black plastic trim pieces and playing down the overall contrast.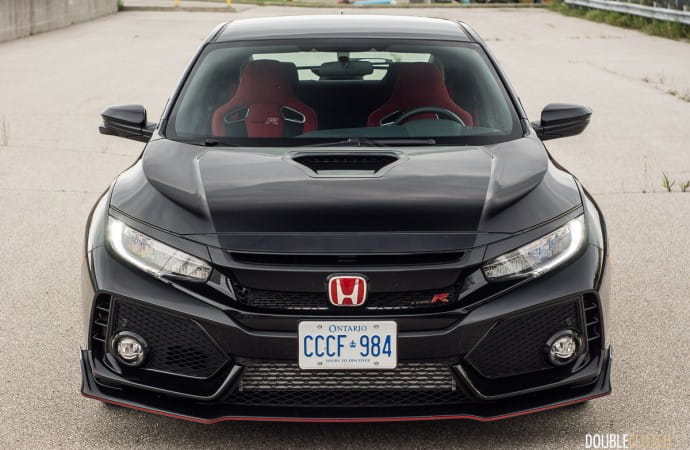 Paying over $40,000 for a Civic may seem like blasphemy to some, but after spending a good amount of time behind the wheel of the Type R, it becomes easy for me to confidently say that it is worth every single penny. The price point is a crowded one: the VW Golf R provides a more low-key and buttoned-down experience with all-wheel drive traction, and Subaru's WRX STi, though not a hot hatchback, provides a raw, turbocharged, all-wheel drive performance, with proven pedigree, but an outdated powertrain. The Ford Focus RS was one of the hottest rides last summer, but it costs over $48,000 to get into one. Capable as it is, I'm not so sure it is worth the price premium, now that the new kid is on the block.
Right away, the Honda Civic Type R makes the Subaru WRX STi look almost bad, with its astonishing traction and amazing suspension tuning. It's easier, and more comfortable to go fast in the Type R than the STi. Compared to the Ford Focus RS, the Type R shows its superior chassis and suspension tuning once again, with the Focus RS being unreasonably stiff, even in "soft" suspension settings. The VW Golf R is a favourite amongst the DoubleClutch.ca office, but it doesn't quite feel as special as the Type R.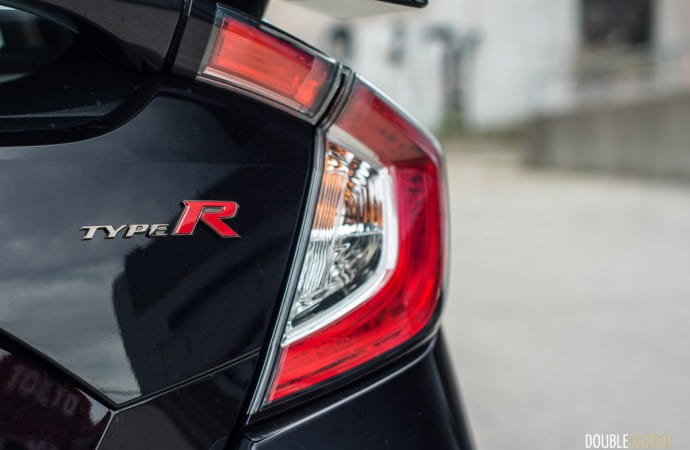 The 2017 Honda Civic Type R has that special feeling, in its engineering, assembly, the way it feels and sounds, and even the way it looks. It's those looks that are certainly outward and extroverted, but if you can deal with the youthful boy-racer looks, the Civic Type R becomes the #1 hot hatchback, in my books. Honda is brave for sticking to the front-wheel drive powertrain, but their engineers have proved once again that they are among the best in the world. As of today, this is my favourite car I've driven all year.
See Also: