The diesel does feel quite peppy out on the road, obviously aided by its massive torque, pulling strong when asked.
The Canyon and its twin, the Colorado, are mid-size trucks that we've been closely watching for the last couple of years. As a bit of a truck enthusiast, these are near and dear to my heart and I've been rooting for their success. It was particularly exciting last year when the Canyon became the first mid-sized truck to offer a diesel engine. Not just any diesel either; it's a torquey and efficient little four-cylinder. It sounds like just the ticket to kick-start the stale mid-sized truck market, and I finally got a chance to spend a week with a 2017 GMC Canyon SLE Diesel 4×4.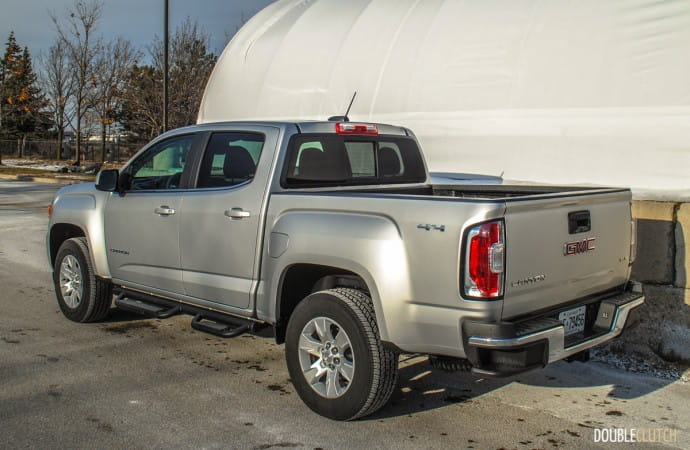 I've rambled at length about my thoughts on the Canyon's size and styling – too big and a little awkward just about sums it up. However, the fascia on the Canyon just works well. It's cleaner looking than the Chevrolet version (reviewed here), well proportioned and the horizontal chrome grill slats work well with the rest of the look. Our tester came finished in Quicksilver Metallic and riding on 17" alloys with meaty all-terrain tires, lending it a fairly understated but muscular look.
At least the silver hides the ridiculous amount of road salt thrown around here in February quite well. The one important little piece of this tester's look that sets it apart from the rest are the two small "Duramax Diesel" emblems that adorn either side of the hood. They look just like the ones you'd find on big heavy-duty diesel pickups, and definitely give the little Canyon a big boost in street-cred.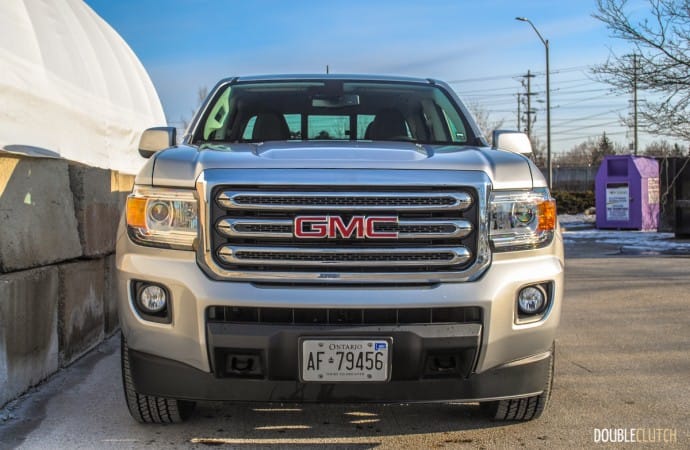 The Crew Cab is not available in the base SL trim, so my tester is an SLE, which is the lowest trim level you can choose if you opt for this configuration. The SLE comes standard with the 8" IntelliLink touchscreen with Apple CarPlay, Android Auto, 4G-LTE hotspot, rear-view camera, projector beam headlamps, a power driver's seat and leather-wrapped steering wheel. SLE 4×4 crew cab trucks like this one are likely to be the volume sellers, and the MSRP of $38,195 at that level sounds palatable.
The problem is that once you start to add a few options, the Canyon really does get expensive fast; this tester came with the Convenience Package (adding a remote starter, auto climate control and a sliding rear window), as well as the Driver Alert package, towing package and some beefy 3" step bars that look tough enough to double as rock rails should you find yourself on some serious off-road trails. On top of those options, it's another $4,390 to upgrade from the standard 3.6L V6 to the muscly 2.8L inline four-cylinder Duramax diesel. This puts the MSRP of my tester at a hefty $45,560, well into full-sized truck territory.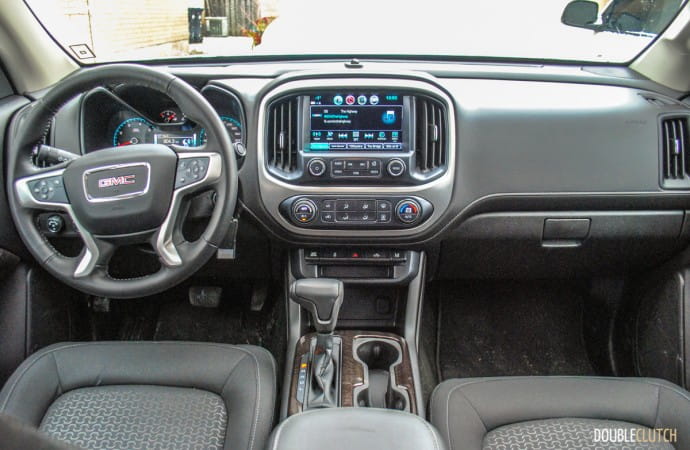 The little diesel is not cheap, but it does pack a worthy punch. With 369 lb-ft. of torque, it really is a little towing machine, rated for up to 7700lb. on its heavy-duty hitch or up to 1615lb. of weight in the bed. Horsepower is typically not a strong point of diesel engines, and this is no exception with only 181 rated horses, although you wouldn't necessarily be able to tell from behind the wheel. By comparison, the standard 3.6L V6 boasts 306 horsepower and 269 lb-ft., respectively.
The diesel does feel quite peppy out on the road, obviously aided by its massive torque, pulling strongly when asked. The six-speed automatic does let the powerhouse down a little bit though. With reluctance to downshift, there can be quiet a delay between stomping the go pedal and actually taking off. The Canyon is a very nice vehicle to drive, and outside of some clatter at idle, that little diesel makes a surprisingly refined powertrain. In fact, once inside the extremely quiet interior of the Canyon it's very difficult to detect that you're actually in a diesel, and better yet, there is almost no road or wind noise in the cab while cruising along at speed.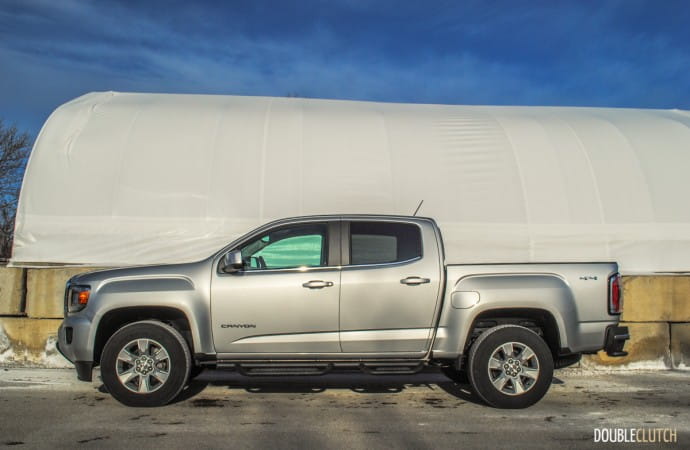 Steering is nice and direct, with sufficient road feel, and the ride is great as well. It packs a solid confident feel, and impressive isolation from even some of the worst potholed and rutted roads around here. The brake pedal is nice and firm with high engagement, although I would have liked the brakes to bite just a bit harder. Maneuverability is definitely a strong point of the Canyon and I had no problem easily getting in and out of underground parking lots, something I never attempt in a full-sized pickup.
It's a good thing that the Canyon is pleasant to drive, as you're going to want to drive it a lot given its efficiency. I ran my regular commute into the city all week in the Canyon and averaged 9.4L/100km. A short day trip on a mostly highway run knocked the average down to 8.9L/100km. Those are pretty impressive numbers for a 4×4 truck, especially with the cold temperatures, and it's awfully nice to fill up with diesel and see the "Estimated Range" readout right around 900km! I don't think there is another pickup on the market today that can boast fuel consumption numbers that low.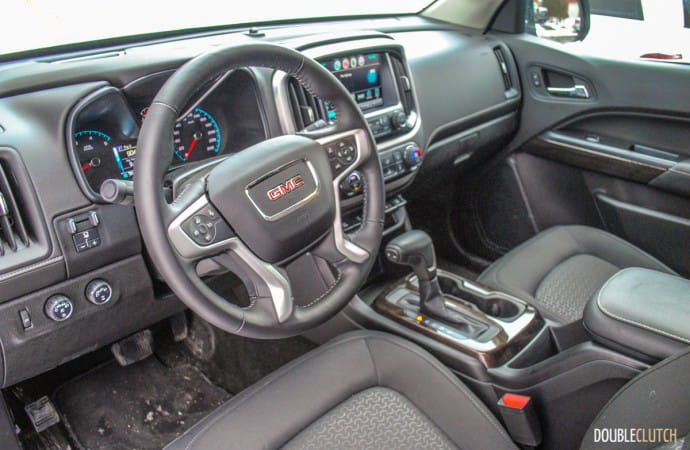 The driving position in the Canyon is significantly more comfortable than its biggest competitor, the Toyota Tacoma (reviewed here), but the cloth seats in my tester are a little bit too firm to be considered comfortable for long drives. There is a lot of well thought out storage within reach from the driver's seat, including large door pockets and a number of trays and bins built into centre console. Storage is especially nice in a truck like this that's going to be used for loads of different jobs, and it's important to have certain items at hand all the time.
The rear seat area is not so well thought out though; legroom is a bit cramped and there are no rear HVAC vents, meaning it takes a long time for the rear to warm up and your passengers will need to get used to having cold feet. The rear seats do flip up to reveal a hidden storage bin, but I would rather them actually reveal a flat cargo floor similar to what Ford has been doing in the F-150 (reviewed here) – that sort of secure cargo space is invaluable.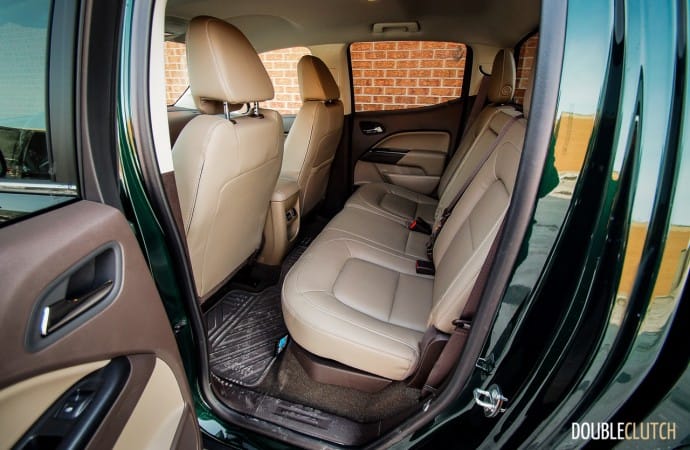 Fit and finish inside is on par with GM's full-sized trucks, with a nice soft-touch dashboard, but some hard plastics can be found on the door panels and other areas. Everything is easy to wipe down, as it should be in a truck, and we found no squeaks or rattles. As expected, the controls are all well placed and easy to understand, including the IntelliLink touchscreen, which is one of the best infotainment systems in the industry in terms of the connectivity it offers.
The pricing is honestly my biggest gripe with the Canyon, as anything over $45,000 feels awfully steep for a truck that doesn't have heated seats, leather or any other upscale features you might want. For laughs, I priced out a similarly equipped RAM 1500 (reviewed here) with the EcoDiesel engine and found it attainable for a little bit less. This is hard for me to ignore, and unless you really have a size constraint, it's difficult justifying the additional costs for the Canyon. It's a shame really, because I really do enjoy driving the Canyon, and it's more than enough truck for what the average pickup buyer needs.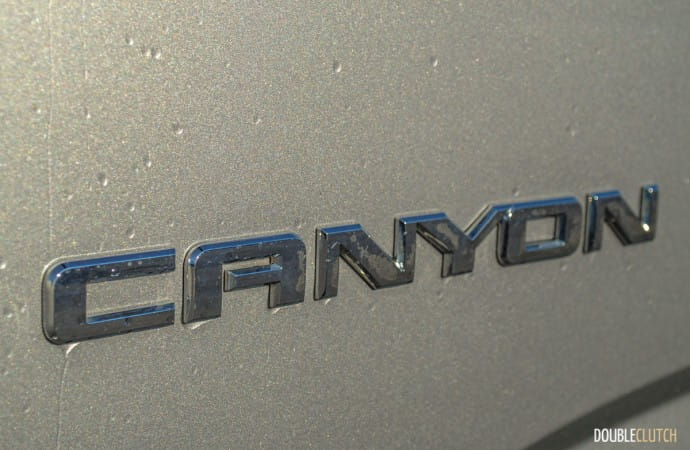 The 2017 GMC Canyon SLE Diesel 4×4 is one very versatile truck. Our time with it put it through a full week of urban commuting, a day trip out of town, and tasked it with hauling home a "new" antique dining room. Even with a full-size truck available, the Canyon did the heavy lifting as its lower bed height made it easier to lift in the heaviest items, and the step cutouts in the bumper proved very helpful. Through it all, the Canyon never felt out of place and got the job done efficiently.
2017 GMC Canyon SLE Diesel 4×4 Gallery