Power, performance, and all-wheel drive, while still maintaining a competitive feature set.
When your plain family sedan isn't quite enough for your rambunctious driving style, you might go looking for speedier options. Although the Ford Fusion is a household name since its introduction in 2006, it may not necessarily be one associated with sporty and spirited driving. This year, Ford has brought back a trim level last seen in 2012: the Sport. Previously, Ford simply lifted the bigger 3.5L V6 engine from the Edge (reviewed here) and Taurus full-size sedan, and threw it into their midsize offering. Today, the formula remains somewhat similar, with the Sport's 2.7-litre twin-turbo EcoBoost V6 being borrowed from the top line Edge. Finished in a classy Ruby Red paint colour, I just got behind the wheel of a 2017 Ford Fusion Sport to see if Ford put their money where their mouth was when they gave it this moniker.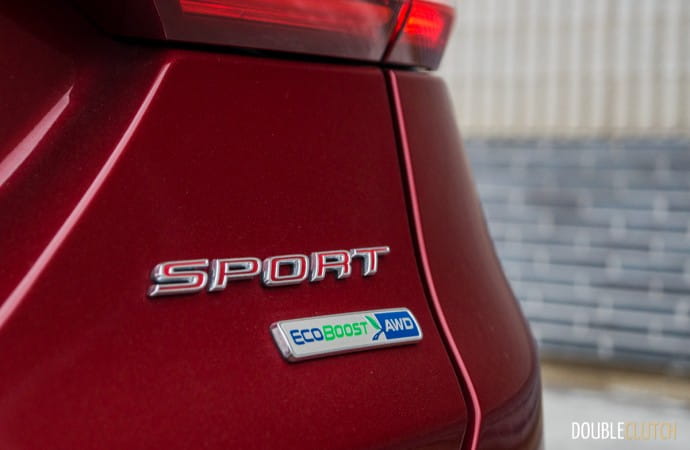 As the flagship in the gasoline side of the Fusion lineup, the Sport comes standard with a glut of extra bells and whistles that are not available or optional on lesser trims. On the outside, LED headlights and taillights are included, as is a power moonroof, quad-tip dual exhaust, and a rear spoiler. Over the past few years, Ford's strong suit has been wheel design, and the Sport gets a set of handsome 19-inch dark painted wheels that contrast just about any body paint colour well.
The interior gets an awkward-at-first rotary gear shift dial, automatic climate control, aluminum sport pedals, and leather seats with suede inserts. The front seats are ventilated, and Ford's excellent SYNC 3 multimedia and navigation system is also included. A full suite of modern safety features are also standard, including a blind spot information system, lane keeping assist, park assist, and forward collision warning with automatic braking. There aren't really any options or packages besides premium paint colours, and the loaded Fusion Sport sets you back to the tune of $42,288 before incentives and fees, with the Ruby Red adding another $450.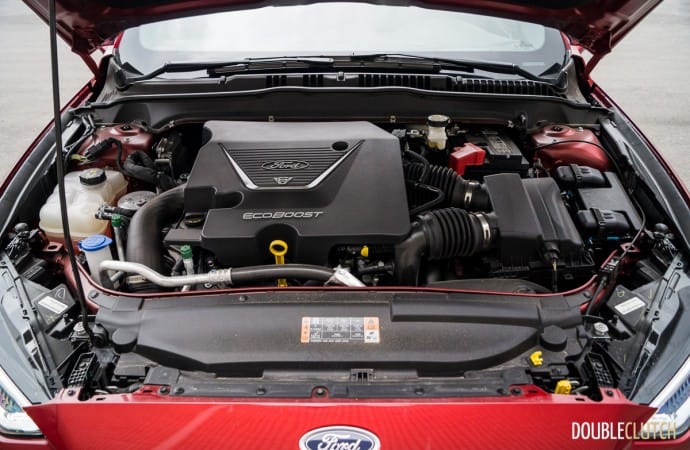 With the main feature of the Fusion Sport being the twin-turbo EcoBoost V6, it would be imperative that it delivers when it comes to having enough get-up-and-go. While displacing only 2.7-litres, peak power output is a potent 325 horsepower at 5,500 rpm, and the torque rating is even more impressive, with 380 lb-ft at a non-stratospheric 3,500 rpm. As previously mentioned, this V6 is also the same as what you'd find in an Edge Sport, but it also sees duty as one of the base engines in the half-ton Ford F-150 pickup (reviewed here).
Where the truck has gone to all aluminum on the body (an industry first), the 2.7-litre V6 goes the opposite way, with compacted graphite iron (CGI) being used for the engine block. Unlike the traditional cast iron boat anchors of yore, CGI is a new casting technique that offers significantly more durability than an aluminum block, with minimal weight penalty. This means that the little EcoBoost, as compared to the all-aluminum 3.5-litre seen in the Flex, Explorer, and F-150, should be very well equipped to handle the rigours of a turbocharger.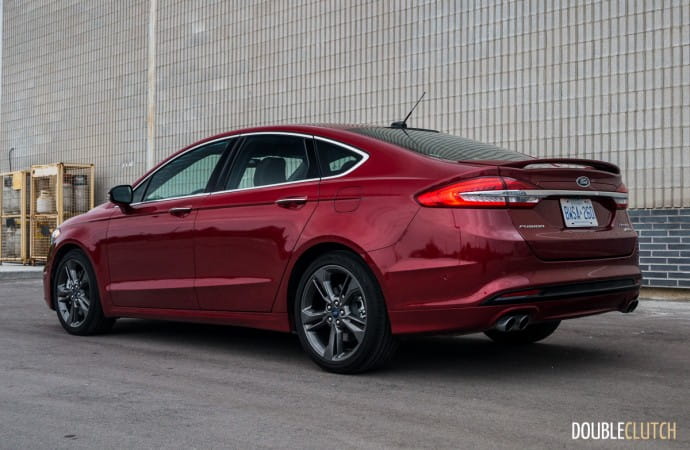 In practice, this means that the Fusion Sport's engine is indeed the sweetest part of the deal. With more displacement and cylinders than, say, the 2.0-litre inline four cylinder in the base trims, turbo lag is kept to a minimum, thanks to more power availability when outside boost. Sweeping through the rev range happens in an absolute hurry, and the 380 lb-ft of torque makes itself immediately apparent when it pins the driver and passengers into their seats. A giggle or two may be induced during spirited acceleration runs, and just about everyone else on the road will be surprised to see the Fusion Sport's taillights disappearing in front of them at an alarming rate. Off idle, the V6 lets out a throaty growl that seems to be missing from many of today's modern engines. It also still manages to stay smooth at all times, and never sounds strained or uncouth.
Paired with the V6 is a six-speed automatic transmission. Sadly, the gearbox doesn't quite live up to the engine's wild characteristics. This is likely due to the transverse configuration normally suited to front-wheel drive vehicles. In these cases, the transmission suffers from packaging constraints, and these types of setups are often less able to withstand the heat and workload of a high output engine. To combat this, beefier transmission internals combined with recalibrated software tuning are implemented to make sure the powertrain doesn't twist itself to bits. The side effect is that the transmission often seems to need an extra moment to think and reduce engine power before allowing upshifts and downshifts to happen. In reality, this process takes only fractions of a second, but it's still perceivable.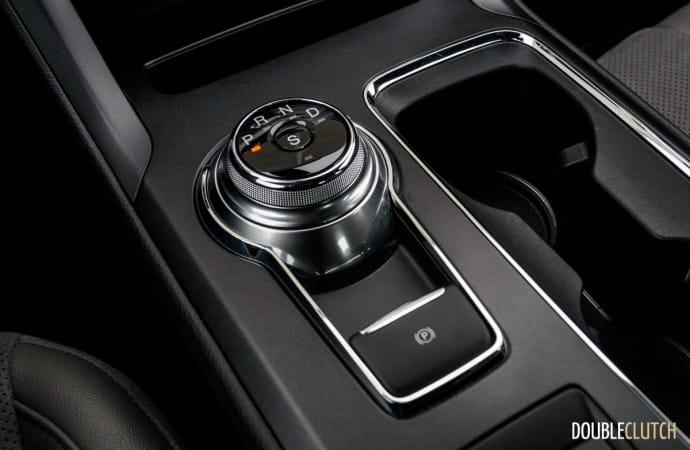 Ford's Fusion Sport is also equipped with their Intelligent All-Wheel Drive system as standard equipment. This is beneficial considering that 325 horsepower and 380 lb-ft being sent to the front wheels would be a recipe for constant losses of traction and copious amounts of torque steer (the tugging of the steering wheel left and right under heavy throttle). The system can vary power output automatically between the front and rear wheels, diverting to the half with the most grip. There's no side to side diversion like the torque vectoring setup in the Focus RS, but for a midsize sedan, the system works well enough nonetheless.
In the past, big power usually meant poor fuel economy. The Fusion Sport, while not nearly as frugal as the 1.5-litre or 2.0-litre EcoBoost fours in base models, is rated for a respectable 13.5 L/100km in the city, and 9.0 L/100km on the highway. In mixed driving, observed fuel economy after a week on test was 11.5 L/100km in mixed driving. Fortunately, premium fuel is recommended and not required. It should be noted, however, that the nominal power output for many of the higher performing Ford EcoBoost engines is based on premium 93 octane fuel. If you choose to run 87 octane, the engine will still operate safely, but it may not return the optimal power output and/or fuel economy.
On the road, aside from the ample amount of power, the Fusion Sport also manages to be quite competent in the handling department. 19-inch wheels wrapped in 235/40R19 all-season tires allowed for predictable and responsive handling, with better than expected turn-in characteristics for a midsize family sedan. Ride quality also remains compliant enough for everyday use. Ford has employed a pothole detection system on the Fusion Sport, which can adjust the shock absorbers within milliseconds to literally catch the wheel before it falls too deeply into a pothole. This reduces the harsh impact that happens on the way out of the pothole, improving ride comfort and likely prolonging wheel and suspension component life.
Recently, a media test event allowed for some race track driving with the Fusion Sport. When pushed to its limits, progressive understeer made for predictable and easy handling at speed, and the all-wheel drive was a welcome feature when it came to slingshotting out of corners. Torque steer was minimal, and the noticeably large front brakes didn't instantly overheat and fade into oblivion. With paddle shifters mounted on the steering column, manual control of the gears was possible, although it wasn't particularly necessary. The Fusion continued to automatically downshift under hard throttle and upshift at redline, even in full manual mode.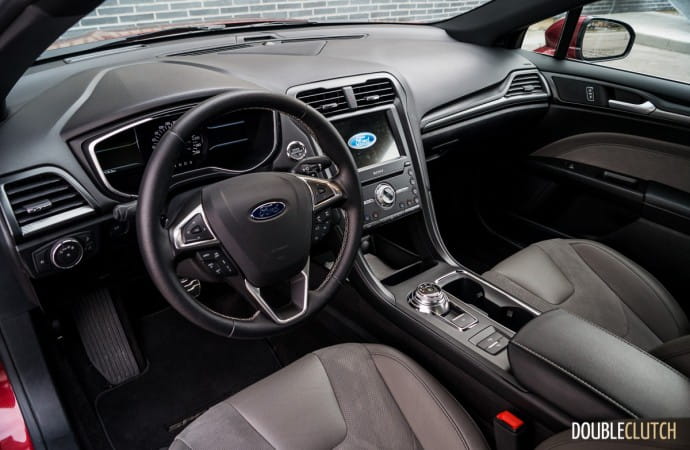 While it won't hold a candle to stablemates like the Focus RS (reviewed here) out on the racetrack, several members on our team  were pleasantly surprised at the Fusion's capability. It won't take home the checkered flag, but drivers will have a good amount of fun in just about any condition on the street. Relative to its Honda Accord Touring V6 and Toyota Camry XSE V6 competition, it offers considerably more power, performance, and all-wheel drive, while still maintaining a competitive feature set. Although the retail price is a few thousand more than the Honda or Toyota, taking the typically generous Ford incentives into account means that the 2017 Ford Fusion Sport should still be on your shopping list if you're looking for a refined, well-equipped all-wheel drive midsize sedan that also happens to boogie like a bat out of hell.
2017 Ford Fusion Sport Gallery
See Also: