This is a great example of just how livable and capable a heavy-duty truck can be.
The bitter cold of January in Ontario is firmly in place, so there's really no better time to start thinking about big diesel trucks. A few weeks ago, we tested a new Ram 3500 Laramie (reviewed here). It's truly the ultimate tow rig, but out of place during my rush hour commutes. Truthfully, the only people who buy something that capable are those who absolutely need to. Here's something a little more civilized from the heavy-duty pickup category. I grabbed the keys to a brand new 2017 Ford F-250 Super Duty, equipped with the almighty 6.7L PowerStroke diesel, and set out to tackle the frozen, salty streets.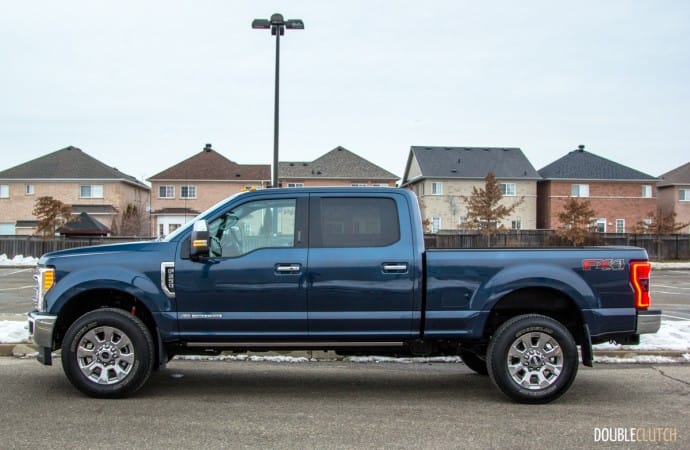 The Super Duty nameplate is attached to all Ford heavy-duty trucks, from the F-250 up to the commercial grade F-550, and therefore the nameplate offers a massive range of trucks and configurations. You can get yourself into a basic F-250 work truck for around $40,000, but stepping up to higher trim levels, or the big diesel adds up really quick. Building my generously equipped Lariat trim level truck on Ford's website suggests an MSRP of nearly $85,000.
Even on the well-equipped Lariat, there is a staggering list of options available, which is great if you like tailoring your truck to your own specific needs. The only problem is that they're not cheap; my tester was loaded with almost $10,000 worth of ticked off options. This included but isn't limited to the quad beam LED headlamps at $1200, and the 'Ultimate' package which includes a healthy list of toys such as the panoramic sunroof, intelligent key, navigation, heated steering wheel and more. This package rings in at $5,675. An additional cool feature is the connectivity via SYNC 3 including Apple CarPlay.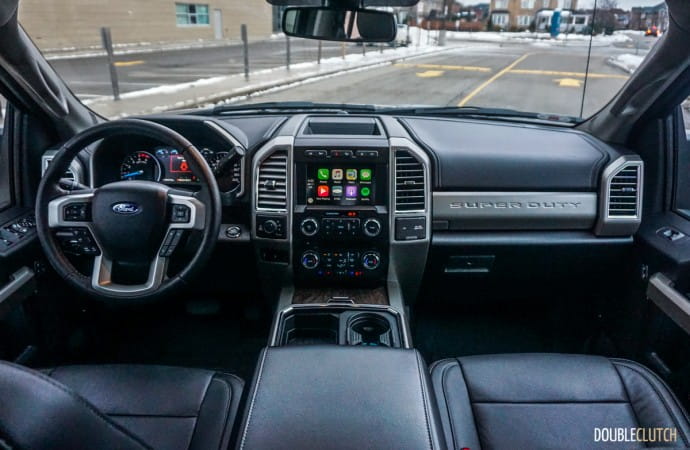 For your money, you do get a great looking truck. While I find the current F-Series styling cues a little out of proportion on the F-150 (reviewed here), when applied to the F-250 the intent of the design becomes a lot clearer to me. The sheer size of the truck is impressive to look at, with the height of the bed roughly equivalent to the roof height of a typical sedan. The F-250 just towers above traffic and makes today's crossovers look like subcompacts by comparison. It will not fit into most underground parking garages, and parking it can be a little intimidating, but with the help of the extremely handy camera system, which includes a rear view, aerial view and trailer view, one can squeeze the beast into some tight spaces.
Much like the rest of the truck, the interior in the F-250 can be configured in a seemingly endless numbers of ways. My Crew Cab tester came with the optional leather (heated and cooled) front buckets, separated by a huge console, which includes its own lockable safe. Yes, there's a real safe in the truck, something that's likely appreciated by contractors whose truck doubles as their office. The rear seats are nicely finished in heated leather as well, with enough legroom for rear passengers to have their own little soccer game on the flat floor.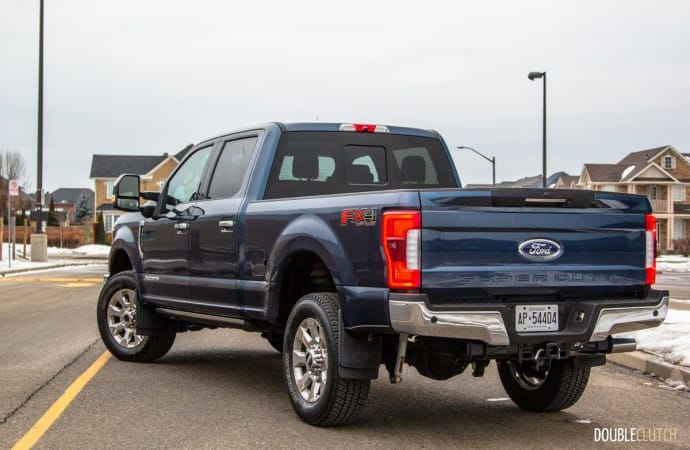 Under the rear seats are some plastic storage bins – great for hiding stuff, or for keeping tools from rolling around. The interior in the Ford trucks is typically more utilitarian than most competitors, and this particular F-250 is no exception. There's no glossy trim or fancy wood; just rugged black plastic, a touch of aluminum and leather. The space does offer an impressive amount of storage for smaller items. Between the dual glove boxes, huge console and multiple door pockets, the F-250 had no problem carrying all of our winter gear.
One unique little feature I really liked in the new F-250 is the six auxiliary switches built into the overhead console, each with their own circuits (two 40 amps, and four 20 amps). These are for the purpose of external accessories like a winch, lighting or a two-way radio, without having to cut into the truck's wiring or mount your own switches. This is something I am sure a lot of truck buyers will appreciate.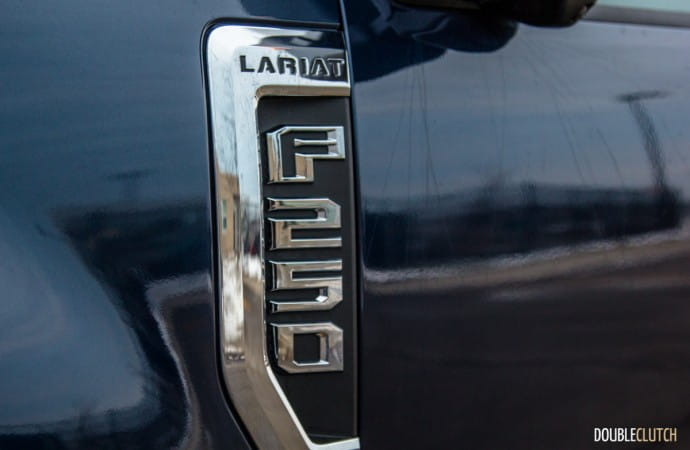 On the road, the F-250 is noticeably smoother than the Ram 3500, or the F-350 that graced our garage earlier this winter. This is expected, and speaks to the notion of making sure you're not over-buying more truck than you really need. That's not to say the F-250 is smooth, because its heavy duty suspension doesn't exactly allow for Cadillac-levels of soft cruising, but it is well composed and solid feeling. Steering is tight and offers a bit of feel, but generally it's fairly typical for a truck of this nature.
What really stands out about the way the F-250 drives is the 6.7L PowerStroke diesel engine with a staggering 925 lb-ft. of torque. This is the same motor you find in the bigger Super Duty models, but here in the 250 is actually feels responsive and agile. It's almost too easy to break the rear wheels free, and acceleration from a constant speed when merging on a highway is enough to thrust you and your passengers firmly back into the seats.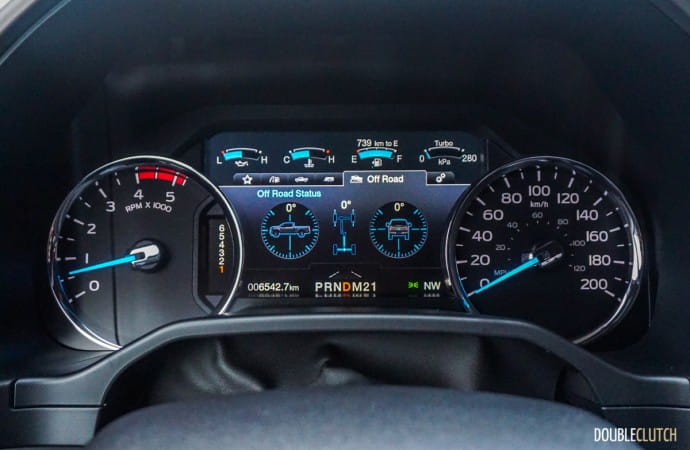 Raw power aside, the PowerStroke feels very refined with smooth power delivery, and almost none of that diesel clatter. It also started instantly despite the extreme cold temperatures, while the Cummins in the Ram from a few weeks ago often took 10 seconds or so for the glow plugs to heat up before the engine would turn over.
Now, we don't always get the opportunity to put every truck we test to work, but this week I was actually able to put the Super Duty to some serious use. I had purchased a new project car, and with the help of a friend and his handy 25' enclosed car hauler, we put the F-250 to work bringing the car home. We used the rear view camera to easily hook up and set off. Ford's towing assist system detected the trailer and through the digital display in the gauge cluster, allows for monitoring of trailer pitch and tire pressure. The integrated trailer brake control also makes it easy to adjust the trailer brake gain on the fly to accommodate whatever you may encounter.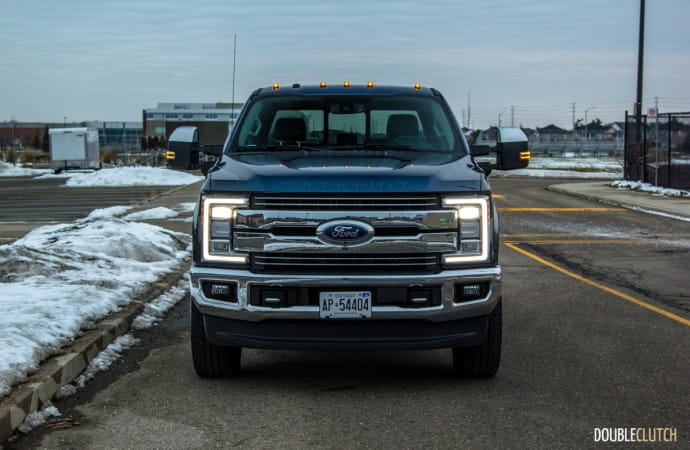 We estimated the loaded trailer to weigh about 9000 lb., and the F-250 pulled it effortlessly with no noticeable rear end sag and outstanding stability, even at highway speeds. Even with the load, throttle response remained sharp and the PowerStroke never seemed strained. Hauling the enclosed trailer in sub-zero temperatures and on a windy day, the truck returned a fuel economy average for the trip of 17.8L/100km. As expected, that's more than my unloaded commute for the week of 14.5L/100km, but the difference seems reasonable considering the conditions and the weight.
The relative ease with which the F-250 handled the trailer is no surprise, considering our test truck was rated to tow 14,000 pounds. It'll also handle about 3300 lb. worth of payload in the bed, and while I am not about to venture down the path of arguing whose truck is more capable, I will say that those numbers are right around what I'd expect from a 2500-series heavy-duty pickup.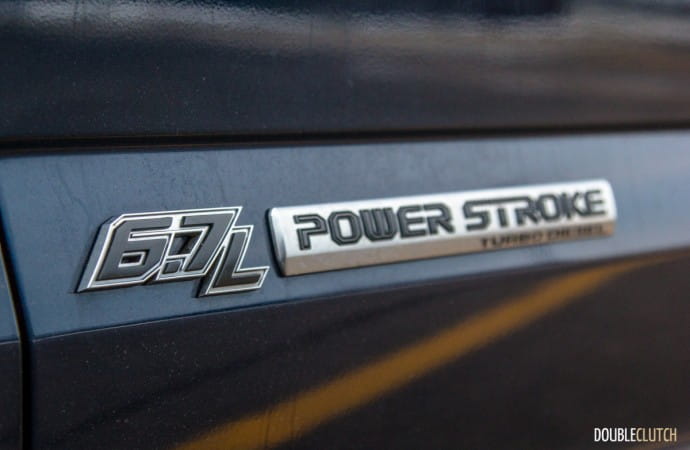 The current crop of domestic pickup trucks is so good that it's hard to make a bad choice. My advice would be to get a good understanding of how much truck you really need, and buy accordingly. If you can spring for the diesel options, I see no reason why you wouldn't; they offer massive capability with no compromise over the gasoline options. The 2017 F-250 Super Duty Lariat is a great example of just how livable and capable a heavy-duty truck can be, and it's filled with innovative little touches that show how in tune Ford really is with their truck buyers.
2017 Ford F-250 Super Duty Gallery
See Also:
2016 Nissan Titan XD Platinum Reserve