Ford has brought us what Hollywood struggles to deliver; a sequel better than the original.
As Kip Moore put it… there's somethin' 'bout a truck. Sitting up high above the rest of the cars on the freeway, knowing no curb or mudding field will get in your way. Ford is no stranger to truck nation, with the F-150 (reviewed here) being one of the top sellers in the segment's history. What started out as a purpose-built workhorse in the late 40s has evolved into something more than that, much more in fact. Here we have the 2017 Ford F-150 Raptor, a massive iteration of the F-150 with off-road performance embedded into its DNA. We didn't hesitate for one second when turning up the radio while tearing up some fields during our week with the all new Raptor.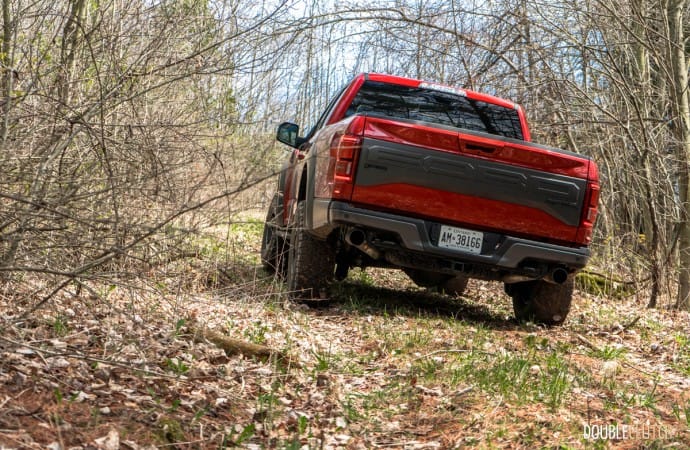 The most significant change to this monster is something the eye cannot see without taking a more in-depth look. Say goodbye to the large displacement V8 engine once offered in the previous Raptor, and say hello to the high-output 3.5L twin-turbocharged EcoBoost V6. While this may seem like bad news, it really isn't all that terrible. While some doubts and concerns were looming, it came as a surprise how well this V6 performed. Even though we will always miss the grumble of the 6.2L V8, this new engine dishes out a serious 450 horsepower at 5,000RPM and 510 lb-ft. of torque at 3,500RPM. That's 39 more horsepower and 76 lb-ft more torque than the 6.2L.
All of this translates to a 0 to 100km/h time of roughly 6.2 seconds, impressive considering the enormous size and weight of this truck. Sitting at 5,697 lbs, it is by no means a Superleggera with its solid cast aluminum bumpers, though the Raptor has shed some pounds from the previous truck thanks to the current generation aluminum body shared with the rest of the F-series trucks. The turbos help make up for the smaller displacement and fuel economy is improved but not drastically.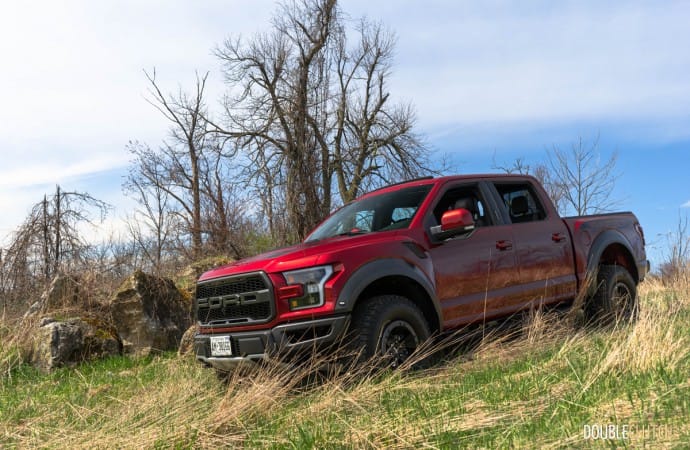 While the manufacture ratings state that the truck should get 15.6L/100KM city and 13.2L/100KM highway, drivers with a more city-biased commute who enjoy boost can expect a realistic combined rating of 18 to 20L/100km – our test resulted in a 19.7L/100km average. Filling up brings a bit of a heartbreaking moment, as the 136L tank requires premium fuel, which cost $150 to fill after one week of driving. Your heart will think it's worth It, though your bank account may have another opinion.
Along with the new engine, comes a new gearbox. A 10-speed automatic transmission replaces the older six-speed, and with four new gears to row through, it sometimes feels as if the Raptor can continue sprinting forever. This feeling becomes more apparent with SelectShift when paddling through gear after gear. It was refreshing to feel large magnesium paddles as opposed to feeble plastic bits, something we seldom see in cars that don't command a six-figure price tag. In short, this new transmission is fast, robust, and intelligent. It knows exactly what gear to place the truck in to deliver optimum power at just the right moment.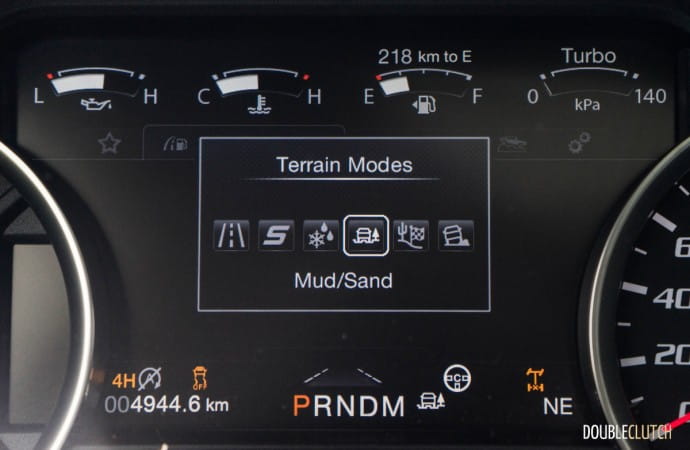 There are six different drive modes in the Raptor; Normal, Sport, Weather, Mud/Sand, Baja, and Rock Crawl. The system will automatically engage the ideal 4×4 mode, whether it be 4-HI or 4-LO, along with the electronically locking differential and AdvanceTrac systems. We did have the opportunity to take the truck on the path less traveled, with some large muddy fields and some tight trails in between, perfect for Mud/Sand. While in this mode, the truck places itself in 4-HI while the locking differential automatically engages to help with driving over loose ground. Steering is also shifted into comfort mode, making it easier to navigate tight areas. This truck is undoubtedly large, so tighter paths can be tricky to pass through, which is why the 360-degree cameras automatically activate to help guide you through some challenging situations.
Truth be told, off-roading has never been this comfortable, thanks to the independent front and rear suspension with high-output off-road FOX Racing Shox, and massive 315/70R BFGoodrich All-Terrain T/A KO2 tires. Even though this truck is tuned for off-road use, it is just as comfortable on the road. Sport mode embraces the Ford Performance division with firm steering, quick acceleration and even quicker shifts. We should also mention that the exhaust note from the V6 is loud and exciting. Normal mode needs no explanation, as it combines the best aspects of the truck and shuffles them into a pile, creating a seamless driving experience that is both fun and tame.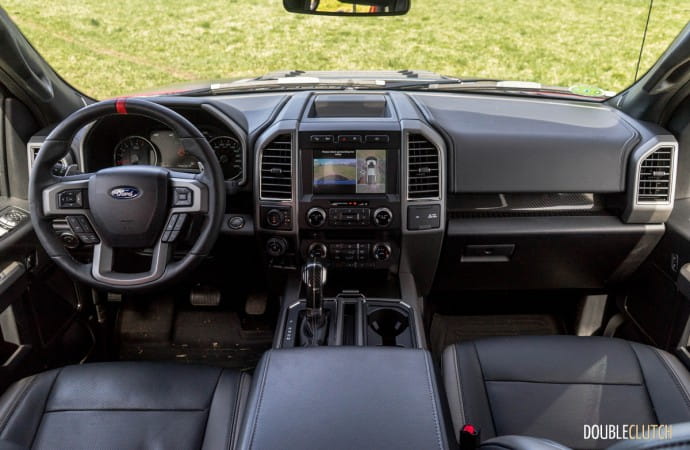 The only thing better than the driving character of this truck is the robust design that can only be described an F-150 that consumed fuel laced with steroids. This thing looks mean from every angle, especially from the front. The steel bumper angles upwards towards the outer edges, exposing the thick tread from the tires, as both a cosmetic design element as well as a practical feature that aids in off-road adventures. The massive Raptor exclusive grill embossed with Ford in large capital letters, with three amber LED marker lights embedded into the top.
The functional skid plate finished in bright silver finishes off the rugged look with perfection. As a matter of fact, the cab is the only piece of the body that is shared with the F-150, as the front and rear portions of the truck needed to be widened to accommodate the larger tires. Our tester sported the optional 17" Ford aluminum bead-lock capable rims ($1,390), which at first seem a little unappealing, but trust us when we say you want them.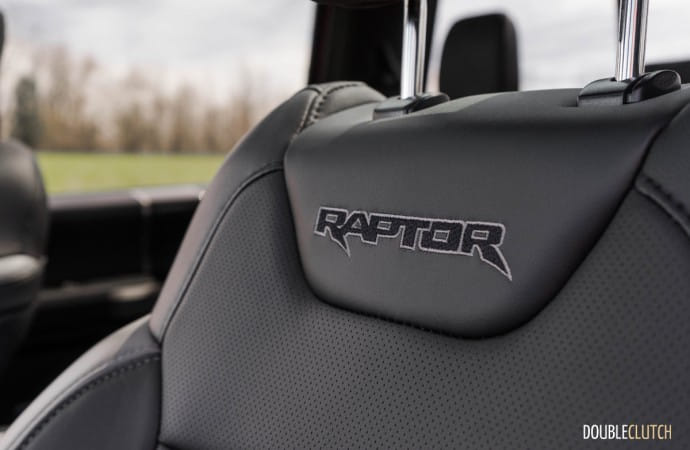 Along the side of the truck, cast aluminum side steps will help passengers climb into the raised cabin, while plastic wheel arches extended the width of the body even more so to accommodate the hefty tires. LED marker lights are placed as these wheel arches as a reminder of how large the Raptor is. Finished in Ruby Red ($450), the Raptor feels right at home when combined with the exterior graphics package ($1,350), which includes two Raptor decals on either side of the truck bed. While these look really cool, $1,350 seems like a steep price for what is essentially two large stickers.
An additional hood graphics package is available for $1,150, but once again, that's a very steep price to pay for an additional two stickers of lesser complexity. Around back we find a unique tailgate exclusive to the Raptor which features another Ford nameplate across the entire tailgate with capital letters, a bold statement on Fords behalf. This is also where the symphony of sound exudes, from the two large tailpipes under the bumper.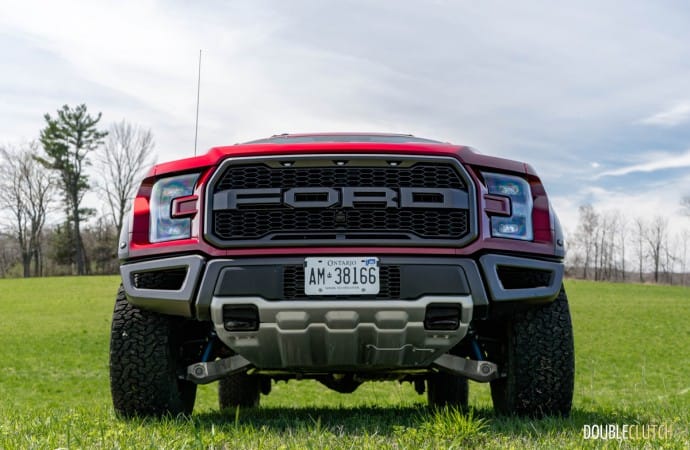 As we make our way into the cabin, we immediately noticed something not found in any of F-150 (reviewed here). The Carbon Fibre package ($1,250) adorns the cabin with carbon trim on the door trim, centre console and dashboard, with a very prominent carbon fibre shifter. A leather-wrapped sport steering wheel is made evident with a red leather marker at the top of the wheel, along with the large magnesium paddles just behind it. The overall design of the cabin is rather like that of the regular F-150.
The 802A package incorporates a plethora of features, including the 8" LCD Productivity screen in the instrument cluster, 360-degree camera with split-view display, power folding mirrors with heat, BLIS (Blind Spot Information System), heated and cooled front seats, heated rear seats, heated steering wheel, intelligent access with push button start, remote tailgate release, a 10 speaker Sony audio system, SYNC 3 Connect, and a voice activated navigation system. For $2,500, the Raptor Technology Package adds lane-keep assist, automatic high beams, rain sensing wipers and adaptive cruise control with collision mitigation.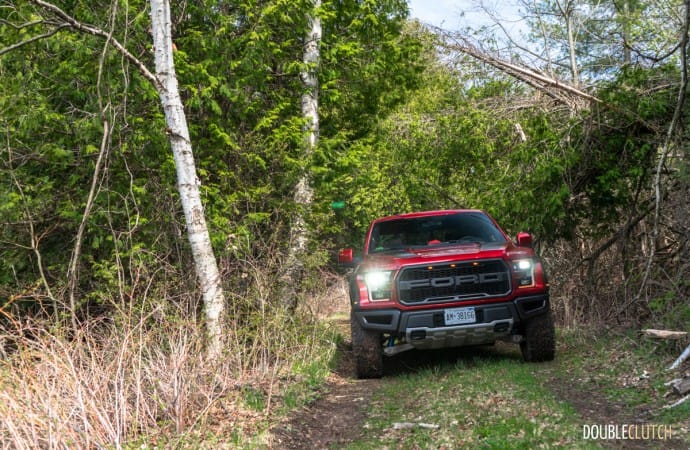 The 2017 Ford F-150 Raptor is what Hollywood struggles to deliver; a sequel better than the original. Where the first-generation Raptor stole our hearts, the new iteration makes us wonder why we even bothered with the first one, though we can't run before we start walking. The base price for a SuperCrew Cab Raptor stands at $70,399; our as tested model holds a price tag of $87,439. This truck will destroy your soul every time you visit the pumps, and the only place to really unleash the ability of this machine is somewhere with open land and dirt waiting to be tossed around. Sometimes things don't need to make sense to bring a smile to your face. The Raptor is mental, out of place, and excessive. I want one.
2017 Ford F-150 Raptor Gallery
See Also:
First Drive: 2017 Ford F-150 Raptor