The aluminum-bodied pickup truck proved itself to be worthy of taking the torch.
With a record year in 2016 with over 100,000 units sold in Canada, the Ford F-150 pickup truck is the most popular new vehicle in the country. For decades, it's been entrusted as a daily workhorse that can also double as a weekend family mover. It starts at under $30,000 for a bare-bones tradesperson's model, yet tops out at nearly $75,000, ensuring that buyers can have an F-Series exactly how they want it. It's a truck that needs absolutely no introduction, but for this year, it receives an all-new powertrain, including an industry-first ten-speed (!) automatic transmission. Ford Canada sent over an Oxford White 2017 Ford F-150 Lariat FX4 for a week on test.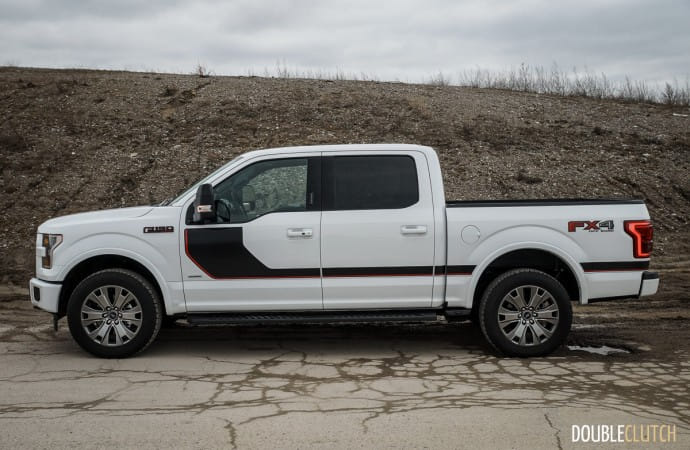 The truck reviewed was certainly a big departure from the base plain-Jane variant of F-150, and rang in with an as-tested price of $74,069. This is a far cry from the mid-trim Lariat's base price of $56,199 in SuperCrew (four-door) and 6.5-foot bed form. Interestingly enough, it was equipped with just about every option that comes standard on the $73,149 flagship Limited trim (available in 5.5-foot bed only). Between the two, there's a distinct styling difference – if you're into a sportier look that's in line with the common working man, a gussied-up Lariat might be the better pick, especially with the red striping and accenting on the grille. For those who have little patience for boy-racer looks, the Limited will offer extra touches of luxury and Lincoln-like accoutrements.
Among the options include $4,900 for Equipment Group 502A, which adds a blind spot monitoring system, LED side mirror spot lights, navigation, rear heated seats, and a heated steering wheel. The 3.5-litre EcoBoost V6 with ten-speed transmission costs $1,650 extra, a twin-panel moonroof will set you back $1,750, and the dark 20-inch alloy wheels on the Lariat Special Edition Package will be another $2,400. Tailgate steps are $400, wheel well liners are $180, and a spray-in bed liner is $550. Just about all of these things are standard equipment on the high end Limited models.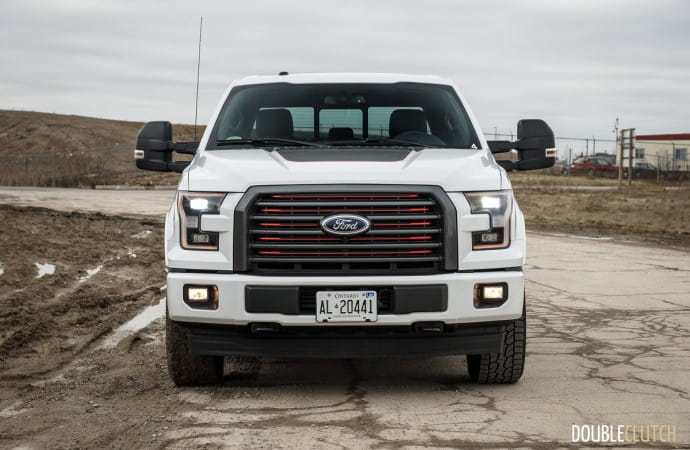 As mentioned, the new-for-2017 powertrain is both an evolutionary and revolutionary step up. The 3.5-litre twin-turbocharged EcoBoost V6 has been updated with an all-new version, with 375 horsepower at 5,000RPM and a whopping 470 lb-ft. of torque at 3,500RPM. The torque figure itself is worthy of attention, as it trumps General Motors' 460 lb-ft. out of their 6.2-litre V8, as well as the 420 lb-ft. out of the Ram 1500 EcoDiesel. On the road, the EcoBoost also comes on super strong without any noticeable lag from the twin turbos – throttle response is deliciously good, and while it doesn't provide the sweet audio soundtrack of a V8, the low-end grunt makes that point moot very quickly – it pulls harder than the Ram 1500 1500 EcoDiesel (reviewed here)
The bigger, more revolutionary change is the inclusion of the ten-speed automatic transmission. A joint-venture between Ford and GM, it offers extra gear ratios and improved drivability while still being able to handle the copious amounts of torque put out by the twin-turbo EcoBoost V6. While many automakers have been moving towards a continuously variable transmission (CVT) in passenger car applications, it's more difficult to implement in a heavy-duty pickup truck, as a CVT is less suited to handling heavy loads. The ten-speed solves the gear ratio selection issue while still offering fixed ratios for durability, creating a win-win situation.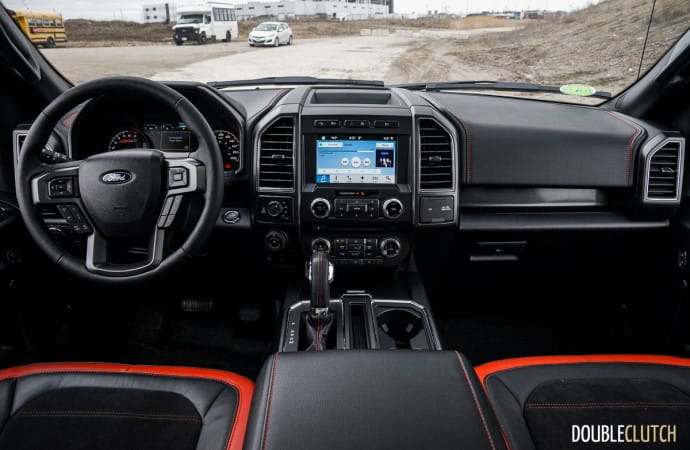 In practice, it's a smooth operator that doesn't get confused in day to day driving. During light acceleration, the transmission launches in first and skips to fourth right away. Accelerate a bit harder and the transmission skips from first to third, and at wide open throttle, it'll use a first-to-second shift for maximum performance. With a much smaller change in revs in between each gear, the transmission's clutch packs and hydraulics theoretically have to do less work, resulting in fast shifts that shouldn't end up hindering long term durability.
With a well-optimized shift strategy and an abundance of ratios to choose from, rated fuel economy is 14.0L/100km in the city, and 11.0L/100km on the highway. Observed fuel economy at the end of the week missed the mark at 14.5L/100km, but the driving mix included a good amount of time crawling through downtown Toronto, as well as some mud pits in the suburbs. There's also something to be said about the F-150's aluminum construction and weight savings, which would have helped to bolster economy. Even with the two turbos and plenty of boost pressure, regular octane fuel is perfectly acceptable. Depending on body configuration, fuel capacity is 87 or 136 litres, and the 6.5-foot bed SuperCrew test truck got the larger tank.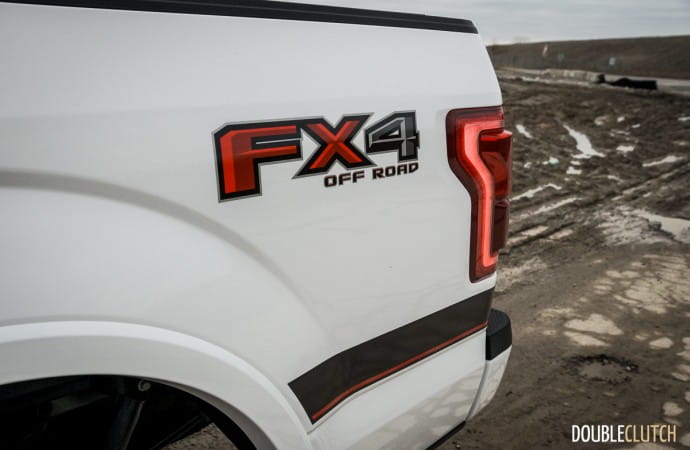 As a truck, the F-150 does manage to prove itself in its towing and payload capacities. For the 3,683mm wheelbase version of the truck on test, towing capacity was a solid 5,398 kilograms (11,900 pounds) thanks to the 3.55:1 final drive ratio. Payload is 934 kilograms (2,059 pounds), which means that both ratings are relatively in line with a similarly equipped Chevrolet Silverado or GMC Sierra. The Ford and GM products also trump all V8 forms of the Ram 1500 payload, which suffers by about 250 kilograms (551 pounds) thanks to better-riding but lesser load-bearing coil springs in the rear. Ford and GM use stouter leaf springs, which do some with a small ride penalty.
Even with the rear leaf spring suspension, the F-150 Lariat's road manners were still impressive. With a long wheelbase, highway cruising was a pleasure, with a smooth ride and all road graininess filtered out. For larger pothole-type impacts, there's the characteristic body-on-frame shake and shudder, but it's no better or worse than any of the other competitors in its class. With the FX4 suspension, off-road prowess is improved, but thankfully, without any noticeable compromise in ride quality. During its week on test, the Ford was put through at least a few muddle puddles and ruts, and the all-terrain tires on 20-inch wheels took everything with aplomb. Steering was well-weighted and the giant towing mirrors made visibility a non-issue, even in tight underground parking quarters. Brakes were also confidence-inspiring, and stop the big and heavy F-150 with ease.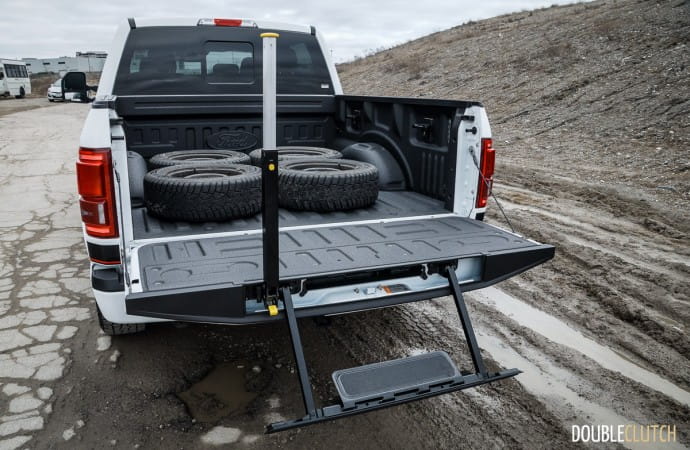 For payload matters, having rear side steps on the bed was useful for getting in and out of the front of the bed to adjust cargo, and there's also a foldable staircase (and hand rail!) that springs out of the soft-opening tailgate. The spray-in bed liner was also a very durable and quality touch, and will help with long-term aesthetics and resale value. A series of tie-down points on the sides of the bed will also keep loose cargo from moving around. With the Technology Package, a 360-degree camera system helps with maneuvering the big pickup in tight spaces, even with a full bed obscuring your rear view.
On the inside, the red and sporty look is carried on from the outside, and is probably going to be more of a hit amongst younger buyers. While there's plenty of dark hard plastics in a sea of monochrome dark, the interior is well put together and will age better than soft-touch materials that will peel and crack over time. Rear seat legroom is downright cavernous, and the rear seat bottoms themselves flip up and out of the way, leaving a large load floor that will swallow up additional cargo. The rear window is equipped with a defroster and a power sliding centre window.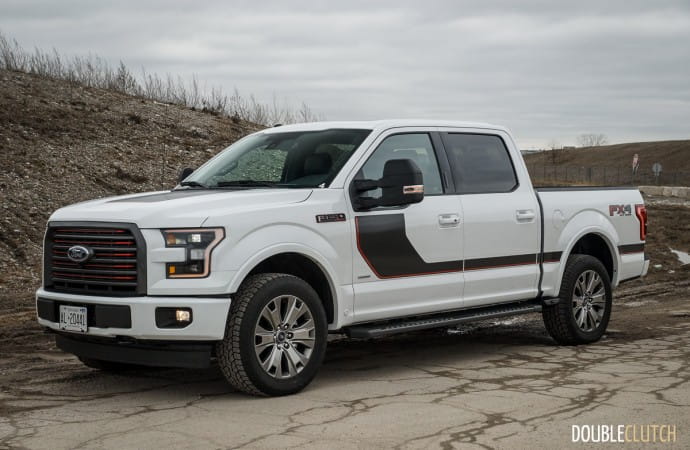 In terms of tech, Ford's SYNC3 multimedia system works well and is intuitive to use. There's Spotify integration to your smartphone via Bluetooth, and functions like libraries and playlists are accessible directly from the touch screen. There's also now the addition of Android Auto and Apple CarPlay, two suites that can turn any car into the latest and greatest in terms of infotainment with just a USB cable. Although they have to be manually enabled in the settings menu (a one-time operation), they are a very welcome addition, and will be seen in more and more cars over time.
When the current design of the 2017 Ford F-150 Lariat was released a couple years ago, the aluminum-bodied pickup truck proved itself to be worthy of taking the torch in terms of being a perennial Canadian sales leader. As time has gone on, it remains a solid, surefooted, and dependable truck that does its job extremely well at price points on both the low and high end of the spectrum. With just about every option box ticked off, the test truck certainly turned itself into one of the priciest F-150s money can buy, but the good news is that excellent value can be derived by leaving some of the more gratuitous niceties out. It's best to start with the 3.5-litre EcoBoost V6 and ten-speed automatic and add essentials like the spray-in bed liner, tailgate steps, and towing packages. With a couple of the appearance or FX4 off-road packages to suit taste or need, prospective buyers will end up with a rugged truck that's suited for everyday life, anywhere.
2017 Ford F-150 Lariat FX4 Gallery
See Also: