The most enticing part of this F-150 isn't all of the Texas ranch-spec gear in the cab; it's under the hood.
Looking back into decades of history, it's not just tradesmen and Americans that like their pickup trucks. Enthusiasts and purists seemingly have a massive soft spot for them, whether classic or modern. In the late 1940s, Ford set out to compete with General Motors, which led to the birth of the Ford F-series. In 1948, and sourced from the half-ton F-1, the F-Platform was born – the start of the Ford truck empire which is going strong to this day. Since then, the truck has gone through 13 different generations, which brings us to the latest one. We were sent over a brand new 2017 Ford F-150 King Ranch, a 13th generation model.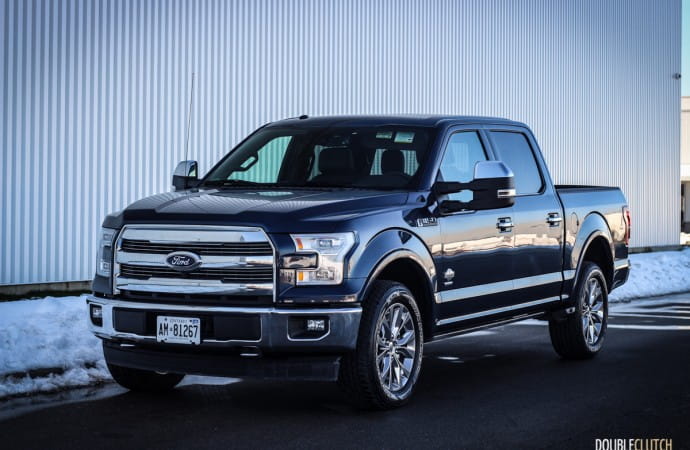 Offered in an almost endless amount of configurations starting with the $28,249 XL, the King Ranch is smack dab in the middle, starting at $63,349. Contrary to popular belief, the King Ranch is not the luxury pinnacle of the F-150 line – it sits below the Platinum and Limited models. Our test vehicle was decked out with plenty of luxurious goodies and the most ideal powertrain configuration, which brought the sticker to $75,739. In fact, we'd even argue that the F-150 King Ranch is loaded enough to create some redundancy between it and the full-kit Limited model, which is considerably more expensive.
The most enticing part of this F-150 isn't all of the Texas ranch-spec gear in the cab; it's under the hood. Our test vehicle was equipped with the all-new second-generation 3.5L twin-turbocharged EcoBoost V6 motor. Featuring 10.5:1 compression, this motor has a brand new aluminum block and a dual port/direct-injection system. It's rated at 375 horsepower at 5,000RPM, and 470 lb-ft of torque at 3,500RPM. The numbers are there arguing in the V6's favour over the implementation of a big, throaty V8, but truck fans are sceptical. We noted power delivery to be smooth and confident, though there is plenty of turbo lag and we did miss the urgency of the old V8.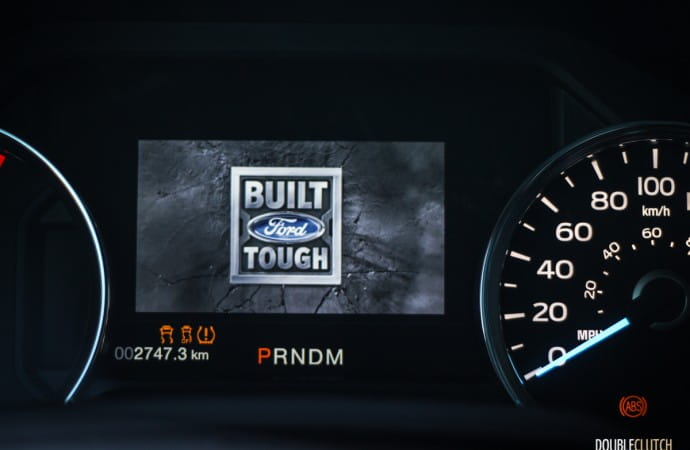 This new EcoBoost powertrain is mated to an all-new 10-speed automatic transmission, the first production implementation of a 10-speed, though other manufacturers are introducing more later this year. This transmission was a joint venture between Ford and GM, and is the same unit we sampled in the F-150 Raptor (reviewed here). This gearbox does a great job at shifting at the perfect spot in the power band, and these shifts are effortless and in many cases, undetectable. At half throttle, the ECU actually commands skip-shifts for efficiency and optimal power delivery. The shorter gear ratios can help keep the truck in or out of boost, again optimizing fuel consumption.
Turbocharger boost, power, and speed are all good, but this is all done in an effort to ensure savings at the fuel pump. In the past, we've sampled the EcoBoost V6 (reviewed here) and weren't convinced about its ability to stay green. This latest implementation has an idle start/stop system, which isn't quite as smooth as that in the Escape (reviewed here), but it does play a small part. Ford rates this configuration at 14.0L/100km city and 11.0L/100km highway, for a combined rating of 12.7L/100km. Over a cold February week on premium 91-octane fuel, we managed 15.3L/100km with a heavy bias towards city driving.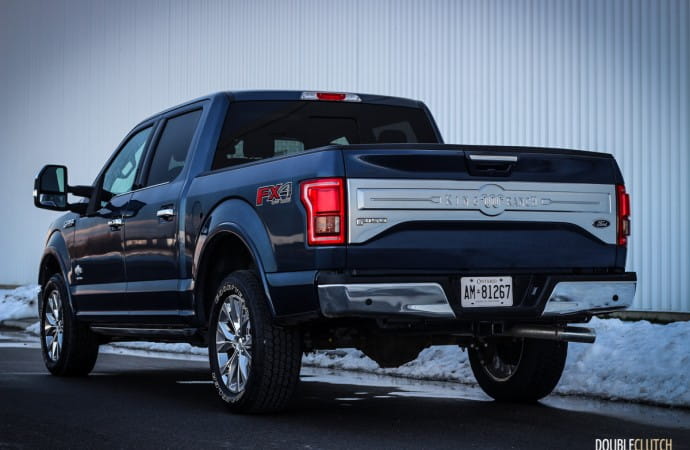 Along with selectable 4WD modes (we chose to leave it in 2WD over 99% of our testing), the King Ranch model as configured also comes equipped with a trailer brake controller and trailer sway control. When towing, these systems work in conjunction with the AdvanceTrac traction control and stability control systems to keep the truck moving smoothly and straight at all times. We didn't get a chance to evaluate the truck's towing abilities, but we've sampled F-150s (reviewed here) in the past that performed amicably while hauling trailers.
The F-150 comes standard with rack-and-pinion variable ratio steering, which is decently responsive. When out on the highway, on-center feel is quite good, though the electric assist does make for some vagueness. In the city, we wish the turning radius was a bit tighter, as it takes more effort to manoeuver the F-150 than rivals like the Ram 1500 (reviewed here). Steering weight and heft cannot be adjusted on this model like it can in the performance-oriented F-150 Raptor.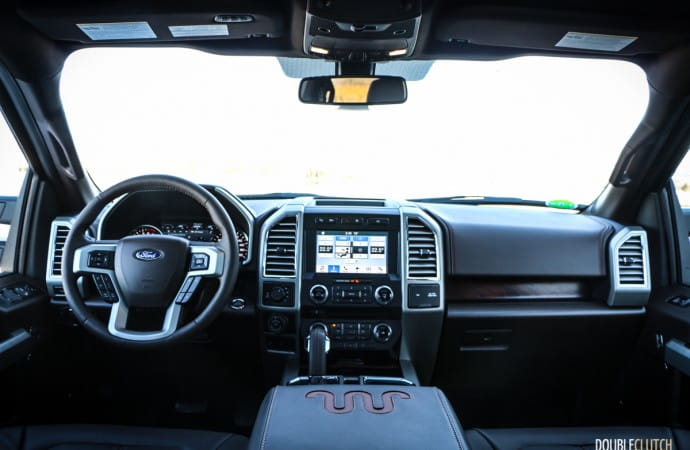 Found in the cab of this test truck are some stunning multi-contour powered front seats, heated and cooled. These seats are finished with some lovely brown stitching and King Ranch logos on the backrests as well as the center console. A large panoramic moonroof (a pickup truck exclusive) keeps things bright inside the cabin, and visibility is quite good as well. Despite the plethora of Texas-grade leather and soft-touch materials used throughout the King Ranch, there are still some remnants from the $28,249 F-150 XL. Panel fitment in some places is a bit goofy-looking, and some cheap materials are noted in the cabin. For the most part though, things fit together nicely.
Tech goodies on board this model include surround-view cameras to make parking the behemoth easier, along with lane-keep assist, blind spot monitoring, and powered running boards. Infotainment, as expected from Ford, is powered by SYNC 3 (reviewed here), now also featuring Apple CarPlay and Android Auto. This system has become much better with recent software updates, as response is immediate and there is minimal lag. The Sony sound system delivers satisfactory audio quality, doing all sound frequencies justice without skipping a beat (pun intended).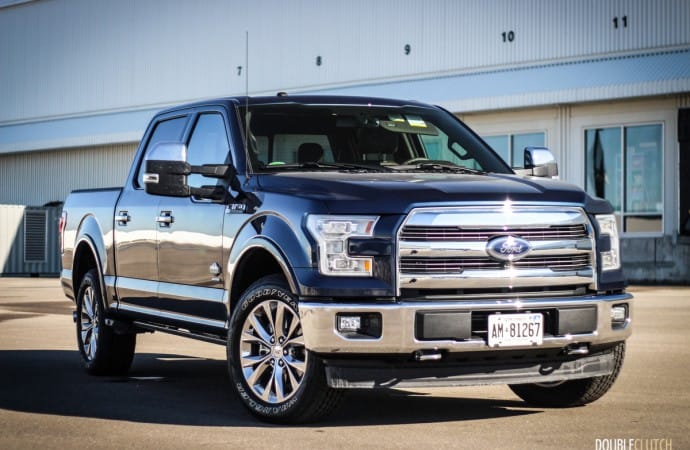 The reality is, this truck has some serious competition from the Chevrolet Silverado, Ram 1500, and even the new Nissan Titan (reviewed here). The new powertrain in the 2017 Ford F-150 King Ranch gives it a huge advantage over its rivals, and likely puts it right at the top of the pack with regards to gasoline-powered trucks. Even those needing to tow can rely on this model, with great capabilities for both payload as well as hauling. With the most torque in the half-ton segment and a slick new powertrain, the F-150 really is cutting edge right now.
 2017 Ford F-150 King Ranch Gallery
See Also:
First Drive: 2017 Ford F-150 Raptor