Turbocharged engines in this "hot" segment, especially this 1.4L, are known to make great noises.
The Mazda MX-5 – one of the most popular automotive icons of all time. This year, the millionth example was made, not far off from the debut of its soul sibling from Italy. Model year 2017 also marks the rebirth of an affordable Italian exotic, but as diehard buffs of the Mazda, we were very curious to see how the Italian would fare in the market. One of our most anticipated road tests this year, Fiat-Chrysler sent over a 2017 Fiat 124 Spider Lusso for a week of topless fun.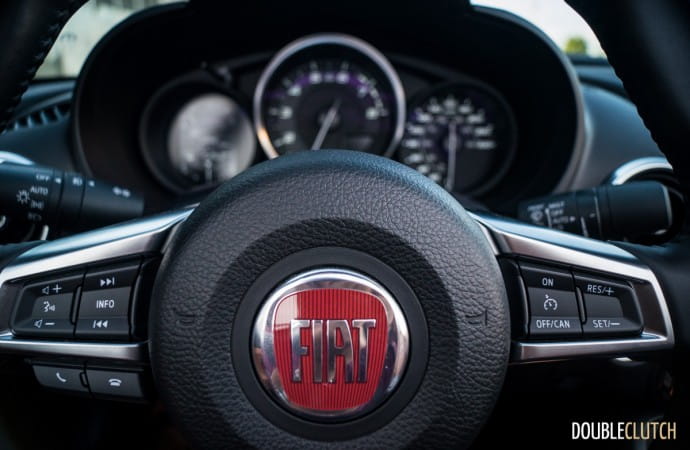 The very first time I saw the 124 Spider was on the auto show circuit, and I was immediately infatuated. An MX-5 buff, I perceived the 124's exclusively-Fiat lines to reflect what the Miata would look like if it were an adult. Out on the road and intermingled with the other plebian cars around, it still stands out as being something special. The headlights are particularly defining, along with the Fiat badge on the rear trunklid paying homage to the original. Also, the car appears a lot bigger than it is from some angles, and that's not something that I'm fond of.
On the inside, the Fiat 124 has some reminiscence of Mazda, including the screen, HMI controller, and basic switchgear. Still, there are some inimitably Fiat touches that differentiate it. After looking at and feeling the Saddle leather, the shift knob, and some of the finishings, the recurring theme is that this car looks and feels more upscale and substantial than its platform-mate. The benefit to this parts bin sharing is that everything is very easy to use and the infotainment system is among the best currently available.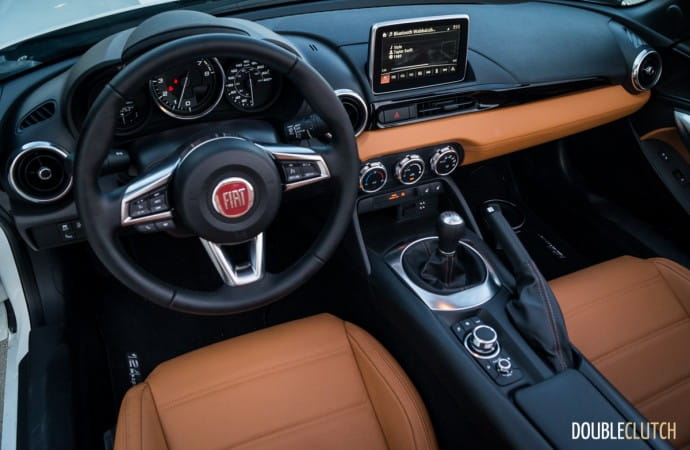 Other than its looks, perhaps the biggest difference between the MX-5 and the Fiat 124 Spider is the powertrain. Mated to the six-speed manual transmission from the previous-generation MX-5 (reviewed here), the Fiat uses their corporate 1.4L turbocharged inline four-cylinder. This engine is the same one used in the 500 Abarth (reviewed here) and in this little roadster, puts out 160 horsepower at 5,500RPM and 184 lb-ft of torque at 2,500RPM. It's a peppy motor with an interesting powerband, but this is the one thing that distinctly sets the 124 apart.
Those used to turbocharged engines will appreciate the boost in the 124. There is some initial lag below the 2,000RPM mark, and starting on a hill in second gear just won't happen, but when boost comes in just north of there, power hits very quickly and the Spider pulls hard and strong right up to highway speeds. I'll even argue that if you don't do very much city driving, the 124 might be the more satisfying choice. However, at wide-open throttle, the car starts to run out of breath right around the 5,300RPM mark. Keep it in its sweet spot and the Fiat's powertrain is rewarding.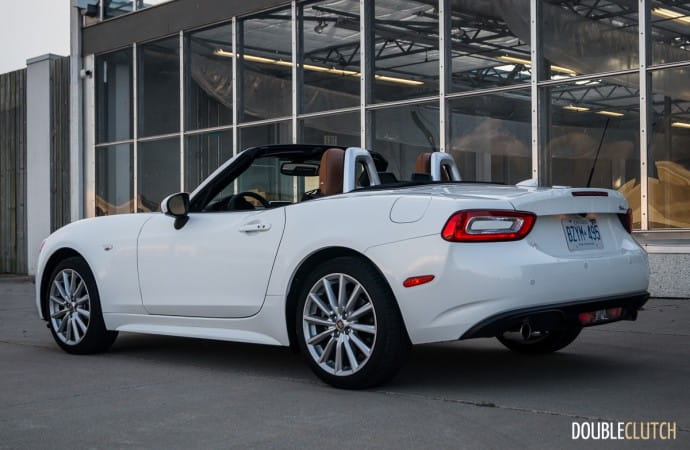 The NC MX-5 transmission (reviewed here) uses a shifter and clutch unique to the Fiat, and it's honestly more satisfying for comfort-oriented driving. I like it a lot, and the throws are rewarding and the perfect amount of notchy. The clutch engagement point is definitive and very easy to learn, something that shouldn't really be taken for granted. A six-speed automatic is available and it's not a terrible choice, but a true roadster has a proper gearbox, and should be taken advantage of before it disappears completely.
Turbocharged engines in this "hot" segment, especially this 1.4L, are known to make great noises. The Fiat does express its emotions through the exhaust, but it's a lot quieter than in the 500 Abarth. We haven't sampled the Abarth example of the 124, but this Lusso could be a bit louder. Fiat Canada offers a Record Monza Dual Mode exhaust through retailers as an accessory, and I'm certain that more choices of varying styles and sounds will be available on the aftermarket very shortly, if not already at the time of this writing.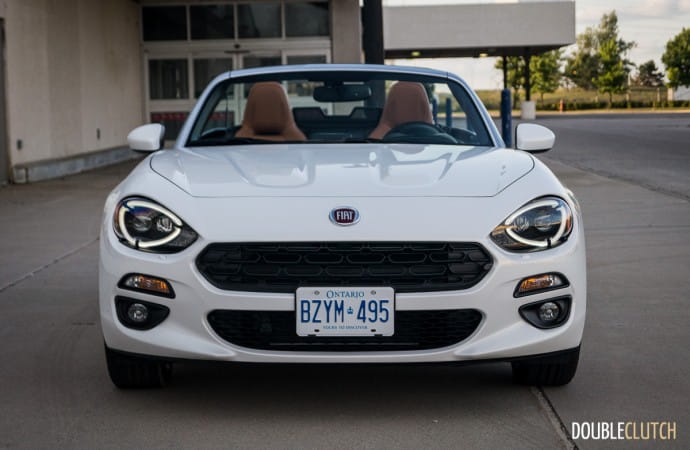 Then again, quietness is something Fiat aims for with the Classica and Lusso trim levels. They have implemented features such as a more padded convertible top (still just as easy to open and close), acousting sound deadening on the windshield, and additional padding that definitely factor into the 100-lb weight disadvantage against the MX-5. During our test, Toronto experienced a major thunderstorm, and we had to use the 124 as a commuter across the city. There were no leaks (not surprising for a brand new car), but more importantly, the car was very quiet with the top closed. It wasn't library silent, and some wind and tire noise is noticeable, but nothing significant to complain about.
From a handling perspective, the electric power steering is still a bit lifeless, though far more direct and quick than larger cars. Fiat's dampers and anti-roll bars help reduce body roll in corners, though turn in is a little bit less crisp than the Mazda. During highway testing, we noticed that the 124 tracks a lot straighter than most other tiny cars today – very minimal correction is required at higher speeds. When corner carving, the 124 feels a bit twitchy, but full of character – exactly what the folks at Fiat aimed for.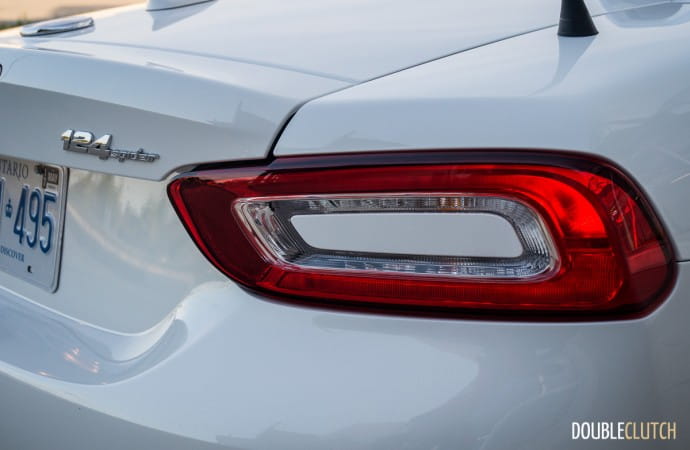 Rated at 9.0L/100km in the city and 6.4L/100km on the highway, the little Fiat comes in packing efficiency to match its punchy little engine. The small fuel tank lasts a surprisingly long distance, and we actually saw numbers as low as 6.0L/100km on longer highway drives. Most city trips hovered in the 9L/100km range, but the week-long average was 8.1L/100km with a few spirited runs. Our test took place on premium 91-octane fuel, but regardless, this is a car that doesn't break the bank from a fuel economy standpoint.
Starting at a base price of just $33,495 for the "Classica" model, the Fiat 124 Spider holds true to its roots as a reasonably affordable roadster. Our "Lusso" trim level is the highest non-Abarth one can have, and starts at $36,495. Adding on options like park assist, auto dimming mirrors, Bose audio, navigation, LED headlights, and headlight washers begins to add up pretty quickly. The "Bianco Perla Tri-coat" paint was an extra $995, bringing the total of our car to $43,585.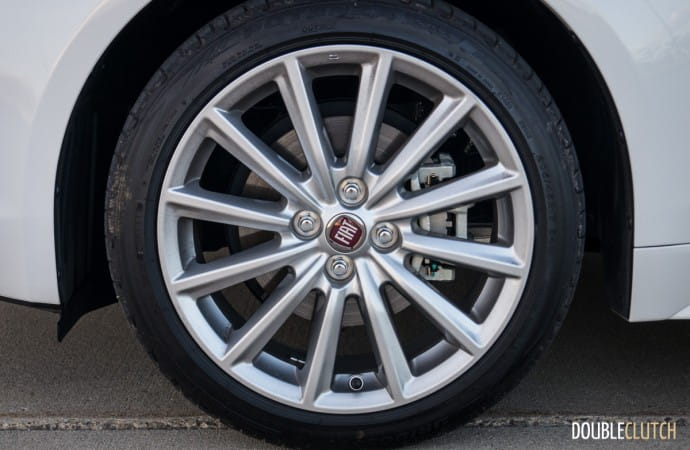 Even though it's based on a car from a completely different brand and takes away from some of those characteristics, there is still some merit to the 2017 Fiat 124 Spider. It targets a slightly more mature audience, the type of demographic that wants something a little bit more grown up, with a few more niceties and a slightly offbeat personality. Many had questioned wither the new 124 Spider would appropriately pay tribute to its predecessor all these years later, and I wondered this myself. After spending some time with the car, I imagined driving down a country road along Lake Como in Italy, on a beautiful sunny day with the top down. It all began to make sense and my qualms with the car almost disappeared – this is what motoring was once all about, and cars like this allow those of us who weren't around back then to experience it for ourselves.
2017 Fiat 124 Spider Lusso Gallery
See Also:
2016 Mini Cooper S Convertible