Popping into sport mode reduces shifts times from 400 to 200 milliseconds and increases throttle response.
So, you're considering buying a big American sedan. Something large and in charge that will get you to where your heart desires without having to gush out $80,000 for a European alternative. Staying below that price point doesn't mean you have to sacrifice typical luxuries either. For instance, let's say your budget hovers around the $50,000 range. For that price you can get a big comfy sedan with voice-recognition, navigation, heated seats, an upgraded Beats Audio sound system, a massive dual-pane panoramic sunroof, and a big V8 under the bonnet. Does that sound like an appealing option? Well the new 2017 Chrysler 300S V8 offers all of that, among other attractive features, and it just might be what you're looking for.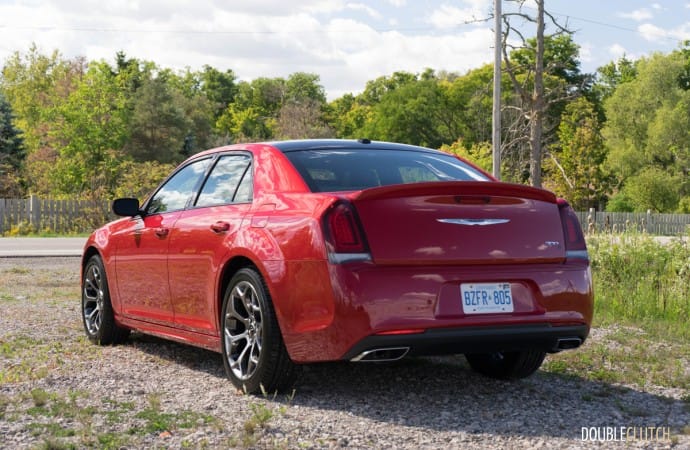 Let's begin with a walk around of the exterior, shall we? The 300 received a minor facelift back in 2015, and one thing buyers will notice almost immediately is the absence of any polished chrome on the exterior of the car. Optioning the for the sport-oriented 300S model deletes all exterior chrome finishes, and replaces them with a much sportier black finish. The aggressive nature of this car-star is made even more apparent around the front end, with an all-new glos black grill.
Another piece that goes rather unnoticed, in my opinion, are the black inserts within the headlight assembly. This creates a much nicer contrast with other fascia components on the 300, rather than the standard chrome/aluminum finishes. Speaking of which, the 300S comes with adaptive bi-xenon HID headlamps, along with daytime running LEDs, and sharp LED fog lights.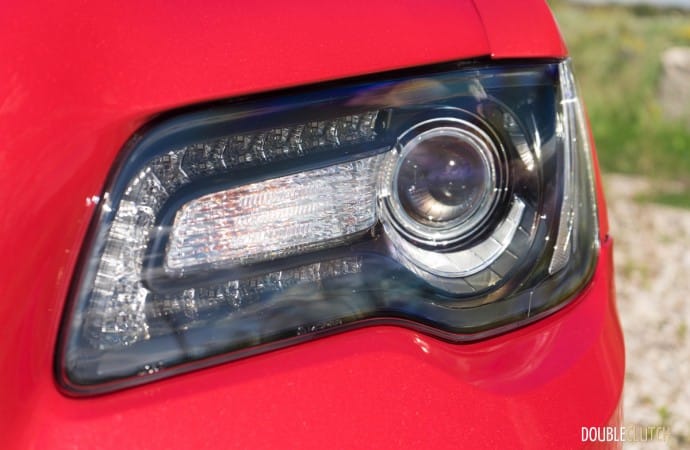 When optioning the 300S with the big Hemi (a 3.6L Pentastar V6 is standard fare), Chrysler options the car with standard 20-inch, Hyper Black aluminum wheels wrapped in all-season performance tires. These rims can also be optioned on the V6 rear-wheel-drive variant of the 300S, though all-wheel-drive cars must be downgraded to 19-inch wheels all around. It is important to note that all-wheel-drive is not an option for the V8 – the big kahuna is rear-wheel-drive only. This thing got a Hemi? You bet!
The rear end of the 300S continues with the sporty demeanor; boasting a rather large trunk spoiler colour matched to the car's Redline Tri-Coat Pearl paint, and big dual exhaust openings. Even though a Hemi is found within the engine bay, it pains me to say that the exhaust on this car is tuned to be remarkably quiet. Granted that may be appealing to some, especially because this means zero drone on the highway, it would have been nice to hear that V8 purr just a little bit more. On that note (pun fully intended), the exhaust on this car does a fantastic job at keeping the cabin quiet. As I said though, for performance junkies it may be a bit too quiet.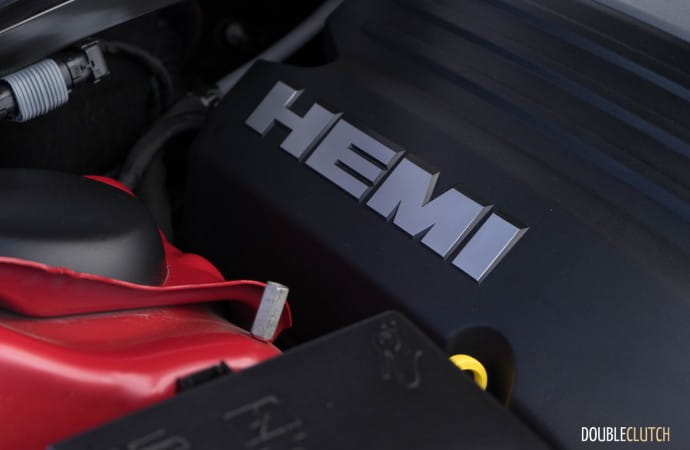 The star of the show of course, is this 5.7L Hemi V8 engine. The 363 horsepower beast also puts out 394 lb-ft of torque, an upgrade from when this motor debuted on the 300 back in 2005. Granted the 300S is not a light car, with a curb weight of 4350 lbs, but the Hemi does a proper job at bringing this car to speed with a 0-100km/h time of just 5.1 seconds. The eight-speed ZF-sourced automatic transmission offers smooth shifts for daily driving.
Popping into sport mode reduces shifts times from 400 to 200 milliseconds and increases throttle response considerably. Remember, this tranny is made by ZF – it's quite possibly the best eight-speed on the market today. Chrysler estimates that this car would consume 14.8L/100km city and 9.3L/100km highway, with a combined average of 12.3L/100km. During my week with our test vehicle, I averaged 11.7L/100km, with most of my driveway being on the highway, coupled with a spirited right foot as well. With a rear-drive V8 monster, enjoyment is inevitable.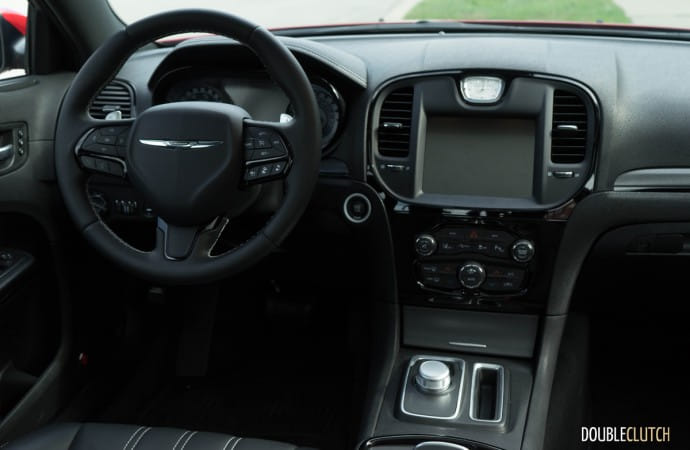 The interior of the 2017 300S is a much-welcomed improvement from the previous generation. Our tester came with a black on black interior, with contrast white stitching along the armrests and sport bucket seats. The trimming composed of piano black for the center stack and a faux carbon fiber textured plastic along the console and dashboard. As the seemingly new standard for Chrysler, the vehicle is fitted with a rotary dial shifter that replaces the once-standard lever for shifting into gear. Is this the new norm? Rotary shifting will take some time to get acquainted with, as it's much easier to make a shifting error than it is with a conventional lever.
The 8.4-inch Uconnect display proves to be easy to interact with for all of your driving essentials. Everything from media to climate control can be found within the Uconnect app list, and placed accordingly on a menu bar at the bottom of the screen for easy access. The upgraded ten-speaker Beats audio system had some decent sound to it, but overall it wasn't the best that I've heard. I had to fiddle with some of the equalizer options to get it to a point of acceptable sound, whereas default settings had the bass pumping way too loud.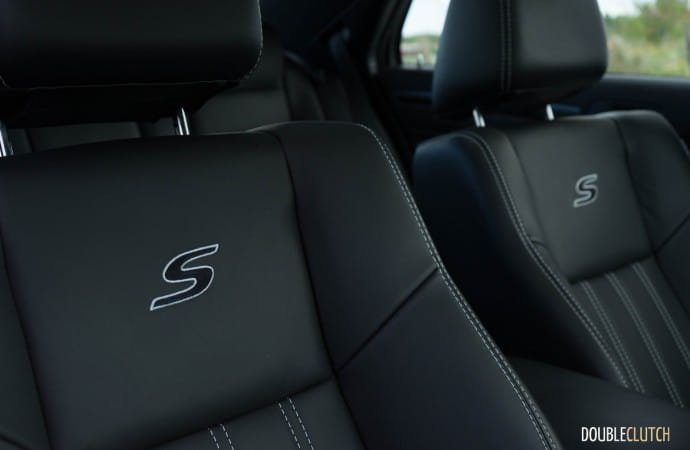 The 2017 Chrysler 300S comes with a base price of $42,695 – not bad, right? Once we starting tagging on options to achieve the sticker on our test vehicle, the total price comes to $54,615. This car will never look like as sharp as a Cadillac CTS (reviewed here), nor will it bolster the same interior quality as an Audi A6. The 300 appeals to a niche market, but it's that same market that has kept the 300 name alive and well over the years. If you're interested in having a big American car, sporting an iconic naturally aspirated V8, the 300S with the Hemi might just tickle your fancy.
2017 Chrysler 300S V8 Gallery
See Also:
2016 Dodge Charger SRT Hellcat