The Bolt EV is built in America but is designed with a lot of collaboration from South Korea's LG Chem.
Automakers have managed to extract dizzying amounts of horsepower from the traditional gasoline engine, but what does the crystal ball hold for automotive enthusiasts in the future? We are seeing more and more electrification in our vehicles, whether they are practical everyday commuters, or high-performance sports cars. Brands like Tesla have succeeded in starting the conversation towards full-electric vehicles, but at this point, we are still some ways away. Today's battery technology is improving, but still isn't a substitute for the autonomy the gasoline gives you, and fast-charging stations aren't everywhere yet. There are a handful of full-electric vehicles available today that offer a significant amount of range; many people would first think of Tesla, but General Motors has been plugging away at a similar (but different) formula: the 2017 Chevrolet Bolt EV. We were sent an Arctic Blue Metallic Bolt EV for a week-long evaluation.
Recently, I had the chance to review the all-electric Hyundai IONIQ: one variant of their first all-in effort to seriously compete with the entire Toyota Prius (reviewed here) family. Range anxiety still remains to be an issue these days, even with a 225km overall reserve. It was still enough to have to think about where you're going, even if it is just a single detour from your usual commute. What if there existed a solution on the market which alleviated all of the usual concerns? Tesla's Model S starts at just over $90,000, and that's for the base "75" model with 400km of rated range. The much-hyped Model 3 is expected to cost $35,000 USD and offer up an estimated 500km range. Both go a long way in allowing you to get over your psychological roadblocks, but the Model S is not what most would call affordable, and the Model 3 isn't here yet.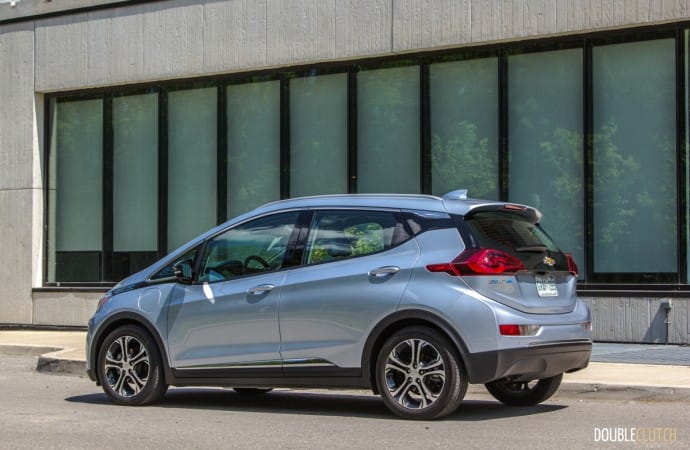 The Chevrolet Bolt EV is a hatchback, but that's about where the similarities with Tesla end. From the outside, the American-built Bolt is a fairly small hatchback, measuring only 4,170mm (164") in length. The tidy, urban-friendly dimensions would suggest a cramped cabin, but headroom and legroom is surprisingly generous for those of average size. The tall hatchback shape reminds me somewhat of BMW's i3 (reviewed here), with simpler lines and four conventional doors. The low window sills flanking the front two occupants lends to excellent visibility and an airy feel in the cabin. In keeping with today's styling trends, the C-pillar features a piece of glossy plastic trim, intended to keep the contours flowing from front to back. It is a similar theme seen on cars like the Lexus RX (reviewed here). Overall, the Bolt is a handsome looking vehicle with a dash of style – it doesn't feature yet another variant of the Kammback-design, so it doesn't look like the aerodynamically-focused Prius.
Inside, the Chevy Bolt EV focuses on a high-tech experience, with a large 10.2-inch tablet-like touchscreen display. This screen is oriented in a landscape format, giving you lots of space for various bits of information; whether it is real-time efficiency data, infotainment details, or the available satellite navigation. Android Auto and Apple CarPlay integration as well as 4G-LTE connectivity are all standard. At night, soft blue LED lighting crosses the entire dashboard – a nice premium touch. In front of the driver, a full digital LCD screen houses the instrument cluster. As expected, there is no tachometer, but a large range counter dominates a good portion of the screen, providing an ever-so-persistent reminder of when you may want to consider plugging in for more electricity. Heated leather seating surfaces and a heated leather steering wheel were equipped on our fully-loaded Premier tester.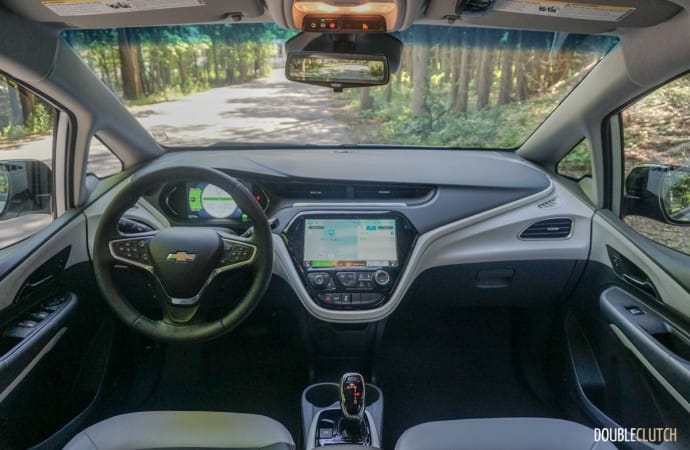 The hatchback design combined with the low-profile battery placement means cargo capacity is surprisingly good. The two rear seats fold down, albeit not completely flat, but you should be able to cram 479L worth of stuff into rear hatch area.
There are a couple of features that are borrowed from the Cadillac parts bin: an all-electronic gear selector, as well as the quirky rear-view camera mirror. As seen on the flagship CT6, it is a good idea in theory: by providing a much wider field of view from the rear end of the vehicle allows for unobstructed visibility, but the focal point (where your eyes focus) takes a lot of getting used to. I ended up leaving the feature disabled and utilizing the traditional rear-view mirror instead.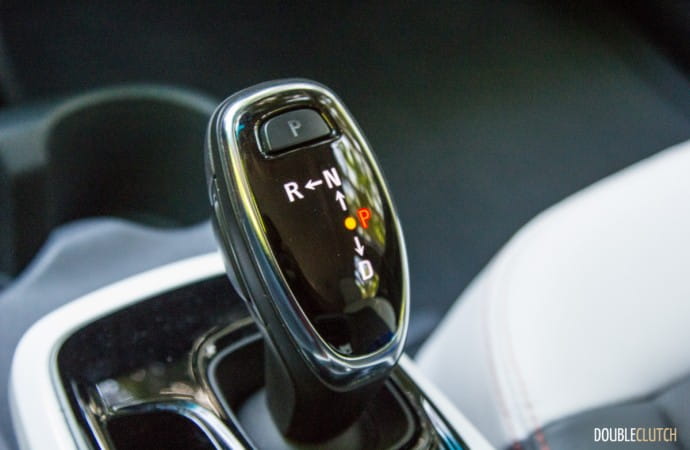 The Bolt EV is built in America but is designed with a lot of collaboration from South Korea's LG Chem, the manufacturers of the electric motor and the 440kg lithium-ion battery, rated at 60kWh. The large batteries are mounted low in the chassis, which improves the Bolt's centre of gravity and lends itself to a nimble feel on the road. Power is sent to the front wheels by way of a single-speed reduction gear, making for seamless acceleration and instant torque, typical of electric vehicles. Power is rated at 200hp and 266lb-ft of torque, right from a standstill. The big torque delivery means it is very easy to light the front wheels up, if you're a little too eager with the accelerator pedal. The low rolling-resistance tires don't help, either. Straight-line performance is almost surprising – the Bolt EV will do the run from 0-100km/h in just about seven seconds, which as the Internet recently discovered, is about as fast as a VW Golf GTI. This power is very handy for point-and-squirt motoring in an urban setting.
What makes Bolt EV interesting to drive is how you can come to a stop. There's the usual brake pedal, but if you enter the "Low" mode with the gear selector, one-pedal driving becomes possible. In other words: you're able to decelerate and even come to a complete stop by just lifting your foot off the accelerator pedal. The third way is to tug on the left-side steering wheel paddle, which engages a more aggressive energy regeneration program. With all this in mind, it is possible for the driver to stop the Bolt EV with three different methods – I was able to coordinate all three by the end of the week. Some long-haul stops actually saw the rated range increase.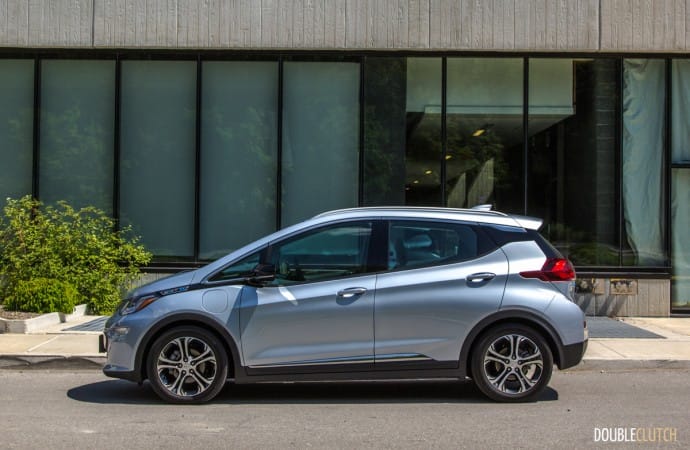 Throughout my week with the Bolt, range anxiety really wasn't an issue. My current living arrangements only allow for a 120V outlet to charge electric cars with. Chevy estimates that a 240V input will take nine hours, from empty to full. This means it is theoretically impossible to reach a full 100% charge overnight at 120V. Even with this in mind, I never once had to worry about running out of electricity and stranding myself, in the process. The Bolt EV also supports full Level 3 fast charging at 480V – the estimated rate is 145km in 30 minutes. My usual commute into downtown Toronto is a 21km one-way trip in lots of stop-and-go traffic. Once I rolled into my usual parking spot, the indicated range only dropped 8km, thanks to all the regenerative braking along the way. It's worth keeping in mind what the possible impact on range is, once winter comes around: batteries generally don't like low temperatures, and heating the cabin will eat into the remaining range you have.
Pricing for the Chevy Bolt EV varies, depending on where you live in Canada. The base price is listed at $43,095 for the LT trim. Stepping up to the $48,095 Premier trim adds the rear view camera mirror, 360-degree surround vision, leather seating surfaces (the colours actually make the seats completely asymmetrical!), and the aforementioned leather heated steering wheel. This particular tester came equipped with the Infotainment Package ($565), which adds a 7-speaker Bose audio system with subwoofer and Qi wireless charging for mobile phones. Also equipped is the $575 Driver Confidence II package, which adds numerous active safety elements: adaptive radar cruise control, forward collision alert with low-speed automatic braking, lane keeping assist, lane departure warning, pedestrian detection, and automatic high-beam headlamps. Lastly, the Arctic Blue Metallic colour is an extra $495. This brings the as-tested price of this fully-loaded Bolt EV to $49,730, before taxes and additional fees. If you live in Ontario, you also qualify for a $14,000 provincial government incentive, which knocks the as-tested price down to $35,730.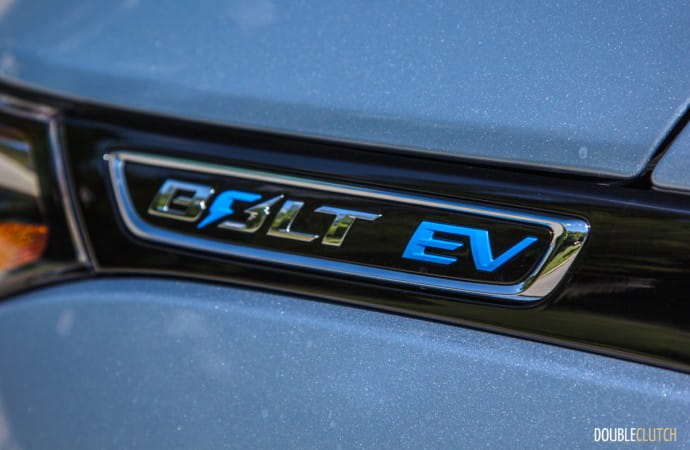 The 2017 Chevrolet Bolt EV a legitimately good car – not just a good electric car – utilizing the best of what 2017's technology has to offer, in a handsome and practical package. BMW's i3 is a quirky (and more expensive) rival, but it has a 200km range, though it has the ability to accept a two-cylinder gasoline engine to get you home. The Bolt EV will be remembered as one of the first electric cars that can really be accepted by the mass market (read: everyone). Technology is moving so incredibly fast – it's time to be excited for the next big breakthrough in electric motoring, and how it can benefit us all.
See Also:
First Drive: 2017 Chevrolet Bolt EV