The X5 packs the latest technologies of all the luxury SUVs, and, in my eyes, has the best aesthetics as well.
This is no ordinary BMW X5. No, it's not an X5 M (reviewed here) either, nor is it powered by the twin-turbocharged V8 from the xDrive50i, or even the plug-in hybrid four-cylinder. No no, this is something completely different, special and unique. This 2017 BMW X5 M-Performance xDrive35i, spec'd out very carefully by the product planning team at BMW Canada, is my personal sweet spot in the X5 line, and is set apart from the rest of its siblings. It's a pity then, that very few buyers will actually opt for it, because not only is it delightful; it's simply wonderful.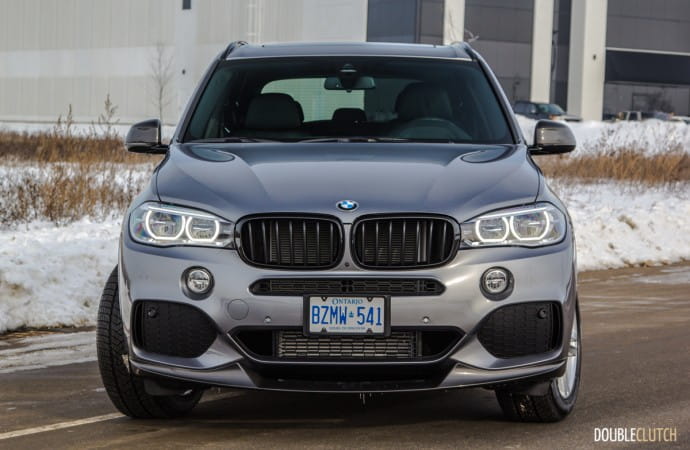 See, the M Performance Package II tacks on $5,900 worth of goodies to the otherwise ordinary but very nice X5. This includes a carbon fiber front splitter, high-gloss front kidney grilles, carbon fiber mirrors and rear diffuser, M Power kit, and M Performance exhaust. The $4,000 M Sport Line also adds the Sport Automatic Transmission (more on this later), adaptive M suspension, M Sport Package with side skirts, flared fenders and bumpers, blacked-out roof rails, and a few interior bits. Overall, the thing looks badass and has the perfect stance, even though our test vehicle was sitting on 19" winter wheels. The 21" staggered factory setup would look even better.
With tough competition out there for the X5 from the new Audi Q7 (reviewed here) and even the Mercedes-Benz GLE (reviewed here), it's important for the BMW to differentiate itself. It does this job quite well, because it's a muscular truck with rugged good looks and plenty of customization options. It also offers three notably different gasoline powertrains, a diesel six-cylinder, and a hybrid – the only one of the Germans to offer all of this variety at the time of this writing. It's the runaway looker of the bunch in my eyes, and neat touches like the powered split tailgate and ceramic interior controls only help this image.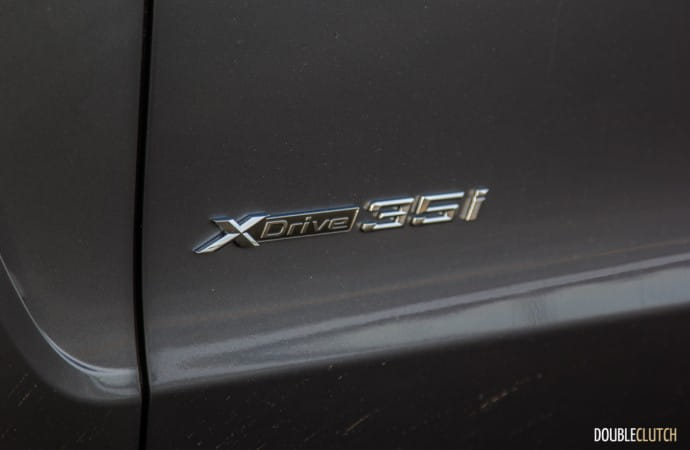 Power for the X5 xDrive35i comes from a 3.0L inline six-cylinder with a twin-scroll turbocharger, similar to the rest of BMW's offerings (though not the very new ones with the "40i" designation). Output is 300 horsepower at 6,000RPM and 300 lb-ft of torque at just 1,300RPM. However, these are figures for the standard version – the M-Performance kit cranks things up a notch. Power for this particular X5 is 320 horsepower and 332 lb-ft of torque. BMW also says that this setup brings the 0-100 time down by a half second. The best way to describe this powertrain is buttery smooth and effortless.
There is very minimal turbocharger lag, and power delivery is most excellent. Peak torque is available from 1,300RPM right through to 5,000, and throttle response is quick. The sportier programming on this ZF 8HP eight-speed automatic means the X5 is always in the right gear for the situation, and kicks down to the perfect cog for fast passes every single time. There are paddle shifters for those who want to get that extra satisfaction, but we let the car do its thing the vast majority of the time. As we've seen in many other applications, the ZF 8HP is telepathic and easily the best conventional automatic available right now.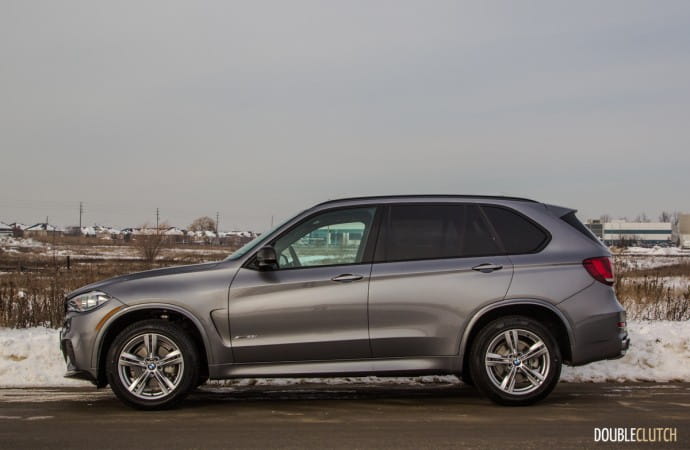 Thanks to the adaptive suspension, this X5 has a great ride, too. Things are very firm when in Sport or Sport Plus modes, while in the Comfort setting, the truck is as balanced as can be. It's soft without being too floaty, and always has that Teutonic confidence that you'd expect from a vehicle of this caliber. We found the favourite mode here to be "Sport", where the systems maintain a good compromise between sporty and comfortable. The only issue here is that in this configuration, the transmission holds gears longer, affecting fuel economy significantly.
Steering is electrically assisted, and there's little to no feedback, but the setup makes child's play of pushing the huge X5 around corners. The thick M-Sport wheel is a joy to flick back and forth, and the turning radius is also quite small. The electric assist adjusts weight in various settings, with "Comfort" being the lightest. Again, we preferred "Sport" thanks to the added weight and tightness on longer highway hauls. The X5's steering also has perfect on-center feel and sharp turn-in. Of course, all X5s sold in Canada have xDrive all-wheel-drive as standard equipment.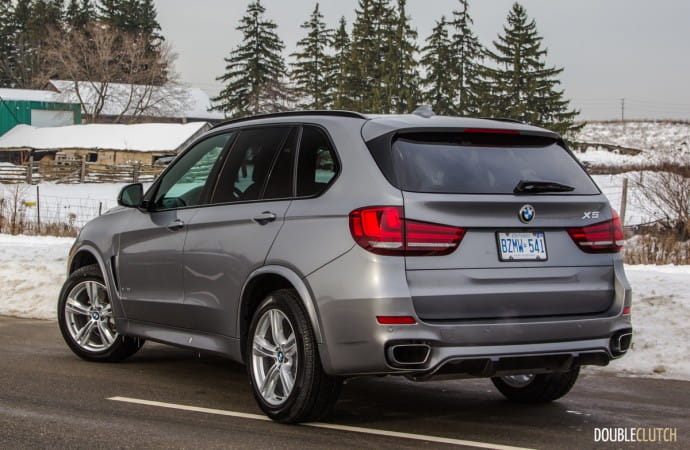 Fuel economy is not a strong suit of the gasoline-powered X5 models. If this is high on your priority list, consider the diesel or hybrid variants. The xDrive35i powertrain is rated at 13L/100km in the city, 9.8L/100km highway, and a combined rating of 11.5L/100km. It exclusively consumes 91-octane premium fuel, though the large 85L fuel tank means theoretically, refuel stops will be infrequent. Equipped with winter tires and through frigid winter weather, we averaged 13.9L/100km over the course of our two-week test.
Our X5 had a relatively basic but well-appointed interior. The added packages include Comfort Seats, which have added adjustability, better bolstering, and Dakota Leather. Dashboard and door panel trim includes brushed aluminum inserts, which look elegant (especially with the athletic stance this truck packs) and resist dust nicely. All major controls/switchgear are all well laid-out, and the ceramic controls look very upscale – this is a must have option for high-end BMW models.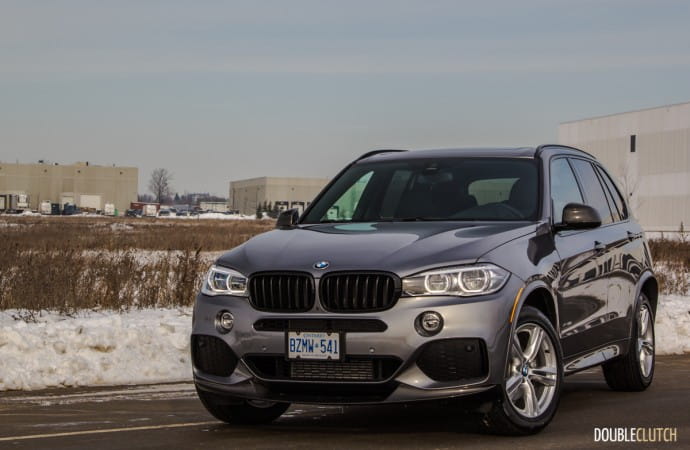 Although BMW offers a third row as optional equipment, it digs into cargo space considerably and isn't exactly usable for anyone other than small children. The Q7 and Acura MDX (reviewed here), though the Mercedes does not. This two-row X5 had plenty of space for both front and rear passengers, including head and legroom. I found it quite easy to sit behind my 6'1/175 self with adequate space. There is a large panoramic sunroof, which digs into headroom ever so slightly, but it adds necessary brightness to the cabin which more than makes up for this. The tailgate is power-operated and opens to reveal generous storage capacity, easily on par for the segment.
With a base sticker of $67,000, the X5 xDrive35i is priced aggressively when compared with its rivals. Along with the M-Performance and M-Sport packages, our car also sported the $6,900 Premium Package Enhanced. This adds a plethora of features, including soft close doors, Comfort Access, surround view camera, Park Assist, Harman/Kardon audio, heated rear seats and four-zone climate control, side window blinds, and blind spot detection. The LED Lighting Package, for $2,500, adds LED headlights and front fog lights. The $750 Smartphone Connectivity Package adds Apple CarPlay and a WiFi Hotspot. Lastly, the M polished 21" wheels add $6,660, bringing the sticker on our car to a pricey $93,710.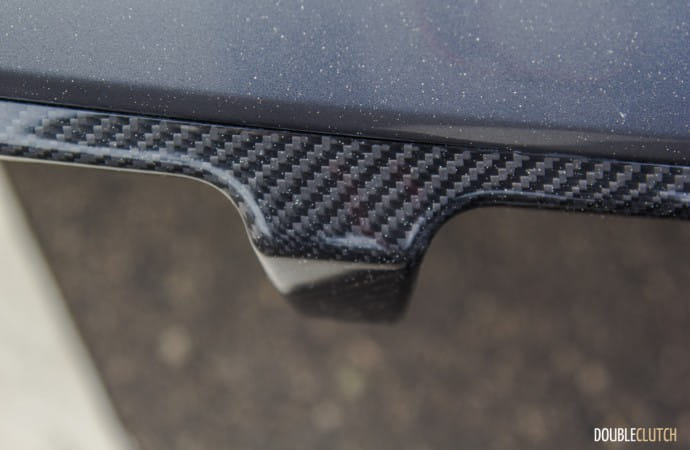 The argument can be brought up that $93,000 is way higher than even the V8 xDrive50i, which starts at just $81,200. However, the Audi Q7 Technik with all of the bells and whistles can be configured to a similar number, and isn't nearly as sporty. The Mercedes-AMG GLE 43 is in similar territory as well, but that is geared towards performance like this M-Performance, without getting into full-fledged turbo V8 AMG territory. Performance-oriented SUVs and crossovers have a definite market in North America, but they're not for everyone – they fit a certain demographic and they suit that specific lifestyle perfectly.
If it fits your lifestyle, requirements, and routine, the 2017 BMW X5 M-Performance xDrive35i is a very easy truck to live with. It combines all of the luxuries and creature comforts associated with a luxury sport-utility-vehicle with the athletic driving dynamics that the Bavarians are known for. There are now some rivals that offer similar athleticism, but the competitive Mercedes rides on a pretty dated platform at this point in time. The X5 packs the latest technologies and, in my eyes, has the best looks as well. Those fortunate enough to afford the price tag will find a great road companion in this sleek German.
2017 BMW X5 xDrive35i M-Performance Gallery
See Also:
2016 Mercedes-Benz GLE 450 AMG
2017 Jaguar F-Pace 35t R-Sport