The little VW is decent to push around the roads and is also very versatile.
Small crossovers are all the rage these days, and Volkswagen has been a key player in this segment for a while now. Introduced to the world as a 2007 model year vehicle, the Volkswagen Tiguan has soldiered on virtually unchanged for eight full years now. The redesigned European model has just been launched, but North America won't get it for at least another year. Instead we get a value-oriented Special Edition trim level to hold us over until the new model shows up on our shores. I took a 2016 Volkswagen Tiguan Special Edition home for a week to see how it stacks up against its rivals, a segment I've gotten quite used to over my time here at the magazine.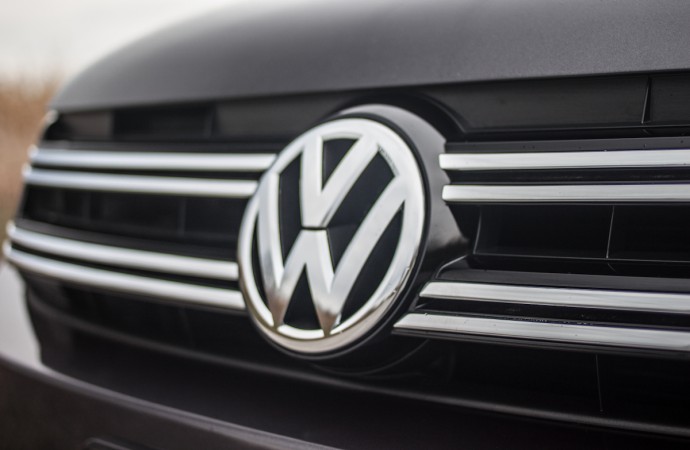 The Tiguan was always a smartly styled crossover. Based on the same A5 (PQ35) platform as the Mk-5 Volkswagen Rabbit/Golf, it's a small ute that competes with the likes of the Mazda CX-5 and Subaru Forester. It has received a few refreshes here and there to touch up the fascia and overall styling, which in my opinion still looks decent, but the Tiguan does look a bit dated overall. However, in typical Volkswagen fashion, it's elegant and inoffensive, with certain styling cues standing out against the relatively bland pack.
Under the hood of Volkswagen's small crossover is the same 2.0L transverse turbocharged four-cylinder that has been a staple in the VW/Audi lineup for quite a while now. Output is 200 horsepower at 5100RPM and 207 lb-ft of torque at 1700RPM. There's no slick-shifting DSG dual-clutch transmission available – our tester's 2.0L TSI motor was mated to a conventional six-speed automatic transmission. Purists can rejoice though – front-wheel-drive, base model Tiguans can still be had with a six-speed manual!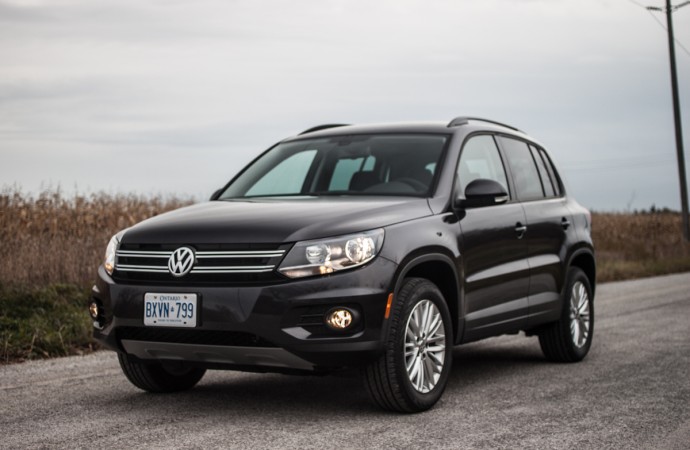 Volkswagen may be a bit overdue for a redesign, but the Tiguan is still wonderful to drive. The steering is direct and has plenty of feedback, and throttle response is good. There is some turbocharger lag, but that's due to the engine tuning – we've sampled other vehicles with differently tuned versions of the same 2.0T and haven't experienced this issue. Acceleration is direct and effortless, if not quick. The Tiguan boasts more power than the Mazda CX-5, the Toyota RAV4, and Honda CR-V. Certain competitors such as the Subaru Forester (XT) and Kia Sportage (SX-T) offer a second, more powerful engine option that put them in a higher price point as well.
The little VW is decent to push around the roads and is versatile enough to hold all the gear I require for my daily grind. However, I wasn't too happy with the fuel economy. Using only 91-octane premium fuel, the Tiguan returned 11.1L/100km in ideal temperatures and light-footed driving. My commute the week I had the Tiguan consisted of approximately a 70/30 split between highway and city driving. Internet sources show it can get away with regular fuel, but we chose to feed it premium 91-octane throughout our test week, since that's what is recommended by Volkswagen Canada.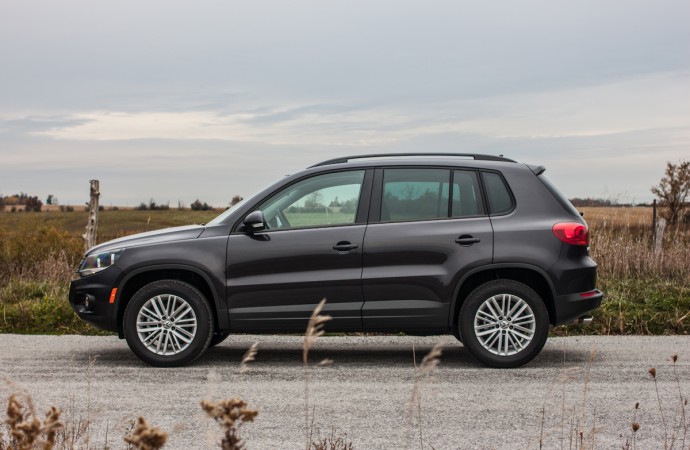 Interior accommodations within the Tiguan are essentially what we have come to expect from Volkswagen. Everything is strategically placed for accessibility to the driver and passenger alike. The large windows and low sills mean there are minimal blind spots and excellent visibility throughout. The driving position itself is a little bit on the awkward side, and I wasn't able to get the steering wheel (which tilts and telescopes) in the perfect position for my driving style. However, the seats are very comfortable and provide excellent lower and upper back support. Ergonomics are also on point, and Volkswagen undoubtedly lives up to their reputation for producing a high quality interior. Cheap plastics are scarce, and most surfaces visible feel great to the touch.
Our Tiguan is the "Special Edition" trim level – it's a new trim offered as a last hurrah to this generation of Tiguan. Though the base, manual transmission Trendline can be had for as little as $24,990, the Special Edition is strategically priced at $29,998. This puts it below the $33,998 Comfortline and the $36,998 Highline. In the value-oriented Special Edition package, the Tiguan comes with the Premium 8 radio, which includes a six-disc CD changer, touchscreen infotainment and eight speakers. It also has black roof rails, heated front seats and washer nozzles, Climatronic dual-zone electronic climate control, and rain sensing front wipers. The 17" "Fortaleza"-style alloy wheels are also unique to this model.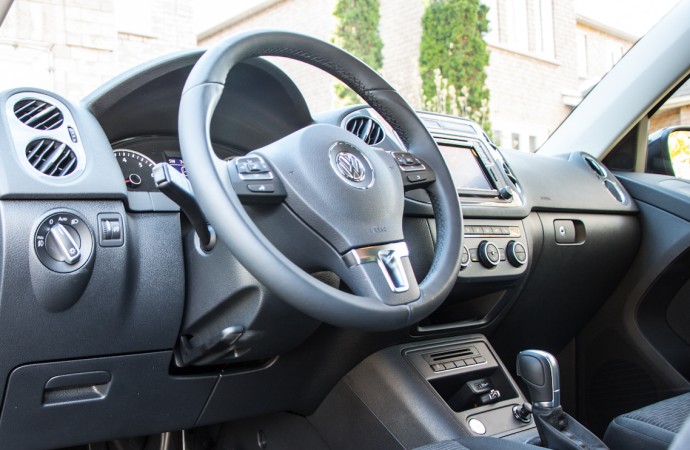 The biggest change here is the new infotainment setup. Volkswagen's old system was long overdue for a refresh, and they haven't failed to deliver with this new one. The touchscreen is responsive, fast, and the display looks brilliant. More importantly, rather than requiring annoying proprietary cables to connect external devices, there are regular USB ports available! Hallelujah! I found Bluetooth connectivity to be extremely simple and the pairing process took no time at all. Our model wasn't equipped with navigation, but I have played with a nav-equipped model and it was perfectly fine to use.
Also new for 2016 is the addition of Apple CarPlay and Android Auto compatibility to the entire Volkswagen lineup. The only model that doesn't receive the new infotainment is the full-size Touareg, which is expected to receive it in due time as well. Thanks to Android Auto, I was able to plug in my Nexus 5 with the standard USB connector, and my phone's content mirrored almost immediately to the Tiguan's infotainment screen. Making calls, sending text messages (via voice command) and even browsing Google Maps is effortless. With the implementation of Android Auto and CarPlay, there really is no need to pony up thousands of dollars for factory navigation systems. It's worth mentioning that in order to get Android Auto to work, I had to install a free app on my mobile device. This isn't the case with Apple CarPlay, which works instantly when plugged in.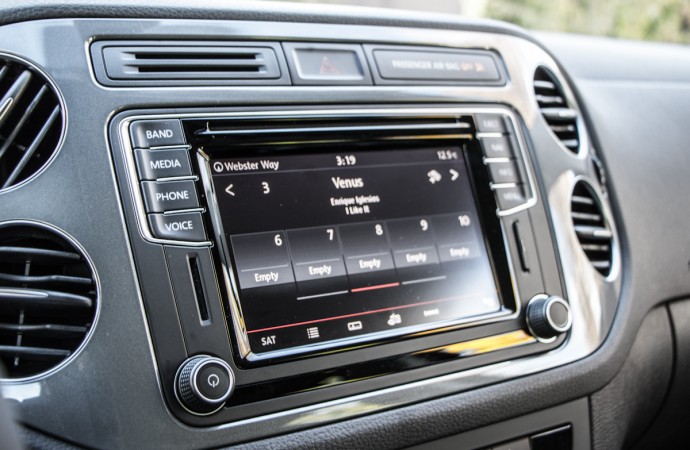 With all of the recent controversy around Volkswagen's 2.0L TDI diesel motor, it's not really an appropriate time for me to discuss what I really want to see in the Tiguan, but I'll do so anyway. Emission nonsense aside, the Volkswagen diesel engine really is a good one. It's refined, efficient, and quiet – offering it in the Tiguan for Canadian buyers would give Volkswagen an edge over the competition. Mazda has toyed with the idea of giving the CX-5 a diesel option, but that hasn't come to light as of yet, so there's currently no small crossover available with this setup. Of course, we should wait till VW rides out the storm to actually comment further on possible availability of a diesel with the next-generation model.
The 2016 Volkswagen Tiguan Special Edition is still a decent buy in its segment. At just under $30,000, it comes well-equipped enough to endure whatever the typical Canadian buyer can put it through. 4Motion all-wheel-drive means the Tiguan is pretty capable in the colder months, and would be an excellent choice for those ski/snowboarding trips up north, and safe enough to get your loved ones through their daily grinds effortlessly. With a full redesign that will undoubtedly bring the styling up to date and fix the awkward driving position, I have no doubt in my mind that the Tiguan will once again rise to the top of its rapidly-growing segment.
2016 Volkswagen Tiguan SE Gallery
See Also: