VW continues the turbo trend, and has rolled forced induction down to even the lowest trim levels.
In 2000, Volkswagen introduced turbocharged gasoline powertrains for the first time in the Jetta model range. In the middle to upper trim levels, the 1.8T engine offered significantly more pep than the base engine, while returning decent fuel economy compared to the six-cylinder "VR6" available throughout the 1990s and early 2000s. Today, VW continues the turbo trend, and has rolled forced induction down to even the lowest trim levels. Historically, entry-level compact cars were almost always considered to be penalty boxes, with minimal creature comforts and often terrible powertrains. The 2016 Volkswagen Jetta 1.4 TSI Trendline+ brings a new 1.4-litre turbocharged four cylinder engine to the table, and VW is expecting it to punch well above its weight.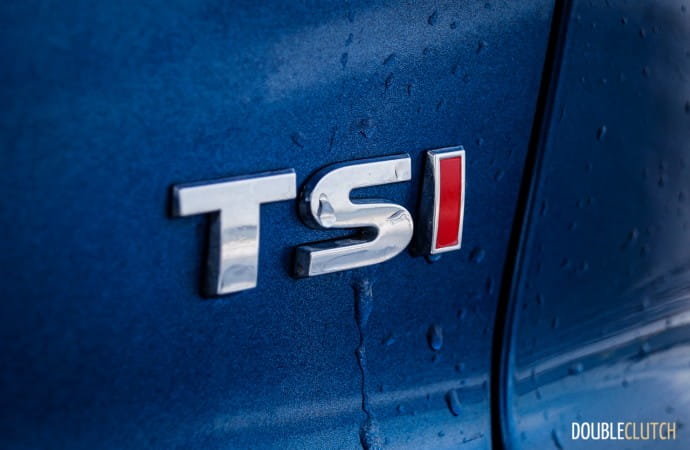 With special thanks to Volkswagen Canada, the Jetta Trendline+ was enlisted for a 2,500 kilometre road trip convoy that started in Toronto. With stops in Ottawa and Montreal, it happily handled three to four passengers and a bunch of luggage for a weekend away. Immediately afterward, the Jetta needed to make its way down to Detroit for the North American International Auto Show. To spice things up even further, nasty winter weather in Southwestern Ontario threatened to put a damper on things, but in the end, the little Jetta powered through and ended up leaving a great impression on all the staff at DoubleClutch.ca.
So then, what led to such a great impression? On paper, the 1.4 TSI ("Turbocharged Stratified Injection") engine is rated at 150 horsepower, beating out the now-discontinued 2.0-litre (known colloquially as the "two-point-slow") unit by 35 horsepower. Even better, there's 184 lb-ft of torque at any point between 1,400 and 3,500 rpm. In the real world, this translates to excellent throttle response and the ability to get moving without revving the engine to the moon. In regular driving, there was rarely a need to exceed 3,000 rpm, and there wasn't even a need for a downshift when navigating through the hills of Montreal.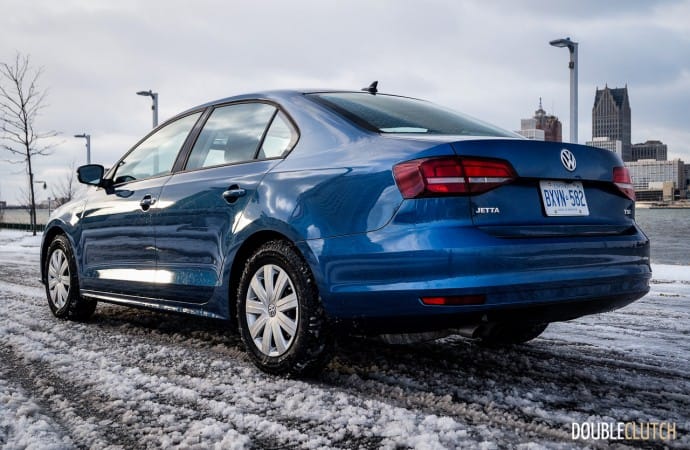 Interestingly enough, there is a 1.8-litre TSI available in upper Comfortline and Highline trim levels. Total output is bumped by twenty horsepower for a total of 170, but the torque peak remains the same at 184 lb-ft. This same level of torque is available in a broader range – from 1,500 to 4,750 rpm, but it's worthy to note that the 1.4 TSI peaks 100 rpm lower. With some time also spent behind the 1.8 TSI in prior reviews, it may be difficult to justify the larger engine because of the minimal bump in performance.
With such small displacement, most people will have high expectations for fuel economy, and the Jetta doesn't disappoint. Rated for 8.5L/100km in the city and 6.0L/100km on the highway when equipped with an optional six-speed automatic, observed test fuel economy was approximately 6.5L/100km in mixed driving. On highway-only sections of the road trip, it was possible to beat out the nominal highway rating, with numbers as low as 5.5L/100km. These numbers are very competitive against the likes of the Mazda3 (see our review here), Toyota Corolla, and Honda Civic, three of the Jetta's arch rivals in the class. With the standard five-speed manual, expect the fuel economy to get even better. To seal the deal and add to further savings at the pump, only regular 87 octane fuel is required, despite having a turbocharger.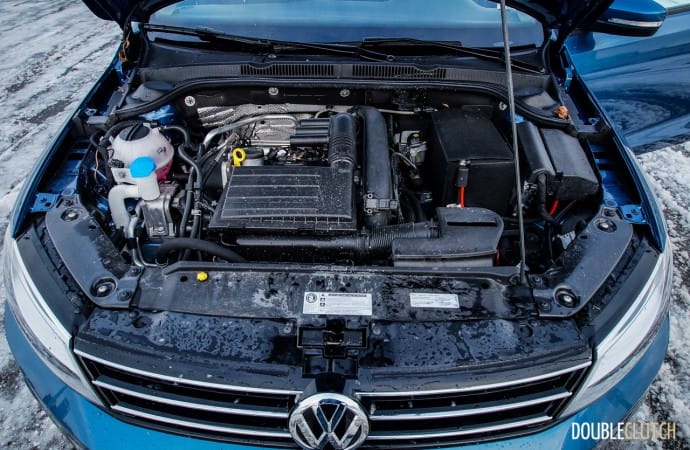 In terms of ride and handling, the Jetta proved to be responsive and at least somewhat engaging to drive, but it's clear that driving dynamics aren't necessarily at the forefront unless you go for the top-dog GLI trim. Equipped with 15-inch steel wheels with wheel covers, the squishy winter tires didn't help the handling response. On the positive side, highway ride quality was fantastic, with the thick sidewalls and cushy suspension acting to make the VW a competent cruiser for long distance hauls. Cabin interior noise was also kept to a minimum, which made things feel more upscale than expected.
One curiosity worth noting would be Volkswagen's speedometer calibration. It overstated actual speed by about ten percent on the highway; with cruise control set to a very illegal-sounding 129 km/h, dedicated GPS units and smartphone apps were able to verify that actual speed was closer to reasonable flow of traffic, or 118 km/h. While it's understandable that VW is discouraging drivers from speeding, those who think that they're abiding by the rules of the road may actually be going several kilometres per hour below the speed limit!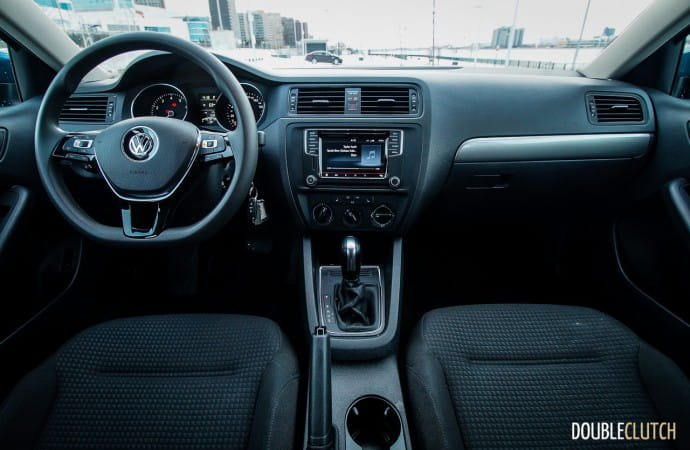 On the inside, the expected volume-seller Trendline+ continues to impress, with a solid set of features that drivers have come to expect in cars today. Cruise control, rear disc brakes, and a rear view camera are all standard equipment on the lowest level Trendline. The Trendline+ adds air conditioning, an alarm system, power heated mirrors, front heated seats, a front armrest, and keyless entry. Overall, interior quality is above average, with smart design and good fit and finish, sea of black plastic aside. Higher trim levels of Jetta will improve on this quality, but in terms of bang for the buck, it's hard to beat. Seat comfort on the checkered "Doryc" cloth is excellent, and both drivers and passengers alike didn't think twice about sitting for long stints – your bladder and appetite will require a stop before anything else! The only downside of the functional interior would be a lack of usable cup holders in the rear seat, which elicited slightly more than vocal complaints from the unfortunate souls relegated to the back.
With the Trendline+, an important option is a $400 App-Connect smartphone integration package. New for 2016, this adds Android Auto and Apple CarPlay functionality, as well as an upgraded 6.33-inch touch screen head unit that's also capable of handling XM satellite radio. When using Android Auto and Apple CarPlay via USB cable, most of the respective smartphone's functionality is mirrored onto the car's screen – and that's on top of the ability to take phone calls. No Apple products happened to be on-hand for testing this time around, but Siri integrated well on other Volkswagen products recently tested.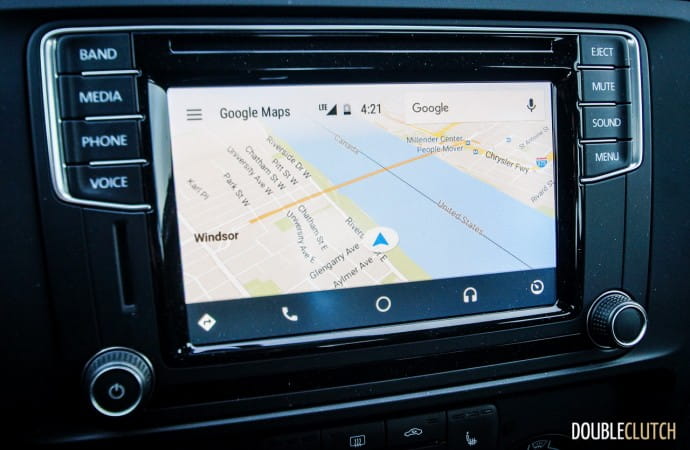 With Android, there was full navigation (Google Maps) and message handling (SMS/MMS, e-mail, and Google Hangouts). Music app compatibility included Google Play Music and Spotify, but other third party music apps didn't show up on the screen. If you're an audiophile and use non-default music apps such as Neutron Music Player, you may be out of luck for Android Auto until further updates happen down the road. Even so, the latest connectivity technology is heading in the right direction, allowing drivers to seamlessly integrate their smartphones.
With the 2016 Volkswagen Jetta Trendline+, the bottom line is on the plus side: at an as-tested price of $20,595 with the six-speed automatic transmission, it has created a formidable value proposition in its class. It also begs the question of whether the price premium of the diesel is justifiable relative to the 1.4 TSI. In its class, the Mazda3, Toyota Corolla, and Honda Civic are all solid contenders, and depending on objective styling preferences and local dealer pricing, it's hard to go wrong with any of them.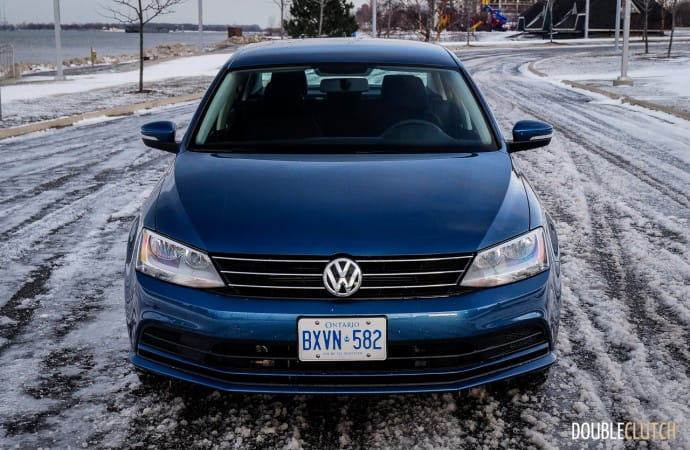 The only possible catch behind the VW is the 1.4-litre TSI engine's long term durability and reliability. Although it's great to drive and offers boatloads of torque, all of the Japanese models have larger, naturally aspirated four-cylinder engines ranging between 1.8 to 2.0 litres, and a more simplistic design may come out ahead while returning about the same fuel economy. Even so, at the end of the day, the Jetta proved itself to be a great daily driver that's extremely well equipped, and came in at a price point that doesn't hurt the wallet.
2016 Volkswagen Jetta 1.4 TSI Gallery
See Also:
First Drive: 2016 Volkswagen Jetta 1.4 TSI