The GTI loves to slingshot around town thanks to its abundance of torque.
In the mid-1970s, Volkswagen introduced the original "hot hatch" with the Mark 1 Golf GTI. With the combination of light weight, sharp handling, and an attractive price, car enthusiasts all over the world embraced the original GTI as one of the most iconic vehicles ever made. Countless imitators from other automakers have been made over the years, but VW can still lay claim to being the first. In its current Mark 7 form, the 2016 Volkswagen GTI Performance Package has found itself looking a bit more grown-up compared to the generations that came before it.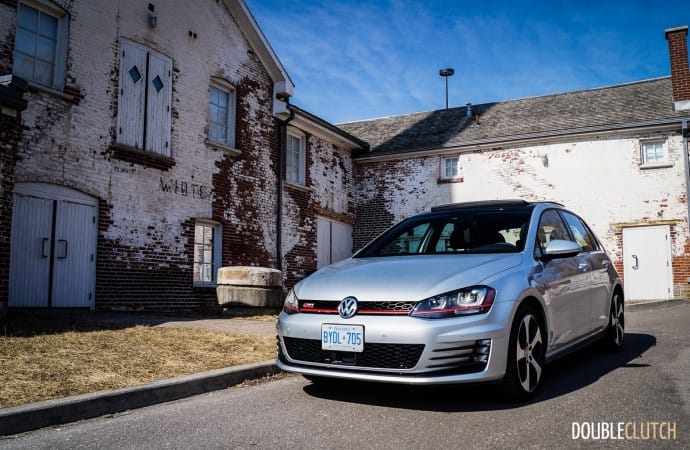 A rather classy-looking example Finished in Reflex Silver Metallic was recently in the DoubleClutch.ca garage for a week on test. Would it live up to the original spirit of the Mark 1, or has it morphed into something else all on its own? With an as-tested price of $39,495 for the five-door's top-level "Performance" trim, the GTI on test certainly isn't an economy car anymore, but has instead moved upmarket, and the external visual cues testify to this fact. A series of defined edges and creases give the GTI a clean look, further emphasized by the 18-inch "Austin" style alloy wheels wrapped in low profile 225/40R18 tires.
Red brake calipers, high-intensity discharge (HID) headlights, and dual exhaust tips round out the effect. The Performance trim packs a slight bump in horsepower, adaptive cruise, upgraded multimedia, forward collision and lane keeping safety systems, as well as adjustable suspension, steering, and chassis parameters with Dynamic Chassis Control. For those looking to spend a little less, a base three-door trim level does away with many of the goodies and starts at $28,595.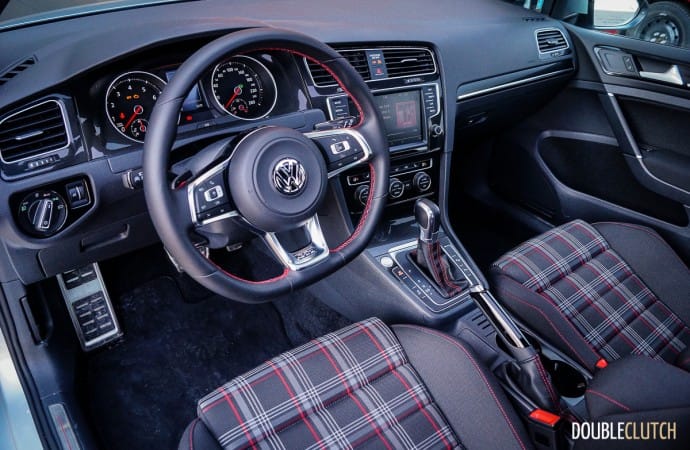 Inside, the GTI is very well equipped, and the Performance trim test car included an 8-inch touch screen multimedia and navigation system. Included is the wonderful App-Connect smartphone interface system, which brings Android Auto and Apple CarPlay functionality into the mix. New for 2016, it allows for the mirroring of Apple and Android interfaces into the car for hands-free operation after a quick software download – there's an app for that! A Fender-branded audio system complements the multimedia system very well, and the eight speakers plus subwoofer do great for those audiophiles (or audiophile wannabes) looking for brightness in their trebles and clarity in their vocals, on top of good bass control.
Also included on the VW is a dual-zone climate control system, regular Bluetooth connectivity (exclusive of App-Connect), as well as a panoramic sunroof. Rain sensing wipers are also included, and like the Volkswagen CC reviewed here, is a bit laggy in its operation. When driving at variable speeds or changing weather conditions, the wipers react about twenty to thirty seconds late each time. At the end of the day though, the rest of the GTI's interior is a great place to spend time, and is the best in its class. Materials, touch points, and build quality are all excellent, and make things feel almost Audi-like. There's seating for five, and the seats fold in a 60/40 split to accommodate various pieces of cargo.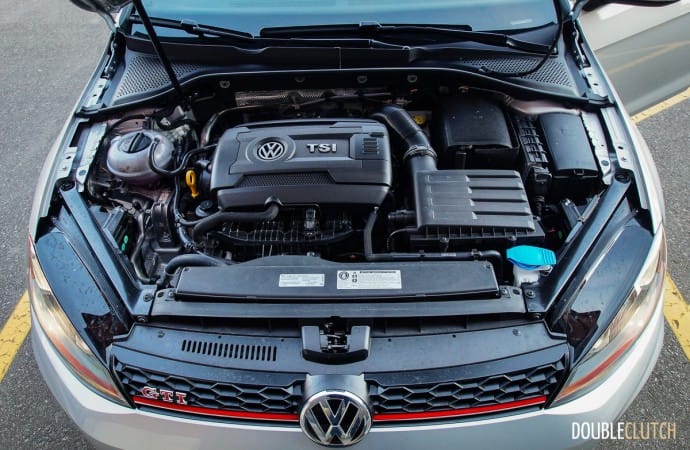 A key component of being a hot hatch is the engine – and the GTI doesn't disappoint in this area. A 2.0-litre, turbocharged and direct-injected four cylinder provides 220 horsepower in Performance trim, with base and mid-level Autobahn trims getting ten less. While this doesn't quite match its competitors (the Subaru WRX packs 268; the Ford Focus ST gets 252), there is a very healthy 258 lb-ft of torque between 1,600 and 4,200 rpm.
Paired with Volkswagen's six-speed dual-clutch DSG gearbox, the GTI loves to slingshot around town thanks to its abundance of torque. Throttle response is excellent and turbo lag is kept to a minimum, and the engine is happiest when kept below 4,000 rpm. However, once passengers and cargo are added, a bit of the VW's youthful enthusiasm is lost, and drivers might be wishing for a bit more power in the upper rev range. Fortunately, fuel economy is a strong suit for the GTI, with ratings of 9.5 L/100km in the city, and 7.2 L/100km on the highway. Observed economy over the week was 9.5 L/100km, and included plenty of urban driving with lots of turbocharger use under heavy throttle. Additionally, for 2016, the 2.0-litre engine happily accepts regular fuel, but premium is recommended for optimal power output.
Performance is helped along quite a bit by the dual-clutch transmission, which shifts as fast as one can blink, keeping power delivery smooth and linear. As with various other Volkswagen products tested with this setup, it is a bit clunky at low speeds, which is slightly excusable considering the performance during all other conditions. Paddle shifters are included behind the steering wheel, and one of the most fun things to do in the GTI involves a quick double-tap of the left paddle while cruising on the highway. After the transmission kicks down to fourth gear (with rev-match), putting the hammer down to pass slower traffic is something that is sure to put a smile on your face!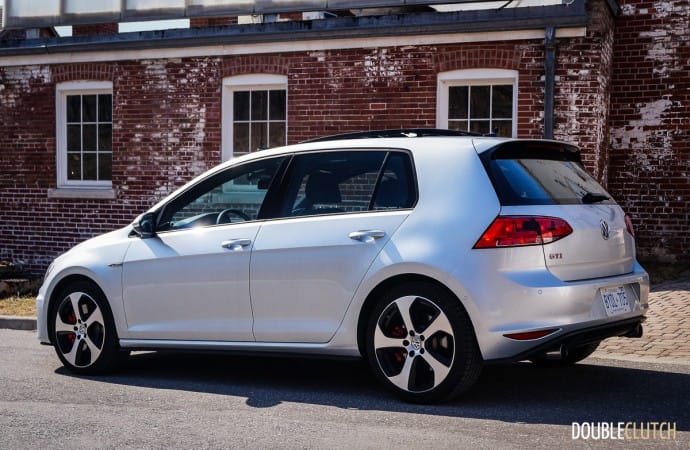 Another component of a competitive hot hatch is a chassis that rewards spirited driving. Built on VW's excellent MQB platform, the front-drive GTI weighs in at a very reasonable 1,400 kilograms (3,086 lb) for the heaviest Performance five-door model. In a day and age where cars are getting heavier due to safety enhancements and extra refinement, MQB is a welcome step in the right direction. The chassis makes the GTI feel even lighter on its feet, and brings an air of confidence while ripping up corners on your favourite backroad. Noise, vibration, and harshness are particularly well controlled, which makes it possible to be both sporty and luxurious in this car.
With independent suspension at all four corners, top-dog Performance models get a very welcome limited slip differential, as well as adjustable suspension and steering parameters with Dynamic Chassis Control. Drivers can select comfort or performance modes as they see fit, altering suspension stiffness, steering firmness, as well as engine and throttle response. Each option makes an appreciable difference in the behaviour of the GTI, and every driver will have their own preference on whether they're Dr. Jekyll or Mr. Hyde. For most of the test week, the suspension, engine, and transmission were set to "Normal" in order to preserve most of the GTI's civility, but steering was cranked up to Dynamic mode. Set in this manner, it created a heavily-weighted wheel with excellent precision and turn-in characteristics. When steering and accelerating at the same time, the limited slip diff kept power distribution in check between the left and right front wheels. This enhanced traction and reduced the tendency to understeer out of corners.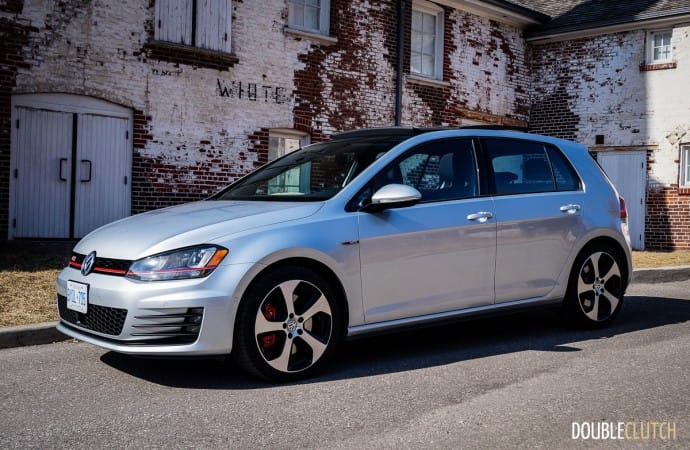 All things considered, the GTI is tuned more on the comfortable side. Its Subaru and Ford competitors do offer more ultimate grip performance, but do so at the expense of road manners. Bottom line – out of the box, the Volkswagen is the better daily driver, the WRX and Focus ST are better weekend track cars. Another issue of contention is the price of the Performance trim. It's approaching Golf R territory, and buyers looking to eschew the adaptive cruise, navigation, forward collision, and lane keeping safety features may find more value in a base R.
For $39,995 in manual and $41,395 in DSG, buyers get an excellent all-wheel drive system, 292 horsepower, as well as sportier suspension and leather seating. For $33,995, the mid-level GTI Autobahn is the best bang for the buck in the range. It maintains goodies like Fender audio and bi-xenon headlights, but gives up features like the limited slip differential and Dynamic Chassis Control. In any case, the 2016 Volkswagen GTI is a great contender for buyers looking for a sporty daily driver that emphasizes a great driving experience on the road without sacrificing comfort. While some purists may argue otherwise, the latest and greatest Mark 7 still embodies most of the original Mark 1's persona, but does so with a premium twist on the everyday hot hatch.
2016 Volkswagen GTI Performance Package Gallery
See Also: