The Golf is a car that one could live with for a very long time.
I've recently found myself recommending Volkswagen's cars to a few friends, which is a little curious since despite owning my own little German roadster, I am not typically a big believer in all the hype around German engineering. Nonetheless, each time I have reviewed a Volkswagen, I have come away impressed in some way or the other. Whatever the size, purpose or powerplant, the common trend has been stellar fuel economy, a solid and engaging feeling behind the wheel, and near-perfect highway manners. From the full-sized Touareg (reviewed here) right down to the Beetle, I've found these same traits in every recent VW I've driven. As soon as I heard that a 2016 Volkswagen Golf Highline was available for a test, I wanted to see if it would be a contender on my favourites.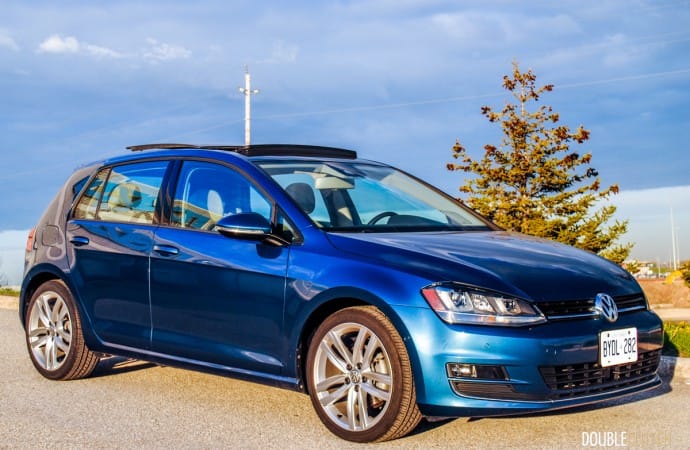 Firstly, another thing I've grown fond of is Volkswagen's styling. While most of them don't immediately grab lots of attention, upon closer inspection you'll find clean, crisp lines and very well thought out proportions. The reason VWs don't grab attention isn't because they're not pretty – it's because they go about being pretty in a subtle way. The Golf is no exception; clean lines and a fresh take on a familiar hot hatch shape. The Silk Blue paint on my tester garnered plenty of compliments, and the 18" Durban wheels look absolutely perfect on the car. My Highline trim test vehicle came with LED running lights and bi-xenon adaptive headlights, which really give the little hatch a premium look, not to mention performing gloriously at night. It also has a massive sunroof, which looks and feels pretty slick.
The same clean, simple and crisp feeling is carried forth inside the Golf. The dashboard is uncluttered and easy to understand, while the use of rubberized plastics and solid feeling build quality help to give the interior an understated yet upscale feeling. The light tan leather and big sunroof in my tester also work to give the available space an airy feeling, which is a nice treat on these early spring days. The Golf has always been known for its versatility, so I wasn't surprised to find an excellent utilization of space inside my test car.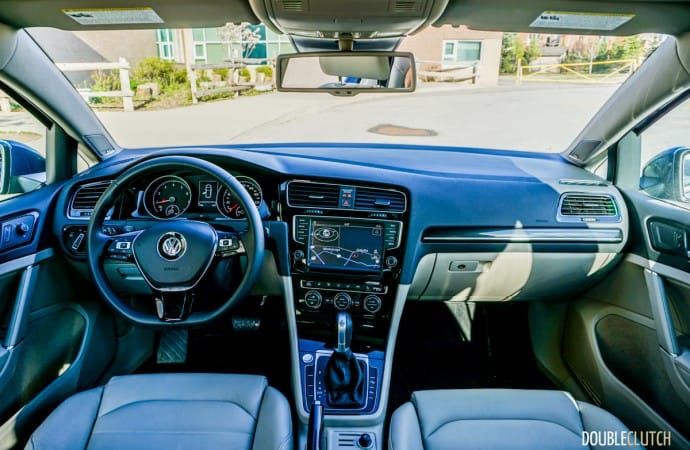 The storage pockets in the door panels are simply massive, bigger than many full-sized SUVs, and the center console and glovebox offer plenty of additional storage. The rear cargo area is much bigger than you might expect looking at the exterior dimensions, and with the split rear seats folded you get even more usable space. Comfort is another strong point for the Golf, with plenty of head and legroom in the rear, and comfortable heated seats up front with 12-way power adjustment on the driver's side.
It's also extremely easy to stay connected to the outside world from inside the Golf. App Connect is available, which, put simply, allows you to connect your smart phone to the car's touchscreen so you can use (most) of the apps in your phone through the Golf's interface. This includes Apple CarPlay and Android Auto, standard equipment in most Volkswagen models for 2016. My loaded test car came with an 8" touchscreen, which serves as the hub for all multimedia in the car, including the integrated navigation system and satellite radio.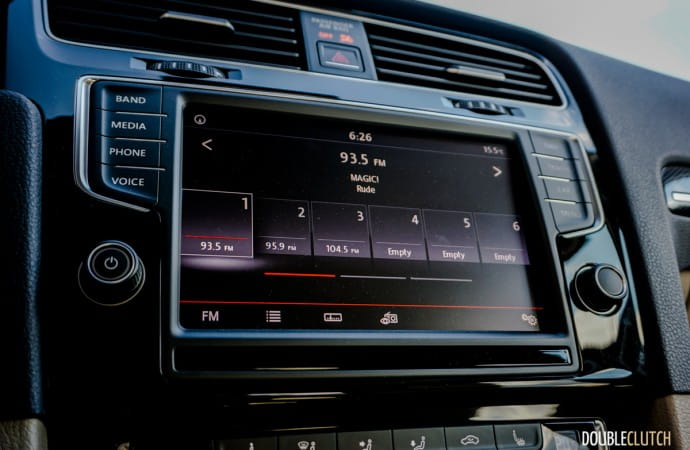 Speaking of gadgets, my Golf came loaded to the gills with many features that until recently I'd only expect to find in more upscale luxury car. However, these gadgets don't necessarily come cheap. Pricing for the Golf starts at a frugal $18,995 for a base model three-door; stepping up to a base five-door will cost you an extra $2,000. Going for a top-trim Highline five-door like this one will start at $29,500, and you'll need to add another $1400 if you want it with an automatic.
At that price you do get a plethora of nice features such as the panoramic roof, dual-zone climate control, the upgraded exterior lighting, leather seating and a whole lot more. Adding the $1,700 'Sights and Sounds' package gets you the 18" wheels, powerful Fender sound system and adaptive headlights. Another package, the Technology package, is available at $1,800 and adding adaptive cruise control, the 8" touchscreen, navigation and a slew of electronic driving aids. While it hurts to spend on packages like these on top of an already top-trim car, the pricing is pretty fair based on the content.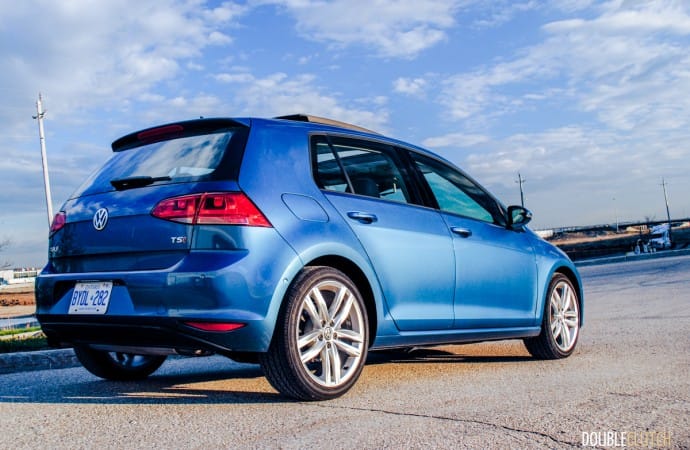 As I alluded to earlier, the Golf is a great driving little car. In fact I'll go as far as saying that the Golf is the best driving car in the compact segment today. Like all Volkswagen products it has a very confident, solid and quiet feeling on the highway. Wind and road noise are minimal, the steering tracks perfectly straight, and the motor hums along quietly at ease. In the city, the Golf remains a very fun little car to drive – it's agile, responsive and exceptionally easy to park.
The 18" wheels and low profile Bridgestone Potenza tires do make the ride a little rougher, so you'll feel the potholes a little more in the name of good looks. One interesting and appreciated feature is the rear-view camera which is built into the VW emblem on the hatch. When you put the car in reverse the emblem swings up revealing the camera, otherwise it remains hidden behind the emblem again – this keeps the lens clean and free of road grime, so the camera's view is never obstructed.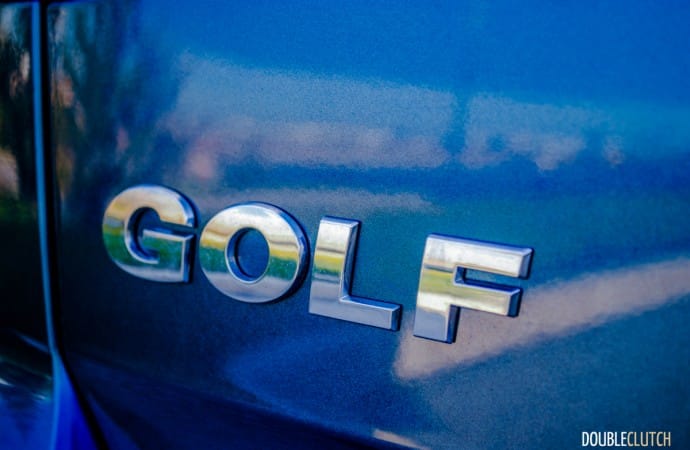 The Golf's only engine option right now is the 1.8L TSI turbo four-cylinder, which outputs a respectable 170 horsepower. The standard transmission is a proper five-speed manual, and my tester came with the optional six-speed automatic. The engine is very responsive, as is the gearbox, making for a very engaging drive and a car that feels more powerful that it actually is. The Golf proves that 170 horsepower really can be enough. It will pull off effortless passes on the highway, and briskly accelerate from a stop in a smooth, quiet and linear fashion.
Fuel consumption is right in-line with the rest of the segment at 6.9L/100kms after my week of rush hour commuting. I have to say though, I was expecting slightly better from the Golf, but it may just have been me enjoying the Golf's responsiveness a little bit more I could have, making use of the power and Sport mode on many occasions. One noteworthy point is that despite being turbocharged, the 1.8 TSI can accept regular 87-octane fuel without any issues whatsoever.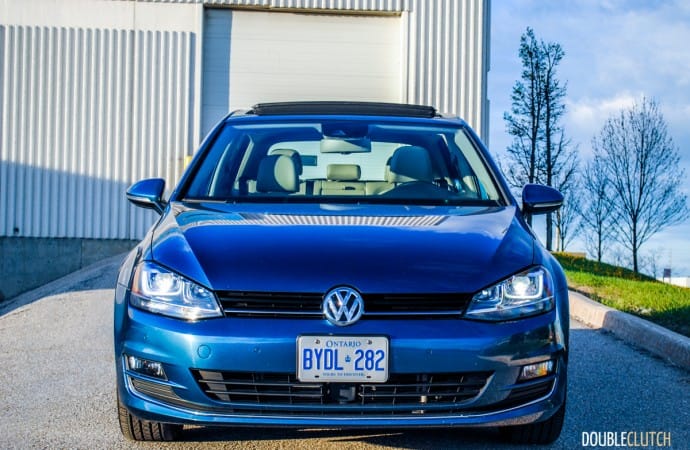 Unsurprisingly, I enjoyed my week with the 2016 Volkswagen Golf TSI, and I wouldn't hesitate to recommend it as my favorite in the compact segment. That said, it does come with a bit of a cost premium over its rivals, especially if you want to have all the toys available. Even so, the Golf is a car that one could live with for a very long time. It's versatile, fun to drive, and feels just upscale enough that you can take it wherever you want to go and know that it'll fit in. As a young professional, and a commuter, I could easily see myself, or someone like-minded enjoying a Golf for years to come.
2016 Volkswagen Golf TSI Highline Gallery
See Also: