This offers a considerable amount of utility for a price once unheard of for a Mercedes.
My road tests typically consist of sports cars, luxury vehicles, and even crossovers or SUVs. Occasionally, we'll even take a road trip in a minivan, like the 2016 Chrysler Town & Country (reviewed here) we took to New York earlier this year. This though – this is completely out of my comfort zone. One of my oldest and dearest friends was getting married roughly three hours away, and a bunch of us were traveling down for the occasion. I reached out to Mercedes-Benz, who were happy to oblige with the latest in people-movers to grace their lineup. We set out on our trip in the 2016 Mercedes-Benz Metris Passenger Van, packed with our luggage, suits, and with plenty of space to spare.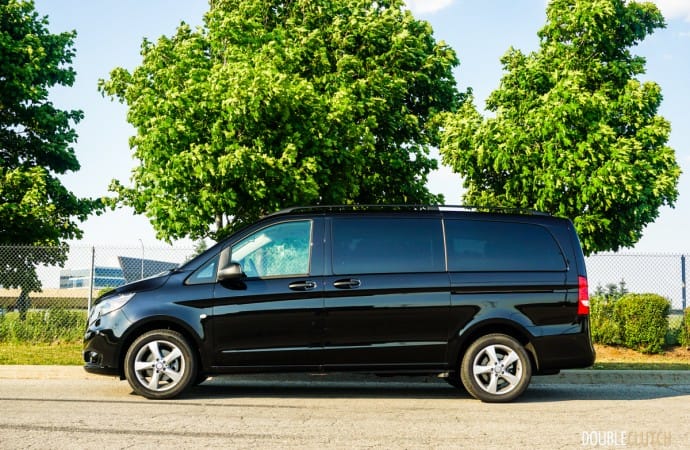 The Metris is not to be confused with the much larger, more commercial grade Sprinter (reviewed here). Available in both cargo and passenger configurations, the Metris has been sold in Europe as the "V-Class" or "Vito" for many years now. Recent years have shown brands like Ram and Ford bringing over their smaller European commercial vehicles, so it was only a matter of time before we saw other brands doing the same. It's only available in one wheelbase, with one standard roof (no high roof option is available), and interestingly enough, it's built in Spain.
Mercedes-Benz rates the Metris to tow up to 4,960 pounds, and it has a payload capacity of just over 2,500 pounds. Our test vehicle was the passenger model, which means in its current configuration, it can seat seven in comfort. Various configurations are available, but this van's goal is to maximize space efficiency while keeping costs down. Therefore, features like fold-flat seats and trick floors are unavailable. The second and third rows of seats will roll out if the space is required, but even with all of them intact, we had plenty of space for all of our cargo.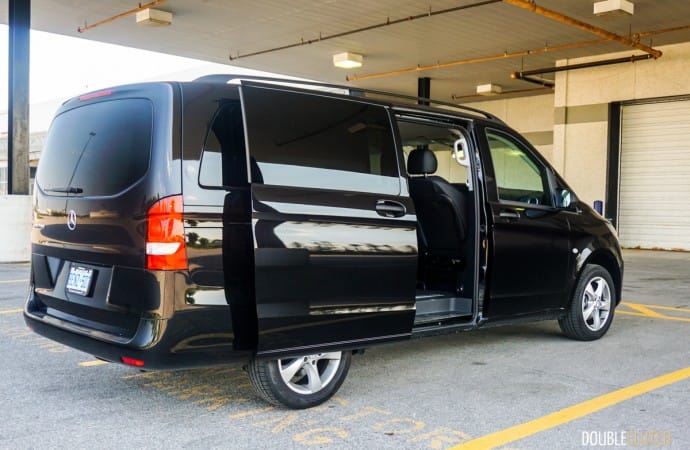 I wasn't surprised that most people I encountered during my week with the Metris assumed that the big van was powered by a diesel engine. On the contrary, under the hood of the utilitarian Mercedes is a 2.0L inline four-cylinder engine, turbocharged. This is the same motor seen in other products in the Mercedes-Benz lineup, including the C 300 (reviewed here). It puts out 208 horsepower and 258 lb-ft of torque, which may not seem like a lot. Out on the open road though, the Metris never feels like it's struggling to get up to speed. It's not quick by any means, but its acceleration is smooth and lacks drama.
Power is sent to the rear wheels – no all-wheel-drive is available on the Metris. However, with enough weight on board and a good set of winter tires, I have no doubts it will fare just fine in Canadian winters. The transmission doing all of the work is Mercedes-Benz' seven-speed 7G-Tronic automatic transmission. It has paddle shifters and an actual manual-shifting mode! We opted to let it shift for itself, but the "Eco" and "Comfort" modes are excellent for adapting the transmission's logic to a specific setting.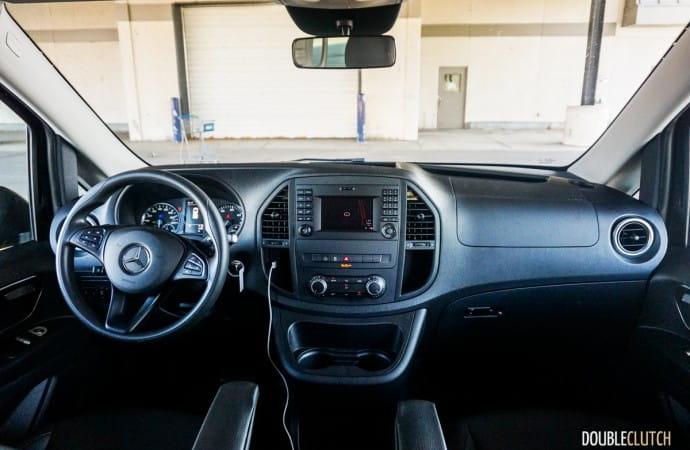 What really surprised me about the Metris is how composed it was when tackling hours upon hours of rigorous highway driving. It held the speed limit comfortably, the transmission stuck to seventh gear, and road noise wasn't an issue in the slightest. Ride quality was smoother than any other van of this size, and passengers never once felt like they were being punished. The last time we did this exact drive, it was in the 2016 BMW 328i Touring (reviewed here) and not for one second did the Metris feel like a downgrade. The steering is light and effortless, lacking in any sort of analog feel, but the turning radius is extremely small and the van whips U-turns like it's nobody's business.
Fuel economy was equally unexpected, but not all that surprising considering there was no lead-footed driving involved. Driven almost exclusively on the highway in the most relaxed manner possibly, the Metris returned 9.4L/100km combined over the course of our ~800 kilometer trip. The 70L fuel tank recommends 91-octane fuel, but reputable sources say it can accept regular at the expense of fuel mileage and optimal performance. Our test was on premium fuel only – we saw no reason to disrupt the effortless operation of our van.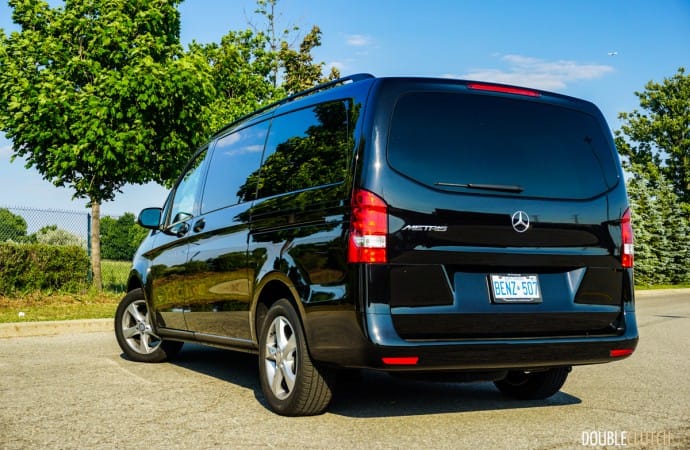 Hopping atop the tall front buckets, it immediately becomes evident that this is a Mercedes-Benz product. The leather-wrapped steering wheel is right out of the C-Class (reviewed here), and the general switchgear is shared with the rest of the family. Even the heated seat button is on a similar panel as observed in the GLC 300. The climate control is automatic, and the infotainment is an older version of the COMAND system. One cost-cutting bit is the low-resolution navigation system, which is confusing to input destinations into, and the small screen makes viewing the map more difficult than it needs to be.
Sitting at 6'3 in height, the Metris is extremely tall, but not so tall that it needs to have designated parking. From what we experienced, most underground garages will accept it, though private home garages are another story. The added height and overall boxy shape helps the big van boast exceptional interior space and added flexibility. Headroom is plentiful, and there's plenty of space to the right of the second row bench to travel into the third row. This area can also be repurposed for more suitcases or luggage should the need arise. The flexible seating means that there is a blatant silver rail there for an extra seat, which looks ugly and takes away significantly from the interior's aesthetics.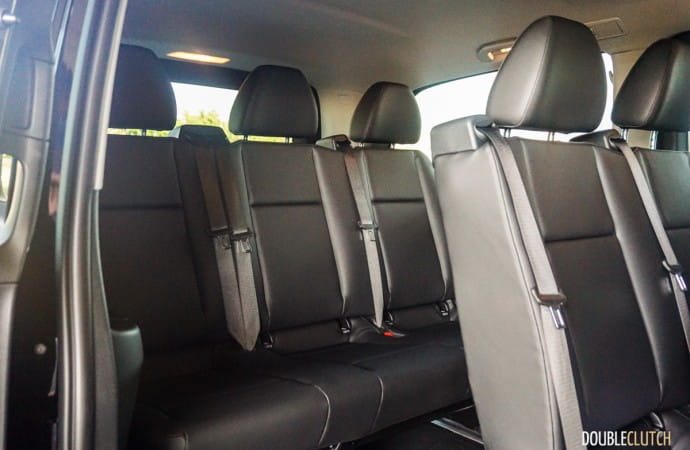 Perhaps the most remarkable thing Mercedes-Benz has done with the Metris is allowed it to remain a value product regardless of the three-pointed star on the hood. The passenger model starts at just $37,900, well below what the larger GM commercial twins (Savana and Express) were priced at before being discontinued. Our vehicle had the Cold Weather Package (electrical auxiliary heating, heated front seats) for $630, Luxury Interior Package (comfort suspension, chrome interior accents, rear carpeting, footwell lighting, comfort overhead panel, etc.) for $940, and black leatherette for $360. Additionally, the Deluxe Appearance Package adds 17" alloys and body-coloured bumpers for $990, and the Convenience Package adds cruise control, a multifunction steering wheel, center console, and a trip computer for $690. Add in a few more standalone options, and our van stickered at only $44,820.
The 2016 Mercedes-Benz Metris Passenger Van isn't for everybody, but it offers a considerable amount of utility and versatility for a price once unheard of for a Mercedes. Let's take into account for a second that $45,000 will buy a reasonably-equipped Honda Odyssey (reviewed here). The Metris is aimed squarely at commercial markets such as courtesy shuttles, hotels, and businesses required to transport many people in comfort. There aren't very many people movers on the market that make such few compromises to get this much utility, and that's what pushes the Metris up in my books.
2016 Mercedes-Benz Metris Passenger Van Gallery
See Also:
2016 Chrysler Town & Country Limited