Brisk driving through off-ramps and twisty corners in the 5 has just a slight air of fun to it.
"It's a car with sliding doors!" That's how my wife described the 2016 Mazda5 GT the first time she saw it, and it's exactly how I imagine most owners think of their car. It seats 6, offers the cargo versatility of a minivan, and the maneuverability and efficiency of a car – this Mazda really is in a category on its own. It's also no longer available in the U.S where its sales slumped, relatively speaking, in comparison to Canada, which makes the Mazda5 that much more unique. Not knowing how much longer it will be available for; I thought it would be a good idea to spend some time with one to see what it's all about for myself. After all, this could be my only chance to drive a car with sliding doors!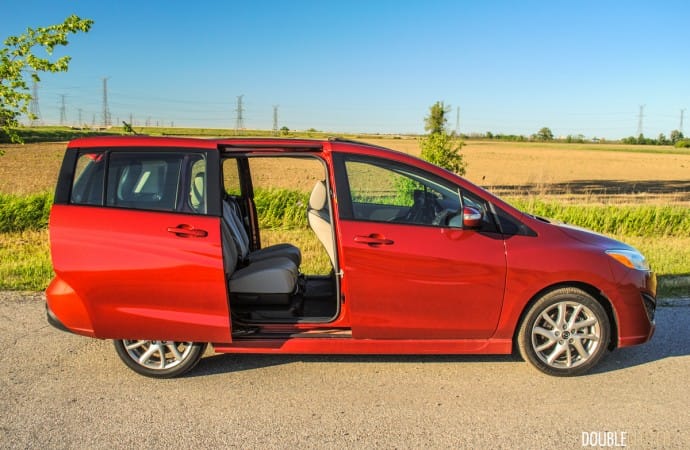 The kind folks at Mazda Canada arranged for me to spend my week with a top of the line GT trim Mazda5, finished in a sporty Zeal Red Mica. The 5 really does look a lot like a dwarfed minivan, but it wears Mazda's "smiling jack-o-lantern" front fascia, and in the right light you can see some subtle creases in the body that tie into their Soul of Motion design language. The GT rides on good-looking 17" wheels, and comes with a highly functional pair of HID headlamps and standard halogen foglamps. The projector-beam HIDs give the car a touch of premium-ness, while doing a phenomenal job of lighting the road ahead of you. It's worth noting that this is the last Mazda vehicle around from the Mazda-Ford alliance.
The first thing I noticed when I opened the door to the Mazda5 is just how low the floor is. Unlike a minivan often requiring a decent step-up to get in, you can almost walk right into the Mazda5, making ingress and egress extremely easy. This is a factor which is becoming increasingly important with our aging population. The low floor also makes loading and unloading, whether it be children or cargo, into the rear an absolute breeze. Once inside I noticed how nice the GT's leather seats really are; Mazda did not cheap out here, having provided some very comfortable, supportive and stylish seats with soft cream leather and dark red piping.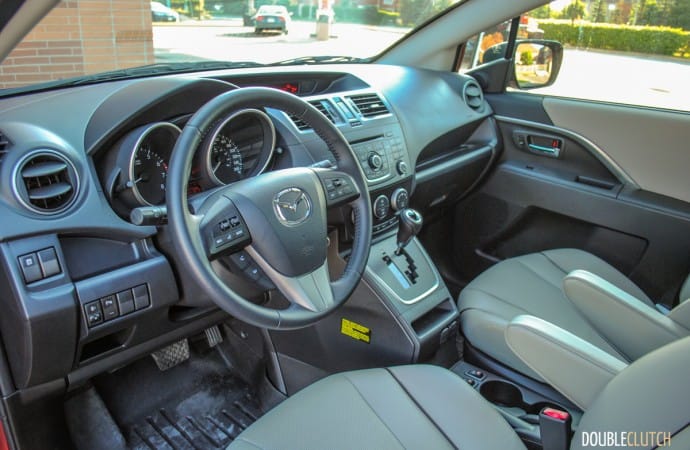 The front seats are heated, the second row captain's chairs offer enough space for adults to lounge, the third row bench might be a little tight for adults on a long trip but in a pinch it'll get the job done, and will seat children and teenagers easily. Fancy seats aside, the rest of the interior is all function. The rear seat bottoms flip forward revealing handy hidden storage bins and all of the rear seats fold perfectly flat, making the Mazda5 ideal for bulky cargo or home renovation materials. The dash and door panels are mostly hard black plastic. Nothing special, but they're easy enough to wipe clean when it gets messy.
The leather wrapped steering wheel puts all the key controls at the driver's fingertips, which is a good thing. That's because the audio controls on the centre stack are oddly positioned with the tuner knob dead centre and the equalizer control knob over the right where you'd expect the tuner to be. The automatic climate control buttons are below and those are clear and easy to use. Unlike every other car I've tested this year to date, the Mazda5 does not have a large touch screen infotainment system dominating the dashboard. Rather, all the information you need is displayed in an old-school digital readout at the top-centre of the dash. It's a no frills way to get the job done, and since I am not at all a techie I didn't miss having a big screen to play with.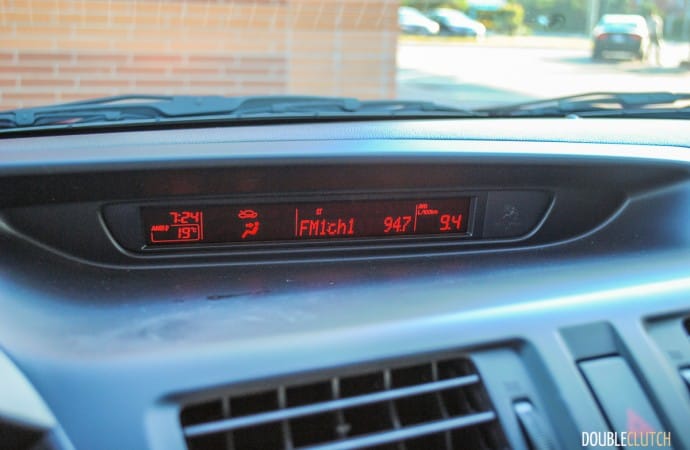 However, the lack of a screen it does make the Mazda 5 feel much older than it is. That digital readout has been around in Mazda models since the mid-2000s, so I was definitely a little surprised to see it still in use. There is also the issue of limited integration – not having a screen to play with puts a serious limit on what you can do with the technology in the 5. The other little thing I found strange in the 5 is that even though my tester was a fully loaded GT model, there was a noticeable number of "blank buttons", making the interior feel like it's lacking options, when in reality there's nothing more to have.
Like the interior, the Mazda5's powertrain is also a few years old now, but to this writer it still felt pretty fresh. The 2.5L 4-cylinder puts out 157 horsepower, and thankfully it's not mated to a CVT. Rather, a good old-fashioned 5-speed automatic is on board. Interestingly, the Mazda5 can be had with a six-speed manual (reviewed here), and it's actually about $1,200 cheaper than the automatic. That might be enough to entice some enthusiastic drivers into the stick, which would make for a very unique family transporter. The five-speed automatic however is a good little unit and it makes great use of the meager 157 horsepower it's been dealt, eagerly downshifting and keeping the motor running along at the ideal RPM, whilekeeping throttle response reasonably sharp.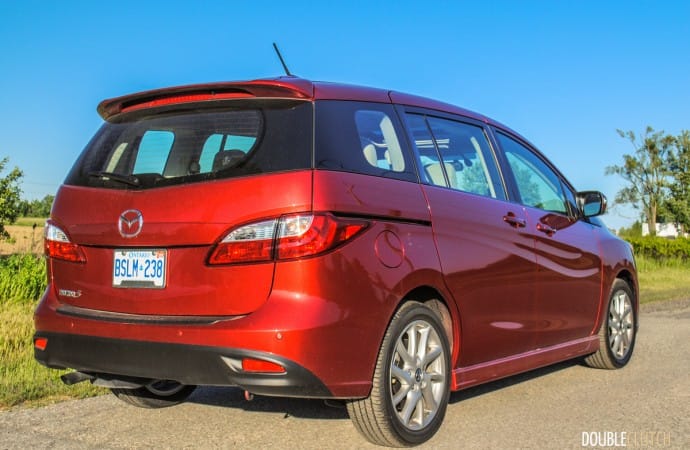 Now, Mazda is known for fun, great handling cars and as such they've worked to infuse just a bit of that fun spirit into the versatile 5. The steering is responsive and tight, body roll is minimal, and the 5 actually feels very light and nimble while maneuvering in the city. While not fast, brisk driving through off-ramps and twisty corners in the 5 has just a slight air of fun to it, which pleasantly surprised me. The fun stops on the highway though as at cruising speed the Mazda5 doesn't feel as confident or as stable as I would've liked. Road and wind noise are also prevalent at highway speeds, making the 5 best suited for city driving or shorter commutes.
Ride quality is fairly pleasant, regardless of speed or road conditions, not something I am used to from Mazda, and I credit at least a portion of that to the smaller wheel rim diameter chosen for the 5. Equally impressive was my fuel economy for the week. After five full days of rush hour commuting, and running some errands around the city, my average fuel consumption sat at 9.6L/100kms. Considering the amount of seating and cargo space the Mazda5 affords, that's a great number in comparison to anything else with comparable space. That said, if Mazda were to make similar powertrain updates here to what they've been doing for the rest of their line (read: SkyActiv), it would be easy to see even better numbers.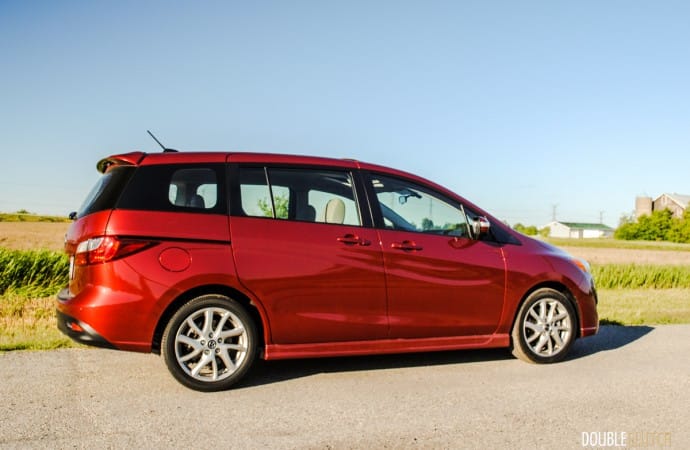 Another thing the Mazda5 has going for it right now is the price. You can get into a base Mazda5 GS with a manual transmission for a few dollars over $24,000. Add a couple of option packages onto the GS to make it what you want, or step up to the loaded GT like my tester for the full gamut of options. Notable additions include the HID headlamps, leather seats, power moonroof, heated mirrors, tire pressure monitoring system , reverse parking sensors, six-speaker sound and tasteful looking side skirts. As tested, and with the automatic, my tester came out to $30,025, and that's as pricey as it's going to get with the 5.
The bottom line on the 2016 Mazda5 GT is that it's surely not for everyone. But, if you're looking for the ultimate in practicality, while still having something small, maneuverable and efficient, the Mazda5 is one of the most unique choices around. There's great value to be had here too – for the price of a loaded Honda Civic you get a vehicle that can seat six people, or a whole lot of cargo, while still feeling and driving like a compact car. If that interests you, then I'd suggest you make your way to a Mazda dealership, as while no announcements have been made regarding the future of the 5 in Canada, I am not sure how much longer it'll solider on or receive any major updates.
2016 Mazda5 GT Gallery
See Also:
2016 Chrysler Town & Country Limited