The CX-5 has a smartly designed interior that places everything in a logical spot.
The compact crossover SUV market is an extremely competitive segment, and the 2016 Mazda CX-5 GT is no exception to that rule. Introduced for the 2013 model year and refreshed for 2016.5, the CX-5 goes up against stiff competition, including the likes of the Honda CR-V, Toyota RAV4, Subaru Forester, Ford Escape (first drive review here), Hyundai Tucson, and Kia Sportage (reviewed here). All are strong sellers for their respective automakers, and the Canadian car-buying public are snapping them up in droves thanks to their good cargo carrying capacity, increased ground clearance and all-wheel drive for winter driving, as well as favourable fuel economy from four-cylinder powertrains.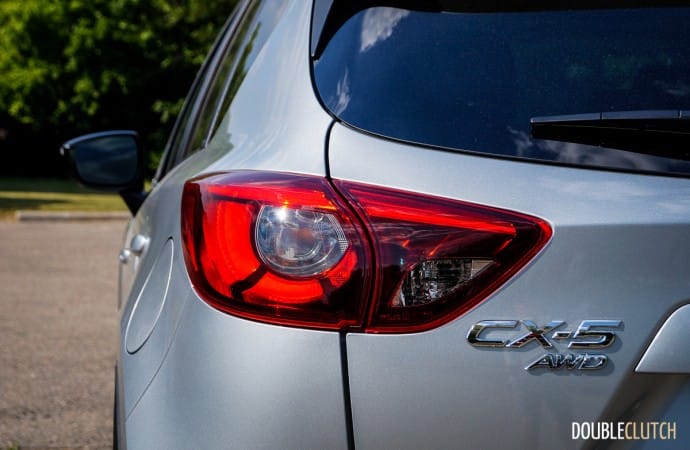 Among other things, they drive more like civilized cars rather than rough and tough trucks, and their overall exterior dimensions are not too unwieldy in an urban environment. Mazda Canada recently offered up an opportunity for the DoubleClutch.ca Magazine editorial team to test out a Sonic Silver Metallic 2016 Mazda CX-5 GT, and while it's no MX-5 (reviewed here) when it comes to sportiness, it became immediately apparent that the same design philosophy has trickled down to Mazda's bread-and-butter crossovers.
On the outside, the CX-5 brings with it Mazda's Kodo design language. Compact crossovers nowadays tend to have bolder styling, like the Kia Sportage, or Hyundai Tucson (reviewed here). The Mazda has a look that possesses many flowing lines, and according to Mazda, it elicits the powerful stance of a cheetah before it pounces. In actuality, the styling of the CX-5 is a little more conservative and inoffensive, but doesn't get anonymous to the point that it could become a generic "anycar" that can be seen in non-automotive TV commercials. 19″ alloy wheels bolster the sportiness and the low-profile improve handling, and the LED headlights, fog lights, and taillights all help to give the CX-5 a more premium touch.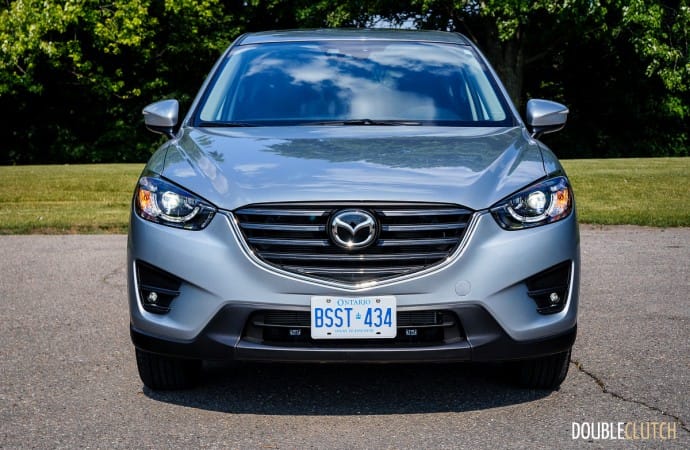 Moving inside, the CX-5 has a smartly designed interior that places everything in a logical spot within reach of the driver. While it's not the most premium feeling in terms of material selection, drivers and passengers alike will be able to appreciate the fact that Mazda put a little extra thought into making the interior work very well for everyday use. Just about every common function uses a dial or button, which is becoming a rarity with the advent of touch screen interfaces.
The tactile feedback of a dial or button allows a driver to keep their eyes on the road while adjusting things like heating or audio controls. The Human-Machine Interface (HMI) multimedia platform utilizes two dials on the centre console – the larger one controls what's on the 7-inch screen, which also has touch capability. The smaller dial is for volume control only, in an arrangement that's not too far unlike that of Audi's MMI. In any case, it works well and is one of the more intuitive setups on the market.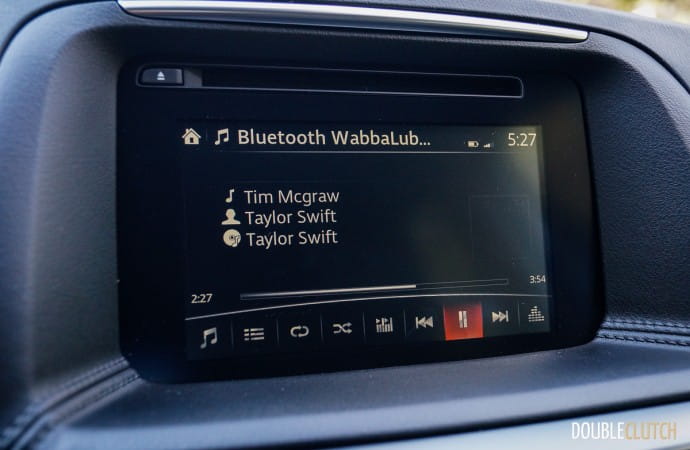 Starting at a manufacturer's suggested retail price of $34,895 before freight and fees, the CX-5 GT on test was reasonably well equipped. Standard features included a power moonroof, rear view camera, heated leather seats with 6-way power adjustment, rain sensing wipers, a blind spot and cross-traffic monitoring system, navigation, dual-zone climate control, and adaptive LED headlights. For $2,100, the CX-5's Technology Package further adds to the safety feature suite, including forward collision warning and mitigation systems, adaptive radar cruise control, and a lane departure warning system.
With regards to the added safety equipment – the forward collision and blind spot monitoring systems work as well as expected, but the lane departure warning system was a bit awkward in its operation – it's a little bit too aggressive, and temporarily shifts the audio balance away from the side the car is drifting to – which isn't as intuitive to the driver as it should be. The Tech Package is the only option available on the GT, and it brought the total as-tested price to $36,995.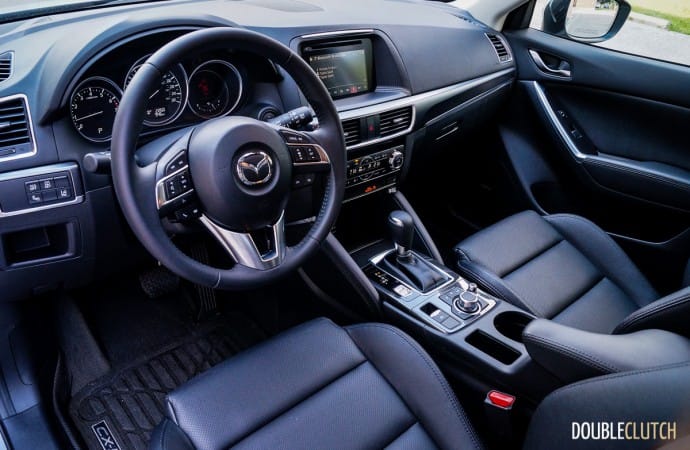 Powering all but the base trim of the CX-5 is a SKYACTIV-G 2.5-litre inline four that puts out 184 horsepower at 5,700RPM and 185 lb-ft of torque at 4,000RPM (3,250RPM for front-wheel drive models). The base GX starts off with a 2.0-litre, 155 horsepower engine that's only available with a six-speed manual transmission and front-wheel drive, and all automatic CX-5s are equipped with the 2.5-litre engine only. The 2.5-litre provided an adequate amount of power, and was able to keep up with traffic without too much effort. Engine note is a little bit coarse, especially in the higher rpm range and during cold start-up, and may have a little bit to do with the SKYACTIV philosophy of keeping weight down, which means less sound deadening and avoiding the use of mass for vibration damping.
The six-speed automatic transmission on the GT tester car was engineered with the driving feel of a manual in mind, which is achieved by locking the torque converter as soon as the car starts moving, which takes away the "slushbox" feel that's present in a traditional automatic. The shifts are fast and imperceptible, and one might almost be fooled into thinking that it's actually a dual clutch transmission. Manual control isn't as crisp as it could be however, and sport mode holds gears for far too long before upshifting.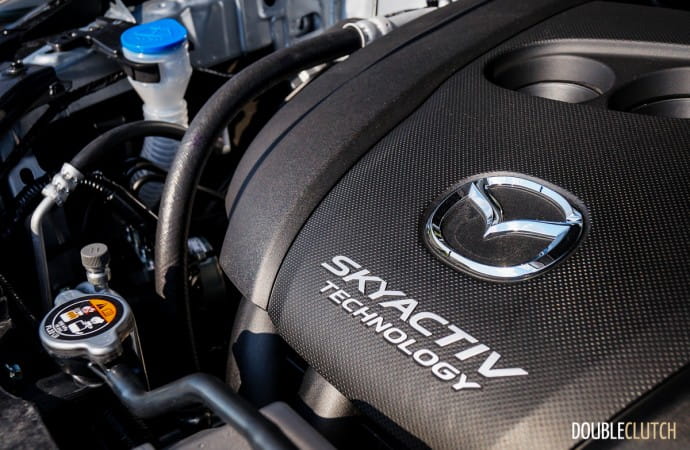 It's best to just leave the CX-5 in Drive with Sport mode deactivated, and let your accelerator foot do the talking when you need to downshift a couple gears. Mazda also aimed to improve fuel efficiency with this transmission design, with the heaviest GT trim rated at 9.8L/100km in the city, and 7.9L/100km on the highway. Observed test economy split the two numbers, at 8.9L/100km in mixed driving. Fuel capacity is 58 litres of regular 87-octane gasoline.
When it comes to driving dynamics, handling is a strong suit on the 2016 Mazda CX-5 GT, and drivers will enjoy taking the little crossover on long trips through winding country roads. Steering feel is excellent for an electrically-assisted power setup, and the CX-5 definitely drives more like a Mazda3 than a full blown SUV. Ride quality is a little bit firm, but not uncomfortably so. Shock absorber damping could be improved slightly, as there is a small amount of secondary motions and lack of body control when hitting larger, undulating bumps on the highway.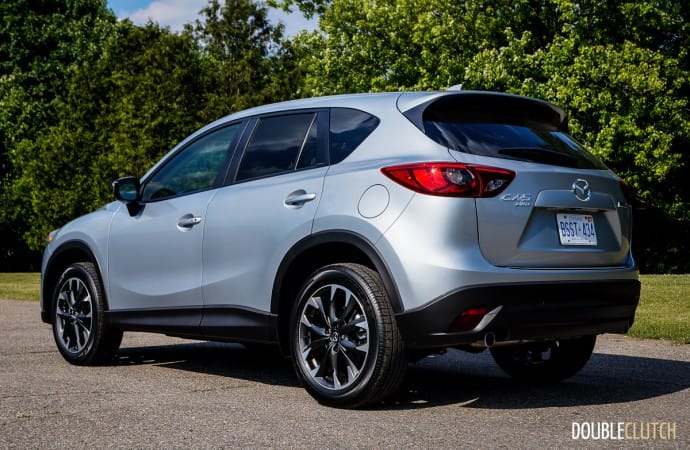 At the end of the day, it's still a fun car to drive, and is more or less the best handling small crossover on the market. For buyers looking for a little bit more ground clearance, all-wheel drive, and the cargo-carrying capability of a liftback, the 2016 Mazda CX-5 GT should be considered. It doesn't make nearly as much power as similarly priced competitors such as the Subaru Forester XT (reviewed here) or Ford Escape with 2.0-litre EcoBoost, but for those looking for overall driving dynamics and a fun driving experience, the Mazda should still be high on the list for crossovers to look at.
2016 Mazda CX-5 GT Gallery
See Also:
First Drive: 2017 Kia Sportage