If I were in the market for a new commuter today, this would be right at the top of my list.
If you regularly read my thoughts, you probably know that I am not a typical enthusiast and my tastes tend to be a little more obscure than most. This is probably why I haven't really gotten into the whole sports sedan craze. I'll be the first to admit that there are some phenomenal sports sedans out there, I just can't get past the fact that it has four doors; the extra doors make even the most radical sedan seem too utilitarian to be really exciting in my eyes. While I might not lust after a high performance sedan for my next toy, I'd certainly enjoy one as a fun commuter, where the extra utility makes sense. I gladly accepted a week with a 2016 Lexus IS 350 F-Sport AWD to see how it handled a particularly busy week of commuting.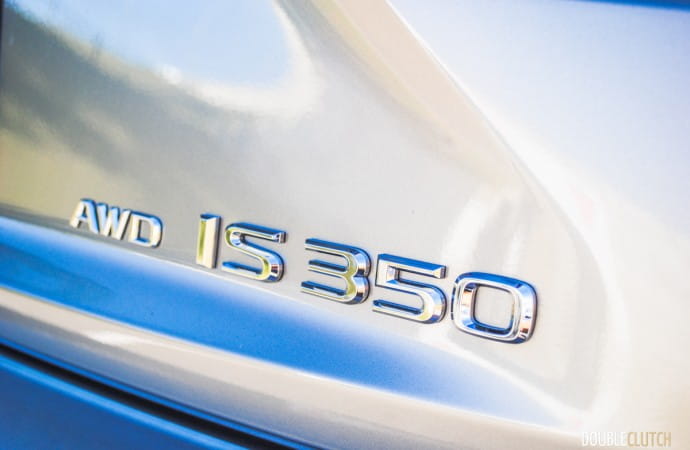 The first thing that impressed me about the IS 350 is actually the way it looks. With the exception of the F-Sport-specific front fascia, which I think is a little overdone, the rest of the styling is just right. The proportions are excellent, the car's lines flow perfectly and the F-Sport side skirts give the car just enough flare to set it apart. Unlike a lot of rivals, the IS 350 maintains a low belt line, which compliments the low-slung squatted stance.
Additionally, the F-Sport package adds gorgeous charcoal grey 18" wheels, really making the car look track-ready. My tester came finished in Atomic Silver, and usually I am totally against silver as a car color, but the shade Lexus has chosen is simply stunning. It has a touch of taupe and lots of metallic, this paint really compliments the car's sharp styling well and garnered nothing but compliments all week.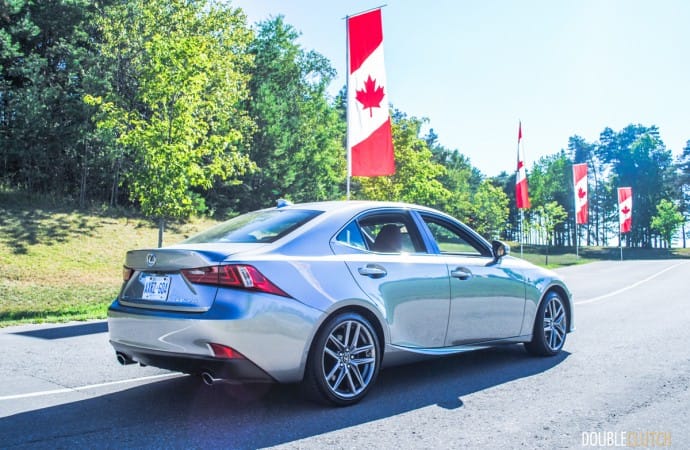 It's a similar story inside my tester as well. Finished in Rioja Red, a nice subdued rich looking red leather, and fitted with the full gamut of F-Sport add-ons, the interior in my IS 350 really is a very, very nice place to be. The designers of the interior have done everything right. The controls are simple, easy to use and well placed, the LF-A supercar-inspired gauge cluster is innovative and informative without coming off as a gimmick. The fit and finish is nothing short of what you might expect from Lexus, everything (and I really mean everything) you touch inside the car feels good and durable.
There is a good sized centre console for storage, a glove box, deep door pockets, and decently placed cup holders, a big improvement over the previous week's Camaro tester (reviewed here). The rear seats are adequate for children and even teenagers, but might get a little tight for adults on a long ride. A quick visual comparison suggests that the rear legroom in the IS is slightly tighter than a comparable BMW 3-series (reviewed here). It's obvious that the interior space in the IS has been built with careful attention to detail and that shows in just how well F-Sport specific features are integrated into the car without feeling overdone.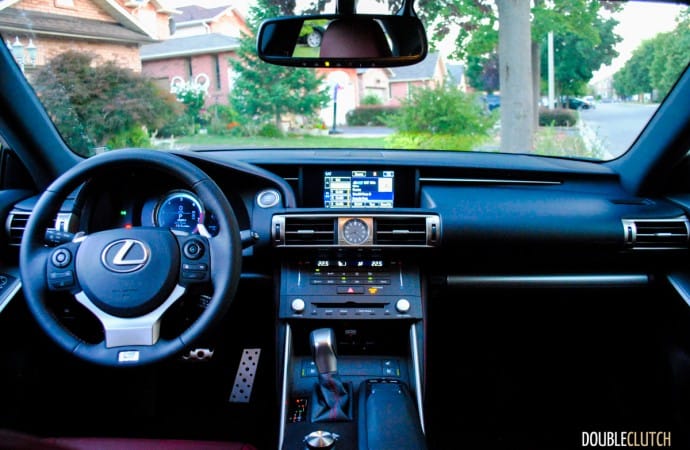 While we're on the subject of the F-Sport package, there are actually two packages available on the IS 350, F-Sport Series 2 and F-Sport Series 3. The price difference between the two is just shy of $2,000 and the big difference in equipment is that the Series 3 includes radar guided cruise control (a personal favorite of mine) and the impressive 15-speaker Mark Levinson surround sound system. My tester came with the more expensive Series 3 package, bringing the total sticker to $54,300.
At that price you get everything you'd really want in a sports sedan; sturdy and supportive air conditioned seats, power moonroof, navigation, power rear sunshade, 3-spoke F-Sport steering wheel with red stitching, LED headlamps, rain sensing wipers, rear view camera, blind spot monitoring, and loads more. It really is a very nice package, which works out to over $11,000 less than a comparably equipped BMW 340i xDrive (reviewed here).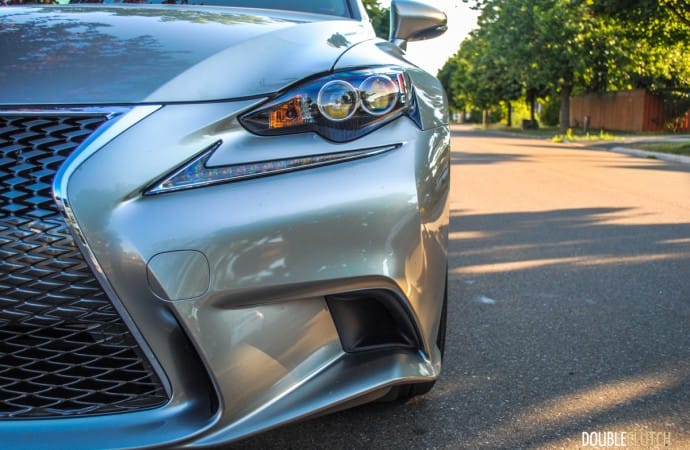 It gets better when you realize that the whole package is built on an outstanding platform that feels extremely balanced, poised and precise out on the road. The IS 350 drives exactly the way I'd want a sports sedan to; it's refined, smooth and quiet when you're cruising along, but when you want to have a little fun it's ready and willing to play. Gripping the thick three-spoke steering wheel wrapped in perforated leather and tackling a corner feels so good in this car. It's just so solid and composed and the steering is so precise that it makes for a very engaging driving experience.
The car absolutely hugs the road and corners with authority, yet transmits no harshness and very little road noise back up to its passengers. The brakes are also excellent and have no problem hauling the Lexus to a stop in a hurry. They are also very easy to modulate and control, which makes for smooth city driving, and even aggressive driving much more enjoyable. I really was thoroughly impressed with the dynamics of the IS' all-wheel drive platform.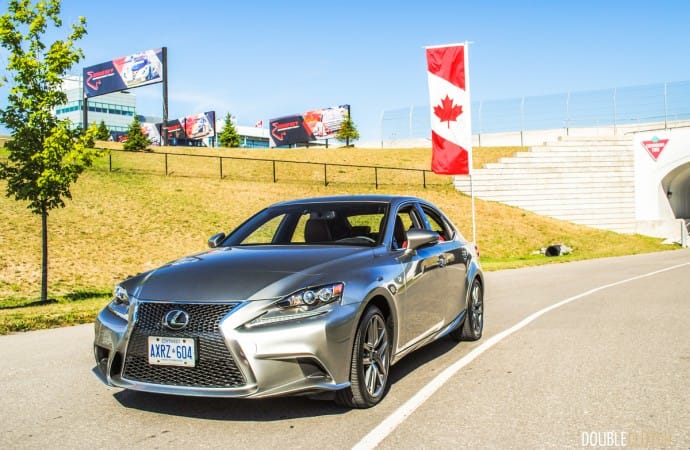 Power in the IS 350 is provided by a 3.5L naturally aspirated V6, which puts out 306 horsepower and 277 lb-ft of torque. The V6 provides more than adequate passing power, and a great sound from the intake under load. There is a slightly notable delay in throttle response, but being a traditional naturally aspirated engine means there is plenty of power right across the RPM range whenever you ask for it. The IS 350 isn't a raw powerhouse like some of its competitors, but it has more than enough thrust to throw you back into your seat and put a huge grin on your face, and that's really what matters anyway.
Plus, I enjoy the simplicity and reliability of a more traditional naturally aspirated six-cylinder over the now-trendy turbocharged engines that are showing up everywhere. In that same vein, the 3.5L is mated to a traditional six-speed automatic, unlike the IS 200t (reviewed here) which gets the new eight-speed. The two extra gears would no doubt help improve fuel economy, but five to ten years down the road I'd probably have more confidence in the older six-speed to still be performing like new.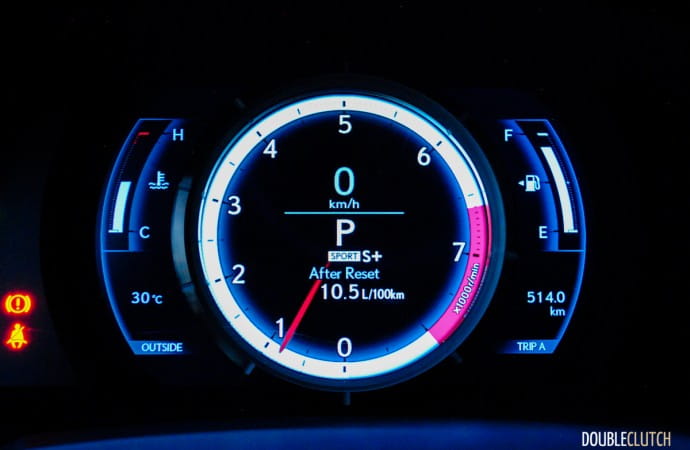 The downside to all that power, a six-speed automatic and an all-wheel drive system comes in the form of fuel economy. Despite the fact that my week consisted largely of highway driving I handed the keys back with my average sitting at 10.3L/100kms on strictly premium-grade fuel. I'd imagine in a more typical mixed driving situation you could expect to add another litre to that consumption, and while that's not a figure I'd consider bad, it's definitely not class leading. Then again, if you're like me and don't want turbos or transmissions with a dozen gears you've got to be willing to make some concessions somewhere.
My week with the 2016 Lexus IS 350 F-Sport AWD was sort of a break from my regular routine, and instead of commuting into the city every day I had a couple of days where I took the car to events outside the city. This meant a lot of highway and twisty backroad driving, the perfect environment for a car like this and I thoroughly enjoyed it. It was also a blazing hot week, and I spent a lot of time working outside to eventually get back into the Lexus and blast the ice cold A/C and ventilated seats.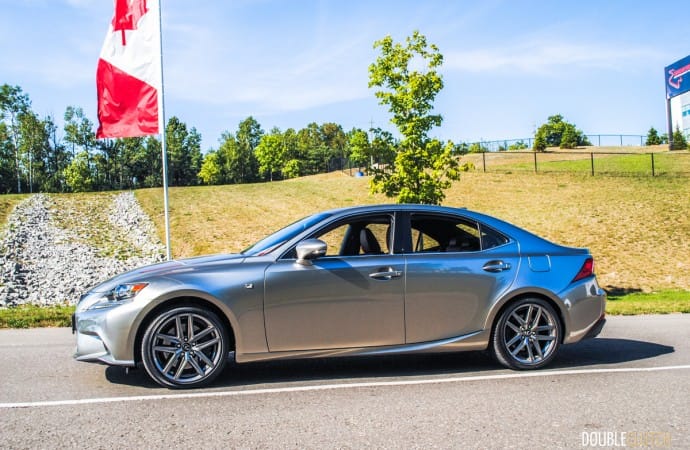 The car served as my oasis at the end of the long, hot days and despite me being tired and worn out, the drive home was always a treat. If I were in the market for a new commuter today, this would be right at the top of my list. The IS 350 is a bargain in comparison to similarly equipped German competitors, and in my humble opinion it offers a more refined driving experience than I've had in anything else in the segment.
2016 Lexus IS 350 F-Sport AWD Gallery
See Also: