This serves as proof that Kia can build a luxury car to a world class standard.
When I say Kia you should think value. If not, you need to spend some more time reading our magazine's reviews. In all seriousness, in my years of reviewing new cars, the biggest surprise has been just how competitive the Korean manufacturers have become. The winning formula for Kia has been offering well-built, well priced, competitive cars with impressive feature sets, and using those features to entice buyers to give the brand a shot. Kia's growth in the market means that clearly the strategy has some merit, but what about a market where all the competitors already have every gadget in the book? I am talking about the full-sized luxury sedan market and Kia's latest entry, the intriguing K900. I spent a week with a loaded 2016 Kia K900 V8 Elite to see what the folks at Kia had come up with.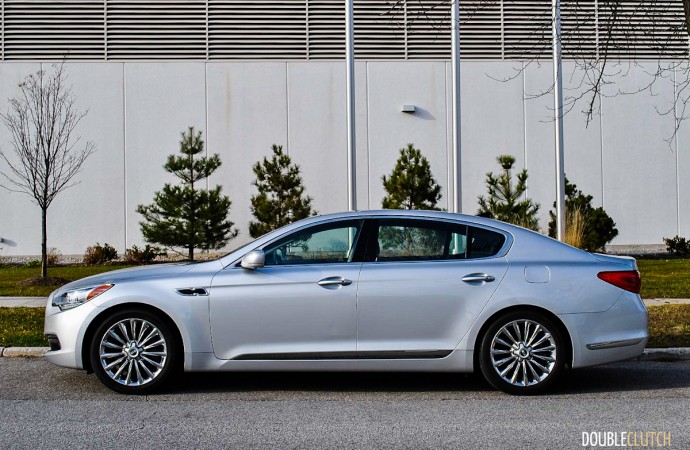 Image can mean a lot in this market, so styling can be a make or break factor. Kia's design team played it safe with the K900 and adopted a very conservative yet elegant presence that looks right at home alongside some of the world's most notable luxury cars. Now, it doesn't exactly stand out from the crowd, but its big friendly grill, LED lighting, and chrome 19" rims wrapped in wide rubber complement its elegant shape well. On closer inspection the overall exterior fit and finish is pretty remarkable. The K900's exterior isn't all form and no function either – the adaptive LED headlamps ensure perfect vision around corners and over banks. The front windows are made of hydrophobic glass, which repels water helping to keep your vision clear in foul weather. Even the doors have a soft-close function, no crude slamming here. Around back, massive integrated exhaust tips and prominent V8 emblems hint at the fact that my tester doesn't just look the part of a world-class luxury car, but might just drive like one too.
While the 311-horsepower V6 standard in the base K900 is likely more than enough to move the Korean yacht around, my fully loaded Elite trim level tester came with the 420-horsepower 5.0L V8, pushing the MSRP to a hefty sounding $69,995. Both engines come mated to Kia's eight-speed automatic. The 5.0L is the heart of this beast providing luxurious power and smoothness that you might expect from a high caliber German full-sized sedan.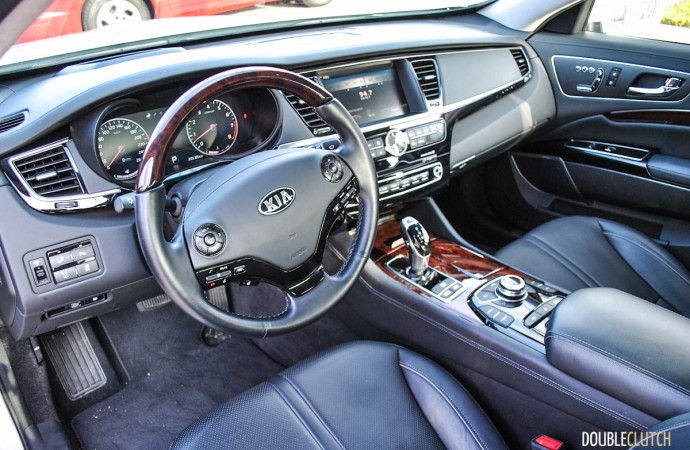 The power comes on in swells and will keep you and your passengers pressed firmly into the K900's Nappa leather as the car effortlessly accelerates to highway speeds and beyond. Aside from the accelerating force though, you'd hardly notice you're even moving; the power delivery is just so smooth and silent. Undoubtedly, this 5.0L V8 is worthy of status in a world-class luxury sedan, and it really helps give the K900 that extra element of excess. This just might be enough to justify the price premium for the V8 Elite trim.
The rest of the driving experience inside the K900 is nothing but agreeable. The suspension is soft and does an absolutely amazing job making the ugly bumps of the city's streets disappear. Steering is light, vague and detached, as expected, but the car tracks extremely well and very little steering input is required while cruising along, making the overall experience very relaxing. I would have liked just a little more connection to the road through the wheel, but alas this is not a driver's car. If anything, this is a car you want to get driven around in, and in that regard the experience from the back seat is perfect. Even the levels of sound proofing are impressive with almost no invasive noise entering the K900's cabin.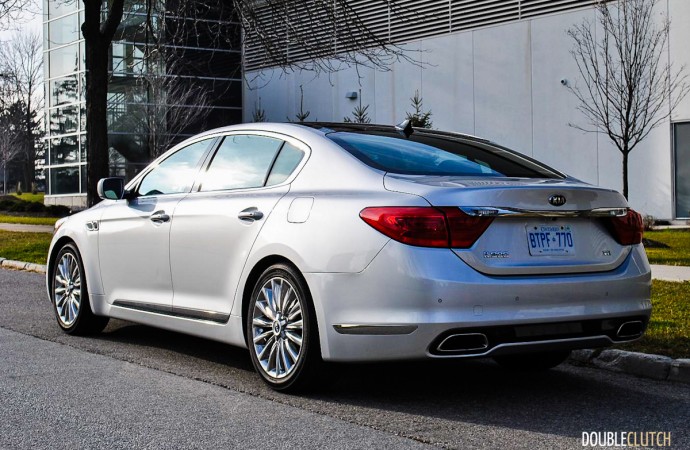 Speaking of the backseat, it really is the place to be in the K900 Elite. Big would be an understatement here – the rear seating area is massive, with loads of space to sprawl out in the power reclining split bench. Of course, the rear bench is also heated, air conditioned and has power adjustable lumbar support. The rear passengers also have their own set of climate controls, and everything is operated from a control panel mounted to the rear center arm rest.
The K900 doesn't exactly neglect drivers either with the same set of features up front; plus slew of driving gadgets such as a heads-up display, heated steering wheel, adaptive cruise control, navigation, 360 view cameras and four unique driving modes to choose from; eco, sport, normal and snow. The K900 is also equipped with the phenomenal Lexicon® Logic-7TM Audio system, the same brand found in Rolls-Royce cars, featuring 17 amplified speakers placed to optimize the acoustics of the K900's cabin. If you love music like me, the stereo alone is reason enough to give the K900 a second look.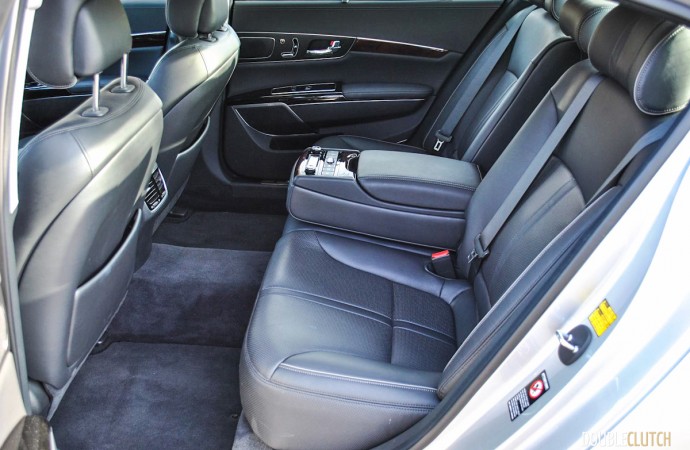 Many of the conveniences up front are controlled through a central control knob and panel on the center console, coupled with the neat buttons on the center stack and a nice center-mounted info screen. The complete system runs smoothly and it makes operating all the toys very intuitive and easy. Even the instrument gauge cluster is completely digital, an increasingly common trend, yet it remains simple, clear and easy to read. As a bonus it is easily configured to display exactly what you want to see, in my case it was fuel economy.
While as well featured as any well-established luxury car, the K900's interior is missing a bit of the prestige of say a Mercedes-Benz, BMW or even a Bentley. The biggest reason comes down to a handful of cheaper materials found here and there, and some poor fit on a few pieces around the center console. While it's definitely not something that would deter my interest if I were in the market for something like this, this does serve as a reminder that this is still a Kia, and it is at least $50,000 cheaper than something comparable from Europe. The corporate Kia steering wheel doesn't help here either. However, the soft Nappa leather does give off a nice rich scent, and the splash of glossy wood and piano black used as an accent do remind admirers that this is nothing short of a proper luxury sedan.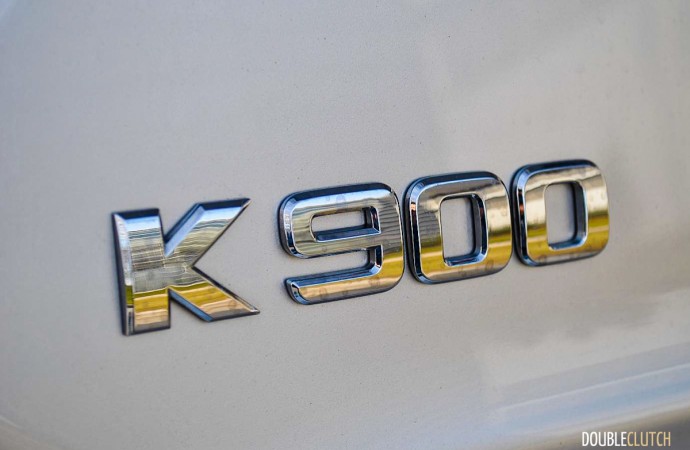 Generally, shoppers in this particular market might not be overly concerned with things like fuel economy, but given that this is probably the bargain buy of the segment, I wouldn't feel right without addressing it. I averaged 13.2L/100km over my week of rush hour commuting. Considering this is a yacht of a car with a 420-horsepower V8 that's actually a pretty reasonable number, I was also happy to learn that Kia's 5.0L didn't require anything more than regular fuel.
The 2016 Kia K900 V8 Elite is an adaptation of the standard Kia formula. Rather than offering the complete feature package at a competitive price, in the full-size luxury market they've offered up everything at a significant discount over any other comparable car. Is it the ultimate luxury sedan? No, but it serves as proof that Kia can build a luxury car to a world class standard and it will stand alongside the competition proudly while looking and feeling like a car deserving of royalty – all you'll need to add is your own personal driver.
2016 Kia K900 V8 Gallery
See Also: