The XJ carries a design, a quality and prestige unmatched by anything else out there.
The Jaguar brand has a very storied past, having survived some of the industry's biggest ups and downs over its 94-year history. To me, Jaguar's biggest success has been its ability to retain that signature Jaguar prestige and class through it all. It hasn't been an easy ride, but adversity has the ability to bring out the best in a brand, and I am happy to say that I believe Jaguar products have benefited from its struggles over the years. As someone who has been known to fall for charm, it didn't take much arm-twisting to get me into a 2016 Jaguar XJ L Portfolio for a week. Having recently driven a couple of the latest long wheelbase luxury sedans to enter the market, I was curious to see whether Jaguar had risen to the challenge.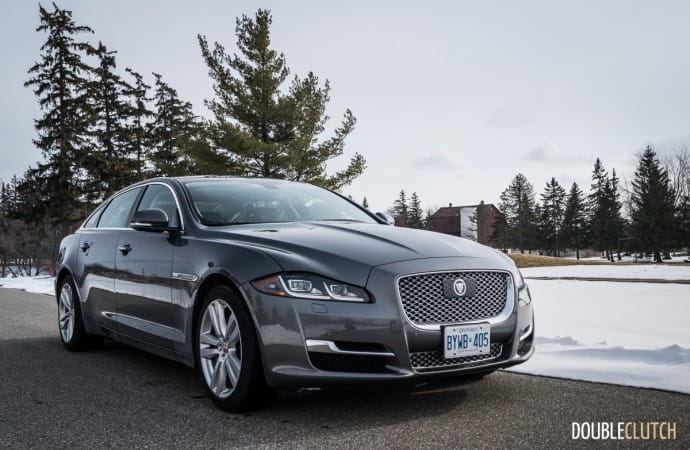 First of all, the XJ has served as the pinnacle of luxury Jaguars since 1968, and has undoubtedly been the car that has kept Jaguar alive and running today. Today's XJ is available in both a sporty standard wheelbase configuration, and the long wheelbase version tested here, which offers an extra five inches of rear legroom and an extra plush interior. I suppose those going all out on a Jaguar XJ may as well opt for the extra decadence of this model. My tester is also the Portfolio all-wheel-drive model, which starts at $99,000 and comes with the powerful yet graceful supercharged 3.0L V6, outputting 340 horsepower. If you've got an extra $25,000 to throw at it, you can have a fire breathing XJ L-R with its 550hp 5.0L supercharged V8.
Getting back to my tester though – it has another $10,000 worth of option boxes checked off, bringing the as tested price to $109,375. For this amount comes a luxury sedan that embodies everything an elegant British saloon should be. The XJ is simply gorgeous; there's no other way to put it. Even though this body style was released over seven years ago, it hasn't aged a bit in my eyes. My tester wore Ammonite Grey paintwork and the standard "Toba" 19-inch rims, both of which contribute to its slightly understated appearance. The XJ's design is so distinctive however, that even covered in road salt from our recent winter storm, the car still garnered plenty of attention and compliments.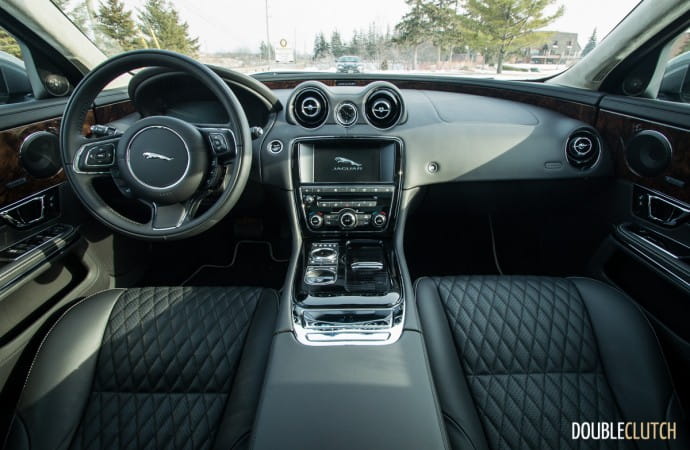 The interior is just as stunning and uniquely Jaguar as the exterior. Every inch of interior space is finished to an impeccable standard. From the ivory suede headliner that runs down the full length of the interior pillars, to the all leather dashboard and the slabs of glossy burled walnut that adorn the door panels and wrap around the dash – it's impossible to be uncomfortable inside the XJ L. The quilted leather seats are incredible and of course come ventilated, heated and with massage functions up front. The thick leather wrapped and heated steering wheel feels great in your hands, and the oversized Jaguar "Leaper" emblem in the centre serves as a frequent reminder that you're driving something special.
To compliment the rich ambiance inside the XJ is a standard 825-watt 20-speaker Meridian sound system that should be enough to keep even the pickiest listeners satisfied. Those wanting more can upgrade to the 1300-watt system – what's an extra $4,200 anyway? Functionality up front in the big Jag is fairly standard for a luxury sedan such as this and you're graced with just about any feature you can imagine at your fingertips. You face an all-LCD gauge cluster, which can be configured to a few different themes.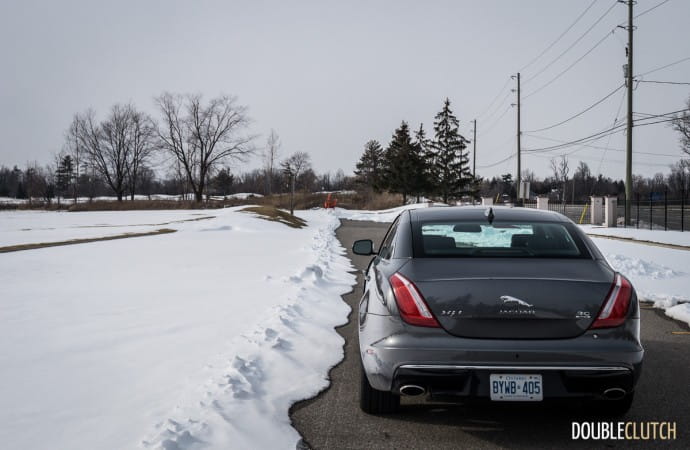 A little less than a third of the space is dedicated to the menu within the cluster, which isn't something frequently used; then it becomes a big Jaguar symbol. Controls for the mile-long list of features in the XJ are fairly intuitive and even someone not familiar with Jag electronics should be able to pick it up easily.
I am not however, a huge fan of the Jaguar (or Land Rover) touchscreen infotainment system. The screens are beginning to look a bit dated and are cumbersome to flip through. To make matters worse, the seat and climate controls require you to interact with the screen frequently.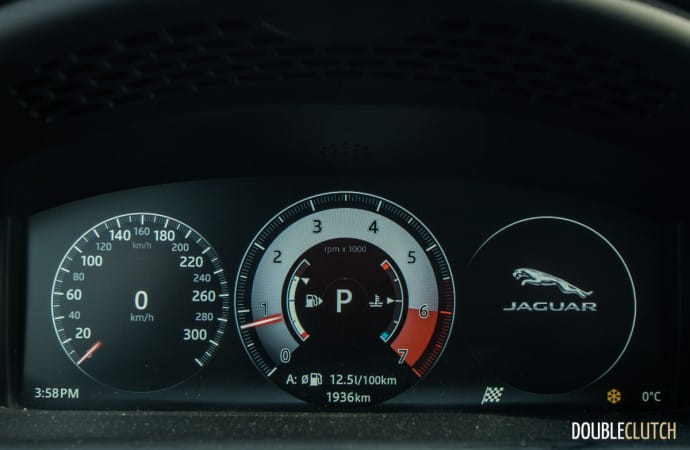 The XJ L obviously treats rear passengers right, and I heard nothing but positive remarks from anyone who sat back there. One surprise to me was that in order for rear passengers to get any sort of control panel, the $8,500 Premium Rear Seat Package must be checked off. Of course, this does add a full luxury suite including power reclining seats, massage, two 10.2" touchscreens, and center controls. This is an absolute must-have to get the full limousine experience.
If the elegant styling and top tier luxury interior isn't enough reason to love the Jaguar XJ, its driving dynamics really set it apart. I was expecting the XJ L to ride and handle like a typical long wheelbase sedan, which is almost always tuned for the utmost comfort, with little focus on driving dynamics or sharpness. This is a driver's luxury saloon, and emphasizes this. Steering is precise and response is surprisingly crisp given the car's size. The XJ L feels agile and light on its feet, and the supercharged V6 mated to the eight-speed automatic provides brisk acceleration and plenty of buttery smooth passing power.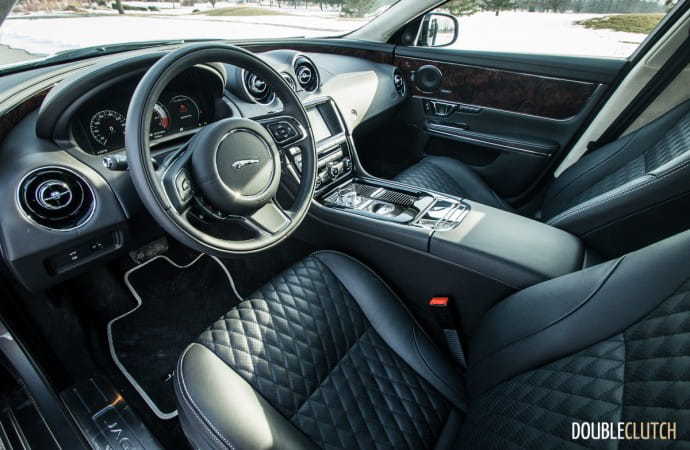 The real magic here is that the Jaguar's sporty driving experience doesn't come at the cost of comfort. The cabin is quiet enough to hear a pin drop, even at higher speeds, and the car's chassis absorbs the impact of the rough winter-worn streets without any fuss at all. It's no sports car, but the XJ L is playful enough to have fun, while still representing the pinnacle of British luxury motoring. That's always been the biggest part of the Jaguar charm, and I am grateful that it has survived along with the brand.
My week with the largest Jag allowed me the chance to give its all-wheel-drive system a bit of a workout in some freshly fallen snow one Wednesday morning. Despite riding on its factory Pirelli all-seasons, the XJ L effortlessly roared out of the driveway and cut through the deep snow without any hesitation at all. On the snow-covered highways it was perfectly composed, and once onto the slippery slushy city streets the AWD system would respond to slips instantly, keeping the power at the wheels with grip. I did notice that the system has a bit of a rear-wheel bias, which I am a big fan of as it allows an experienced driver some extra control.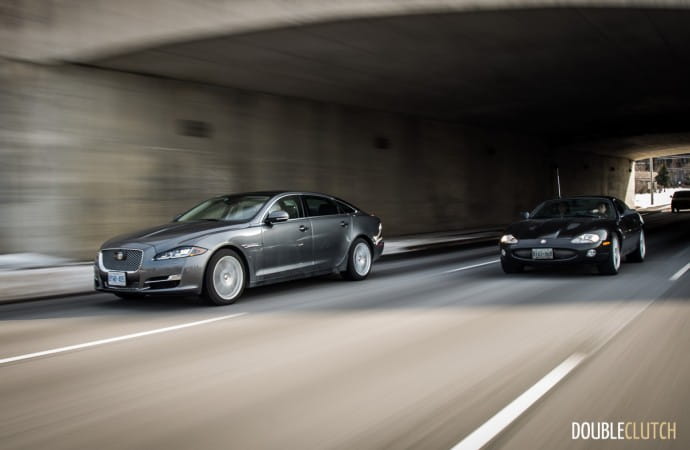 Fuel economy for my test week came in at 12.3L/100km combined, running on 91-octane premium fuel. I was hoping to see slightly better numbers, but if you factor in the sheer size of the XJ, the weight of the AWD system and the fact that this is a 340-horsepower supercharged powerplant, things start to sound fairly reasonable. For some reason I suspect fuel economy may not be a top priority for the majority of XJ buyers anyway.
I came away from my week with the 2016 Jaguar XJ L Portfolio with a new respect for the Jaguar nameplate. I've always loved and admired Jags, but I now appreciate even more how the brand has retained its original characteristics and charms while rising to the challenge from an onslaught of new rivals in the luxury sedan segment. Yes, this XJ L has everything you could want in a modern luxury car, but that's not what makes it special. The XJ carries a design, a quality and prestige that is seldom matched by anything else out there. What's more, it's not just a good luxury sedan. If you're a driving enthusiast; it is the luxury sedan to have.
2016 Jaguar XJ L Portfolio Gallery
See Also: