The increased efficiency, capability, and low-rpm performance are all desirable characteristics to truck buyers.
Over the years, the compact pickup truck market has been somewhat of a neglected market, with buyers being faced with limited choices, lackluster products, or discontinued product lines altogether. Ford's Ranger was among one of their better selling models, but was discontinued after 2012, to the dismay of those looking for lighter duty pickups from the Big Three. From 2004 until 2012, General Motors elected to move to four and five-cylinder options only (save for a rare 5.3-litre V8 option after 2009), which also happened to have less than stellar reliability and performance figures.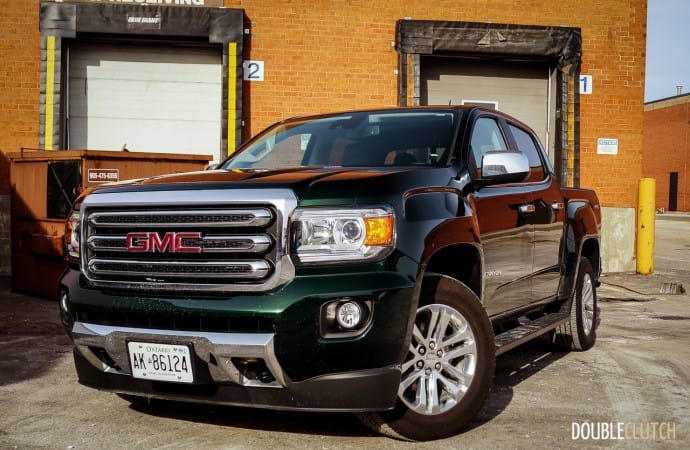 With no compact pickup offerings in 2013 and 2014, GM went back to the drawing board. Their 2015 Chevrolet Colorado and GMC Canyon came out swinging, and won countless accolades and received plenty of praise from across the automotive industry. One year later, the General has another possible ace up their sleeve: bring in a Duramax diesel into a segment where no diesel currently exists. To give DoubleClutch.ca a taste of what they've come up with, a 2016 GMC Canyon Diesel SLT 4WD Crew Cab was sent over for a week of trucking around.
Finished in a relatively understated Emerald Green Metallic, the Canyon wears its GMC badge proudly atop a huge chrome-finish grille. With LED accents, halogen projector headlamps, and a strong helping of hard lines on the front end, the exterior design has many busy elements, but still manages to combine together with an overall cohesiveness that comes across as classy. Moving to the back, the squared off wheel arches have become a GMC signature, and make the Canyon look like a larger truck than it actually is.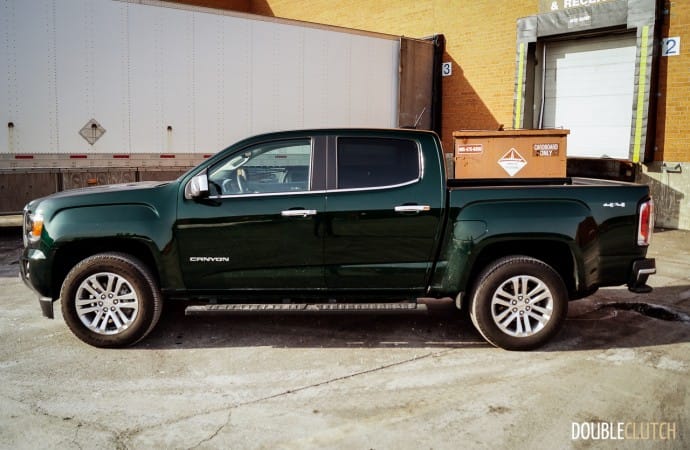 In crew cab and short bed form (five feet, two inches), overall length is 5,395 millimetres (212.4 inches), or about a foot longer than a full-size Chevrolet Impala. With the longer bed (six feet, two inches), overall length grows to 5,705 millimetres (224.6 inches). In either case, while it looks much bigger than its predecessors, these two lengths don't make for an unwieldy truck when driving around town. Maneuvering around parking lots and tight city streets aren't a problem, and it's a great size for those who feel the larger GMC Sierra and Chevrolet Silverado twins are too much.
Above all else, the big ticket news item for the 2016 GMC Canyon is the 2.8-litre turbocharged diesel four cylinder engine that wears the coveted Duramax badge. Typically reserved for bruiser 2500 and 3500 series three-quarter and one-ton trucks, the Duramax in this case comes in at a much smaller displacement than its V8 siblings and gives GMC a competitive advantage against the likes of the newly released 2016 Toyota Tacoma. For this particular application, GM sought the expertise of Italian diesel engine supplier VM Motori, and this particular family of diesels also sees duty at a global level for their small pickup lineup. Peak power output is 181 horsepower at 3,400 rpm, and torque is a stump-pulling 369 lb-ft at 2,000 rpm. As is typical for an oil-burner, the redline is only 5,000 rpm, but most drivers won't need to hit the upper parts of the rev range due to the extra helping of torque.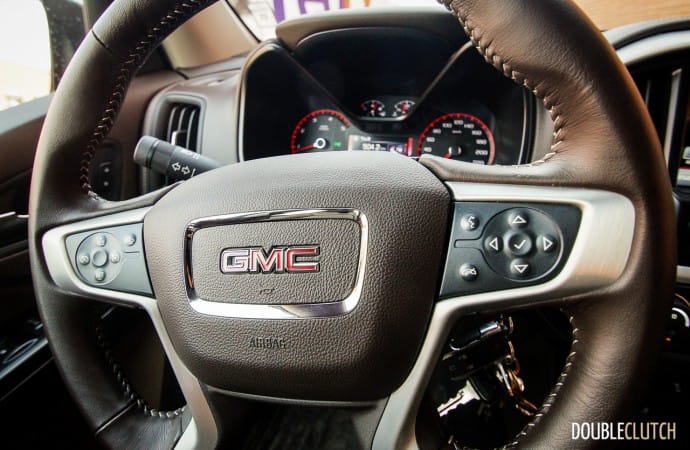 In terms of driving impressions, the Canyon proved to be devoid of turbo lag and was astoundingly eager off the line, acting like a big Great Dane that's ready for a play date. Around town, speed builds quickly and it's actually bordering on an unlikely truck characteristic – fun. Like many other diesels however, the harder you push it, the slower it feels. Once the tachometer sweeps past 3,000 rpm, the Canyon does lose some enthusiasm. This is not to say that it's underpowered however, and the abundance of low end torque means that most people will spend most of their time in the meat of the power band. There's also an exhaust brake function at the push of a button on the centre stack, which takes advantage of downshifts on deceleration to take the strain off the regular brakes when towing or hauling heavy loads.
As for engine coarseness, one DoubleClutch.ca staffer remarked "It sounds like a Hino delivery truck", and although that's a bit of an exaggeration, it's not too far from the truth. The Duramax was louder than the 3.6-litre gas V6 found in uplevel Canyons when accelerating. Vibration and harshness are very well controlled, with only a reasonable amount of typical diesel characteristics making their way into the cabin. At cruising speeds, you'd be hard pressed to tell the difference between gas and diesel. Overall, it's a small price to pay for the torque, fuel economy, and durability gains.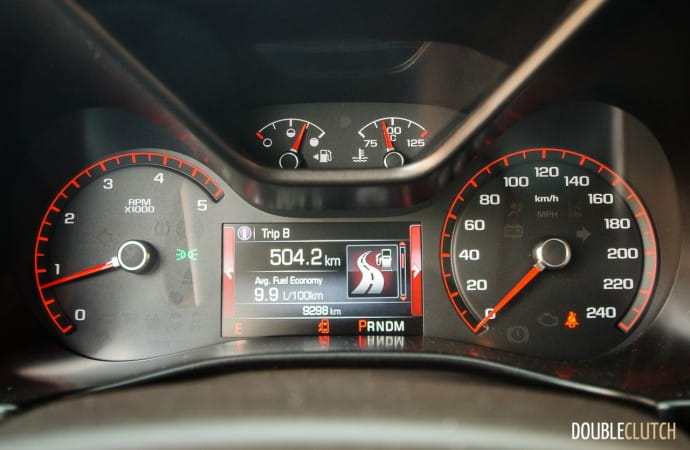 When it comes to fuel economy, the Duramax diesel was able to put down some very impressive numbers. Rated fuel economy is listed at 10.8L/100km in the city, and 7.7L/100km on the highway. Even with an approximate curb weight of 2,100 kg (4,700 lb), observed test economy was a solid 9.3L/100km over 1,000 kilometres of driving. The mix was slanted towards highway, with long runs, errands, and even a wedding in between Toronto and London, Ontario. The results were dampened slightly due to cold winter conditions, and it can be assumed that a similarly equipped 3.6-litre V6 version would ring in around 12.0L/100km for the same type of driving – or about twenty-five percent worse.
This twenty-five percent difference comes into play when considering the price premium of purchasing Duramax. Prospective buyers can get it in both two-wheel and four-wheel drive forms, but only in four-door Crew Cab form. They can choose between the mid-level SLE and top-range SLT, and the on the test vehicle, the diesel added $4,390 to the base sticker price of $39,895. Other options included navigation, Bose audio, a spray-on bedliner, and a driver alert package (forward collision alert, lane departure warning), bringing the total as-tested price to $48,245. For the most part, only drivers that really pack on the miles will be able fully realize the economy advantages that the diesel Canyon can offer.
As a truck, the GMC Canyon boasts some heavy duty capability that might have been more at home on a full size half-ton pickup from fifteen years ago. Towing capacity for the Crew Cab diesel is 3,493 kilograms (7,700 lb) and includes a trailer brake controller, and this beats out the 3.6-litre gas engine by just over three hundred kilograms (seven hundred pounds). Payload for the 4×4 short bed test vehicle is rated at 667 kilograms (1,470 lb), which is slightly lower than the gas models, likely due to the increased curb weight penalty of the diesel. In any case, expect the Duramax to be able to make light work of most challenges thrown its way.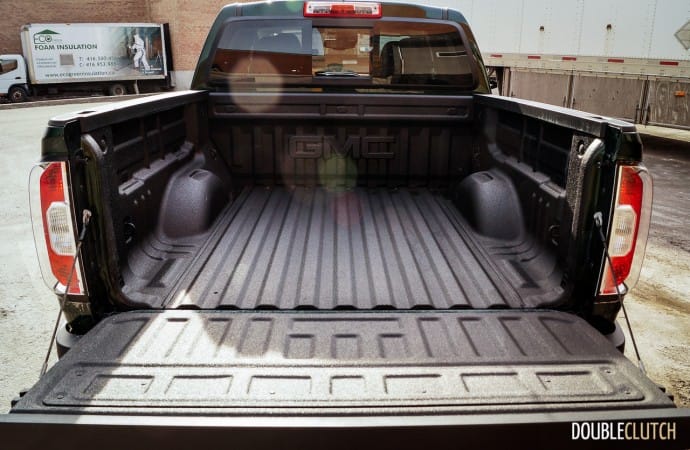 Even when unloaded, the leaf springs in the back and coil springs up front ride decently well, and although it still has typical "truck ride", body shake and shudder over bumps is kept to a minimum. Brakes are discs at all four corners, and pedal feel is excellent – with the firmness and confidence not too far off from a Cadillac ATS (see review here) – with a few extra pounds of mass, of course. Steering is light, but a fairly fast ratio helps to keep the Canyon agile when in tight quarters. This kind of ride and handling performance is certainly more than appropriate for a daily driver, let alone a pickup truck.
Inside, the Canyon has a well put together interior that greatly improves on the General Motors products of yore. On the top trim SLT, material quality is good, with fit and finish to match. Automatic climate control helps keeps the cabin cozy, and heated leather seats can be configured to heat only the seat back or both back and bottom. GMC's IntelliLink is a simple and intuitive media system to use, yet maintains full functionality. Bluetooth phone pairing and audio streaming quality was excellent, allowing drivers to take full advantage of the SLT's optional Bose sound system. With GM's OnStar functionality, a 4G/LTE wireless hotspot is available, and the connection always remained fast and reliable along the Highway 401 corridor in Southwestern Ontario. Like the ride and handling, it's all very well suited to everyday use.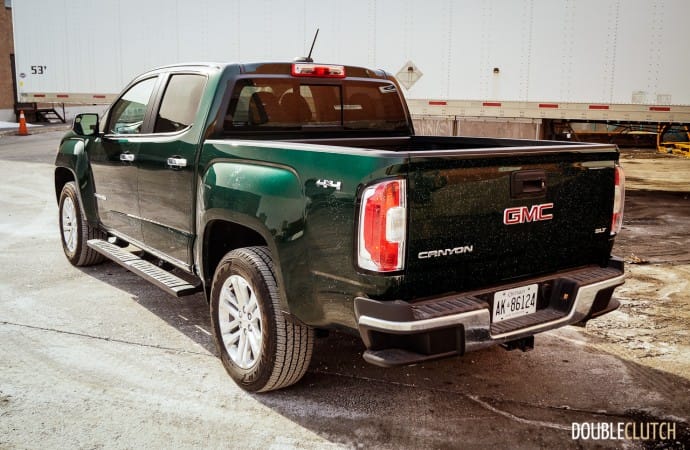 When it comes to diesel options in the compact pickup range, it's difficult to understand why automakers haven't done this sooner. The increased efficiency, capability, and low-rpm performance are all desirable characteristics to truck buyers, and many might find themselves opting for the diesel. The mid-level SLE Crew Cab is probably the best value for the Duramax. While not as loaded as the SLT test vehicle, reasonably equipped SLE diesel Canyons can still be had for around $40,000 before fees and taxes. For those that don't want the size of a full blown half-ton pickup truck, but still want a capable machine to pile on miles with, the 2016 GMC Canyon Diesel SLT may be for you.
2016 GMC Canyon Diesel SLT Gallery
See Also:
2015 Chevrolet Colorado LT 4×4