Something that stands out about the Fiesta over its competition is the availability of fun colours.
The Ford Fiesta is easily, in my humble opinion, one of the best-looking subcompacts available on today's market. It has been around on our shores since the beginning of this decade, and has experienced a few minor refreshes and powertrain updates over the years. With growing competition and the existing competition undergoing serious overhauls, it was important for us to get behind the wheel of this 2016 Ford Fiesta SE and determine just what it is that keeps these things flying off showroom floors in the thousands.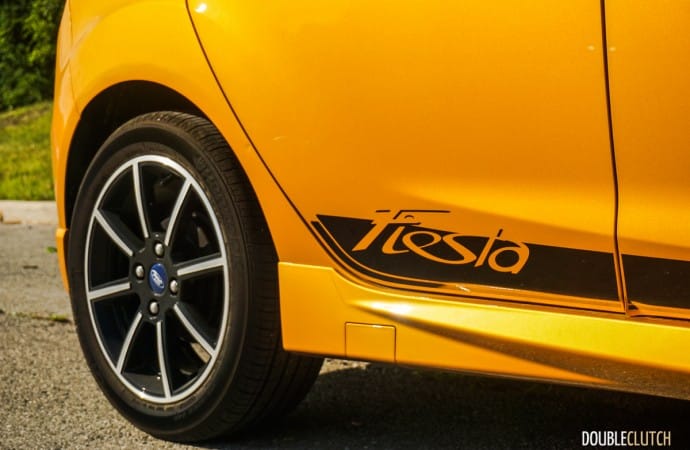 Aside from its styling, something that stands out about the Fiesta over its competition is the availability of fun colours, which makes the car more appealing to both a younger audience as well as women. Our test vehicle was painted in "Electric Spice" with a black vinyl stripe and "Fiesta" text on the side. The Fiesta's proportions are excellent, and this helps its image as a snarky little subcompact with a ton of attitude. The large headlights add to its style, and the two-box design looks great. Equally large vertical taillights run down the rear end and finish the whole thing off nicely – this is a very, very good looking little car.
The Fiesta is very quirky in that it actually offers a turbocharged three-cylinder EcoBoost engine – this is not the powertrain in my SE tester. The standard motor is a 1.6L naturally aspirated inline four-cylinder, with variable valve timing. The littlest Ford is good for 120 horsepower at 6,350RPM and 112 lb-ft of torque at 5,000RPM. It's not as quick, loud, or neat as the boosted Fiesta ST, but the 1.6L has enough oomph to get out of its own way. Those whose daily commute involves a solid highway run may want to look elsewhere, but the Fiesta isn't by any means a poor choice here.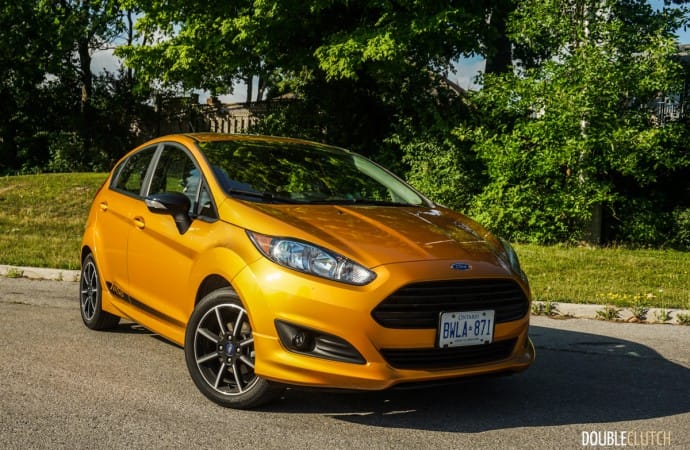 There is a five-speed manual as standard equipment, but the vast majority of Canadians will choose the six-speed "PowerShift" automatic, the two pedal option. This gearbox is, technically speaking, an automated manual, but it's capable of pulling off quick shifts and the "Sport" mode is a decent amount of fun. I won't go as far as calling the Fiesta a hoot, but it delivers a more enjoyable driving experience than many of its competitors. The motor is responsive enough and the transmission's calibration all works together to create a zippy and agreeable urban commuter.
Ford rates the Fiesta at 8.5L/100km in the city, 6.5L/100km on the highway, making for a combined rating of 7.5L/100km on regular 87-octane fuel. Over my test, I averaged about 8.1L/100km, which is significantly worse than I expected from such a small hatchback. For instance, I did much better in my test of the new Honda Civic (reviewed here), which can be had decently equipped for about the same amount of money, and is a lot more car as well. The EcoBoost 1.0L Fiesta would probably be a little bit better on fuel as well, but again, this is the one most will buy, and fuel efficiency is very important in this segment.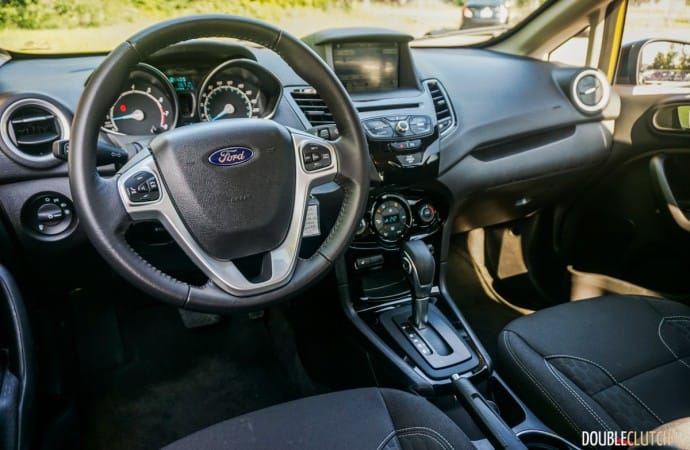 Stepping into the Fiesta, the interior is typical Ford. In this particular model, there are plenty of plastics and nothing fancy in terms of wood or metallic trim. The seats are decently supportive, and all of the switchgear is easy to find. A huge niggle I had was that the power door lock button is on the center console, not on the door panel like on most other vehicles. Additionally, the steering wheel is very large in diameter and not exactly pleasant to look at. The Fiesta ST has the same wheel, which is also a bit of a nuisance on a performance car. Panel fitment is acceptable, but they're not as tightly fit as a Honda Fit (reviewed here) or even the Nissan Versa Note.
Pricing for the 2016 Fiesta starts at $15,365 for the entry-level Fiesta S – the sedan and hatchback cost the same amount at the base level. Our test vehicle was an SE hatchback, which starts at just about $17,000, and loaded up considerably from this point. The automatic six-speed PowerShift transmission is $1,250, and Equipment Group 201A, which adds appearance options, SYNC 3 infotainment, 16" wheels, satellite radio, and unique seats with charcoal inserts. The lower door stripe cost $200 and it's something I would skip in a heartbeat, though the heated mirrors and factory remote start system were a nice touch on a small, affordable car. Things begin to add up though, and the sticker on our test vehicle was just over $22,000.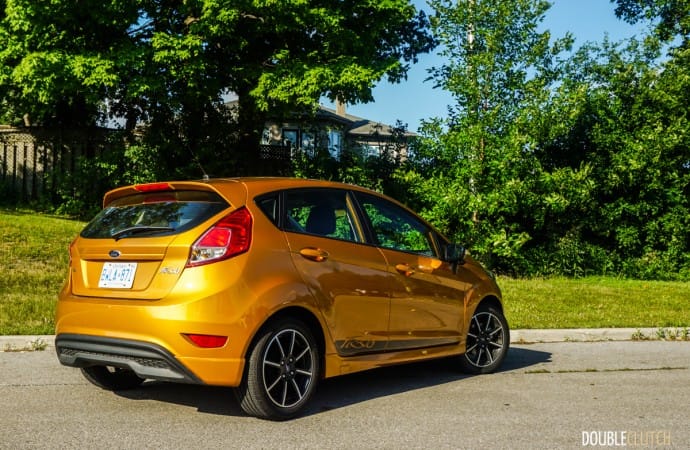 Twenty-two thousand dollars for a subcompact is a lot of money, and this isn't even the Titanium. Even if stepping up one segment, a Mazda3 GS (reviewed here) is excellent value, a far superior driving car and even more efficient for less money. That kind of dough in the subcompact segment almost allows you to step up to this hatchback's sassy brother, the Fiesta ST (reviewed here). A less optioned-out Fiesta makes for great bang for your buck, but this sticker price isn't exactly tempting.
The 2016 Ford Fiesta SE is an attractive, sleek subcompact hatchback with plenty of personality and cheekiness. Its agreeable nature will help attract more and more buyers, and that's for the current model. Once Ford gives it a full redesign in the coming year or two, the Fiesta has the potential to become one of the best subcompacts available. Additionally, the turbocharged Fiesta ST is almost in a segment of its own, and brings even more attention to the regular model.
2016 Ford Fiesta SE Gallery
See Also: