It still feels like a truck and drives with a confident authority.
Since its initial launch in 1991, Ford has built the Explorer into a household name. Originally a rugged Cherokee-fighting SUV that errored towards the utility side of the equation, the Explorer has grown in both size and refinement over the years. The current Explorer, released in 2011, represents the biggest departure from its original incarnation in that it has abandoned its body-on-frame construction in favor of a popular unibody platform which puts it in line with other full-size competitors as the Dodge Durango, Toyota Highlander, and Honda Pilot. While I've always been an advocate for the traditional truck-based SUVs, the Explorer has proven hugely successful as a civilized and capable family hauler. As such, I've been looking forward to my time with the face-lifted 2016 Ford Explorer Sport to see just how far the Explorer has come.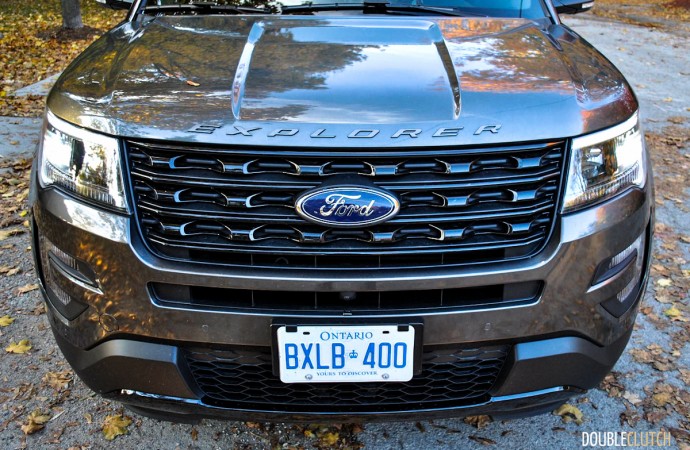 On the exterior the 2016 Explorer boasts a handsome new front end, a welcome change from the very generic looking fascia it replaced. The new front end does have a strong Range Rover feel to it, which whether intentional or not, lends the Explorer an extra bit of panache. My test truck is a Magnetic Grey Sport model, which means it comes with blacked out trim and some tasteful 20" machined rims, giving it a very powerful and aggressive look. This particular Explorer is not exactly what you'd expect to see parked at the local soccer field.
I immediately felt at home inside the Explorer. Greeted by a nice thick leather wrapped version of Ford's corporate steering wheel and cushy black leather seats, I easily settled into a perfect driving position. The controls on the center stack are very well laid out and each button has a very clear and well-lit image of what it controls. It's not fancy but it does have a simple functional elegance. The cockpit is trimmed with aluminum accents, which subtly brighten the space. I'd put the overall execution of the fit and finish inside the Explorer a notch above similar competitors such as the Durango. The inside of the Explorer just seems to flow well and it's certainly a place I don't mind spending hours in. There's also no shortage of space in the Explorer, it will comfortably seat five, seven in a pinch and even with the third row seats in place the cargo area is still huge.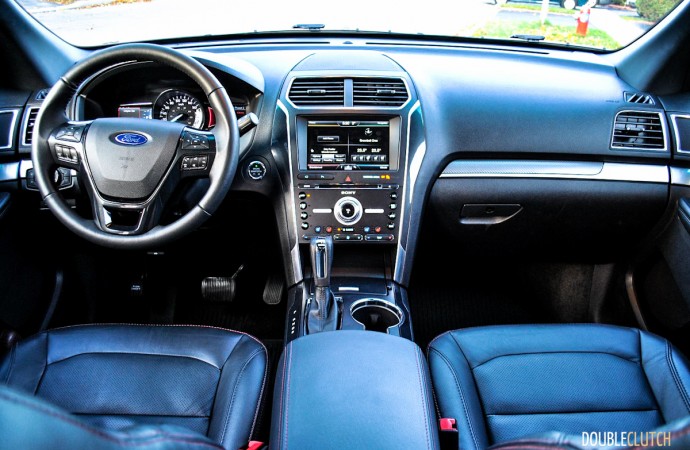 From a technology and feature standpoint the Explorer is also right where it needs to be. I'll disagree with many of my fellow journalists when I say that I actually like the current MyFordTouch infotainment system, I find it clear, clean, easy to operate, and the default home screen offers all the key info I'd want to see without forcing me to search for it. The Sport trim also comes with a banging 12-speaker Sony sound system, cooled front seats, a heated steering wheel, voice activated navigation and a plethora of driver assist features including blind spot warning, park assist, radar guided adaptive cruise control and more.
While these features are par for the course in this segment, the Ford's are well integrated and very user friendly. My test truck came with one of the few optional features available, a $1750 dual pane moonroof, a must for some families, but likely something I would pass on. Now, this healthy feature list doesn't come cheap with my loaded Sport model Explorer weighing in at $52,200. That's $20,000 over the advertised starting price for an Explorer, and still $6,000 cheaper than the starting price for the top of the line Platinum edition.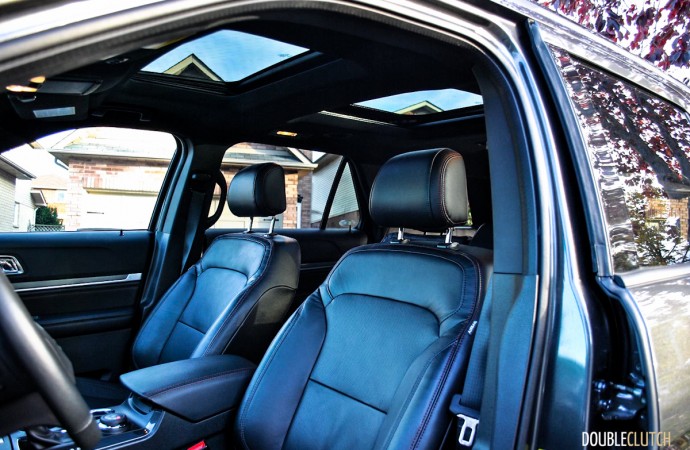 What I haven't mentioned yet though, is the heart and soul of the Sport trim level, stepping up to the pricey Sport gets you the hefty 365 horsepower 3.5L EcoBoost V6 engine shared with the F-150. That's 75 horsepower more than the base 3.5L (non-EcoBoost) V6, and 85 horsepower more than the 2.3L EcoBoost 4-cylinder that's also available. All engines come mated to a six-speed automatic, and my AWD tester came equipped with the Terrain Management System which allows you to choose your terrain using a rotary dial on the console and then optimizes the AWD system to suit the conditions. While I didn't get to try the Explorer on anything more challenging than a pothole-ridden city street, the system does lend some credibility to the Explorers capability.
The 3.5L EcoBoost is an engine I am quickly developing a bit of a love-hate relationship with. I absolutely love the phenomenal torque it will provide across the typical rpm range, making it effortless to merge and pass with dominate authority in the Explorer. However, I deeply miss the V8 growl I am so accustomed to associating with that kind of power, and I am yet to see any noteworthy fuel savings over a comparable V8. My week of commuting with a gentle foot in the Explorer Sport netted me an average fuel economy of 12.9L/100kms, but if I let the powerhouse boosted V6 breathe a bit I easily saw numbers up into the 15s. At those numbers, I think I'd rather have a tried and true red-blooded V8 under the hood.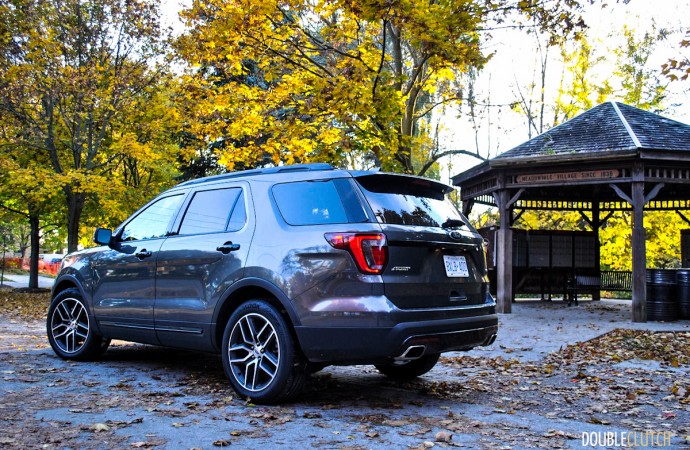 Now, I've driven my fair share of well-worn decades-old Explorers, and there's absolutely nothing pleasant about them. The current Explorer is a completely different animal; it's civilized, comfortable and nearly silent inside the cabin. Travelling along on the highway at 120 km/h feels like you're barely moving as it tracks perfectly true and absorbs all but the biggest potholes. The Explorer drives with a certain feeling of weight that I've really grown to appreciate, and the steering is nice and direct. It feels tough and it feels unstoppable, like it's going to protect you from the loud and dangerous outside world.
While its predecessors may have had the tough and capable part down pat, the new more family friendly Explorer's more grown-up approach balances all that manly ruggedness out with some refinement. It'll still get you through the big snow storm, and it'll tow a respectable 5000lbs, only now you don't have to put up with being bounced around like a piñata. If you don't believe in the new found designs capabilities, you might want to ask the OPP, whom I've noticed have begun to favor the Explorer over the Tahoe, which was a favorite for years. Maybe a politically-driven decision, but it'll be interesting to see if they stick around on the fleet.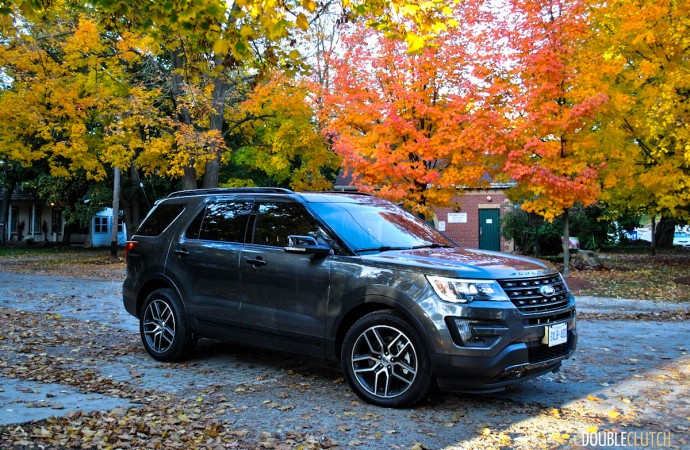 That's also what makes the 2016 Ford Explorer Sport special to me. Yes, it's just as comfortable, spacious and luxurious as the rest of the modern unibody full-size SUVs out there, but it hasn't lost its attitude. It still feels like a truck and drives with a confident authority that just isn't present in a lot of its more car-like competitors. The 3.5L EcoBoost also offers a unique proposition for those who need to have their fix of raw power while hauling the kids to soccer practice. Clearly, the Explorer has come a long way, but it's evolved along with its buyers and offers a great balance between practically, comfort, power and attitude.
2016 Ford Explorer Sport Gallery
See Also: