It looks a lot like a taller, narrower and slightly more European version of the Ford Focus.
With the time I've been spending with the latest eco-cars, I've become increasingly familiar with the benefits that something like a plug-in hybrid can offer. For instance, most plug-in hybrids today will give you about 30 to 40 km of EV before ever kicking on the gas engine. For many people, that's a gas-free trip to work, and if you're lucky enough to have a charging station at work, you can complete your commute home without burning a drop of fuel. Unlike a full EV though, the plug-in hybrid does have a gasoline engine. That means no range anxiety, and nothing to deter you from taking long road trips.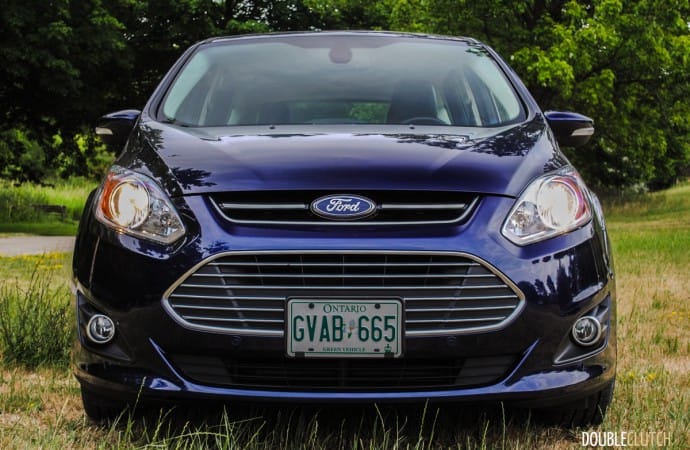 Of course, there are some compromises to PHEVs. The batteries are heavy, which can make plug-in hybrids sluggish and less agile than their gas-powered counterparts. The extra weight also increases wear on tires and brakes. Those heavy batteries also need a lot of space, which can sometimes encroach on cargo volume. You'll also need to get used to plugging in your car regularly, and driving conservatively to save energy. On the flip side, there are some less obvious benefits to plug-in hybrids; the most important one in Ontario is that they qualify for "Green Vehicle" plates, which allow you to use high-occupancy lanes without a passenger, as well as access to priority parking in many places.
With all of this in mind, I was excited to spend a week with Ford's latest entry into the plug-in hybrid segment; the 2016 Ford C-MAX Energi. The C-MAX has been around for a while and as a utilitarian wagon is sort of a unique offering in the eco segment. The Energi takes it to the next step with the latest plug-in hybrid.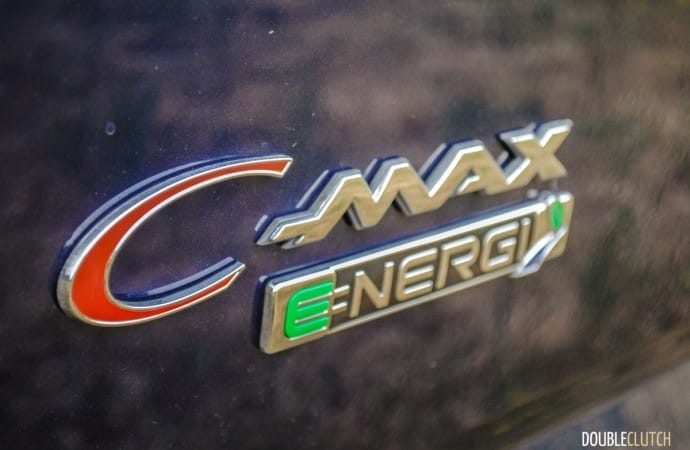 The C-MAX Energi's drivetrain features a 2.0L Atkinson-cycle four-cylinder hybrid gas engine paired with a 7.6 kWh Lithium-ion (Li-ion) battery, an electric motor and a CVT transmission. The combination puts out 188 horsepower, which has a tendency to easily break free the low-rolling resistance front tires thanks to the instantaneous torque of the electric motor. In my experience with the C-MAX Energi, I averaged about 35 km out of a full battery charge, which took about 6.5 hours using the supplied 120V charger.
If you were going to own one of these you would definitely want to invest in a 240V charger for about $800, which will get the job done in 2.5 hours. 35km gets me a little more than half way to work, and once I am there I have no way to charge the car, so it's all "hybrid mode" for the trip home. In that situation, I consumed an average 4.8L/100km in my rush hour commuting. I consider this really impressive, and I have no doubt that in a better situation I could've dramatically improved my savings with this car.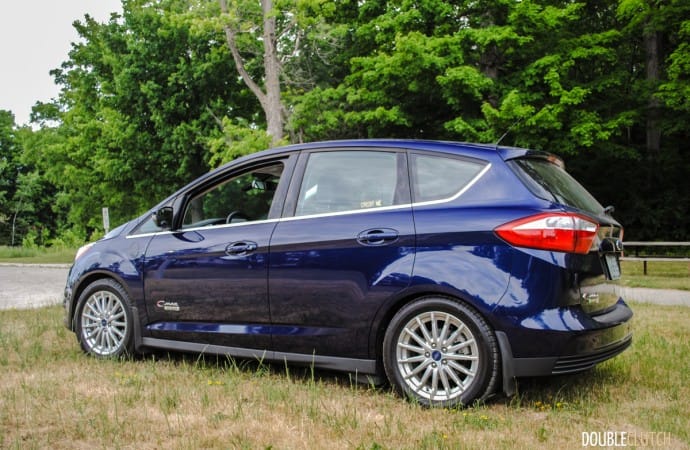 One thing that I've noticed eco-cars getting better and better at recently is feeling like traditional cars, and the C-MAX Energi is no different. The biggest and only real hint that you're driving something unique is the torque and sound of the electric motor, otherwise the C-Max handles and drives a lot like a typical car. It's nimble, quick on its feet, easy to park, and reasonably fun to toss around if it weren't for the tires on it – they slip and whine with the slightest bit of enthusiastic driving. On the highway, the C-MAX Energi's extra weight gives it a nice solid and stable feeling, making it a fairly competent highway cruiser, with the exception of excess wind noise.
The "normal" theme continues on the outside of the C-MAX. It looks a lot like a taller, narrower and slightly more European version of the Ford Focus (reviewed here). Wearing its Ford corporate style grill and low-key exterior design, the C-MAX does nothing to attract attention. Unless you happen to notice the little door on the left front fender for the charge port, it's difficult to tell from the outside that the C-MAX is anything different. While not exactly pretty, compare the C-MAX's conservative looks to the futuristic angles of the latest Toyota Prius (reviewed here). The C-MAX has an obvious advantage in my mind. I did notice some quality deficiencies on the exterior of my tester; panel gaps were atrocious and accessories like the headlights and grill seemed to fit very poorly. This isn't a huge issue for someone just looking for a practical efficient little car, but as an enthusiast that type of stuff bugs me.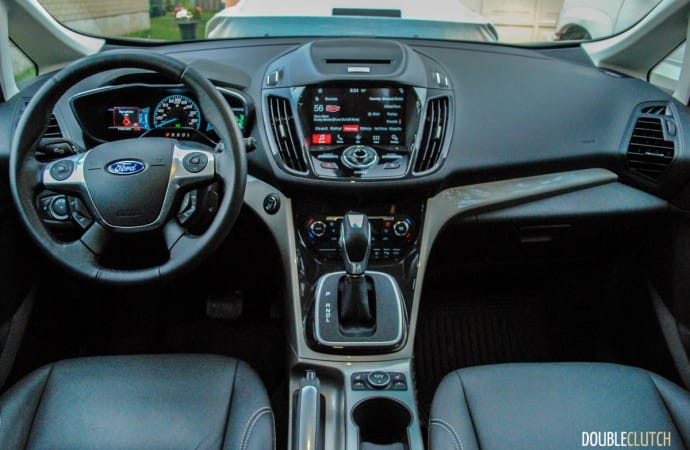 The interior is similar, with no drastic departures from what you'd expect to find inside any mainstream Ford product today. My issue with panel fitment continued inside as well though, with some obviously misaligned panels up around the top corner of the dashboard and A-pillars. Nonetheless, the C-MAX Energi is a pleasant place to be, with standard comfortable heated leather seats and dual-zone automatic climate control. Probably the most interesting feature inside the C-MAX Energi is the SmartGauge gauge cluster; it boasts a whole host of views and tools to help you maximize the efficiency of your drive, including virtual vines and leaves on the right side that grow as you drive more efficiently.
My biggest complaint inside the C-MAX is the lack of storage space. Up front there aren't many places available to keep stuff, and I even had trouble finding a place to keep my phone, as its size makes it too large to sit in my pocket as I drive. The cargo area also suffers a fair bit due to the size of the lithium-ion battery. It raises the floor height, which makes loading more difficult and restricts the available space a fair bit. Still, folding the split rear bench flat does open up a whole lot of versatile cargo space, allowing you to take full advantage of the C-MAX's hatchback design.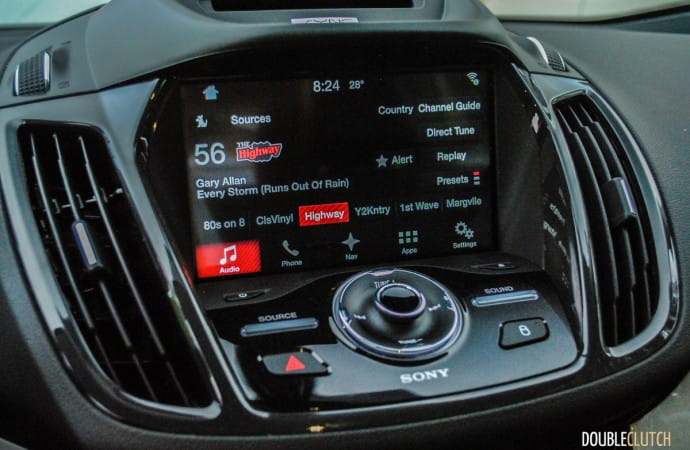 My particular test vehicle came equipped with option group "303A", the highest cost option group available. At $3,695, this adds the power hands-free lift gate, voice activated navigation, rear view camera, park assist and a Sony audio system with nine speakers. The only option missing from my test car is actually a glass panel roof. This is not a moonroof, but a fixed glass panel that can be had for an extra $1,600. The base price on the C-MAX Energi is $31,999 and my test car came out to a reasonable $34,391, before incentives and other fees.
The real key to any plug-in hybrid is the EV range you get out of a full charge, and what you can do with that range. If you're someone who does a lot of long distance highway driving you'll burn through that range before you realize many of the benefits. A plug-in like the 2016 Ford C-MAX Energi is much better suited for someone who has a shorter commute and the flexibility to plug-in whenever possible. In that situation there can be some real savings to a car like this.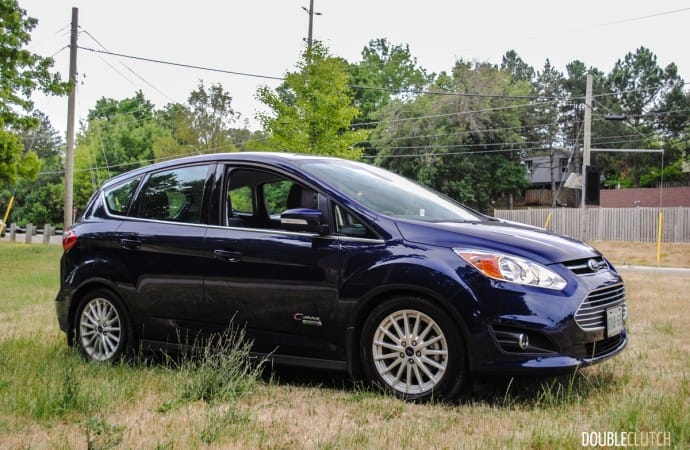 The C-MAX's 30-40km electric range is right in line with its competitors, so what it comes down to next is whether or not you like the C-MAX's conservative hatchback approach or whether you want something a little more edgy. Personally, I like the little Ford, because when I am driving it I don't feel like I am doing anything differently to save fuel. The Energi looks and feel like a traditional car, and that might be a good way to transition some buyers into an eco-car that they can feel comfortable with.
2016 Ford C-MAX Energi Gallery
See Also: