The Fiat 500 has achieved an impressive amount of success in the Canadian market since its introduction in 2011.
Now available in dozens of different configurations, the 500 has become a common sight on the streets of Toronto. However, my only experience behind the wheel of a Fiat had been an uneventful winter test of a 500L two years ago. While the longer four-door 500L didn't quite make sense to me, I do understand the appeal of a small, trendy and efficient city car like the 500, so I got myself some time with one and was actually getting sort of anxious to see just how liveable it would be.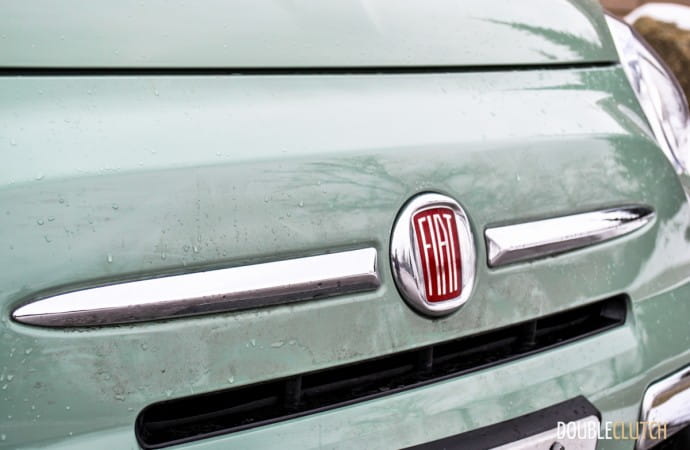 Picking up my test car for the week, a 2016 Fiat 500 1957 Edition, I was greeted by the quirky looking car's cheeky smile and cute round headlights – a definite throwback to the original Fiat 500. Beyond the many unique styling cues my tester shares with the original, my particular car happens to be a commemorative 1957 Edition. Honouring the model year that started it all for the 500, this special edition comes in your choice of pastel blue, green or white, complete matching 16" alloy rims designed to replicate the look of the original steel wheels. You also get a white roof panel, white mirror caps, retro Fiat badging, an ivory colored dashboard and brown leather seats.
The leather is standard, since opting for the 1957 Edition also gives you everything you'd find in the top-trim "Lounge" trim level. Now, I am not usually a fan of modern cars going retro, but in the case of the 500, the body style has remained so true to the original that the package actually complements it quite nicely. My car came in "Verde Chiaro" (pastel green), and while certainly not my style, it does suit the car quite well. I was also pleasantly surprised to find the exterior fit and finish to be excellent. I'd previously read some owner complaints about poor paintwork and awkward panel fitment, but my tester looked to have been put together with a lot of care.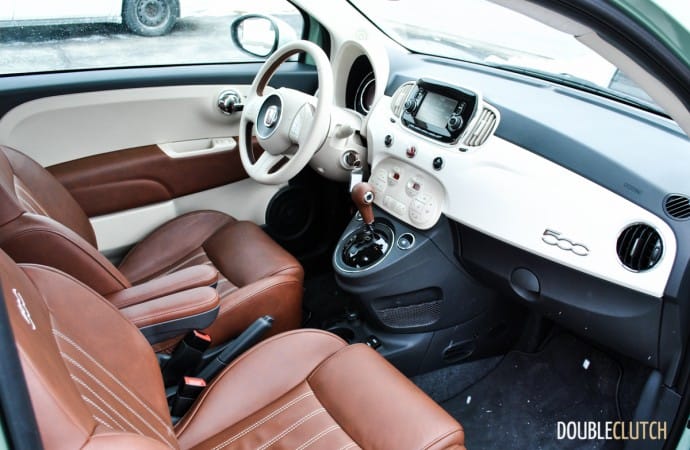 To be fair though, the 500 isn't exactly a cheap car despite its puny size. You'll need just shy of $19,000 to get into a base "Pop" trim model, and stepping up to the loaded Lounge trim will set you back almost $23,000. The Lounge adds a respectable list of features over the base model including heated leather seats, a 7" digital gauge cluster display, 5" UConnect touch screen infotainment, and a handful of exterior touches. To that, you'll need to add $2,000 to get the retro 1957 Edition package. In addition to this my tester also came with the optional six-speed automatic, GPS navigation, rear park assist and a phenomenal Beats by Dre sound system. My tester came out to just over $28,000. It's worth mentioning that this price is higher than a base soul-stirring Abarth model (see review here), so you're definitely paying a premium to get the retro touch.
My fears that the 500 is a vehicle selling strictly on its trendy status were somewhat diminished as I started spending time behind the wheel. The 101-horsepower 1.4L 4-cylinder mated paired up with the six-speed Aisin automatic is certainly not a powerhouse, but it's definitely adequate for the little Fiat and I didn't find myself wanting for more power. Acceleration is far from quick, and highway merging requires a little extra planning, but power delivery is fairly smooth and linear, and throttle response is also fairly brisk, helping the 500 feel decently nimble on its feet.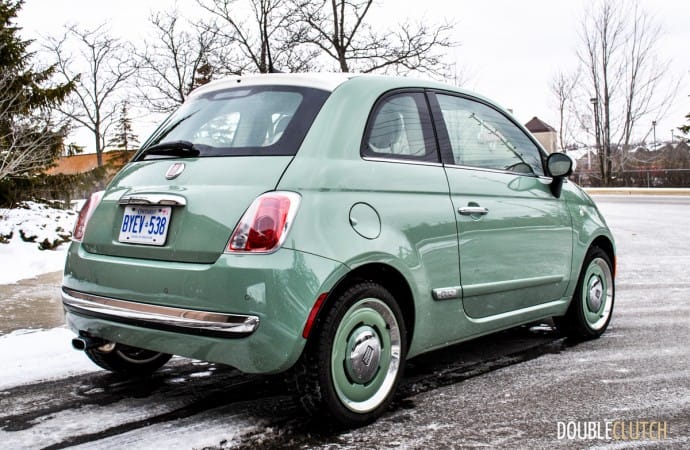 Speaking of nimble, I had big hopes that the steering in the 500 would be direct, alive and begging to have a little subcompact fun. Unfortunately, I was disappointed to learn that the electric assist removes almost all road feel from the steering wheel. Lack of feel isn't the only problem; steering response is not at all what I'd hoped for such a small and potentially fun car. Once you get beyond the less-than-playful steering, the 500 actually does handle fairly well and tackles corners with minimal drama or body roll. What really bugs me is that the capability to have a really fun agile subcompact is present, but the numb steering takes all the joy out of it for an enthusiast driver. Thankfully, the Fiat 500 Turbo and Abarth models come with steering tuned a little more towards the sporty side of things.
The 500 unsurprisingly boasts a very comfortable ride. For its size it's surprisingly composed over the rough wintery city streets, and even on the highway proves itself well mannered and very livable. Noise control inside the cabin surpassed my expectations, intruded only by a subtle growl from the 1.4L on harder acceleration. My week with the 500 also happened to be the coldest week of the winter here in Toronto thus far, but even well into the -20-degree range the Fiat battled the elements without missing a beat, though a heated steering wheel would have been extremely appreciated.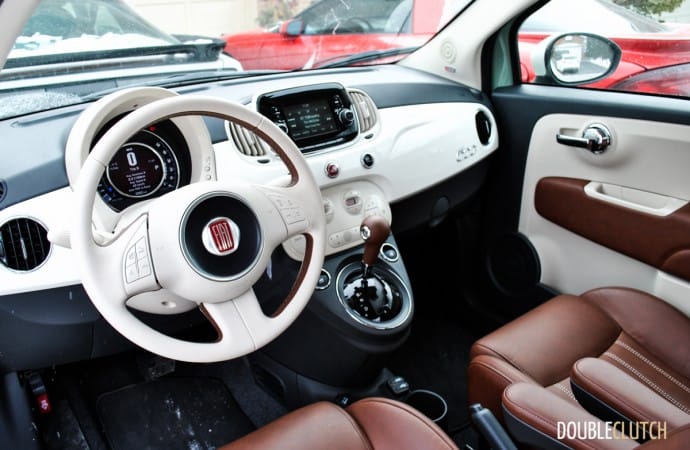 After a week of commuting in extreme cold temperatures, my average fuel economy sat at 8.1L/100km. In my opinion this was a good number, but not exactly impressive considering I can regularly beat that in a Honda Civic with 50% more horsepower and size. I think the rev-happy and fun-to-drive nature of the 1.4L takes a toll on fuel economy, especially in stop-and-go traffic where the engine is constantly being asked to start the car from a dead stop. Thankfully, the 500 accepts regular-grade fuel, with only the Abarth model having a requirement for premium.
I spent a lot of time in the 500 during my week with it and while the interior is certainly aesthetically pleasing and just as well put together as the exterior, I did run into a few annoyances. Firstly, the front seats don't recline forward enough to get easy access to the rear. Additionally, the handbrake, while I appreciate the traditional lever, is positioned very low relative to the driver's seating position, meaning you have to reach down to engage it. The driving position itself is a little strange – it took me a while to get used to, and had my legs a little cramped but my arms almost fully extended. The 500 also doesn't have automatic headlights, so I had to train myself to use the switch, not a big deal, but on the fully-loaded model, I expected this to be standard.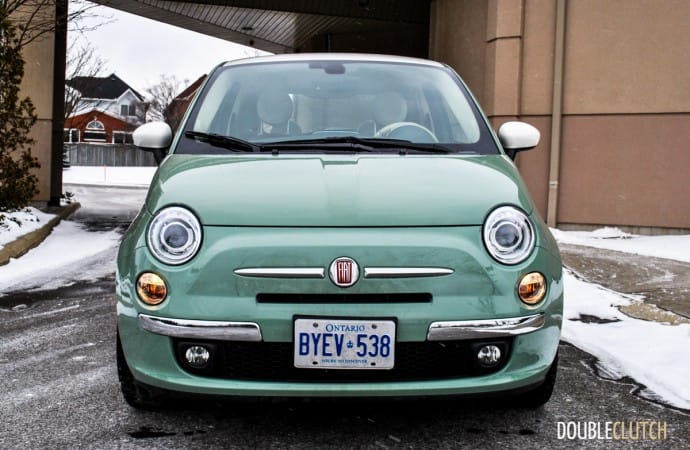 It may sound like I didn't like driving the 500 at all, but that's simply not the case. The seats are comfortable, the Beats by Dre stereo is exceptional and it's dead easy to drive and park. The 2016 model uses the Chrysler family Uconnect infotainment system, and it is what I consider to be one of the best in the business. The 1.4L happily plugs away, keeping pace with traffic, and there is a certain charm to the 500's heritage and retro style that help to make its shortfalls more like forgivable little quirks. I truthfully enjoyed my time with the 2016 Fiat 500 1957 Edition, and with its relatively frugal economy the time I spent in it helped too! I can easily see this being a great car for a young person or couple looking for a trendy yet practical city runabout.
2016 Fiat 500 1957 Edition Gallery
See Also:
2016 Volkswagen Beetle Classic Convertible