There have been some notable changes to the Equinox to keep it fresh for 2016.
Introduced in 2004 for model year 2005, the Chevrolet Equinox (and badge engineered twin, the Pontiac Torrent) was General Motors' re-entry into the midsize crossover segment. A smart-looking utility vehicle from the start, the Equinox lost its Torrent sibling and soldiered on alone for a second generation for the 2010 model year. Now though, with the crossover segment expanding rapidly, the Equinox struggles to keep up. We were sent a 2016 Chevrolet Equinox LTZ AWD, loaded with all of the latest technology offered, for a week's worth of testing to see how relevant it still is versus its tough competition.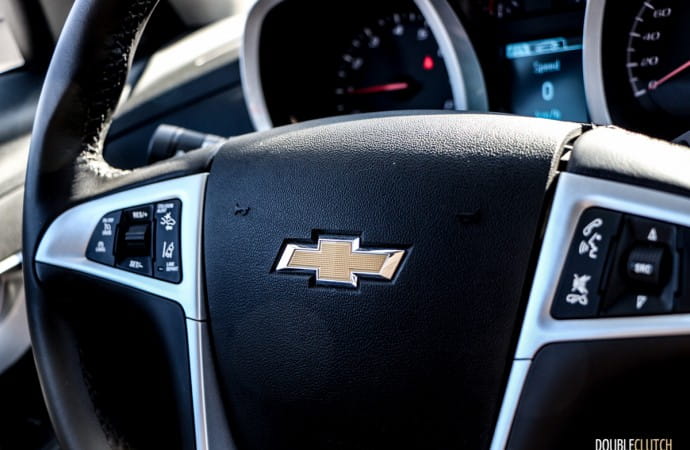 The vast majority of our favourite crossovers maintain a sole powertrain option, typically a naturally aspirated four-cylinder. The Equinox has had gutsy V6s available from the start, but the second-generation added a four-cylinder. Now, it remains one of the only vehicles left in its segment with a V6. For the sake of fair comparison to the likes of the Ford Escape (see review here) and Mazda CX-5, we opted to test an Equinox with the four-cylinder. Despite being a base motor, the 2.4L still boasts 182 horsepower at 6,700RPM and 172 lb-ft of torque at 4,900RPM.
Though geared towards comfort and efficiency rather than any sort of performance, the four-cylinder powertrain is the weakest point of the Equinox. It sounds decently meaty with a convincing growl from the exhaust, but there simply isn't enough power to move the Chevrolet's weight around. Throttle response is pretty good, but the car does need to work hard to get up to highway speeds. The six-speed automatic transmission is geared well, and there's a manumatic mode that allows for toggling gears yourself. The optional 3.6L V6 is one of GM's current sweetest setups and I would definitely opt for that in the Equinox – it's just a more comfortable setup.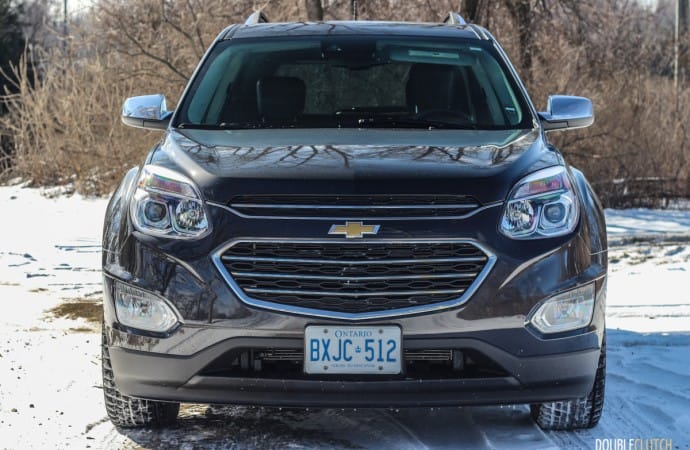 Fuel economy for the four-cylinder Equinox is rated at 10.5L/100km city and 7.3L/100km. My test had a lot of city driving, and also took place during the coldest week of this winter, with temperatures dropping down to -30 degrees Celsius. AWD was definitely helpful here. I couldn't muster much better than 10.8L/100km over about 550km of driving. The Equinox's tank will take 71L of fuel, which is quite a bit for this segment. This does translate to almost 700km of driving on a single tank, which would be highly beneficial on road trips. It will also accept regular fuel with no requirement or recommendation for premium grade.
There have been some notable changes to the Equinox to keep it fresh for 2016, and they mostly revolve around the crossover's styling. I've always considered this Chevrolet to be an elegant choice, and the new projector headlights with LED daytime running lights do a great job adding to this look. The LTZ gets new fog lights, and also a new grille. Also updated are the 18" wheels on our tester, and lesser trims get 17s, also new this year. The side profile remains virtually the same, with new dual-element taillights and a revised bumper to set off the rear end nicely. A huge advantage here is that the overall profile is still unmistakable as an Equinox, and its bold styling will help it significantly in appeal.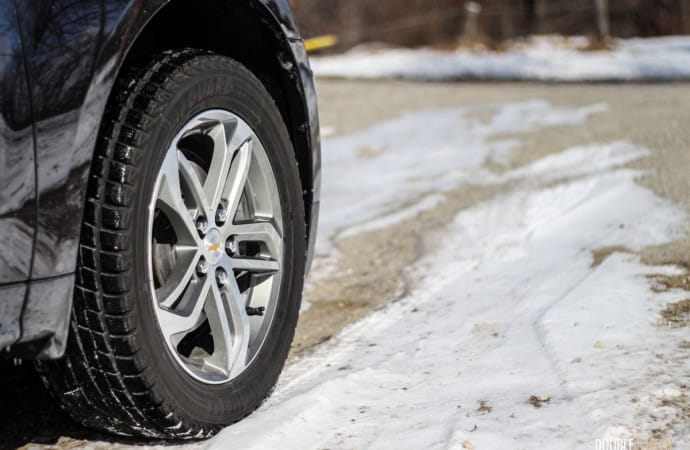 Infotainment is another area in which GM has succeeded in recent years. New models under the Chevrolet umbrella offer the MyLink infotainment system – the Equinox gets a 7" touchscreen with Bluetooth, USB connectivity, and satellite radio. Additionally, there's built-in OnStar 4G/LTE which works as a mobile hotspot within the truck. MyLink is easy to use and the connectivity features are a cinch to set up and use effortlessly. I found some issues connecting an older iPod to the system via USB, but Bluetooth streaming was flawless and I had no issues with voice quality on either side.
Chevrolet has priced the Equinox from $27,170, with the top-trim LTZ starting at $32,670. Keep in mind, this still comes with the four-cylinder engine – those wanting the V6 will have to budget an additional $1,725. Our car was loaded up with things like a power sunroof, full navigation built into the MyLink system, heated leather seats, an eight-speaker Pioneer audio system, and a few other gizmos. Most importantly though, a Driver Confidence Package II costs $1,250. The total sticker on our tester was hovering just below the $40,000 mark even without the V6. Though not cheap, this number is pretty comparable to the fully-loaded Hyundai Tucson (see review here) that I drove a few months ago.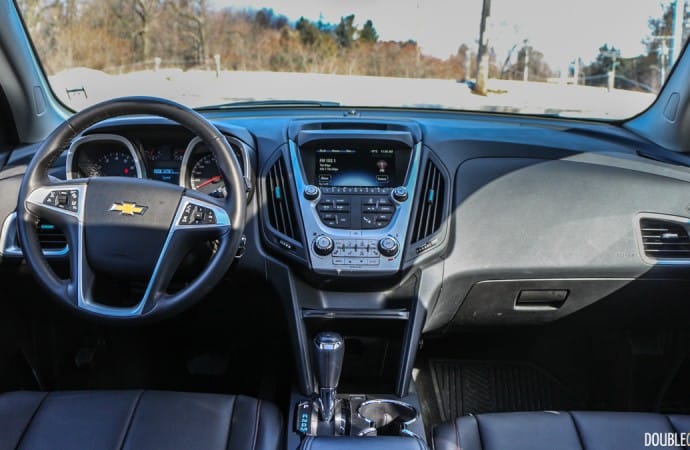 The Driver Confidence Package I just spoke of is intended to give Equinox buyers that extra cushion of safety by means of driving assistants. This adds options such as forward collision warning, lane departure warning, blind spot monitoring, park assist, and rear cross traffic alert. The rear parking sensors work in synergy with the standard rear-view camera, and are a simple solution to a growing problem (poor parking skills). Seeing as many Equinox sales are to corporate and/or rental fleets, this suite of driver aids should go a long way to preventing collisions and overall adding longevity to the models.
Interior materials are about on par for the small crossover segment. There are definitely a few hard plastics present, but fit and finish is good, with no visible panel gaps or oddly fitting pieces. The steering wheel (leather-wrapped on my LTZ) is nice to hold and the steering response is nice too. Rear seating is made a bit more functional by means of the Multi-Flex sliding rear seat, which has a great deal of adjustability. The Equinox can also hold 1,804L of cargo, obviously with the rear seats folded down.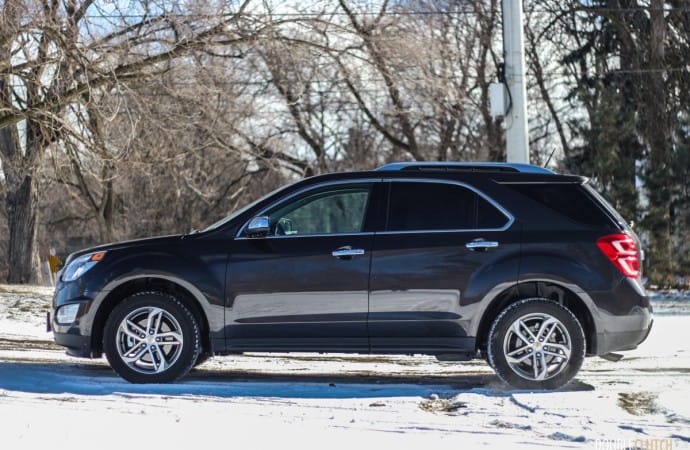 The 2016 Chevrolet Equinox LTZ AWD is an older vehicle living on in a segment that is populating extremely quickly. It's not that the Chevy is bad – it's just that the competition is progressing fast. Chevrolet has announced that they're expanding their SUV lineup, which will likely result in the next Equinox (set to debut later this year) shrinking a little bit. Undoubtedly getting the turbocharged 2.0L motor from other GM applications, the next model should be very promising. If anything, all of the Equinox's qualms have to do with its age, and the current generation has still aged very gracefully with periodic updates to maintain its relevance in the crowded market.
2016 Chevrolet Equinox LTZ Gallery
See Also: