GM's 2.0L turbocharged engine is an excellent example of how far boosted four-cylinder motors have come.
When I drove my first Cadillac ATS Coupe in the fall of last year I was smitten, and to this day I regard it to be one of my favorite modern cars. What can I say; the sexy lines of a coupe combined with the comfort and refinement of a Cadillac is a winning combination for me. It has been over a year since I last drove an ATS Coupe and I was itching to get some more seat time. As my anticipated week with the ATS tester approached I couldn't help but feel a little nervous; sort of like the second date following a perfect first date – had my expectations been set too high? Was I setting myself up for disappointment? The day came and there she was; gorgeous in Red Obsession, a loaded 2016 Cadillac ATS Coupe 2.0T with AWD and the Performance Package.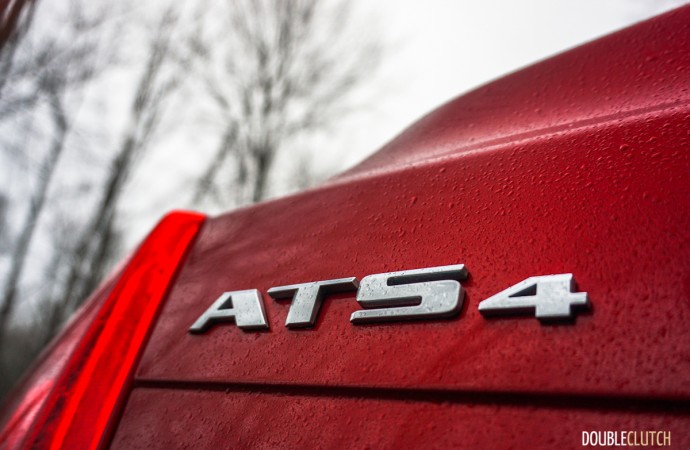 Now, I'd fallen in love with the buttery smooth 325 horsepower power of the available 3.6L V6, so the first thing I had to find out was whether the $2000 savings from sticking with the 4-cylinder was worthwhile. I happily jumped into my tester and hit the road, getting familiar with the little engine. I was pleasantly surprised that the 272-horsepower output from the 2.0T makes its presence well known and the car feels just as quick as the V6. That can likely be credited to fact that the 2.0L actually offers more torque than the 3.6L, at 295 lb-ft versus the V6's 275 lb-ft. I will say however that while seat-of-the-pants performance seems to be on par with the V6, the throttle response from the I-4 is on the dull side and takes a little getting used to.
Beyond the wonky throttle though, GM's 2.0L turbocharged engine is an excellent example of how far boosted four-cylinder motors have come in recent years. Power delivery might not be V6-levels of smooth, but it is very refined and feels extremely relaxed even while cruising along at higher speeds. The racy exhaust note from the 2.0T is fun for a few minutes, but once the novelty of it wears off it starts to sound rather animated and maybe even distracts a bit from an otherwise very refined powertrain. Speaking of which, the eight-speed automatic feeding power to all four wheels serves as a great dance partner and when under load, displays some impressively quick shifting.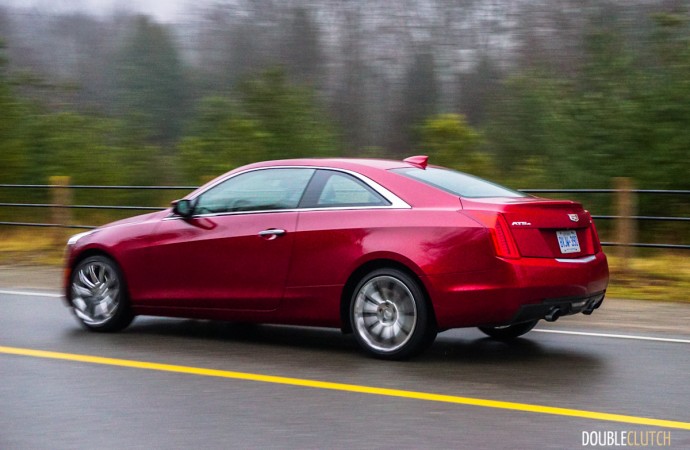 Purchase price savings aside, the other reason you might want to consider opting for the 2.0L powertrain is the fuel savings. My typical week of rush hour commuting netted me an average of 8.8L/100km, not too shabby all for an all-wheel-drive Cadillac and notably better than the average 9.8L/100kms I was getting in the 3.6L. One thing to consider is that the turbocharged engine does come with a recommendation for premium fuel, it's not a requirement, but if you want to get the most out of your engine you'll likely want to spend the extra dollars on the good stuff. The V6 on the other hand can get away with regular fuel if you so desire.
The driving dynamics of the ATS are simply outstanding. The steering is very precise, perfectly weighted, offers just enough feedback, and the thick leather-rimmed wheel is a pleasure to use. Even without the famed Magnetic Ride Control, the ride in my tester was exactly what it should be; firm and composed yet extremely comfortable. The combination of the precise steering and composed ride mean corner carving is an absolute pleasure in this car. Pick a line and just dial it in; no drama, just control, and then power out with the traction and confidence of AWD.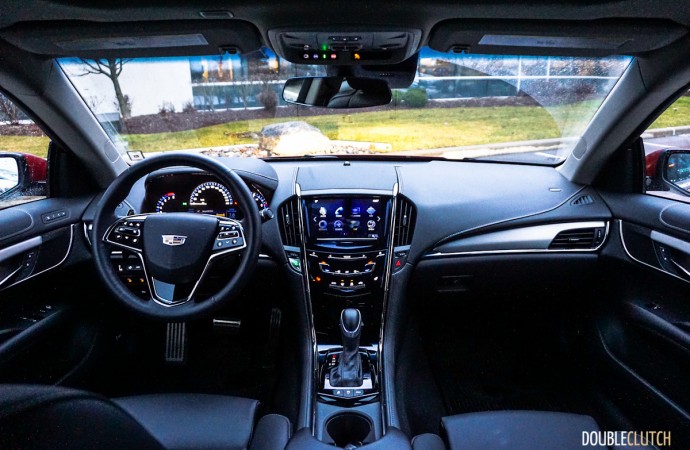 When you've had enough fun and simply want to cruise along in comfort, the ATS starts to show its luxurious Cadillac roots. Interior sound proofing is phenomenal; it's as quiet as a Monday morning church inside the ATS, and the boy-racer exhaust note quickly disappears as soon as you ease up your right foot. The front seats are supremely comfortable and despite the car's low roofline, there is plenty of headroom and I had no issues with outward visibility either. This makes the ATS Coupe an excellent long distance touring car. I actually wish I'd found the time to take my tester out for an extended road trip.
The interior remains relatively unchanged from last year; it's typical Cadillac with liberal use of high-quality leather, soft touch materials and detailed stitching. My tester came with aluminum trim where I am used to seeing glossy piano black wood. Personally I'd prefer the wood, but kudos to Cadillac for offering the choice. The headliner and A-pillar trim panels are a very basic looking cloth and are reflective of the car's base $43,000 sticker.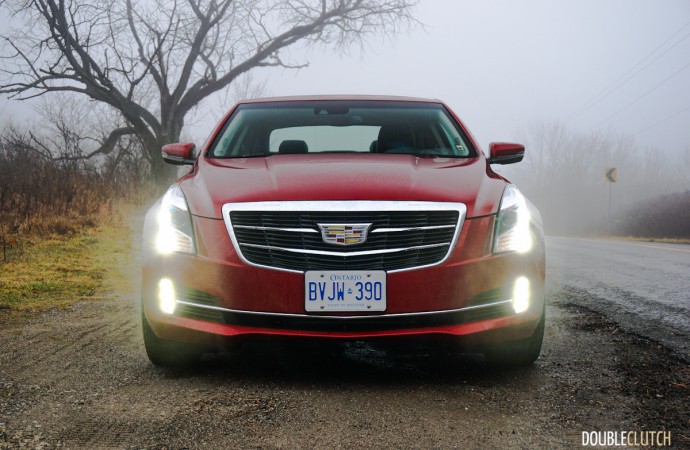 However, with the as-tested price of my car sitting at $53,790, before any rebates, I would have expected something a little more upscale in this regard, even if only in upper trim levels. The interior does make excellent use of the ATS Coupe's available space with plenty of storage available up front and enough rear head and legroom for smaller adults to be reasonably comfortable in the back. I did find the storage pockets in the door panel a little narrow, it seems silly but numerous times I had trouble getting my hand in to pull stuff out.
At that $53,000 price point my tester did come very well equipped with a heated steering wheel, heated seats, remote start, moonroof, an excellent 12-speaker Bose surround sound system, xenon headlamps with LED running lights, and of course, the top of the line version of CUE (Cadillac User Experience) infotainment system. While CUE quickly became a much hated system by many reviewers upon its first release, the folks at Cadillac have clearly put a lot of effort into upgrading the system to address many of the common complaints.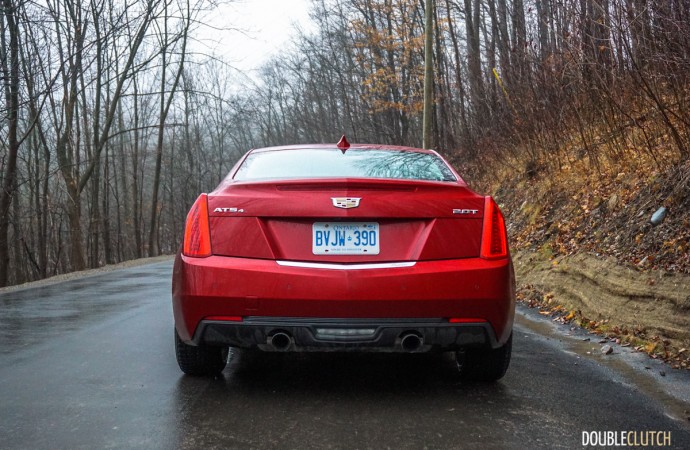 Despite being one of CUE's less-impressed users early on, I've grown used to the system and I find myself beginning to like it. The latest version I played with in this ATS is responsive, quick and very good looking. The touch screen heated seat buttons still bug me though; I am not going to let that one go! The car is also equipped with 4G LTE WiFi and Apple Car Play, which looks great and runs perfectly on the large 8" LCD screen.
At the end of my week with the 2016 Cadillac ATS Coupe, I came away having learned two things. Firstly, I'd take the V6, because the small price difference and difference in fuel consumption is worth it to me to have the extra refinement. I also came away knowing that the ATS Coupe is still the right car for my lifestyle. We've made it through the second date and I am still just as smitten as I was on my first drive. With proper coupes becoming less and less common, those that remain on the market are often focused sports cars, with many compromises. However, the ATS Coupe has the lines of a true sports car, but the refinement and comfort of a grand tourer. It's all wrapped in a gorgeous package and proudly wearing the Cadillac shield, highlighting a brand that has returned to building world-class cars.
2016 Cadillac ATS Coupe 2.0T Gallery
See Also: