Comfort and quality come together to make this a very well rounded maxi-scooter.
The 2016 BMW C650 GT (short for "Gran Turismo") is not your typical scooter. There's something magical about it that makes this high capacity maxi-scooter above par for conventional standards. Right off the bat, the C650GT grabbed my attention as it doesn't look like any scooter I've ever seen. With its sporty styling and modern design, it's definitely raising the bar for the scooter market. The 2016 model has several new design changes that were derived from the automotive side of BMW – this adds to the overall appeal.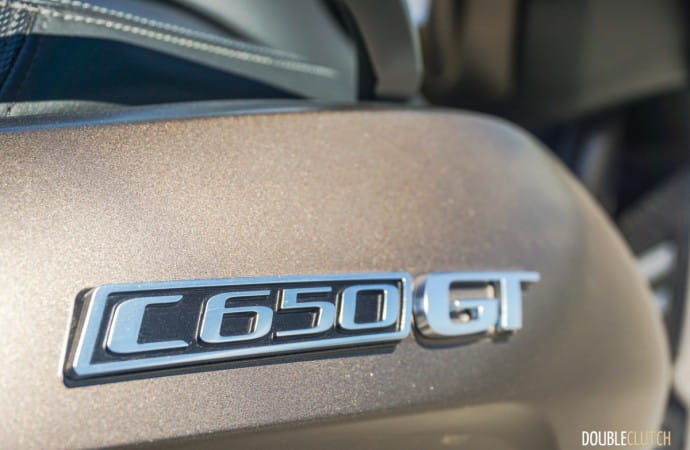 I really enjoyed riding this scooter – it's extremely comfortable, well-balanced, and at 650cc it has plenty of punch that's sure enough to leave most cars behind. With a sticker price of $12,285 it may catch most by surprise as it seems expensive for a scooter. When factoring in what you actually get for that, such as heated grips, heated seats, tire pressure monitoring, a full warranty and roadside assistance, one can easily start to justify the price tag that comes with this luxury two-wheeler.
The C650 GT has a ton of storage both under the seats, as well as built into the front fairing. Two things I noted about the storage is that only the front left storage compartment is lockable and that is achieved by locking the steering to the left. This renders the right side unlockable, which can be a bit annoying. The trunk has a built-in LED, which I found to be extremely helpful when getting my belongings out in the dark. One last thing to note about the storage is that the C650 GT features the largest storage in its class, with the ability to store two full-face helmets.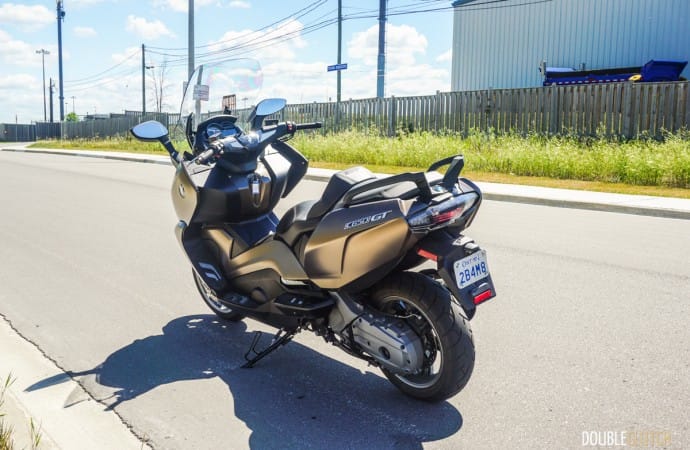 A few of the additional standard features included on the C650GT are ABS, automatic stability control, electronically adjustable windshield, as well as an automatic parking brake that engages when the side stand is lowered. With a plethora of options available from BMW, such as a smart phone cradle, storage rack, storage pod for the rear or storage bag for the center between your legs, navigation and communication as well as many more, there's sure to be a combination of options that are sure to suit your specific needs.
The CVT transmission is extremely smooth, making "shifts" seamless – this adds to the overall comfort. With a wet weight of 575 pounds, the C650GT isn't light nor is it small by any means, but none of that seems to matter. Thanks to the low center of gravity and CVT gearbox, it's effortless to maintain balance at low speeds. Even with a passenger, you can practically stand still on the spot. Braking is sufficient with its twin rotor 270mm dual piston front calipers paired with factory ABS.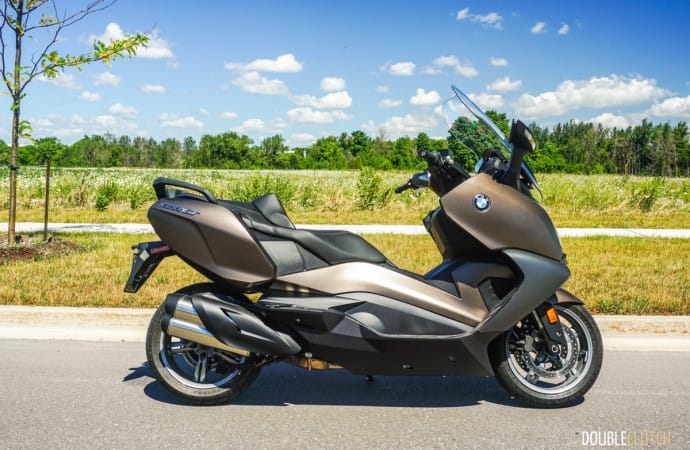 Highway speeds were effortless to achieve and maneuvering through traffic was just as effortless. One thing I noted during my time with the C650GT was how smooth the transition from braking to acceleration through corners and bends was. There is no jerky transition that catches you off-guard whether you feather the throttle or roll into it hard so you can corner with confidence.
Comfort was not overlooked when BMW designed the C650GT. The rider has several options when it comes to foot placement, whether legs are stretched out or kept back for a more aggressive riding position. The rider's backrest is very comfortable, it keeps you in your spot when you're under hard acceleration, and the "GT" stitching is a tasteful touch. A massive passenger seat renders the passenger just as coddled, its hand-holds are very sturdy and ride height is in a well-positioned spot giving a nice field of view over the rider, while maintaining adequate wind shielding. The only problem with passenger comfort was the lack of a passenger back rest, which is a must-have option in my head.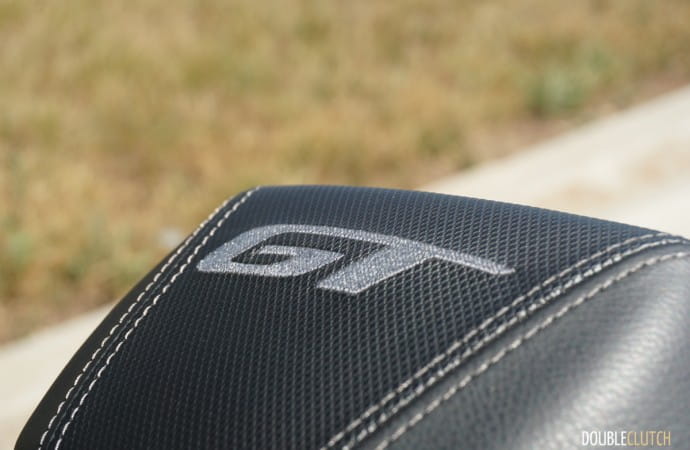 One funny quirk that kept catching me off-guard was the starting procedure. The bike will not start if the kickstand is down or the brake lever isn't pressed. It took a minute of confusion on more than one occasion before figuring out why the bike wouldn't turn over. The engine is a little louder than I would have expected, and the exhaust is newly designed for 2016 with a nice note. The heated grips and seats seemed like a bit more of a novelty than anything to me, as I tend to only ride during warm weather, but riding after dark, and going through low valleys where the temperature drops, they were a much-appreciated feature that left both my passenger and I comfortable.
Comfort and quality come together to make the 2016 BMW C650GT a very well rounded maxi-scooter. Perhaps scooters won't be as popular in North America as in Europe, but the C650GT is definitely paving the way when it comes to a comfortable mode of transportation. If you're in the market for a large capacity scooter, or even a touring motorcycle, I'd give the C650GT a look – it may just win you over.
2016 BMW C650 GT Gallery
See Also: