The V8S moves with surprising eagerness while maintaining all of its grace.
Cars and watches are alike in many ways – this also explains why those passionate about one usually have at least a strong appreciation for the other. I'm a huge fan of both, and certain vehicles highlight both of these passions together. Bentley is considered one of the most elite and prestigious automotive names in the world, and their relationship with Breitling has always been something that has particularly stood out to me. When I was given the opportunity to borrow a 2016 Bentley Continental GT V8S for evaluation, it allowed us the chance to experience the tremendous amount of quality and precision put into British engineering.
The Continental GT design has been around for just over a decade now, with one serious redesign a couple of years ago and a series of facelifts over the years. This line has also spawned the Continental Flying Spur four-door as well as several special edition models of both the coupé and the sedan. Aesthetically, the Bentley has unmistakable lines now, with the signature four-headlight design, athletic fenders and a stance that demonstrates the elegance and simplicity of the brand. Our tester was painted in a conspicuous Apple Green with 21" black machined alloy wheels.
Initially only available with the twin-turbo W12 motor sourced from Volkswagen/Audi, the Continental can now be had with a "lesser" V8 as well. The V8S model is one step up from the Continental GT V8, and is powered by the same 4.0L twin-turbo V8 as many of Audi's S and RS cars. Of course, it wouldn't be a Bentley without significant modifications and unique tuning on the engine. The entry-level GT V8 is good for 500 horsepower and 487 lb-ft of torque, and the V8S adds a little bit of boost and pushes these numbers to 521 hp and 502 lb-ft at 1,700RPM. The only available transmission is the ZF-sourced eight-speed automatic, an impeccable choice considering it's easily the best automatic transmission available today.
Despite its weight of just over 5100 lbs., the Bentley moves with surprising eagerness while maintaining all of its grace. The V8 is effortless but extremely quiet – it's not a screamer and fits the characteristics of the Continental GT perfectly. The last time we experienced this engine was in the 2015 Audi S8, and though that's one of the fastest sedans available, this 4.0L V8's versatility has no limits. Bentley claims the V8S' added power allows the car to do 100km/h in 4.3 seconds, and we verified this number ourselves as well. There are extremely responsive paddle shifters that allow the driver to change gears if so desired, but the ZF gearbox does a telepathic job of predicting the next move. All of this is done almost silently, but the optional Sports Exhaust system creates a confident snarl when stepping on the throttle.
Despite its horsepower and weight, Bentley has gone to great lengths to ensure that the Continental GT V8S is more than capable in the handling department. Over the regular GT V8, the spring rates have been increased 45% front and 33% rear, with stiffer bushings, a beefier anti-roll bar and slightly lower ride height to minimize body roll and maximize aerodynamics. The all-wheel-drive system divides the power into a 60/40 rear-front split, so given the right situation, induced oversteer is definitely possible. Full-time all-wheel-drive means the car can actually be driven in harsh Canadian winters, for those who want to daily drive their Continental.
What I found unsurprising but truly astonishing was the sheer level of body control this car possesses. It's almost physics-defying that a 5000-plus pound car can haul to 100km/h in just over four seconds while maintaining excellent ride quality over any and all road imperfections. Cornering with the variable-boost electric steering is effortless and actually a blast. Whoever said a big Bentley can't be pushed hard in a track setting has to swallow their words here. The aero wing that comes up at speed is functional but I'm not a huge fan of the size or location – it looks a bit awkward and strange on an otherwise well-proportioned car.
The interior of the Continental GT V8S is pure Bentley though – there are no costs cut here in any manner. The relationship with Volkswagen and Audi is pretty evident; a lot of the switchgear is similar, but the amount of precision is far beyond that of the 'lesser' brands. The metallic surfaces are beautifully machined and aesthetically pleasing, and the analog Breitling clock in the center console has been a Bentley signature item for a good chunk of history. The two-tone Porpoise/Beluga upholstery is stunning and feels as though it belongs in a half-million dollar car. Of course, the flying "B" logos tastefully located on the steering wheel and shifter are a reminder that you're commandeering something from one of the most prestigious brands available.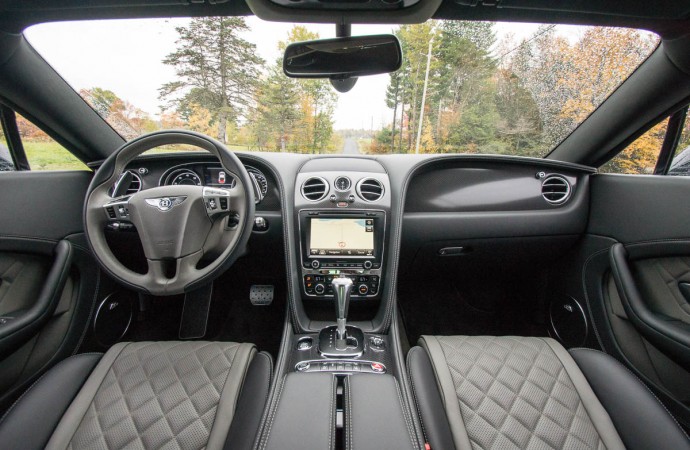 Coincidentally during our test of this vehicle, our resident audiophile and stereo expert was also on board and conducted some testing of the Naim for Bentley audio setup (an $8,000 US option). Naim and Bentley's partnership goes back to 2008, and the 1100-watt system in the Continental GT is a bespoke acoustics setup developed specifically for this car. Naim claims the system is capable of producing unmatched quality between temperatures of -40 degrees to 70 degrees Celsius. The amount of acoustic precision and versatility that this setup demonstrated was seriously unmatched by even the best Bang & Olufsen offerings we have evaluated. This car was equipped with full iPod and Bluetooth connectivity as well as satellite radio.
Our particular test car added a whopping $43,120 (US dollars – the vehicle tested is an American-spec car) worth of options onto the $210,000 base price of the Continental GT V8S. Starting with the Green Apple paint ($5,715), Bentley equipped this test vehicle with the $9,680 Mulliner Driving Specification, unique steering wheel stitching, sports exhaust system, sport hide-trimmed steering wheel, ventilated front seats with massage, adaptive cruise control, a WiFi hot spot, deep pile floor mats, carbon fiber interior accents, adaptive cruise control, and a series of other unique options. The total sticker was $256,545, which at the current exchange rate brings the as-tested price to just under $360,000.
This may sound like some serious coin, but the Bentley Continental GT V8S is a serious machine. Despite the loud paint scheme and expensive option set, this particular GT is something remarkable. Its body control, refinement, and level of engineering is unlike almost anything else on the road. Some may argue that the two-door Mercedes-Benz S-Class or the Porsche 911 may provide better value, but let's be honest here – if the word "value" is a serious consideration when shopping, you're probably not a typical Bentley buyer. The 2016 Bentley Continental GT V8S delivers impeccable road manners and an unmatched level of precision, and should be in the running for one of the most balanced cars on the road today.
2016 Bentley Continental GT V8S Gallery
See Also: