Relative to its German competition, the TLX may get lost in translation.
In the world of entry-level luxury sedans, there are a multitude of choices available to consumers, and there's an option for just about every niche. For some, driving dynamics and performance are valued above all, and others might look for ultimate comfort and refinement. A gamut of gadgets and tech features are also a common theme in this segment, and total price including all options can add up in a hurry. The 2016 Acura TLX SH-AWD Elite is the flagship of the midsize entry-level segment for Honda's luxury marque, and is the replacement for both the smaller TSX and larger TL since the 2015 model year.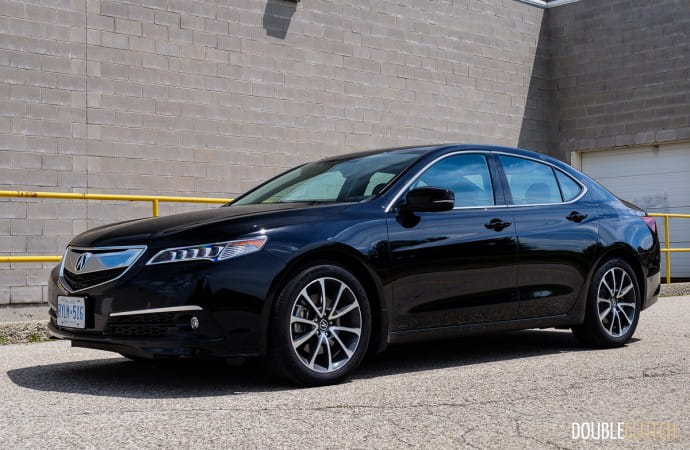 Finished in Crystal Black Pearl, the TLX SH-AWD Elite comes equipped in the typical Acura way – fully loaded and without options. For $47,990, there's a heated steering wheel, heated rear seats, cooled front seats, leather seating surfaces, wonderfully good LED headlights, navigation, as well as a full suite of collision warning systems. This includes blind spot monitoring, forward collision warning and collision mitigation, as well as a lane keeping assist feature that will provide steering input to keep the TLX in its lane. There's an adaptive cruise control system, as well as a ten-speaker ELS premium audio system that includes a subwoofer.
Powering the SH-AWD trims is a 3.5-litre V6 engine that makes 290 horsepower at 6,200 rpm, and 267 lb-ft of torque at 4,500 rpm. Paired to the six cylinder is a nine-speed (!) automatic transmission supplied by gearbox manufacturer ZF, and this transmission also sees duty in Fiat Chrysler products such as the Chrysler 200 and Jeep Cherokee. Base front-wheel drive models make do with a 2.4-litre, 206 horsepower engine and an eight-speed dual clutch transmission, and either option offers quite a different flavour of TLX (reviewed here), reminiscent of the gap between the old TSX and TL.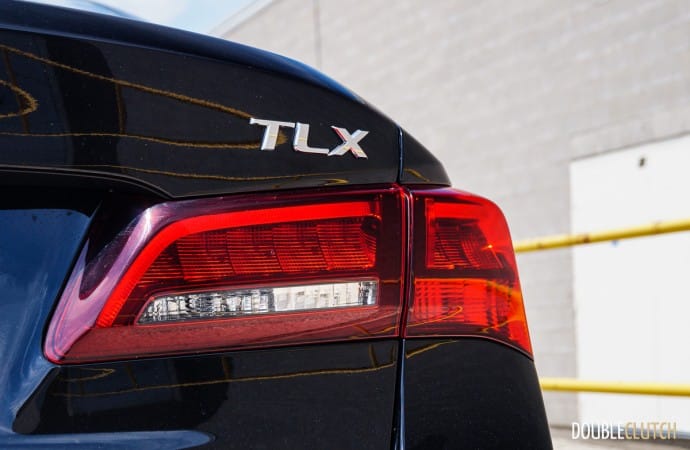 The V6 is the epitome of smoothness and excellent power delivery, combined with a sweet soundtrack as the engine sweeps through the rev range. With the hammer down, the V6-powered TLX can get up to speed very quickly, and the nine-speed automatic keeps the RPMs at the optimal point at all times. The transmission does like to upshift as soon as it is able to, but thankfully the engine has enough torque, and gear hunting isn't a problem. Manual control is afforded by paddle shifters mounted on the steering wheel, and contrary to the norm, there's no gear shift lever on the centre console. Instead, drivers will need to press buttons for park, reverse, neutral, and drive. This does take some getting used to, and there is a bit of a time delay when going out of drive and into reverse. In the real world, this translates to slightly slower three-point turns or tight parking maneuvers.
Fortunately, the extra gear ratios of the nine-speed automatic have allowed the Acura to operate more efficiently around town, and tall upper gears make for great fuel economy on the highway. Nominal numbers for the V6-powered TLX stand at 11.2 L/100km in the city, and 7.5 L/100km on the highway. Observed economy over a week on test was a fantastic 8.2 L/100km, with quite a few kilometres on the open road. The TLX takes premium fuel only, which is on par for vehicles in this segment. Tank capacity is 65 litres, which when combined with the great highway fuel efficiency, offers very good range for long distance road trips.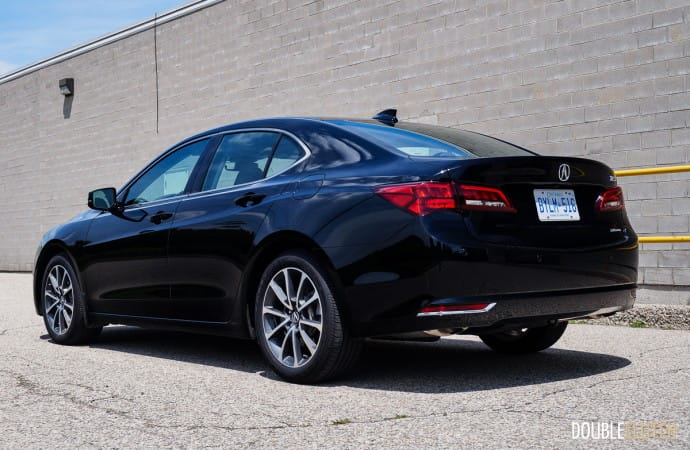 In order to further adjust the TLX's driving dynamics to the situation at hand, there's what's known as the Integrated Dynamic System (IDS) that adjusts electric power steering assist levels, throttle response, and transmission shift points. For most of the week on test, Sport mode was used, which firms up the steering, livens up the throttle, yet keeps the transmission's upshift points at normal levels. "Sport+" mode allows for full-time manual control with the paddle shifters, but automatic mode holds gears for too long without upshifting under light throttle. The shock absorbers are not included in this adjustment, however, as Acura uses what they call Amplitude Reactive Dampers.
These shocks and struts operate on a mechanical basis only, and have two pistons internally that comfortably absorb large impacts from bumpy roads, while still maintaining good handling. In today's day and age of complicated electronics, this is a welcome keep-it-simple solution that works well. The combination of good dampers and Acura's trick Super Handling All-Wheel Drive (SH-AWD) also contributed to the TLX's confident surefootedness on the road.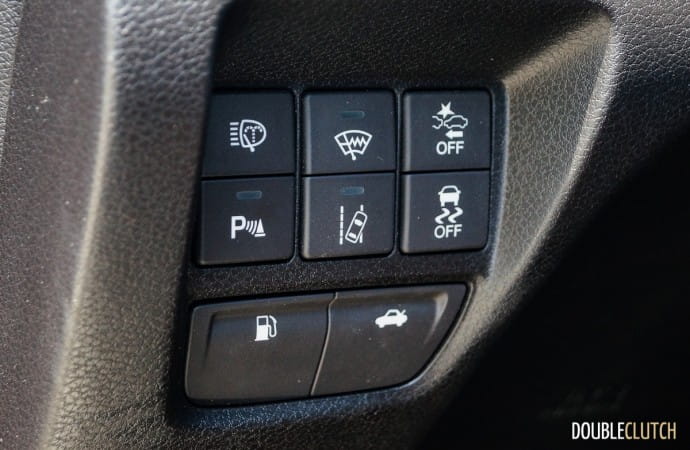 SH-AWD can send seventy percent of the power to the rear wheels, and seventy percent of that can be sent to an individual rear corner – for those keeping track, that's fifty percent of overall power output to a single rear wheel. While that sounds impressive on paper, in practice, this level of power distribution acts to almost suck the TLX through a corner. It lets the car rotate under throttle in a fashion akin to a rear-wheel drive car, but maintains the advantageous traction of having all four wheels driven; all-wheel drive cars that lack this type of torque vectoring will tend to understeer heavily when too much throttle is applied on corner exit.
The only gripe with the TLX's roadholding characteristics stem from Acura's tire selection – the 225/50R18 Goodyear Eagle LS2 all-season tires are a touch too narrow, and feature a tread compound that might be more at home on Grandpa's old Buick as opposed to a sporty sedan. It doesn't take much before the tires howl in protest in a corner, but thankfully the SH-AWD system manages to maintain traction in a straight line. Moving to a 235 or 245-section width would aid in performance, and an available summer tire option would be available, as well. On the flipside, the 18-inch all-season setup's consolation prize is that the TLX maintains a smoother and quieter ride at higher speeds.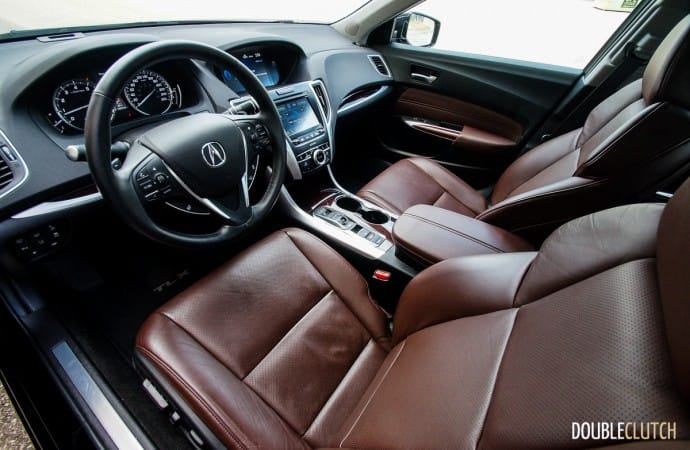 Moving inside, the interior was finished in Espresso Milano Leather – a handsome shade of dark brown that contrasted the grays and blacks well. Seat comfort was excellent, and the fit and finish was top notch. Material quality was decent, although it wasn't quite up to par with the likes of its German competition. Acura's HandsFreeLink infotainment system is also a little frustrating to use compared to the latest systems in cars today. The buttons on the touch screen are a little too large for the screen size, creating a cluttered environment that becomes a sea of text. While this may have been an acceptable (or even above average) system only one or two years ago, it has become out of date fairly quickly. Fortunately, the audio quality from the ELS sound system is excellent, and the TLX remains a good environment to spend time in once you get used to the multimedia interface.
Relative to its German competition – the likes of the BMW 3-Series (reviewed here) and Mercedes-Benz C-Class – the 2016 Acura TLX SH-AWD Elite may get lost in translation from Japan (even though it's made in Marysville, Ohio). While the BMW and Mercedes can boast better brand recognition and can beat the Acura in terms of interior design, it shouldn't be forgotten that the TLX rings in considerably cheaper once considering options and equipment levels.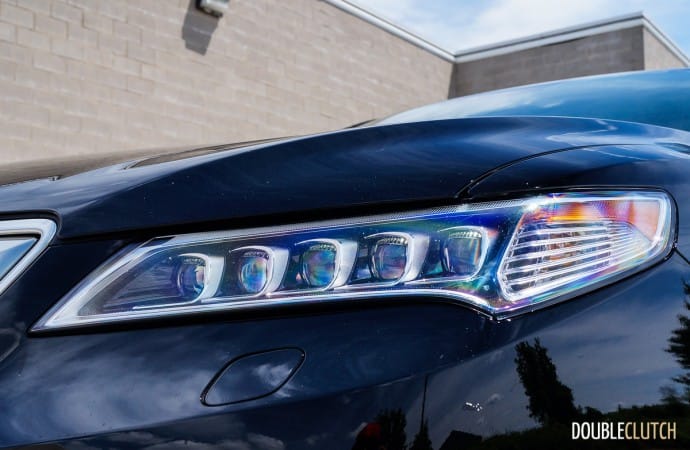 A similarly equipped BMW 328i xDrive can cross over the $60,000 mark – the $12,000 premium is quite a bit to stomach. For many, that difference doesn't add up to the sum of the BMW's parts, and they may have resale value and long term reliability in mind. While the ZF nine-speed transmission will add some complexity (no worse than the BMW and Mercedes eight and seven-speed gearboxes, respectively), Acura's reputation for durable and cheap-to-run cars is a distinct advantage. If these things matter to you, the 2016 Acura TLX SH-AWD Elite should be near the top of your list.
2016 Acura TLX SH-AWD Elite Gallery
See Also: