A trustworthy, bulletproof option | I would be honoured to have a vehicle like this in my stable for daily duty.
Over the past year, Volvo has done a tremendous job in performing a complete overhaul of their model lineup. The most visible was the re-introduction of the traditional station wagon with the new 2015 V60, a car we drove this past summer and thoroughly enjoyed. Additionally, there is a series of new four-cylinder powertrains, both turbocharged as well as twincharged (Drive-E). Lastly, the current Volvo XC90 soldiers on as one of the oldest and most trusted cars available for sale today, so we're eagerly anticipating the stunning new model expected in the spring. I was given a week with an old friend, the 2015 Volvo XC60 T6 Platinum, to see if it has begun to show its age.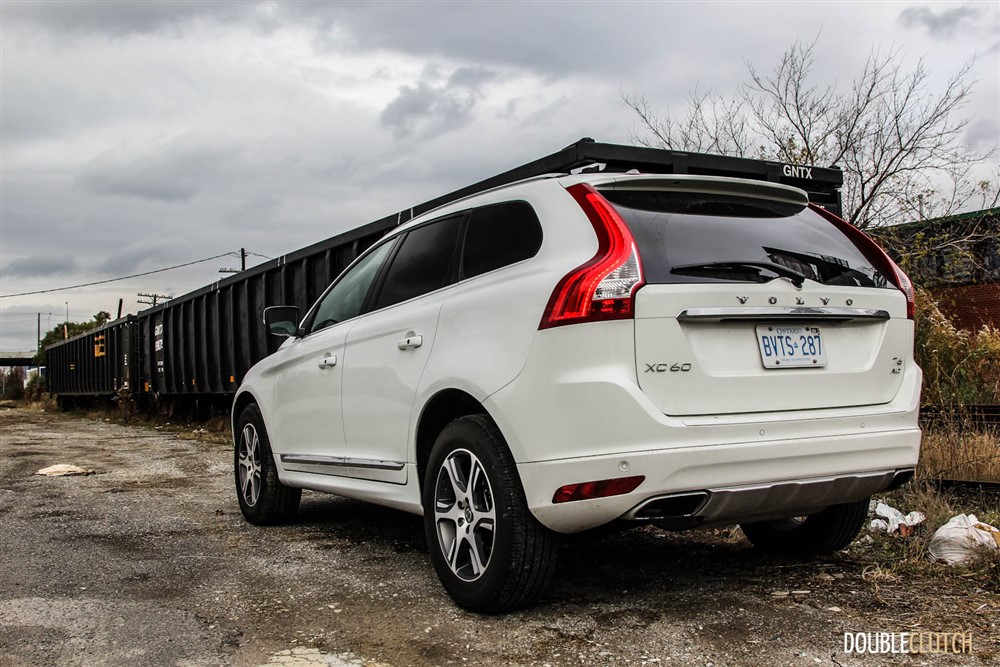 The XC60 showed up for model year 2008, and has received minimal changes and refinements to the lineup since. It's been given a few tweaks to the styling here and there to keep it fresh, but the overall face is unmistakably Volvo and is very elegant. It's easily identifiable as the younger brother of the XC90, and definitely delivers on that promise. With the current lineup having both the S60 sedan and the V60 station wagon, the XC60 fills a very important position as one of the best premium crossovers available for sale.
For 2015, the T6 AWD model continues on with the tried and tested motor; the 3.0L turbocharged inline 6-cylinder. Drive-E (front-wheel-drive) T6 models get a four-cylinder and 8-speed automatic, while this one keeps the old 6-speed automatic box; unsurprisingly, no manual transmission is offered. It's good for 300 horsepower and 325 lb-ft of torque. Giving the accelerator a gentle kick pushes the Volvo to 100 km/h in just over 7 seconds, plenty for an SUV of its weight. There's never a shortage of power, and unlike its R-Design sibling, you can't really hear the turbocharger spooling. One thing does sadden me though, and it's the probable fate of this engine. With Volvo's new powertrain options inching towards boosted four-cylinders, this impressive 6-cylinder is likely to be phased out over the next few years. Efficiency-wise, this is probably for the best, but I will definitely be sorry to see it go.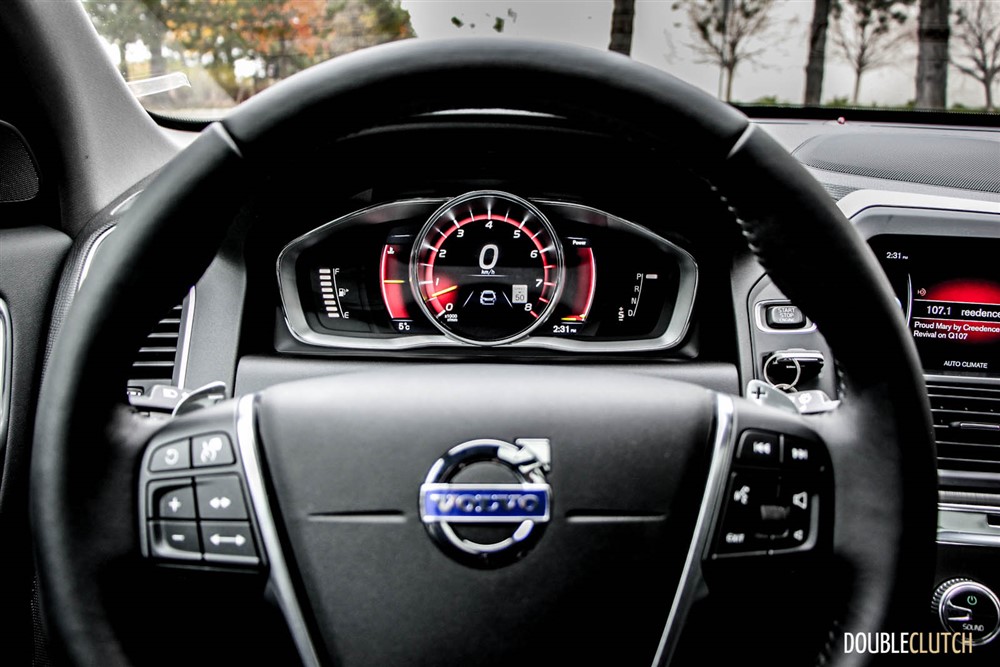 Being the older turbocharged-six, this motor isn't geared towards efficiency the way the new Drive-E 4-cylinder is. Even still, I was able to produce reasonable numbers with a light foot. If relegated to family duty, the Volvo XC60 will still be pretty easy on the wallet as long as it's meticulously driven with premium fuel. I managed 10.4L/100km in combined driving, with a solid few hours stuck in gridlock. There's no start/stop technology here, and the engine is obedient and smooth, delivering exactly what you want at any given time. One cool touch is that even though the XC60 has an intelligent key, there's a slot right below the engine start/stop button where you can insert the key fob for safe keeping. I found myself using this every single time.
Comfort has always been a huge priority at Volvo, tied with safety at the top of their list. The seats in the XC60 were unlike any other crossover in this price range, and provided excellent comfort and support all week. Despite having a slightly dated dash layout, the controls are very ergonomic and all buttons are clearly marked. In terms of safety, my tester had Volvo On Call, Collision Warning with automatic braking, Pedestrian & Cyclist Deteciton, Driver Alert Control, and Lane Keeping Aid. Things like lane departure warning and adaptive cruise control are also included here.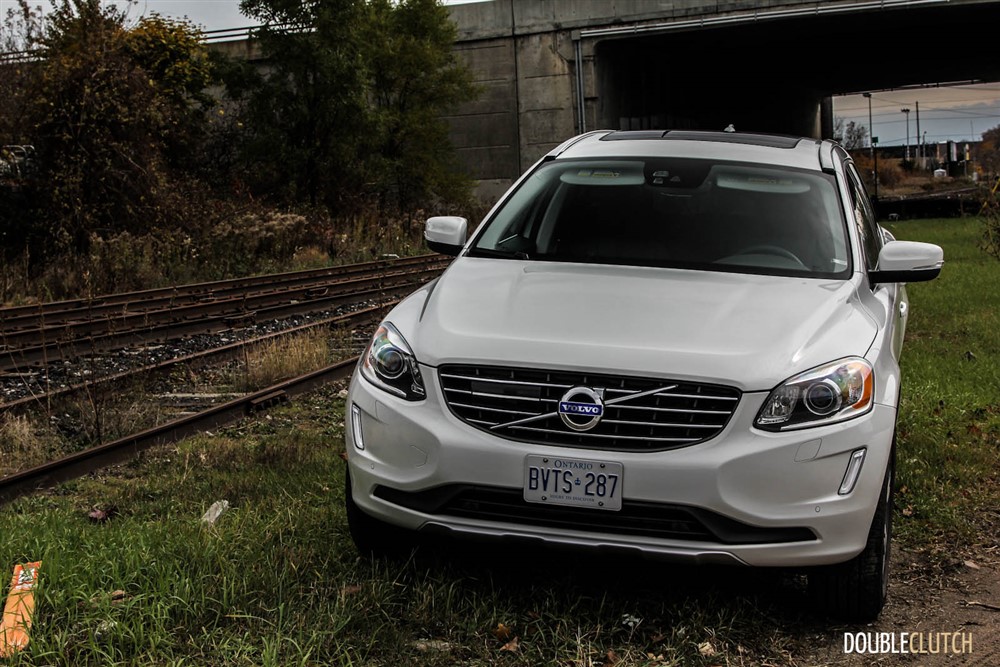 My 2015 XC60 came to me in fully decked-out Platinum form, with the Climate Package, Technology Package, and Blind Spot Information System. The grand total is $58,500 before taxes and fees. Without opting for the R-Design model (which is mainly an appearance boost with a slight bump in power), this is the most loaded XC60 you can buy. Full leather seats, navigation with Bluetooth/iPod connectivity, 18" wheels, a panoramic sunroof, and paddle shifters are only a few of the toys you get with this one. This is one seriously well-equipped crossover, and is a darn good value when you consider just how much you get relative to how much Volvo charges you.
Around where we live, Volvos without the R-Design or Polestar badge have somewhat of a stigma attached to them. They're known to be soccer mom vehicles, known to chauffeur the kids around to sports practice and school. Showing up outside a prestigious Oakville private school, one will be greeted by lineups of XC60s, BMW X5s, Mercedes-Benz MLs (soon to be renamed "GLE").To this I ask the question; is that really a bad thing? I'm a couple years away from becoming a family man, but when I do take that plunge, I would be honoured to have a vehicle like this in my stable for daily duty. It's packed with all of the safety features one would expect, it has unsurpassed levels of comfort, and the powertrain is known for reliability with ample performance.
2015 Volvo XC60 T6 AWD Gallery