The only compact with a tried and tested diesel | I couldn't really find any thing that truly grinded my gears with the Jetta.
The Volkswagen Jetta has always been a sedan we like. Over the past few years, we've tested nearly every iteration of Jetta here at DoubleClutch.ca, including the short-lived Sport Hybrid and the feisty GLI. For 2015, the compact sedan from the Germans has been revised and updated to offer a series of new features. I borrowed a 2015 Volkswagen Jetta TDI to drive through the epicenter of this winter's biggest storm yet.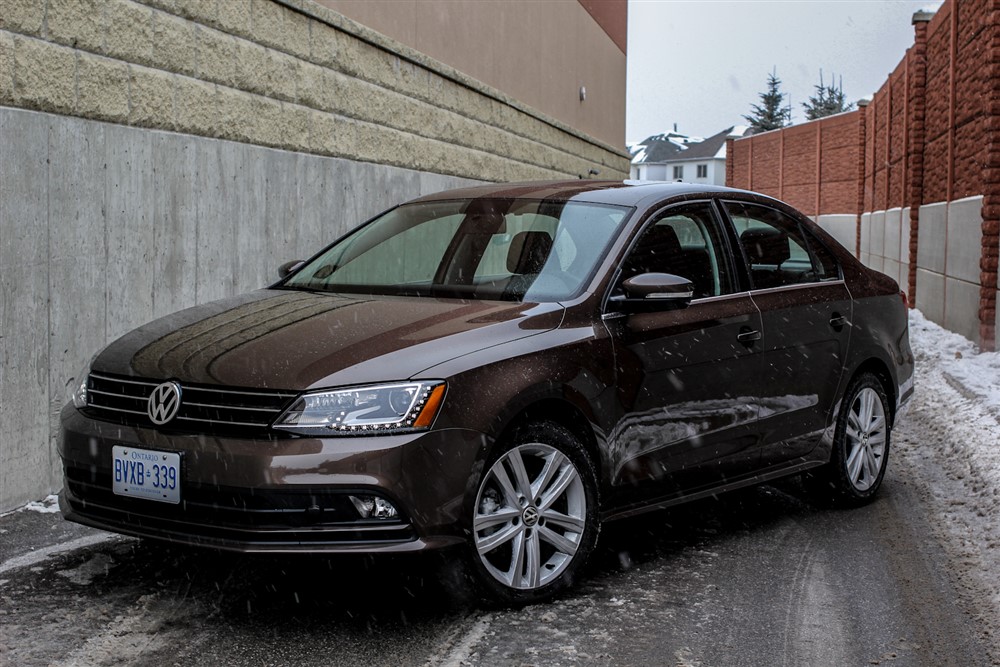 My Highline Jetta came to me painted in a gorgeous Toffee Brown Metallic, also known as Auto Journalist Brown. I call it this because despite the influence of the "Brown Car Appreciation Society" on all major social media channels, this is a colour that's far less common than one would assume. It actually looks great in this paint scheme, coupled to an elegant Titan Black interior finished in Vienna leather. The Jetta has a decent reputation for being a solid sedan, with its only shortcomings being long-term reliability and overall interior quality since production shifted to Mexico.
The most important change (to me) for the 2015 model year is the implementation of the new engine on TDI models. This year's Jetta gets the new and improved 2.0L TDI powertrain we also see in the Golf and Passat, mated with front-wheel-drive. It packs ten more horsepower, for a total of 150, and a healthy 236 lb-ft of torque. It's a turbocharged and intercooled 4-cylinder diesel, easily my favourite in the class. The Chevrolet Cruze also offers a similar powertrain, but it's a far less refined unit. This diesel is a torque wonder, and exceptionally smooth for what it is.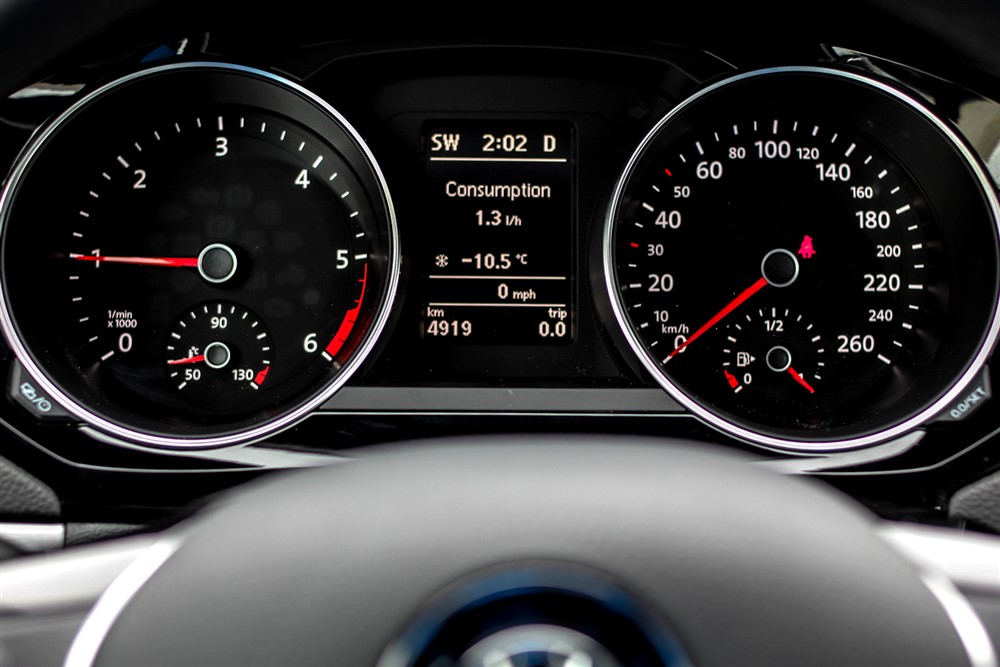 Booting around the city in temperatures hovering well below the freezing mark, the TDI motor does experience a bit of turbo lag and overall bog, but this disappears within 5-10 minutes of warming up. I actually only let the car idle for two or three minutes, so I'm sure letting it warm up for a little longer would help. A 6-speed manual is still available, but my tester was equipped with Volkswagen's signature conversation piece, the 6-speed DSG dual-clutch gearbox. It's such a quick shifting unit that it almost eliminates my desire for a third pedal. In fact, I'd go as far as to say this is one of the most perfect relationships between an engine and transmission that I've seen in a long time.
The big advantage in favour of the TDI powertrain is fuel economy. With gas prices at the lowest they've been in nearly a decade, regular fuel is actually about ten cents cheaper per liter than diesel fuel. The one tank of diesel I added was at a cost of $1.03/L. In cold temperatures with winter tires, I observed 5.3L/100km over my test week, with a good amount of highway driving. I expect numbers in the warmer seasons to get as low as 5L/100km. The 56L tank means the Jetta can theoretically go over 1000km on a tank, but the fuel range from the on-board computer disagreed, suggesting a range of 750km from a full tank.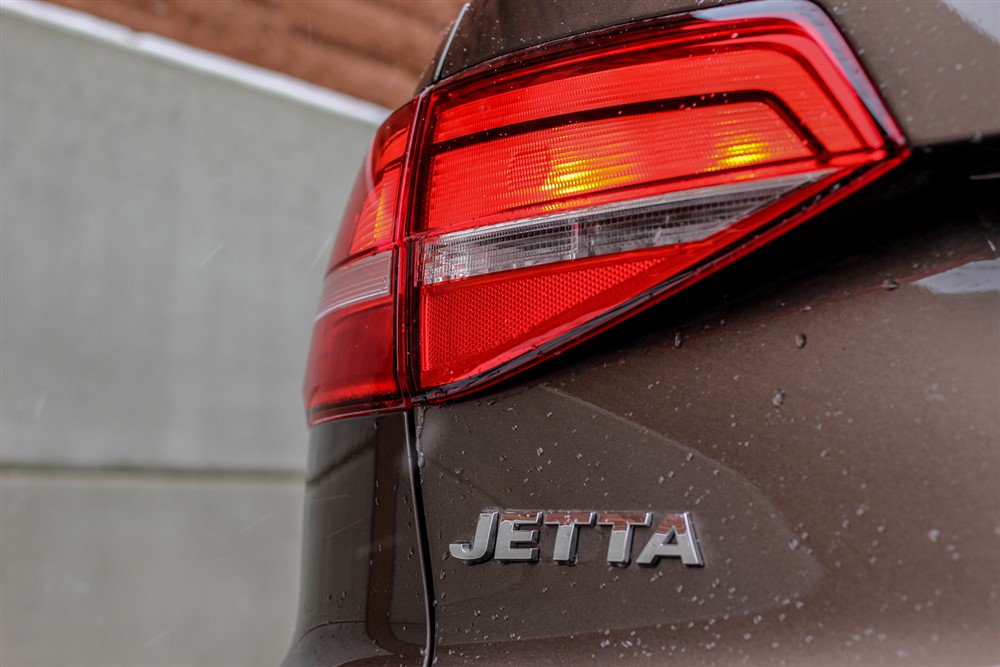 The 2015 Jetta's interior is a huge step-up from the 2014 model, and Volkswagen invited our editor to Virginia last summer to experience this for himself. This being the Highline model, sitting at an as-tested $32,000, is the highest-trim Jetta available on the Canadian market. The interior is indeed, considerably more upscale than that of the previous model. They've implemented a more premium steering wheel, nicer interior materials, and things like ambient lighting and chrome rings around the instrument cluster. This Jetta doesn't feel like it was built to a $15,000 price point and has a bunch of options tacked on; it's far more significant than that.
Features on-board my TDI Highline included everything one would expect on a compact sedan, and then a little bit more. This year, the Jetta adds blind spot monitoring, bi-xenon headlamps, LED daytime running lights, and Forward Collision Alert. Volkswagen's aforementioned Vienna leather, a power sunroof, Bluetooth integration, intelligent key system, and fog lights are all included. My test car added the Technology Package, which checks off the satellite navigation system and the Fender audio system with subwoofer and iPod/satellite radio.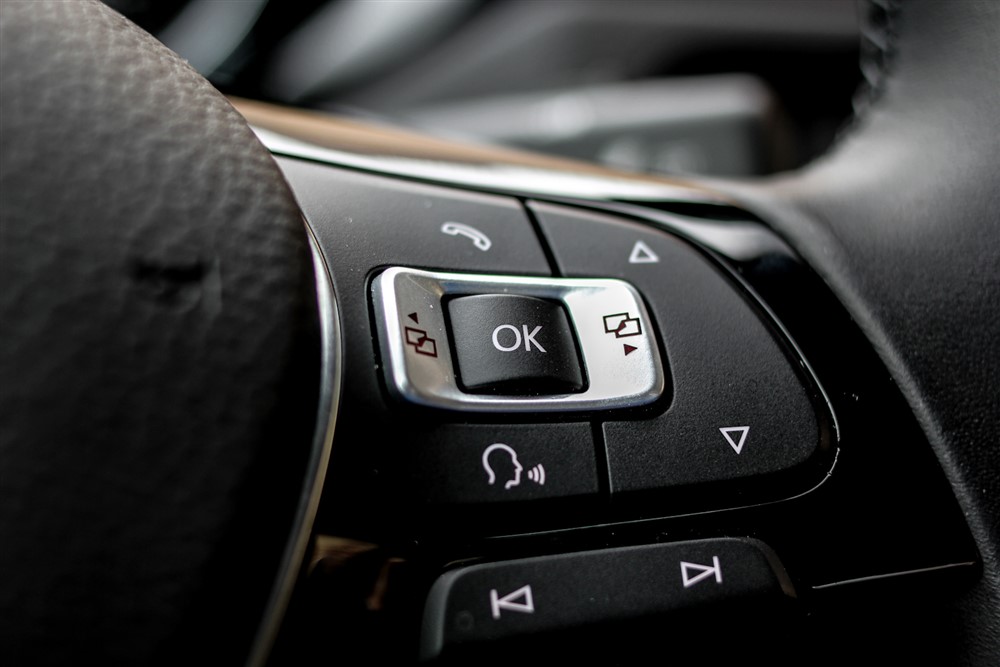 I couldn't really find any thing that truly grinded my gears with the Jetta. I mean, it comes with things like xenon headlights despite its larger sibling, the Passat, lacking them. Volkswagen's MDI system still requiring use of a proprietary iPod cable meant I couldn't play music from my Android phone directly through USB. Thankfully, VW has rectified this and will be offering conventional USB ports across their lineup starting next year. For now, the car does offer the ability to stream audio wirelessly via Bluetooth, as long as your phone's battery is up to the task.
The Volkswagen Jetta remains a strong contender in a crowded segment that's grown in both size and price. It's not uncommon for a compact to exceed $30,000, and features once considered unheard of in this class are now expected. I think the sweet spot for me would still be the 2.0L TDI engine here in a less-loaded trim, coupled to the 6-speed manual transmission. Even in the blizzard with only front-wheel-drive, the Jetta was more than competent and tore through the white stuff like nobody's business. This remains the only sedan in the compact class with a refined, quiet diesel, and would be a wonderful choice for any environment, whether it be as a road-trip queen for a couple or even as a primary car for a young family.
2015 Volkswagen Jetta TDI