Appealing and a money-saver! | This is by far my favourite car in this segment.
The all-new Volkswagen Golf has been an instant hit over the past few months that it's been for sale. We've now driven almost all iterations, but this has been the one we've been waiting for. Efficiency is key in the current economy, and Volkswagen is one of the few brands that continues to offer a more frugal alternative to the conventional gas engine. This 2015 Volkswagen Golf TDI boasts some of the best fuel economy numbers when compared to everything else in the compact class. Prior to driving this car, I'd given the nod to the current Mazda3 with the manual transmission as being my favourite in the compact segment. Its pricing when loaded up isn't too far off from this loaded TDI from the Germans.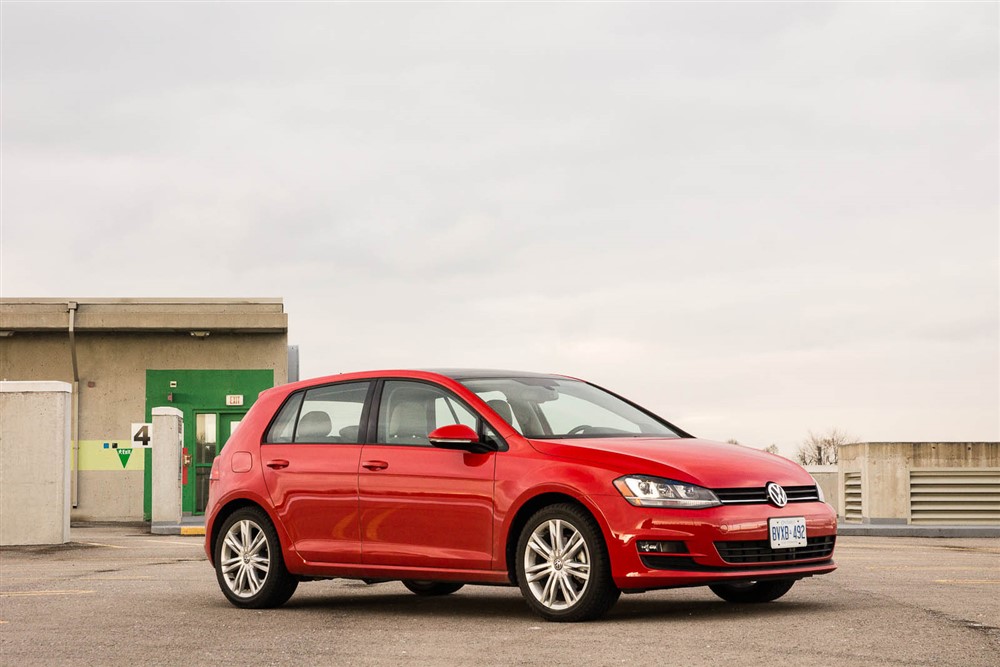 In Canada, Golf is available with a variety of engines. The 1.8 TSI is the entry level motor, and the hot little GTI comes with the 2.0L turbocharged 4-pot. However, the TDI boasts the 2.0L turbocharged 4-cylinder diesel engine, all-new for this year and boasting exceptional levels of refinement, tuning, and of course, range. It puts out 150 horsepower and a healthy 236 lb-ft of torque. The numbers aren't all that different from the previous TDI motor, but this one is noticeably more refined, smoother, and better for the environment. It doesn't feel clattery or noisy like the diesels of years ago; this new technology works wonders.  The Golf TDI is available with a 6-speed manual transmission, but our tester was equipped with the 6-speed DSG dual-clutch transmission, one of the best in the industry.
Diesels aren't really known for ground-crushing acceleration, but the Golf picks up speed without any hesitation. The transmission shifts flawlessly and, as expected, changes gears quicker than any human could do with a conventional manual gearbox. The torque helps making passes at highway speeds effortless as well, and this new Golf really is a pleasure to drive. Ride quality is impeccable and the suspension absorbs bumps nicely, allowing urban drivers to boot around the city with no issues whatsoever. The new MQB chassis really is the future with regards to the perfect compromise between sporty and comfortable.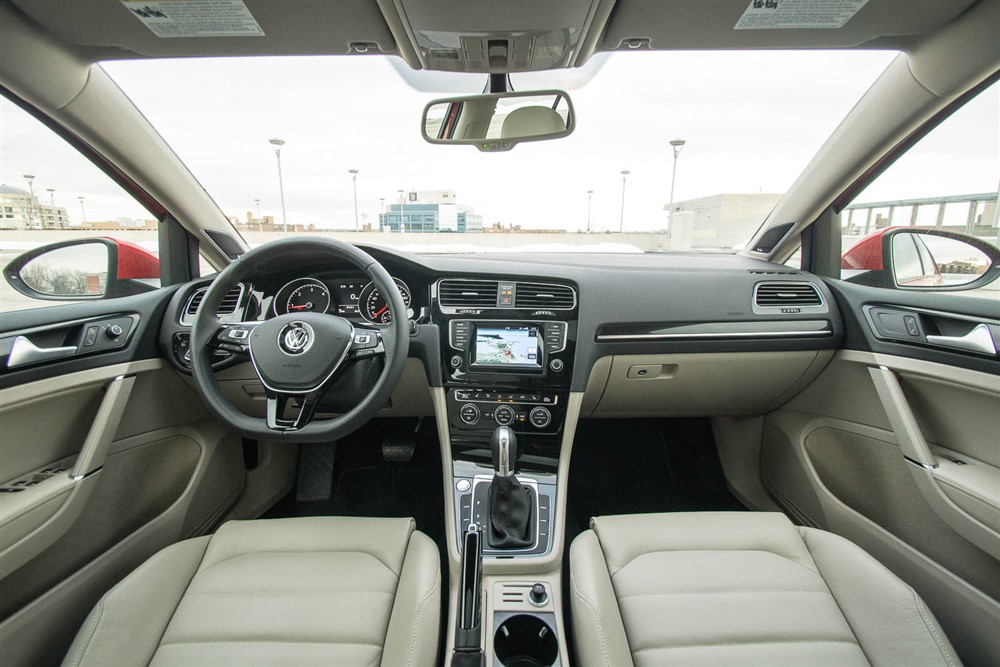 In fact, rather than other compacts that the regular Golf competes with, I'd go as far as to say that one of this particular model's main competitors is the Mercedes-Benz B250. Yes, it's marketed as being a bit more premium an offering, but the Golf really is understated. Not only does it offer an exquisite ride and driving experience, it really does feel just as luxurious (if not moreso) than the little Mercedes. Interior materials are incredible; Volkswagen really has outdone their own standards and upped the class altogether here.
My tester was the Highline TDI 5-door model, which isn't particularly cheap at $32,395. Factoring in the optional "Multimedia Package", my Tornado Red hatchback had a sticker of $34,590. Yeah, I know – $35 large for a Golf that doesn't bear the "GTI" badge. Stay with me though; I think you'll be glad you did. The equipment list on the Golf Highline alone justifies the seemingly-steep MSRP, it features things that were once unimaginable in this segment. Heated leather (real Vienna leather), a panoramic sunroof, navigation, 17″ alloy wheels, power driver's seat, and a reverse camera are now expected for this price, so they aren't really the big thing here. However, it's hard to find honest little hatchbacks with adaptive bi-xenon headlights, Fender surround sound, automatic post-collision braking, and a full safety suit.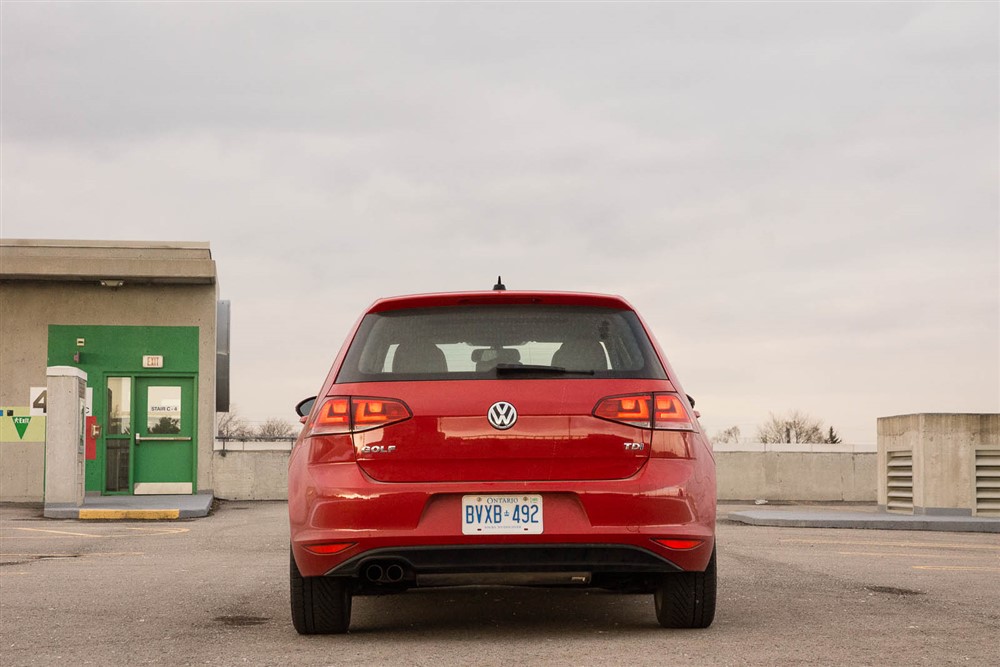 Being a diesel, what people kept asking me about during my test week with the Golf was the fuel mileage. Over the week I had it, I put about 700km on the frugal little thing I dubbed "Little Red". My combined fuel mileage over my test was insanely good, at 5.1L/100km. For a test in the heart of a brutal Canadian winter, that's incredible. On a highway run, I got it as low as 4.4L/100km maximizing some hypermiling techniques that I picked up from a colleague.
In North America, the Golf isn't available with 4Motion all-wheel-drive, at least until the redesigned Golf Wagon shows up in a couple months. My tester was equipped with solid winter tires, making the snow storm feel like child's play even with just front-wheel-drive.  Combining this setup with electronic stability control and ABS, the front-wheel-drive setup on this TDI does just fine in all conditions. With Volkswagen's new electronic differential lock (XDS) system, the Golf puts out the perfect amount of power for maximum control during cornering.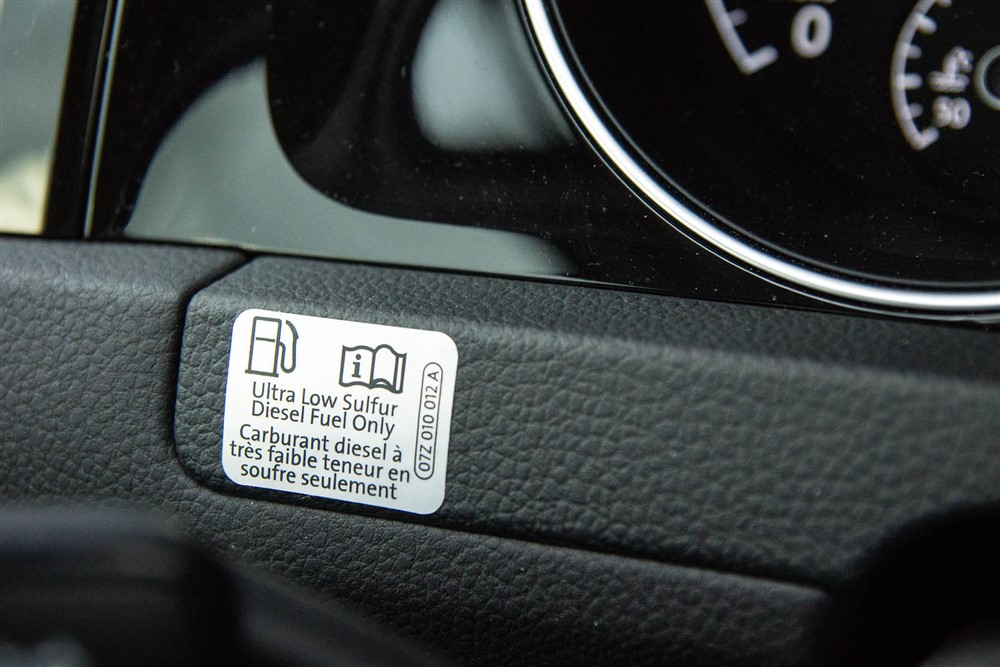 What's not to like about the new Golf? Truth be told, there isn't really much. Volkswagen's touch-screen infotainment system is getting a bit long in the tooth, and even with the screen proximity sensor, it does lag a little bit and isn't the most convenient to use. Don't get me wrong; the one in the Mercedes-Benz B250 isn't any better, but mainstream offerings like the 2015 Mazda3 do an exceptional job at in-car entertainment. These cars are extremely attractive to the younger generation, and those in their 20s and 30s are particularly attracted to electronics.
This is by far my favourite car in this segment. It's a bit more expensive than its direct competitors and the price isn't reflective of the "cheap, honest transportation" motto that the Volkswagen brand originally stood for. Even still, spending a week with the all-new 2015 Golf made me remember what it is that made me fall in love with cars in the first place. My editor recently test-drove an original Type 1 Beetle and described it as one of the most passionate driving experiences of all time. This car is definitely a descendant of that classic Bug, only faster, more refined, livable, and technologically advanced. So, how did the Golf stack up against the Mazda3 I drove a short while back? Simply put, it has almost everything the Mazda impressed me with, and adds unbeatable fuel economy and overall efficiency. Fun fact: the mid-level Comfortline trim with the TDI motor and 6-speed manual can be had for about $25,000. That price point definitely makes the Golf TDI a runaway in its class.
2015 Volkswagen Golf TDI Gallery