The perfect premium compact | Volkswagen has always aimed a bit high with the Golf.
The compact class is one of the most competitive segments out there regardless of what part of the world you're in. Cars like the Honda Civic and the Toyota Corolla are bestsellers that essentially said to the world that luxury or speed aren't necessarily part of the essential formula to make an excellent car. Volkswagen is the creator of the original "people's car", and they've gone on to be one of the most well reputed automakers in the world. I sampled their latest design, the 2015 Volkswagen Golf Comfortline, to see how it stacks up against the other compacts in our market.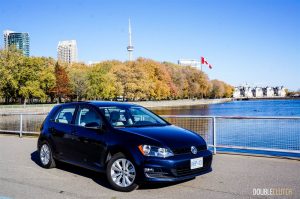 Volkswagen has always aimed a bit high with the Golf – it's around the same size as the others but feels a bit more premium and is priced accordingly. Even though the current Golf starts at a base price of $18,995, a loaded Highline can easily be in in the $30,000 range. I drove the mid-range Comfortline model with the 1.8L turbocharged 4-cylinder coupled to a 5-speed manual transmission. It's not the diesel-sipping TDI model that we'll be driving soon, but it's admittedly the one I've wanted to drive for a while.
Back in the spring, our editor traveled to San Francisco to sample this redesigned Golf as well as the all-new GTI. While we expected him to come back singing praises about the hottest new hot hatch, he came back swooning over this exact model tested here. I was a bit puzzled, so I figured I had to drive the car for myself and see what it was all about. He wasn't wrong – this 1.8 TSI and 5-speed manual combination is one of the best I've driven in a very long time. The engine is torquey right down low in the power band, and there's virtually no turbo lag. It sports 170 horsepower and 185 lb-ft of torque, which is more than enough for the little 5-door.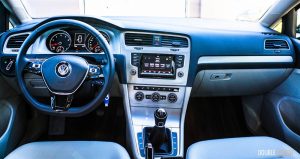 Typically, the Volkswagen PR team here in Toronto stocks fully loaded examples, which means the cars are usually equipped with DSG dual-clutch or automatic transmissions. It was a pleasure to see this car pack the 5-speed manual, because I've always had a huge soft spot for the Volkswagen standard transmission. The throws on the shifter are perfectly short, and the clutch uptake is very smooth. It only takes seconds to be driving this car very proficiently; it's hard to mess things up. The majority of the competition has moved onto 6-speed units, but the 5-speed here is geared long enough that fuel economy isn't impacted.
"Comfortline" is an interesting trim name, and I rather like it. This model is a volume seller for Volkswagen, and is equipped accordingly. On top of the base Golf (Trendline), this model adds 16" alloy wheels, a reverse camera, fog lights, cruise control, and a leatherette interior. It's worth mentioning that the average person will not be able to tell these seats apart from real leather. My car also had the Convenience Package checked off, which adds dual-zone automatic climate control, rain-sensing wipers, automatic headlights, and a couple of other things. Features such as the massive panoramic sunroof are what help the Golf stand out as a more premium alternative to other compacts.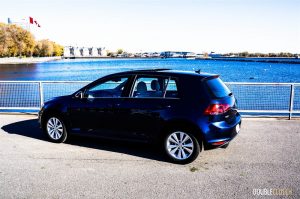 The Convenience Package adds $1,695 to the $22,895 price of the Comfortline, bringing my Golf tester's total to just under $25,000. Not bad for a car that feels seriously upscale. I also really like the Golf's infotainment system, which has a responsive touchscreen and is very simplistic and functional. There's no USB port on board; VW soldiers on with their proprietary cable, though there's now an available cord for iPhone 5/6 users.
Typically before picking up a test vehicle, I have a good idea as to what sort of fuel economy to expect. The Golf is one of those cars that surprised me immensely. In one full cycle, I actually averaged 6.9L/100km in 75% highway driving. In a more combined setting, I still couldn't get the lovable hatchback to do any worse than 7.4L/100km. Also, despite being direct injected by means of the turbocharger, this car can still get away quite happily with regular 87-octane fuel. Those who do primarily city driving and don't really have a real need for the TDI's highway efficiency now have an incredible alternative; the 2.5L 5-cylinder that this 1.8 TSI replaces was not a very efficient engine.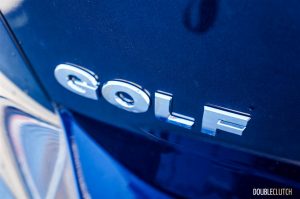 Model years 2014 and 2015 have been pretty darn good for compacts. The new Mazda3 GT is amazing, this is the first time in over a decade that the Corolla is also awesome. I particularly like the Elantra, and the new Forté is a great choice. This new Golf though; it's seriously something else. I've never had anything against the compact class, but I always prefer to own something a bit larger for my own use. This is a real mind bender for me – the 2015 Volkswagen Golf is likely the first compact I like enough to be saddened when the time came to return it. Only because I know how many of these Volkswagen will sell, I project thousands of extremely satisfied buyers in the coming years; this little hatchback is just that great.
 2015 Volkswagen Golf Comfortline Gallery