A premium sedan for the special customer | The exterior was clearly an area of focus for VW as they developed the CC
My view of the Volkswagen brand has always been positive. I've known them to make some very good long-lasting, practical and efficient cars, many of which I'd gladly own. However, I've never found VW styling particularly exciting. VWs are never offensive to look at, but their sedans have had a tendency to get lost in a typical parking lot – and for someone as passionate about cars as I am, that just doesn't feel right to me. Now here's where the CC steps in.  The folks at Volkswagen have taken the durability, comfort and efficiency you'd expect to find in a Jetta or a Passat and built it into a stylish and fresh 4-door coupe. Does the idea work? Can this car really capture the best of both worlds? I had a week with a 2015 Volkswagen CC Highline to find out.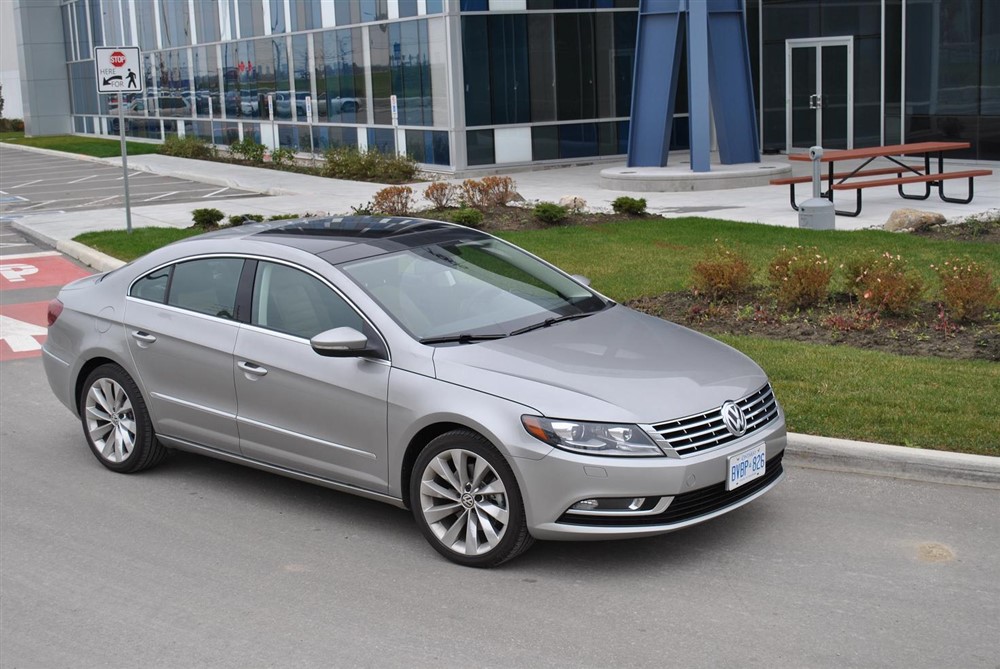 The exterior was clearly an area of focus for VW as they developed the CC, and it definitely shows. It looks good from every angle and the overall fit and finish on the outside of the car is immaculate. The trendy frameless windows, a key design feature of all 4-door coupes, are well executed and help to remind you that you're driving something a little special every time you open the door. I am also a fan of the self-adjusting bi-xenon headlamps and LED running lights VW chose to use on the CC; not only do they add to the premium feel, but the bi-xenons worked extremely well during my typical November dark and rainy commutes.  My CC test car looks very upscale in Tungsten Silver Metallic and sitting on gorgeous 18" polished rims; its subtle lines and curves also mean it's very agreeable. All week I never met anyone who had anything bad to say about the CC's appearance.
The interior of the CC hasn't been forgotten and it shares the same well-built and trendy upscale feeling as the exterior. The horizontally pleated and heavily bolstered seats are very unique and again add to the overall sense of specialness that the CC gives off. After spending some time in the seats, I must say they are certainly not the most comfortable out there, but they're far from the worst as well. My tester came with two-toned desert beige and black interior that really popped in the light from the huge panoramic glass sunroof, which is standard on the mid-range Highline trim level but annoyingly only opens up as a vent and doesn't fully retract. Another nice little touch VW has been adding to their cars is the dim footwell lighting that comes on at night; it does come in handy in finding dropped trinkets and somehow adds a bit of class.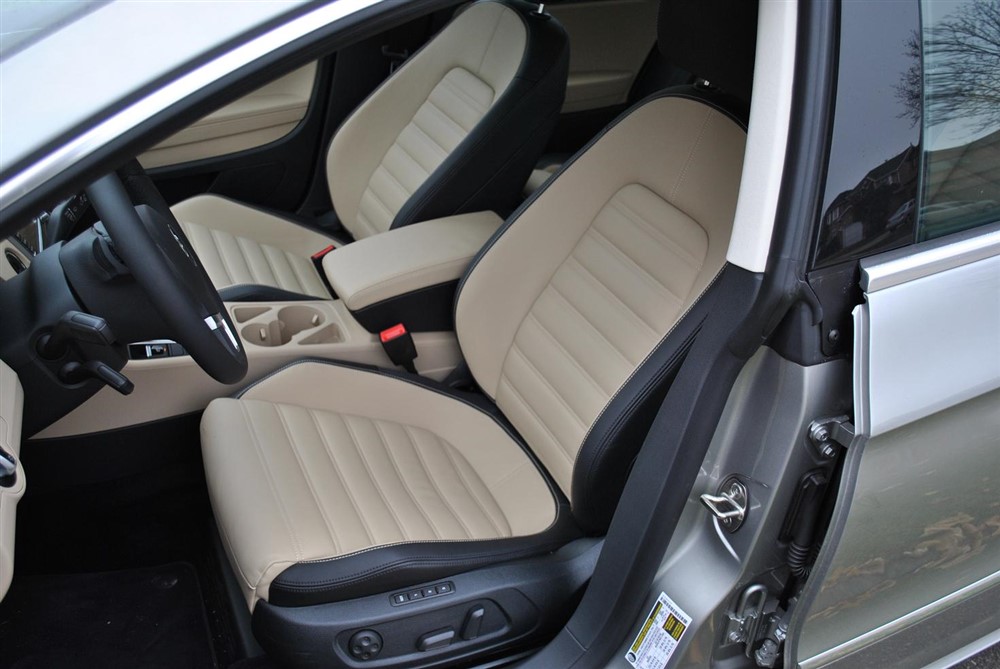 The light color option and the extra sunlight from the panoramic roof make the interior feel very open and spacious, even in the miserable grey weather we've been having.  There is loads of space up front, but with the CC's dramatic 4-door coupe styling, there is one major sacrifice that has to be made and that is rear headroom. The designers have made a good effort to squeeze every inch they can out of the space by raking the seats back, but it remains a little tight and I could understand how some adults might get cranky after spending more than an hour or so back there. Still, the rear seats provide plenty of space for kids, or in-laws.
At just a few dollars under $45,000, my Highline trim tester with the optional $2600 technology package came reasonably well- equipped. Standard Highline equipment includes, 'KESSY' keyless entry and push button start, Bluetooth connectivity, rain sensing wipers, rear view camera and dual-zone climate control. Alternatively, the Technology package adds navigation and a 30GB hard-drive to the 8-inch touch screen, as well as an excellent Dynaudio 600W 10-speaker sound system. The touch screen system is a breeze to use too. At this price point though there are a few features I would have liked to see in the CC – a heated steering wheel and cooled seats would be right at the top of that list for me.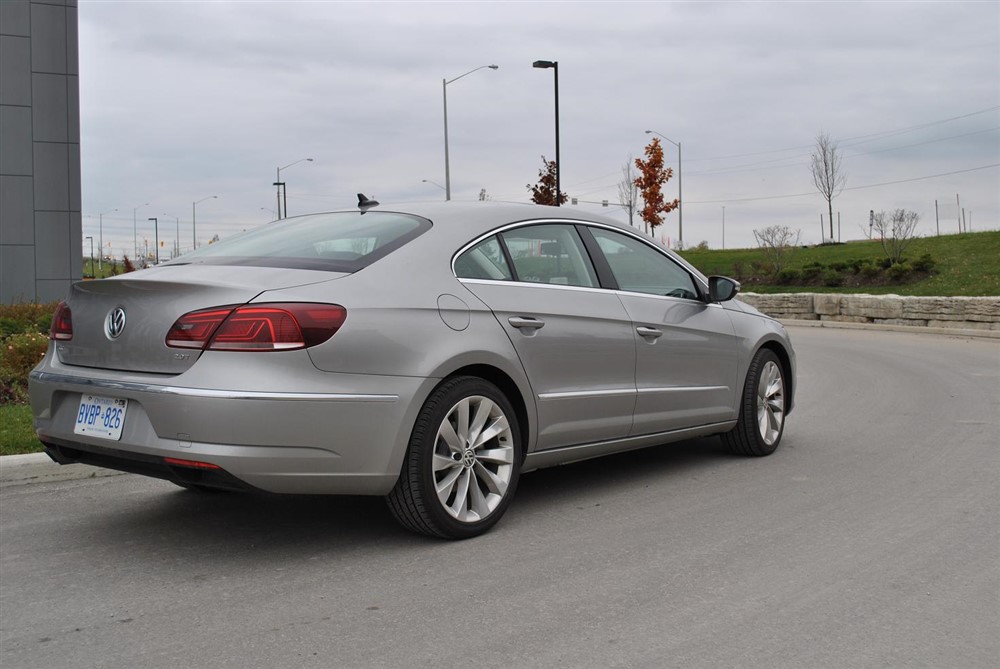 Behind the wheel, the CC's agreeability continues. Equipped with VW's corporate 2.0L turbocharged-four and attached to the 6-speed DSG dual clutch automatic, the CC's 200 horsepower actually feels like a lot more than it sounds. Turbo lag is only noticeable in the very low rpm range, but the turbo is quick to kick-in and provides plenty of smooth pickup power across the rest of the rpm range, making passing at speed an absolute joy. The DSG transmission is very responsive and isn't afraid to bounce down a few gears as soon as you need it to. It does have one little design quirk though and that's the fact that it shifts into neutral when the car is stopped. Usually this is seamless to the driver, but certain situations do make it noticeable and rather annoying, such as crawling along in traffic or rolling up closely to a parked car only to have the transmission suddenly click into neutral until you tap the gas again.
Despite the peppy little engine and slick transmission, the CC is not a sports car and the car's handling will remind you of that fact.  The steering wheel response is on the slow side, and feedback is numbed though the wheel and the car's soft suspension and weight means it does have a tendency to wallow around corners a bit. Don't get me wrong though, as far as front-wheel drive mid-sized cars go, the CC is still one of the most engaging and fun to drive and I credit that to the overall solid build quality and firm chassis that the CC is built on.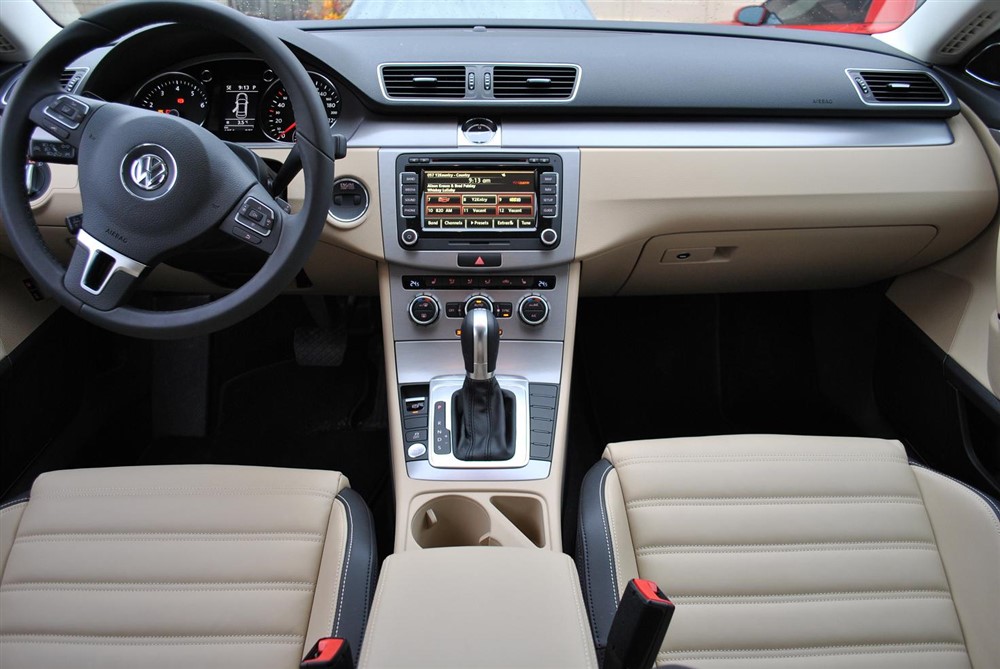 It's no surprise, but VW has the efficiency game worked out exceptionally well here too. I saw an average as low as 6.4L/100km on an extended highway run, and a healthy 8.7L/100 on premium fuel on my usual mixed commute. Speaking of highway driving though, it is one area where the CC really excels; the ride is smooth and comfortable while the car stays well planted and tracks straight as an arrow. Also, unlike the CC test car a colleague had last winter, there was almost no wind noise in my tester.
The CC is for someone who recognizes that all they really need in a car is a solid, practical and efficient Volkswagen, but they want something special and unique; something with a little extra style and character that sets it apart from the rest of the cars in the office parking lot.  I do think that VW has done a good job capturing both of those often incompatible needs and wants in a sensible and competitive package that will prove to be a great buy for a lot of happy owners.
2015 Volkswagen CC Highline Gallery