Retro as ever and still good! | You get a great driving car, a good list of premium features and eye catching vintage styling.
If you're like me and you really enjoy the simple, classic styling of cars from 30+ years ago, there really aren't many budget friendly options out there. The obvious option is to find yourself a real classic, but increasing values, reliability and high maintenance costs deter a lot of people. Alternatively, there are a few "modern classics" out there, though currently choices are limited to the likes of retro-styled muscle cars like the Camaro and Mustang. The VW Beetle currently stands as one of the few "retro compacts" on the market for someone looking for that quirky classic style, without all the hassles of keeping a real classic car. The folks at VW have caught on to the whole "old is new" trend and have put together a very interesting little package this year; the 2015 Volkswagen Beetle Classic.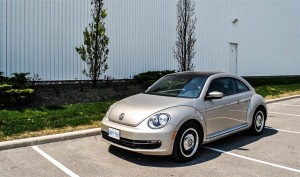 Named the Beetle Classic, this trim package mixes the key iconic styling features and traits of the original Beetle with some of their best technology, and all on a very competent and modern platform.  Personally, I am all for it because I'm growing tired of the oversized rims and microfiber cloth we're seeing on almost all compact cars today. Instead, VW has fit the Beetle with some modest 17" alloys styled to look almost exactly like the old pressed steel rims of the original Beetle. They've also stuck a tasteful yet sporty little spoiler on the back to complement the already much improved and more muscular styling of the current Beetle. A Beetle does tend to draw the eyes of passersby, but the vintage style wheels really caught a lot of attention during my week with the car.
Inside, VW has continued the vintage trend by equipping the Classic with some really well executed two-toned beige and brown checkered seats. They're nice soft leather on the sides and the seating surfaces are a durable cloth material. The seats are as comfortable as they are stylish, and really add a special feeling to the interior.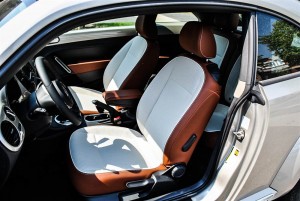 Styling aside, the Classic really starts to become a winner in my books when you look at the outstanding value the package offers. The Classic trim level packs a great set of features and gadgets into this vintage inspired little Bug. There are only two options, both of which came equipped on my $24,800 test car; a panoramic sunroof ($1400) and the 6-speed automatic (also $1400). Everything else on my very well-equipped test car comes standard with the $21,990 sticker price. Most notable is a very slick looking 5-inch full color touch screen with navigation and Sirius XM radio; it's not the most intuitive system out there, but once you get the hang of it, it's really quite good. I do like that you can control the screen using a knob positioned below it if you choose not to touch the screen every time – my preference is to use the knob.
The Beetle Classic also boasts heated front seats, a nice flat-bottom leather wrapped steering wheel, ambient mood lighting, air conditioning, cruise control and a handful of other modern necessities. I miss not having automatic headlamps and VW needs to add that as a standard feature, as many manufacturers do on all of their cars. Automatic climate control would have been nice too, but the weather has been so nice I enjoyed the panoramic roof instead.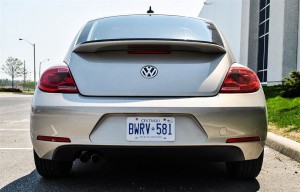 The big advantage of the Bug's shape is that it really does maximize the amount of available interior space. My week with the Beetle was a hectic one; from driving three adult passengers around, to hauling home a car-load of junk, the Beetle's versatile interior was able to handle it all in stride. I suspect I would hear some complaints from rear passengers regarding leg-room had our ride been longer than a half hour, but the rear seats worked fine in a pinch and headroom was not an issue. The rear seats fold somewhat flat, opening up a very versatile rear hatch cargo area.
Even with the seats up, the useable trunk space is surprisingly vast. Up front, the driving position is great, as is visibility, but I have an issue with the annoying center console arm rest. It's almost impossible to adjust to the right height, it blocks usage of the rear-most cupholder and it offers almost no storage. Fit and finish inside the Beetle is exactly what I've come to expect from VW. Everything feels durable and well built, the materials are very nice but not exactly luxurious, and there are no squeaks or rattles to distract from the overall feeling of quality.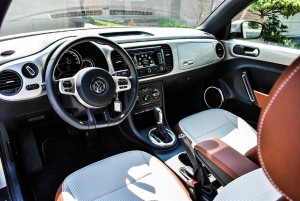 The feeling of quality continues behind the wheel. Sharing a lot of its mechanical components with the Golf, the Beetle is a very nice car to drive. The Classic's only available engine is the 170 horsepower 1.8L turbo four-cylinder, a lovable little engine that is very responsive, even in the low range, and moves the Beetle around with quite a bit of authority. The 6-speed automatic is simple but it works well, shifting smoothly and downshifting eagerly when asked. Though the steering is tight, it is rather light and could benefit from a little more road feel. Like most VWs, the Beetle settles into a very comfortable highway cruise, the on-center steering feel is great, the car easily tracks perfectly straight and noise levels in the cabin are kept well in-check relative to its class and price point.  VW hasn't neglected efficiency in any way either and I averaged a very nice 7.7L/100km over my week of mixed commuting. It is worth noting that despite having a turbo, the 1.8L only requires regular 87 octane.
Even though the Beetle Classic's cute curves might not be my taste (I'd probably feel better driving a Golf), what I really like about the Beetle Classic is that you're not giving up anything to have the car's extra persona. My issue with many of the "cute" or trendy cars is that they're either not very good to drive – remember the PT Cruiser? Or you have to compromise on features or pay a premium for them. That's just not true of the Beetle Classic. You get a great driving car, a good list of premium features and eye catching vintage styling. For fun, I tried to price out a similarly equipped Golf and found that the 3-door only comes as a base model (unless you get a GTI) and a similarly equipped 5-door Golf runs a very comparable price to the Beetle Classic. So if you like the styling, and you don't need the extra 2-doors offered in the Golf, the Beetle Classic is a very compelling and unique option.
2015 Volkswagen Beetle Classic Gallery
See Also: