Every line is deliberate and each piece is perfectly proportioned.
Many of our readers know by now that I have a serious soft spot for smaller pickup trucks. It's such a simple concept; build a compact truck that's capable enough for most light duty jobs. Build it to be efficient, make it fun, and most of all make it affordable. The problem is that full size trucks are just so good, and thanks to favorable lending rates and generous incentive programs, they're also affordable to the masses. That's what nearly killed the mid-size truck market.
While the likes of the Nissan Frontier and Toyota Tacoma have soldiered on, it took two new twins from GM to help shine some light on the fading category. Though the GM twins have certainly held the glory for 2015, Toyota has been showing off the updated 2016 Tacoma all over the place. Personally I am very excited to drive one and see firsthand what they've put together; Toyota has definitely had a lot of time to think about it! Before we get ahead of ourselves though, I wanted to spend some time with the outgoing 2015 Toyota Tacoma 4×4. After all, the current Tacoma carried the small truck market for years and is well known for its iconic durability, so I think it deserves a proper send off.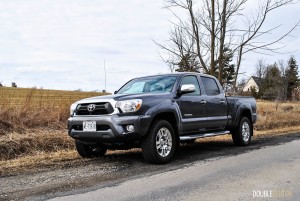 My favorite thing about the Tacoma has to be its exterior appearance; it looks exactly like a good truck should: muscular, tough and rugged. Every line is deliberate and each piece is perfectly proportioned. Toyota hit one out of the park with the styling on this truck, and I think that's a good part of the reason why it has lived such a long life. It also has a very versatile look; I've seen these trucks in TRD trim looking ready for some serious off-roading, while my top of the line Limited DoubleCab 4×4 model looks as much at home sitting in the parking lot at my office as it does out on the trails. In my opinion, Toyota has hit the perfect ride height with this truck; it's easy to step into without the use of the step bar, but it still offers plenty of ground clearance. Best of all, the bedside is low enough that I can actually reach over the side and into the bed to grab items. I haven't done that in years, certainly not in a full-size, and not with the new GM twins either.
While I would be perfectly content for Toyota to leave the exterior alone for 2016, the interior of the Tacoma absolutely shows it age. The first thing I noticed stepping inside of the Tacoma is how little it has changed from the 2003 model a friend had back in high school. My loaded test truck, with its MSRP only a few dollars shy of $40,000, doesn't have automatic headlights, exterior temperature readout or a fuel economy meter. I neither expect nor want a huge list of luxuries and gadgets in a mid-sized truck, but those three modern touches have practically become necessities today. Additionally, on the top-of-the-line trim such as this, automatic climate control would be appreciated. Toyota has worked their nice 6.1" multimedia screen into the dash and it includes XM radio standard on all 4×4 models (hint hint, Mazda), as well as steering wheel mounted controls. The screen performs double duty as the navigation and Bluetooth interface, both of which work well and are very user friendly.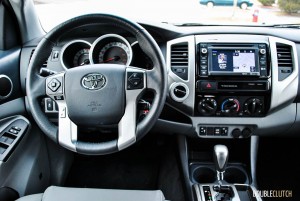 Despite the apparent lack of features, the interior of the Tacoma Limited is a nice place to spend time. The soft grey leather seats in my tester offer plenty of support, even though they must be adjusted manually. The rest of the interior remains very simple, but reflects quality materials and exceptional fitment. Everything has a heavy and well-built feel, exactly as a truck should, and the use of lighter grey tones makes the cab feel airy and spacious. Speaking of space, I found plenty of spots to keep my every day carry items, and the rear seat in the DoubleCab is large enough to handle 3 adults. While loading groceries into the Tacoma I noticed that unlike most newer pickups, the rear seat bottoms flip forward instead of upwards. Flipping the seat bottoms forward reveals some deep storage trays, but also wastes a significant amount of floor space.
There are no surprises behind the wheel of the Tacoma. The 236-horsepower 4.0L V6 is perfectly adequate, but it's not going to get anyone too excited. The truck rides well both on the highway and on rough city streets without any of the bouncing and jarring once typical of smaller pickups. I did find the steering to be noticeably vague, even for a pickup, and that took a little bit of getting used to. To be fair though, my tester was sporting a set of soft Bridgestone Blizzak winter tires, which are surely contributing to the lack of steering response and feel.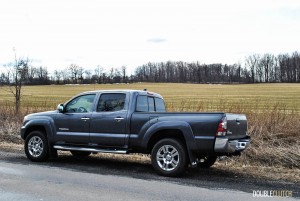 Another place the Tacoma shows its age is in its numbers. Base model 4x4s are only rated to tow up to 3500lbs, and you have to step up to the SR5 trim level or higher to get a towing capacity of 6500lbs, which is still behind that of the new Colorado and Canyon. Payload in the Tacoma tops out at a respectable 1200lbs. While those ratings might not be important to every pickup buyer, fuel economy certainly is and the Tacoma has fallen behind on that front as well. I averaged roughly 14L/100kms on my week of typical commuting.
It's no secret that the Tacoma is aged and that the coming update is very welcome. However, this 2015 model still has plenty to offer someone looking for a simple, no-surprises, hardworking and long lasting pickup truck. You know exactly what you're getting with the Tacoma; a comfortable truck that will put up with whatever pounding you can give it, and one that you'll always be able to sell with its well-documented high resale value. It'll take you places a full-sized truck won't, like a downtown parking garage, and you won't lose stuff in the bed. It's not the the best equipped, the most efficient nor the fastest, but it has a certain charm that comes with experience, durability and not giving in to fleeting fads. It has a charm that I hope Toyota carries into the next generation.
2015 Toyota Tacoma 4×4 Limited Gallery
See Also: