A great little compact gets better | Subaru's recent efforts to reduce interior noise mean that road noise is virtually non-existent.
It was an absolutely frigid Monday in Toronto when I arrived at the Subaru office to collect the 2015 Impreza Limited that would battle the first blast of extreme cold. As I approached the car, I couldn't help but think about how far Subaru has come from its humble beginnings and how skillfully the company has carved out a very successful niche in the Canadian market. The popularity of the Impreza has grown in leaps and bounds recently and I credit that to its low entry price, standard AWD and Subaru's growing reputation for building long-lasting vehicles. Low prices and reliability can be had elsewhere, but standard Subaru AWD absolutely cannot. That's the formula that has allowed Subaru to penetrate the Honda and Toyota stronghold on the compact market.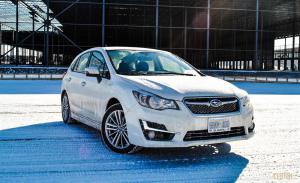 The last time I got seat time in an Impreza, it was a wet autumn week and I hardly got a chance to experience the true value of the AWD system. I happily accepted this Limited model, complete with Technology Package, on our most wintery week of the season yet. Despite being covered in salt most of the week, my tester is a very attractive little car, especially in the gorgeous Crystal White Pearl paint. Where I feel like the larger Subarus tend to look slightly out of proportion from some angles, the Impreza is just right with a distinctive and unique design that remains very agreeable and pleasant from all angles.
Despite the fresh looks, in true Subaru fashion, the Impreza was built with function in mind above all else. This becomes immediately clear as soon as you climb behind the wheel. Inside the Impreza you're surrounded by black plastic that has enough sheen to it to give off a cheap vibe; but heck, it's easy to wipe up if it gets messy. The dashboard and gauge cluster carry a very traditional layout, even with all the latest high tech goodies in place. Of course, storage up front is well addressed with plenty of cubbies and places to keep things, like a little slot built into the center console that is not pretty but perfectly cradles my iPhone.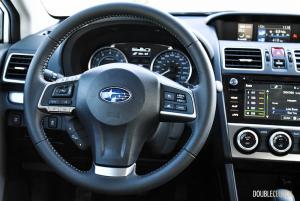 There are no exceptions in the back seats either, which offer plenty of head and leg room without feeling cramped even with four adults in the car. The rear seats also fold flat to reveal a huge loading area for large cargo. Try that in a Corolla. The only thing that don't work for me in the Impreza are the front seats. While my tester's seats are finished in a soft black leather, they lack lumbar support and power adjustment isn't an option.
Subaru has also been successful in stepping up their game in the technology department. Equipped with the rather pricey $2500 Technology package, my $30,300 tester came with the best tech that Subaru has to offer, including the intriguing EyeSight system. The pair of cameras mounted on the windshield just above the rear view mirror make interesting conversation starters, but what we're really looking at here is high tech safety equipment. The EyeSight-equipped Subarus use the cameras to "see" upcoming hazards and react to them proactively. The system enables adaptive cruise control, pre-collision braking and lane departure warnings.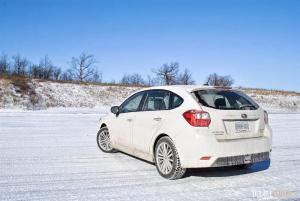 While I am not a huge fan of electronic driving aids, adaptive cruise control is a very handy and upscale feature to find on a compact car. For someone who does a lot of highway travel, that feature alone may be worth the price of admission for the Tech pack. Subaru has also refreshed their infotainment and navigation systems; though they're still not on par with the systems offered by some domestic competitors, I would say it's comparable to the offerings in other Japanese compacts. SiriusXM radio is standard even on the entry level Impreza (take notes, Mazda!), which seems to be growing in popularity as a mainstream feature.
One early morning I awoke to darkness, frigid temperatures and blowing snow- a perfect morning for a Subaru- so I eagerly got ready to embark on my trek into work. While the boxer engine grunted to life, I flicked the heated seat switch over to the high setting and casually pulled out. The Impreza, riding on Bridgestone Blizzak WS-80s, carved through my unplowed neighbourhood with the utmost of ease and continued to make light work of the treacherous icy highway and hectic rush hour traffic all the way into the city; all the while returning an impressive 8.6L/100kms.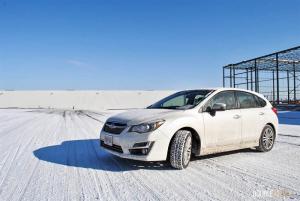 Would I have safely made that drive in my RWD sports car? Most likely, but the Subaru's AWD system goes a long way to alleviating some of the extra stress. I should also point out that the Subaru AWD is far superior to many of the other systems out there. When your entire business model is centered around your AWD system, you make sure you've done it right, and in these driving conditions, those efforts have a chance to shine. The only thing that could make my tester better for this weather would be a heated steering wheel.
It's not always a snow storm though, and the AWD system in the Impreza actually offers some benefit in all conditions by keeping the vehicle well-planted and connected to the road. In my last test of an Impreza, I noted how well it handled on wet and slippery leaf-covered back roads. Having power at all 4-wheels even helps to power out of curves without under or over steer. Unfortunately though, powering through corners is not exactly a strong point for the Impreza, which was built more for practicality and economy than it was for having fun. With its 2.0L putting out a mere 148hp and mated to a CVT transmission, the Impreza does feel rather anemic.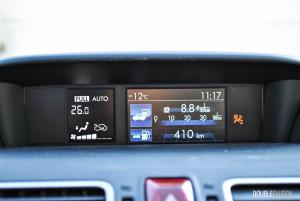 Putting your foot down to pass traffic means a quick RPM spike, lots of noise and very little forward momentum until the CVT catches up with what's going on. Using the paddle shifters on the steering wheel to force the CVT to step down prior to passing does make a big difference and I found myself using the paddles more than I typically would. Reality is such that you cannot have compact car fuel economy, a world class AWD system and exhilarating power all in one; something has to give. Plus, if you really want a little more fun in your life, you could always step up to the WRX. Once you're up to speed however, the Impreza cruises nicely and Subaru's recent efforts to reduce interior noise mean that road noise is virtually non-existent. Wind noise is still present though, despite the fact that Subaru redesigned the side mirrors to reduce turbulence.
There are very few cars in the world that are as capable, practical and efficient as the Impreza and when you combine that formula with a very reasonable pricing strategy, you have a winner on your hands.  I don't need a powerful and exciting commuter car; I'll keep the fun stuff at home in the garage when the weather get treacherous. However, I do like the idea of an efficient and affordable little commuter that can get me where I need to be no matter the road conditions, so I completely understand why Canadians have been flocking to this little car.
2015 Subaru Impreza Limited Gallery