This is the most affordable and efficient AWD sedan on the market.
I can't say that I've always been a big fan of Subaru cars. However, my recent tests of the latest Outback and Forester models have really helped to change my opinion of the brand. Cars I had thought to be strictly utilitarian vehicles blew me away with the levels of refinement that the team at Subaru has worked into them. There is no doubt that Subaru is a world class competitor, and here in Canada the legendary Symmetrical AWD system continues to serve as a huge selling feature. So as winter approaches and our thoughts turn to winter driving, it's a great time to check out Subaru's compact player. I will admit, I was pretty anxious to see what the 2015 Subaru Impreza Limited had to offer.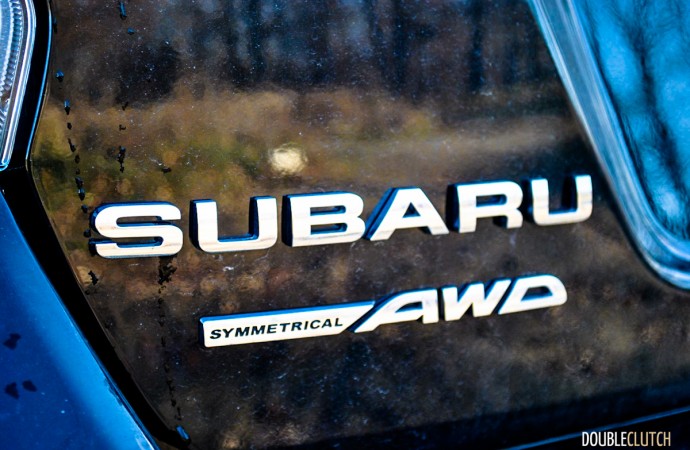 My tester for the week is a sharp looking black Impreza sedan with the Tech package. Now, in my opinion the sedan is sort of the odd-man out in the Impreza lineup. I've always favored the looks of the five-door hatchback, and my unscientific observations suggest that the hatch is the better seller. The front fascia of the Impreza is bold and squared off, giving it a nice substantial look despite its compact dimensions. The rear end however, is not nearly as well executed in my opinion and looks rather generic to me. The black paint does tend to highlight imperfections, but I am happy to report that the exterior fit and finish on my test car is quite well done, especially for a car in this class. The paint looks great, panel gaps are even and everything looks and feels well put together.
Inside the Impreza that sense of durability continues with an interior that is significantly improved over prior generations. Handles, buttons and other high touch items all feel very sturdy and the large sunroof coupled with the light tan interior color in my tester work to create a very open and airy feeling, making the space feel much larger than its compact dimensions would suggest. Speaking of space, the designers of the Impreza sedan have wisely avoided the temptation of a dramatically sloped roofline, which allows for generous rear headroom. The Impreza sedan will easily handle 4 adults, 5 in a pinch, without violating anyone's personal space. Up front, the automatic climate control system is operated using three nice big clearly labelled knobs – perfect as there are few things more annoying that fumbling with tedious climate controls when your fingers are frozen.
While the interior of the Impreza is a very functional and good looking space to spend time in, I do have a few gripes with it. Firstly, the seats, despite being the top-line leather trimmed units, are very stiff and flat, meaning they quickly become uncomfortable during long rides. Power adjustment is not an option for the seats in the Impreza either. I think there is still an opportunity for Subaru to improve the quality of some interior materials. Despite being well put together, the liberal use of hard and shiny plastics does serve to cheapen the overall experience. Yes, it is an economy minded compact, but after spending my fair share of time in similar competitors, and other Subarus, I really do think there is a chance for improvement. The StarLink infotainment system works fairly well with minimal lag and easy to understand controls, however the audio interface can be confusing, and I am not a fan of the dated-looking backgrounds.
The Impreza's only available engine is a 148-horsepower 2.0L boxer 4-cylinder, which comes mated to either a traditional five-speed manual or a Lineartronic CVT with paddle shifters. My tester came with the CVT, which suits the Impreza just fine for typical commuting. When pushed though, the drivetrain does seem sluggish, and the additional burden of the AWD system's weight does make the Impreza feel slightly lethargic when attempting to pass slower traffic. The good news is that the drivetrain does offer a surprising amount of efficiency, and over my week of rush hour commuting I netted an average of 7.8L/100km. I don't think there is another mainstream AWD vehicle on the market today that can boast real-world economy numbers that are comparable.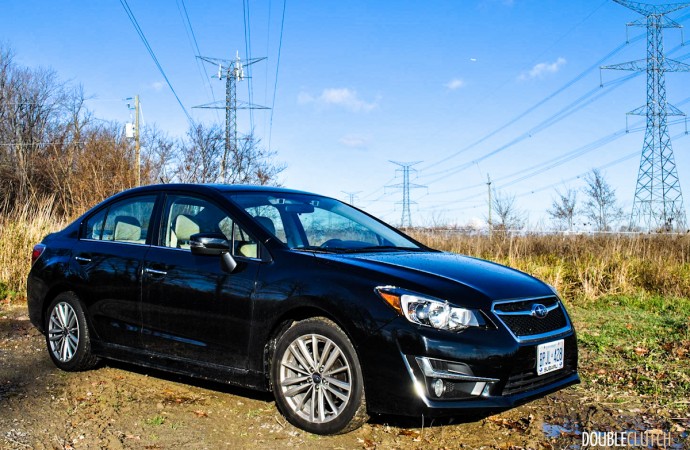 Lack of brute power aside, the Impreza is very competent out on the road and its well-weighted, direct steering helps contribute to an overall solid and confident feeling. Visibility is great thanks to the taller roof line, and a tight turning radius makes city parking easy. The ride is on the bouncy side, but it's certainly not jarring and it remains on par with what I would expect in this class. I was a little surprised that road and wind noise are an issue on the highway, considering how silent the Outback I recently drove was, hopefully that's something Subaru addresses with the next refresh.
With an as tested MSRP of $29,500 my tester came very well equipped sporting HID headlamps, a nice big sunroof, 7-inch touchscreen infotainment with navigation, and of course with the Technology Package comes Subaru's EyeSight technology. The EyeSight equipped Subarus use cameras to "see" upcoming hazards and react to them proactively. The system enables adaptive cruise control, pre-collision braking and lane departure warnings. The big winner there for me is the adaptive cruise control, this is a great feature for anyone who spends a lot of time on the highway, and is not something typically found in this segment or at this price point.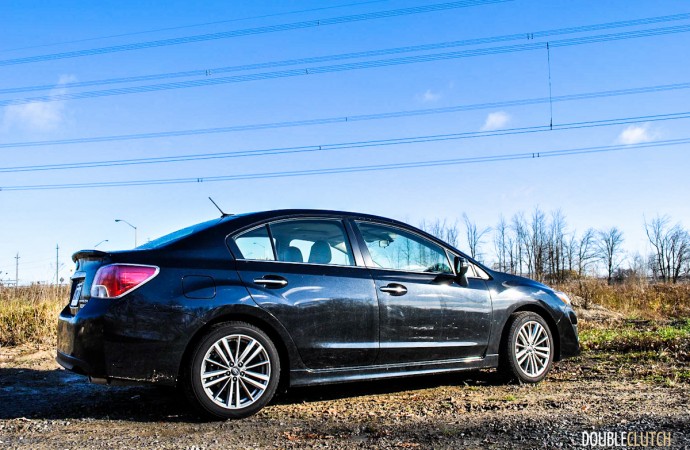 The greatest success of the 2015 Subaru Impreza in my mind is that it has successfully transitioned from a niche vehicle to a serious mainstream competitor that has no doubt taken a good bite out of Honda Civic and Mazda3 sales. It has done so though, while maintaining its own sense of uniqueness, the sound of the boxer-four at idle, the grip of the legendary AWD system and the conservative styling. All of these factors definitely capture the original spirit of the Impreza. It's the most affordable and efficient AWD sedan on the market, it's practical, and it still carries a whole lot more character than a generic sedan. I was fortunate enough to have an Impreza last year when one of our biggest snowstorms hit the city; the car truly displayed its worth.
2015 Subaru Impreza Limited Gallery
See Also: