A truly affordable performance bargain |
Exclusivity is an interesting thing. On one hand, I'm a pretty low key guy, and don't particularly like to stand out from the crowd. On the other hand, save for my first car, a hand-me-down, pretty tired Toyota Camry, I've never owned a car that sold well enough to blend in either. Enter the Scion FR-S: at its introduction a couple years ago, it was the hottest new toy because of its capabilities and overall affordability. That magic hasn't faded just yet, but our friends at Toyota decided to introduce yet another limited edition anyhow. I was lucky enough to get my hands on a 2015 Scion FR-S Release Series 1.0 for a week-long test, in the heart of winter.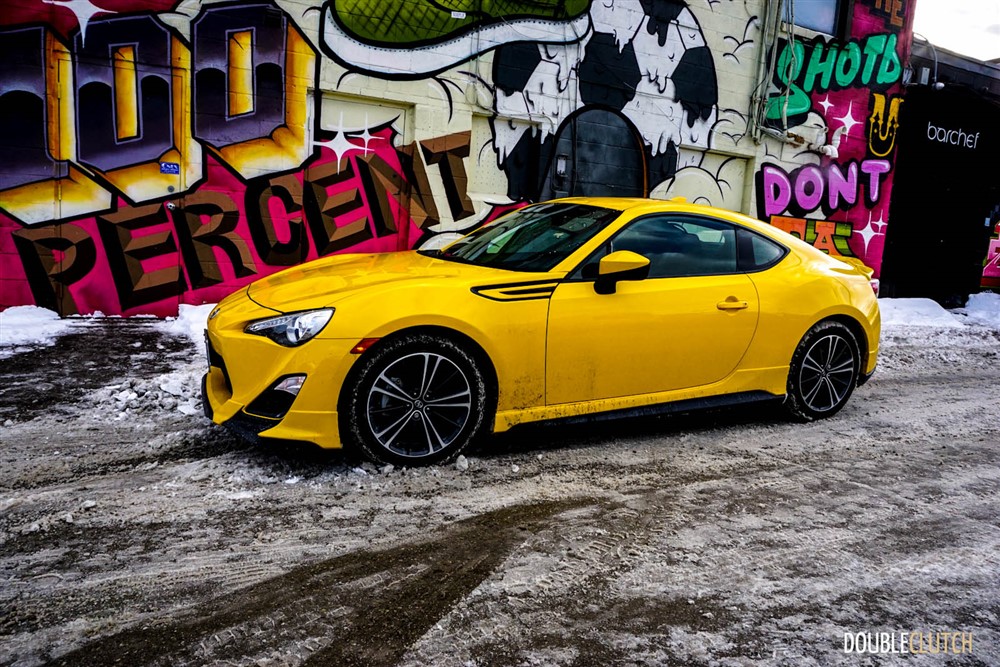 At first glance, the Release Series shares the same sleek lines of the regular FR-S/BRZ twins, not unlike those of the insane Lexus LF-A. This limited edition (only 1500 will be made) bears unique Yuzu Yellow paint, making it stand out in the most obvious way possible. Along with the paint, this special little coupe sports a full body skirt kit, a decklid spoiler, and a full quad-tipped exhaust system that's loud to a point of sounding aftermarket. The rear bumper bears a "TRD" badge, showing its obvious connection to the Toyota Racing Development program.
I was continuously getting stopped by passerby both on the street downtown Toronto and in parking lots; everybody wanted to know more about this car. Is it turbocharged? Is this the TRD FR-S that we've been waiting for since the car's launch? Unfortunately, the answer to both of those things is no. However, this is easily my favourite FR-S yet, and if I were in the market for a car in this segment, I'd do everything in my power to find one. Power output remains the same as the regular FR-S/BRZ twins. The Release Series puts out 200 horsepower and 151 lb-ft of torque, numbers that aren't exactly class-leading, but that's not what this car is about.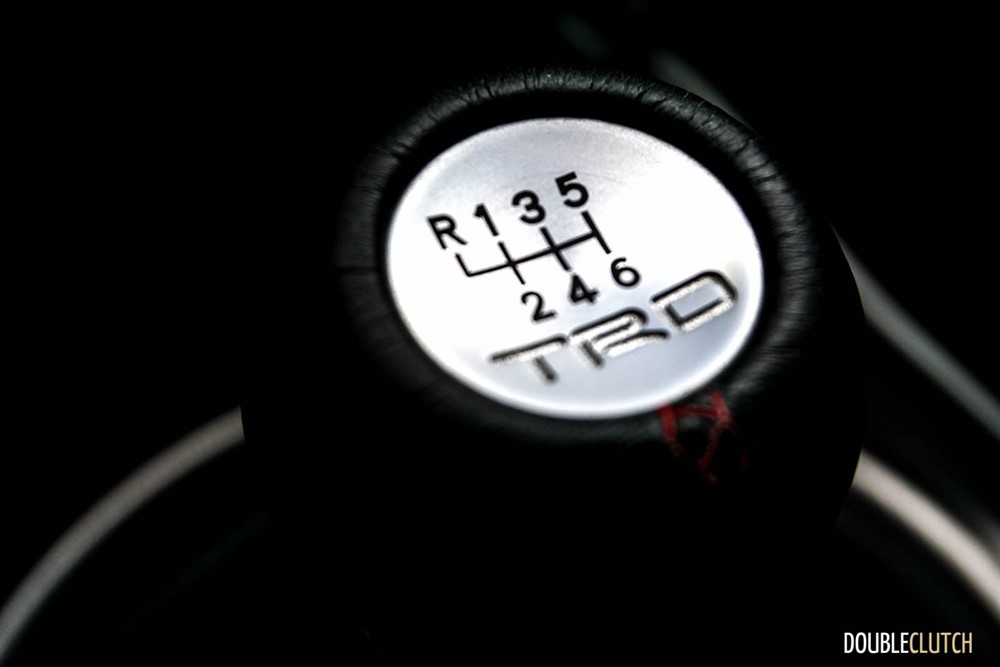 The Scion FR-S, including all limited editions, is a car that can be driven very close to its full potential without breaking any laws. In the past, we haven't had the chance to sample one in the winter, but it's been something I've maintained for a couple years would be an incredible experience. I was lucky enough to have this screaming yellow rear-wheel-drive sports coupe during the biggest storm so far this winter. Schools were cancelled, people stayed home from work, and our local news radio station was advising everyone to stay off the roads. However, I had a Scion to pick up, and I was hoping with all my heart that it would have winter tires on it.
I arrived at Toyota headquarters to pick up my FR-S, and I must mention that a drive that normally takes about 20 minutes took just over two hours. The Scion sat there, gleaming in the sunlight, and rocking Bridgestone Blizzak winter tires. I couldn't have been more excited to get in and go. I definitely took the long way back to the office that day, as pushing and holding the "Traction Control Off" button turns off both traction and stability control, leaving 100% control of the car to the driver. The 6-speed manual transmission has an incredible shifter, and the clutch has great feedback. Rev-matching is easy to quickly master here, and the pedal placement is close enough together that heel-and-toe downshifts are entirely possible, something I've previously never been able to do in boots.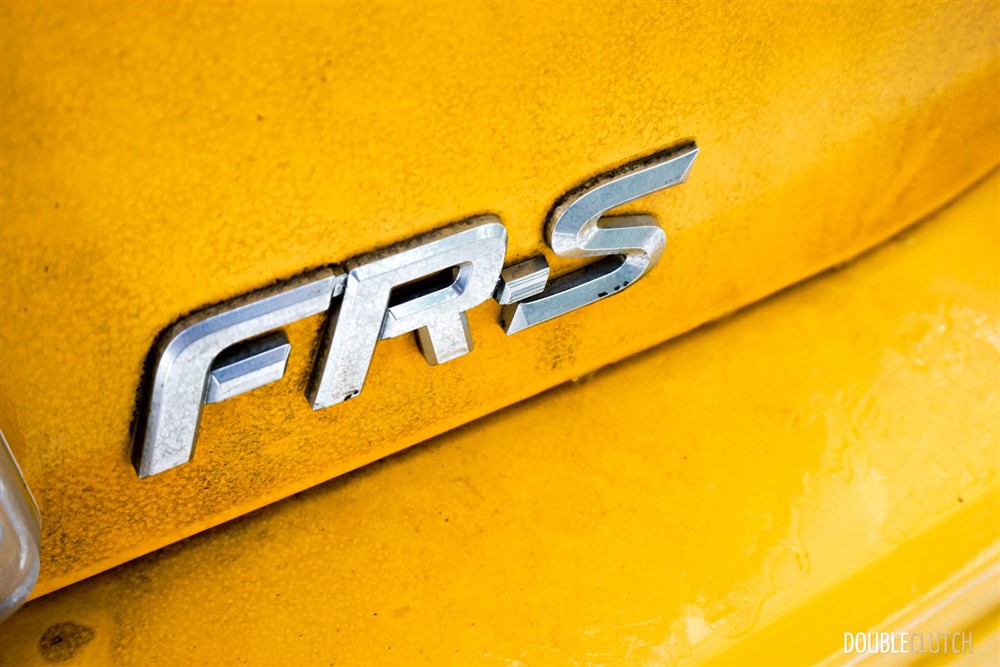 The 200 horsepower from the 2.0L boxer four-cylinder is adequate at best; the FR-S can definitely benefit from a torque bump closer to that of it's sister, the tC, which has 172 lb-ft. Of course, a turbocharger would be the best thing, putting power numbers near that of the Subaru WRX. That being said, I could daily drive this car all year long without bothering with modifications of any kind. It moves decently enough, and the TRD performance exhaust on the Release Series helps give it that added bit of sound. This exhaust does drone quite a bit on the highway, but this really is a car that's in its element either zipping around the city, or out on the curvy country roads.
There is one department where the Scion FR-S excels, and it's the overall driving experience. The steering is so sharp that the car goes exactly where you point it, and the rear-drive setup means it's very easy to force some oversteer and kick the back end out a little bit, especially in the winter conditions. This car is an absolute blast. Driving position is on-point, and the seats have adequate bolstering to hold your body around corners. I've complained about this before when testing FR-S and BRZ variants, but this isn't the car to drive when wearing a suit. The low-slung nature of the car and the overall shape of the seats means getting in and out is a bit harder than I'd like for somebody my height (just over six feet).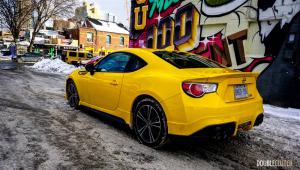 Being a boxer engine, the Scion isn't particularly good on fuel. I know of a few people that expect this car, because of its weight and power numbers, to be extremely efficient. It also shares the same tire size as the Toyota Prius, so there's that. However, this is an engine tuned for performance and not efficiency. In winter conditions with quite a bit of city driving, I was able to achieve 8.6L/100km at the end of my test week. The tank can take 50L of premium fuel.
Additional toys included on the Release Series 1.0 are TRD springs that actually lower the car even more than the regular model, a TRD steering wheel, unique TRD shifter, dual-zone climate control, HID headlights with LED accents (like those on the BRZ), and push-button start. Things like keyless entry, air conditioning, and cruise control are standard. The stereo is a Pioneer unit with a touchscreen, but this model does lack navigation. The FR-S isn't a car you buy because of the options it offers; you buy it for the driving experience. It was the first tester I had this winter that lacked heated seats or steering wheel-mounted audio controls. This may be a small issue, but I'm tall enough that I have to sit with the seat all the way back, and it forces me to reach forward to get to the head unit for something as simple as volume control, or answering/disconnecting phone calls via the Bluetooth system.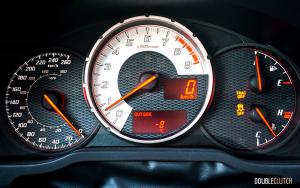 Both the Scion FR-S and its sister, the Subaru BRZ, are cars that are catered to a very specific market. In the two years since their introduction, the "86 cars" as they're known as, have developed quite a cult following. They certainly have their flaws just like any other car, but there's something very special about these cars that I understand. It's an incredible car either way, whether you want to use it as a daily driver or as a weekend track toy. The Release Series 1.0 may be one of 1500 coupes world wide, but there are only 75 cars allocated to the Canadian market. It commands a price of $32,565, which isn't particularly inexpensive, but for a car that's just about as exclusive as the new Volvo Polestars, they're sure to fly off the showroom floors.
2015 Scion FR-S Release Series 1.0 Gallery