A bit larger, but still great fun! | This 5-door makes a lot more sense to me than the Countryman does
Each time I review a Mini product, I remind my readers that I once owned one, the first-generation of the "new" retro Cooper. I owned it for nearly three years and it provided me with about 40,000km of (almost) trouble-free ownership before a flash flood resulted in it being written off. To this day, I miss that car dearly. Over the past couple years, parent company BMW has introduced a variety of different products under the Mini brand that range from the regular Cooper to the large, all-wheel-drive Countryman (I like to call that the "Maxi" because of its size). This 2015 Mini Cooper S 5-door is the latest model in the line, so I was naturally pretty excited to try it out.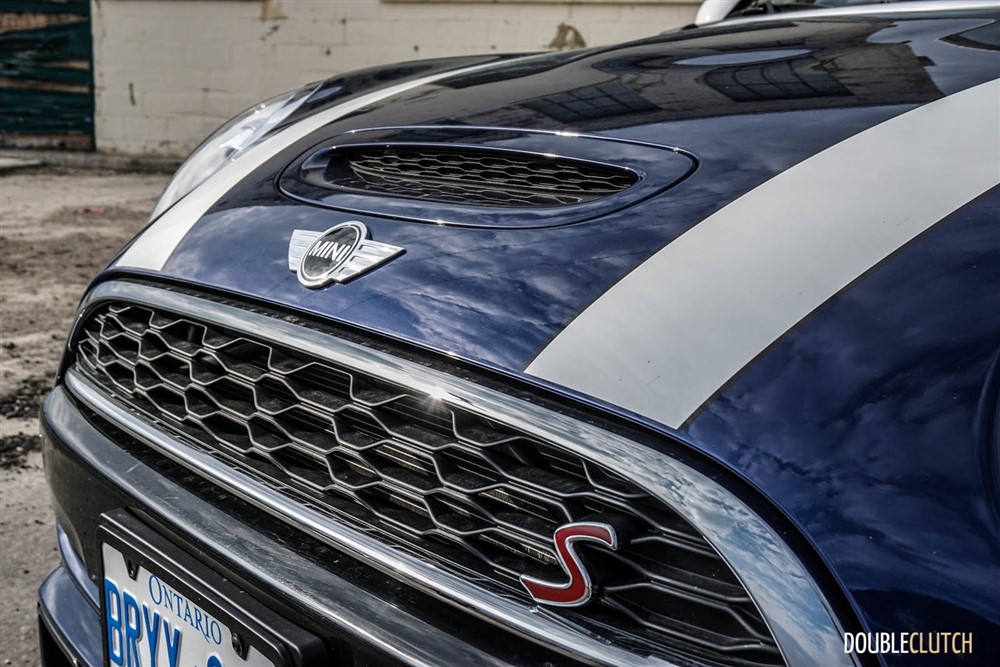 Minis have never been the most reliable, the best looking, or the most comfortable. However, they have this unmatched charm to them that retro-chic comeptitors like the Volkswagen Beetle and Fiat 500 strive to match. Owners of Minis maintain that if they can help it, they'll never buy anything else because of the sheer fun factor that the small car provides. I saw this light a few years ago, and quickly grew to love my bright blue Cooper, easily overlooking all of its flaws because of the way its headlights cheekily looked at me every time I walked up to it.
The new Cooper S 5-door is essentially an elongated version of the regular Cooper S; it shares the same low ride height, familiar design and available customizability as the traditional Mini. The only advantage here is that it actually has real rear doors, making it particularly enticing for urban real estate agents, small families, and especially previous owners of the regular Mini that now require considerably more space. Personally, I'm not a fan of the Countryman's ground clearance and availability with all-wheel-drive – if that's what my needs wanted I'd just opt for a BMW X1 or even a Subaru Forester. The Mini 5-door's added size is noticeable, but not in an intrusive way that detracts you from thinking it's anything but a Mini.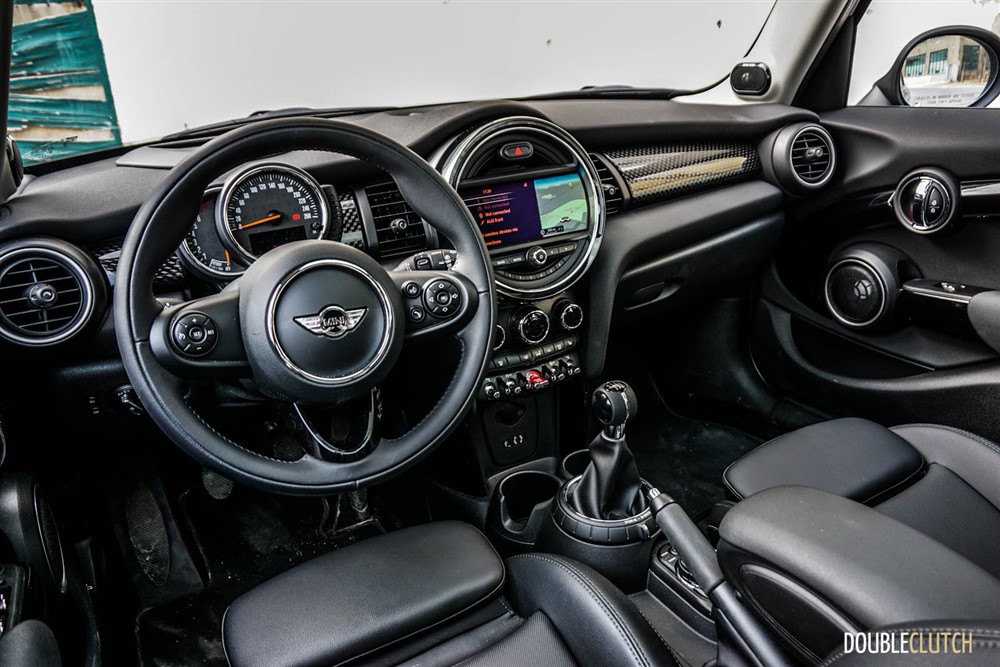 Since the redesign of the regular Mini Cooper and Cooper S last year, powertrain options have changed a little bit. Entry-level Cooper models are offered with a turbocharged 3-cylinder, the only one in its segment, and the hot little Cooper S shares the same 2.0L 4-cylinder as other models in the BMW family. It doesn't feel the same though; this motor is tuned specifically for the Cooper S' hot hatch pedigree and behaves as such. There is an optional automatic transmission, but thankfully, my test Cooper S was equipped with a good old fashioned 6-speed manual. I've had a few potential Mini customers ask me in the past if they come with an automatic, and each time I maintain that they do, but a huge chunk of the Mini's charm is in the manual transmission.
The 2.0L turbo-four puts out 189 horsepower and 207 lb-ft of torque, and is particularly punchy when the ring around the shifter is put in the "Sport" position. This remaps throttle response, stiffens up the chassis, and modifies suggested shift points, and essentially wakes the whole car up. Additionally, engaging this mode will create an animation in the navigation screen that says "Let's Motor Hard!" Gimmicky, but funny nonetheless. A good conversation piece here is the Cooper S' sport exhaust. When downshifts are perfectly rev-matched, or you lay off the throttle at higher RPMs, the exhaust burbles and pops, guaranteed to put a huge smile on the driver's face. The Mini isn't as fast as a Ford Focus ST or a Volkswagen GTI, but its character is very different from these cars. It handles beautifully, and the steering is very precise, but its size is definitely evident here as it doesn't corner as well as its predecessors.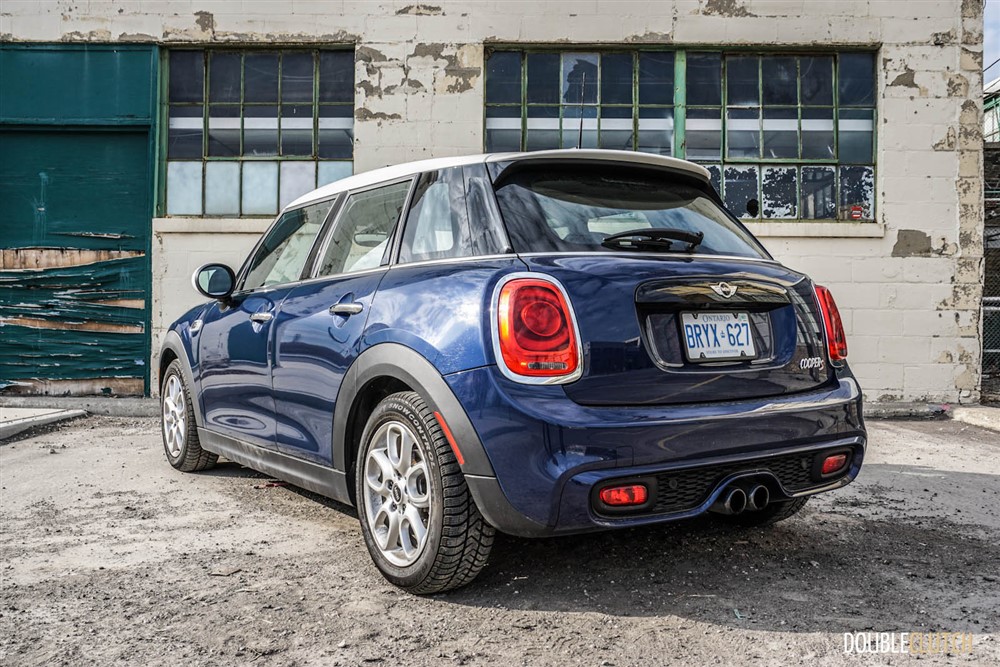 The 6-speed manual transmission has always been something that Mini has done right. The clutch is effortless and the shifter throws, while a bit on the longer side, are very agreeable. I like how Mini includes an engine stop/start system to maximize efficiency during city driving, and the system works effortlessly. As long as your foot is off the clutch, the car will stay off. As soon as you predict the traffic light turning green, putting the clutch down will quickly start the engine so that the Cooper S is ready to go. I also like how the "Green" mode (where the display says "Let's MINI-malize!") adapts suggested shift points to short shift and save some more fuel, without sucking all of the fun out of the car.
For a front-wheel-drive car (the only all-wheel-drive in the Mini line is the Countryman ALL4), the Cooper S has very good road manners. It hugs the road with confidence and darts around obstacles with ease. However, the sport suspension on this model does make for a very firm ride. I wouldn't go as far as to call it harsh, because it really is intended to be this firm, but I'd suggest prospective buyers to have a go and ensure that the firmness works for them. During my test week, I partook in a particularly strenuous day (physically) and driving home with the Mini making sure I felt each and every imperfection in the road wasn't particularly fun.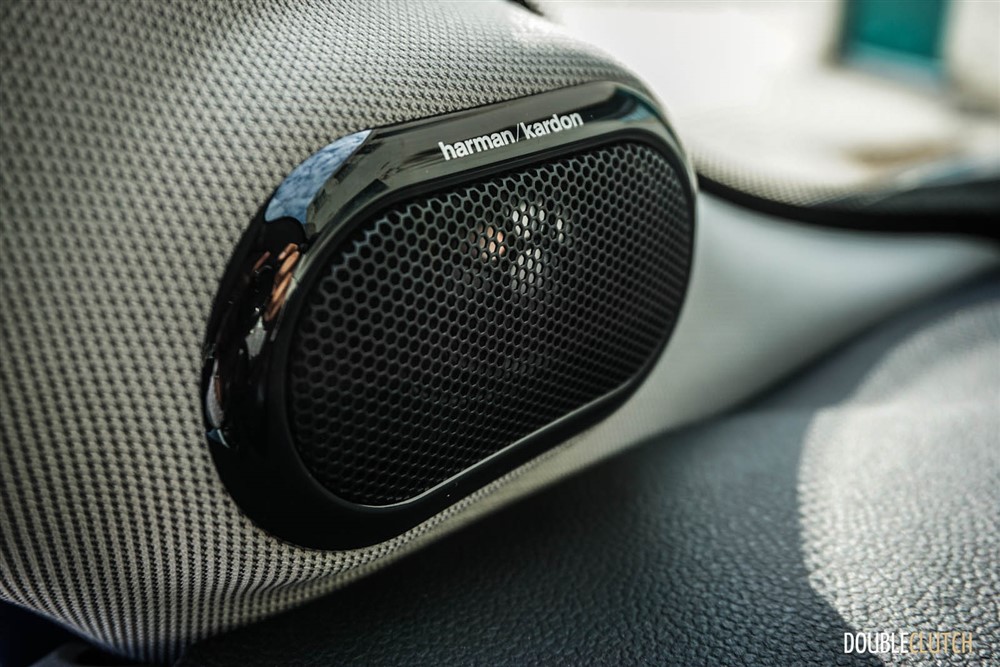 Being a Mini, it's not a gas guzzler either. The Cooper S' driving dynamics do tempt you to be a little throttle-happy, which will result in poorer fuel consumption, but at no point during my evaluation did I see the indicator display more than 8.5L/100km. I did a considerable amount of highway driving and saw overall economy of 7.5L/100km on premium fuel, not too far off from BMW Canada's estimate. The Cooper S 5-door does recommend premium fuel, and requires 89 octane at the absolute minimum. Being a turbocharged engine, I would hope that most owners would opt for the 91-octane premium. The Mini's instrument cluster has a built-in trip computer that displays information such as trip computer, instant/average fuel economy, distance to empty, etc.
My Mini Cooper S 5-door arrived in the garage loaded to the gills, with a price tag just over $34,000. This includes options for technology including a full navigation suite with the Mini-version of BMW's iDrive system, a brilliant Harman/Kardon stereo that is amongst the best in this entire segment, and a reverse camera that's incredibly high resolution. There's a central controller and easy-to-use buttons to navigate through the system, and the split screen setup allows for both media information as well as the current area map/navigation info to be displayed at the same time. The Cooper S 5-door also has a heads-up display, a first for the Mini brand. Rather than a fixed display that projects onto the windshield, this one takes an approach similar to the Mazda3, and has a retractable plastic screen that slides up when enabled (via a toggle switch on the center console). Unlike the Mazda3's, this HUD can be hidden if so desired.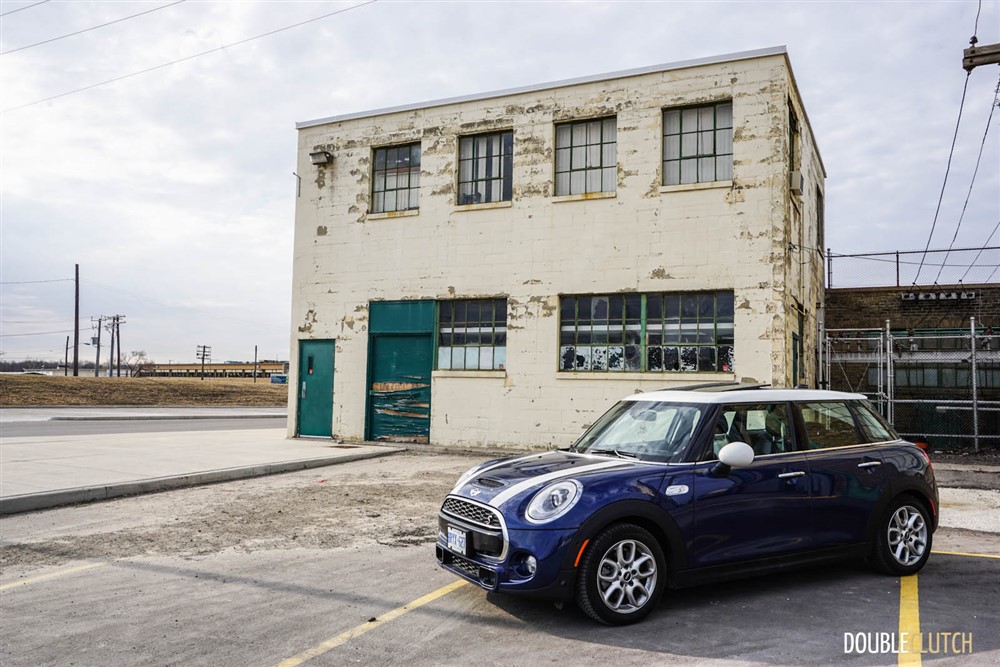 Along with being quirky and ridiculously fun to drive, another characteristic unique to Mini is a unique cabin filled with touches that aren't seen anywhere else in the industry. For instance, the engine is started via a fighter jet-like toggle switch on the center console that pulsates red like a beating heart. My first-generation Mini Cooper (R50) had the window and door lock switches located on the same center stack in "toggle" style, but they have since been relocated to a more traditional location on the door. The fog light switches used to be amongst the same stack, but they're just normal buttons to the side of the headlight switch. As they evolve, Minis are becoming a lot less gimmicky and a lot more modern and user-friendly, and I can't help but be saddened by this development. I suppose, then, that it's a good thing that the majority of Mini buyers are just normal car customers that want something a little different and not something ridiculous.
There were a few issues with the 2015 Cooper S 5-door that continued to bother me throughout my week, and after discussion with the rest of my team during a group evaluation, I realized that some may be isolated to my height and overall driving position. The center armrest, an option included with the Loaded Package ($1100), is a bit too high in its default setting, and prevents me from shifting comfortably. It also renders me unable to reach the controller for the infotainment. Lowering it results in a perfect driving position, but the armrest lifts back up every time the parking brake is engaged. Louis Vo, our Features Editor, tried it out and this issue was non-applicable to him. I also found the lever to adjust the backrest was rather inconveniently located, and small. Once I found it though, the driving position was typical Mini-levels of great.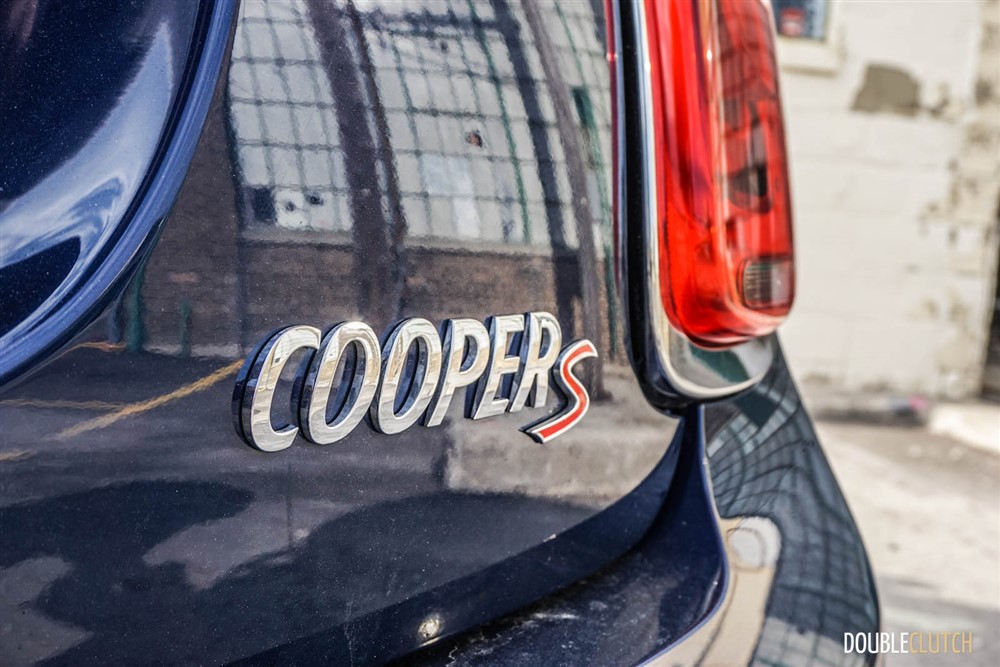 I really do like the 5-door Cooper S. I just wish that the other offerings in the Mini lineup weren't also called "Cooper S" with their actual model designation after that. Why isn't the Countryman just called the Mini Countryman S, rather than the Mini Cooper S Countryman? This 5-door makes a lot more sense to me than the Countryman does, because I do understand that its existence means growing families and people who need the extra space will stay within the Mini family. It has a great amount of neat features, and much like the regular Cooper S, the LED headlights are some of my favourites in the entire industry right now. The Mini Cooper S 5-door is versatile, capable, and best of all, still maintains that level of charm that makes the Mini brand so special. I'm sure the introduction of this new model will not only keep existing customers within the brand; it will bring in some new blood too.
2015 Mini Cooper S 5-door Gallery
See Also: