The 2015 Mercedes-Benz SL400 is a magnificent way to spend over a hundred thousand dollars.
The Mercedes-Benz SL roadster goes down into motoring history as one of the most iconic two-seat convertibles of all time. Starting with the original SL that's been around for over half a century now, even today's model is instantly recognizable as a cruiser made for the privileged and influential. This year though, there's a new model for the North American market, one that potentially takes the flagship roadster down-market. We decided to get up close and personal with the all-new 2015 Mercedes-Benz SL400 Roadster and see how the deletion of two cylinders has affected a longtime favourite of the DoubleClutch.ca garage.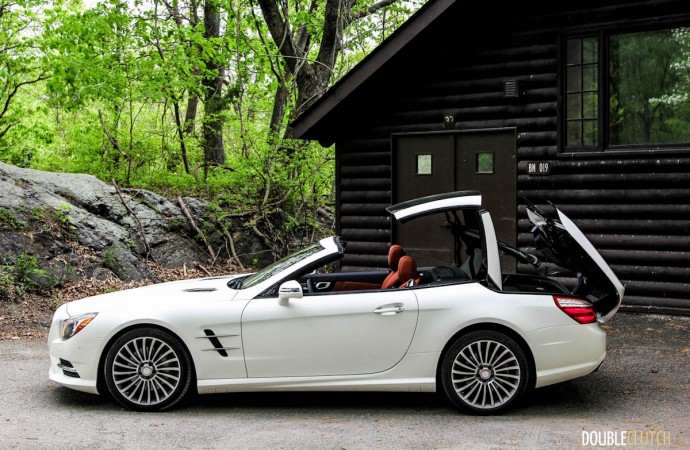 For the better part of the last few decades, Mercedes-Benz has only offered the SL with V8 engines on this side of the pond. Though our European friends have made do with six-cylinder units, North Americans are picky and would likely have scoffed at the thought of anything less than eight cylinders in their SL. The Canadian market still doesn't get this model, and the SL550 soldiers on as the entry-level model in this lineup, starting just shy of $125,000. The bi-turbo SL63 and monstrous SL65 AMG are still offered as well across the continent, but this SL400 is only being sent to the United States.
Powering the baby SL (yes, I know that nickname is usually reserved for the SLK, but bear with me here) is a 3.0L twin-turbocharged V6. This is a new motor across the lineup that we have sampled in the CLS as well as the C-Class. It's also offered in the E-Class and will be making an SUV/crossover debut on the upcoming GLE and GLC. In the SL400, the biturbo six is good for 329 horsepower between 5250 and 6000RPM, and 354 lb-ft of torque available from 1600 to 4000RPM. Although considerably larger and in a higher price point, the numbers make this SL a bit of an Audi S5 Cabriolet competitor.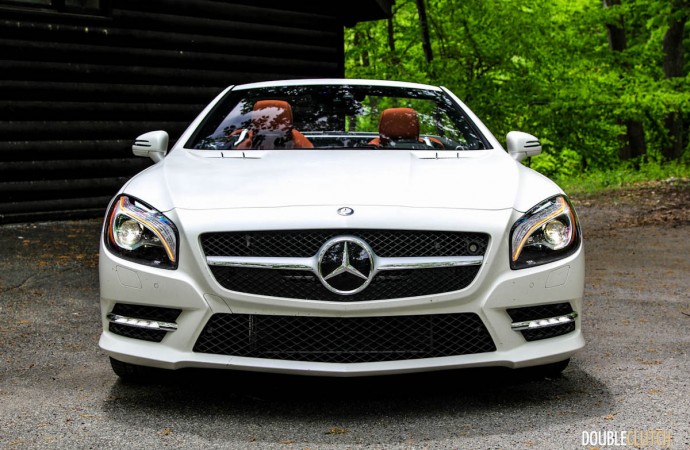 Rather than a dual-clutch application, Mercedes-Benz has chosen to equip non-AMG SL models with a seven-speed 7G-Tronic Plus transmission. There are available sport modes as well as steering wheel-mounted paddles, but the car is clearly a cruiser and doesn't do anything to hide this fact. It creeps to 100km/h in a quick 5.3 seconds, about a half-second slower than the V8-powered SL550's 4.7-second sprint. It's more of a jogger than a runner, but when asked to hustle, the big Benz responds with minimal fuss and doesn't sound like it's gasping for breath in the process. Response from the throttle isn't the sharpest – think of it as a permanent shiatsu massage.
So far, everything with regards to the SL's power delivery and overall demeanour is exactly as I expected it to be going into this test. However, tossing it around some hilly, curvy rural roads appeared to wake the roadster up. The handling is unexpectedly sharp and the flat-bottomed steering wheel makes pushing the SL400 through the twists a blast. Lock-to-lock happens pretty quickly and the car responds wonderfully to driver inputs. Stability control can be disabled if you really want to get the rear end out, but that's not exactly the purpose of an SL roadster. This is a car meant to perform beautifully as a touring coupé, something it does just fine.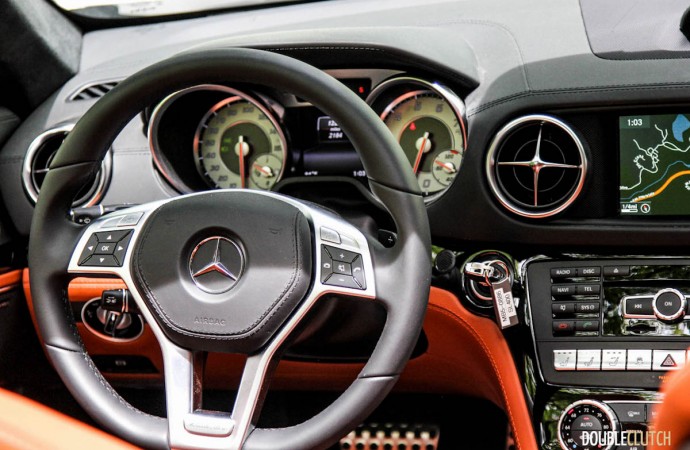 Other than bringing the price point down, Mercedes-Benz promises that the new V6 motor is significantly more efficient than the V8. Given that we just sampled the CLS400 with the same powertrain, and with the addition of the 4MATIC all-wheel-drive system (the SL roadster is rear-drive only), I was able to preemptively estimate fuel mileage for the SL400. With a good mix of both city and highway driving, as well as some canyon carving in upstate New York, the result was a relatively thrifty 10.1L/100km. Even with the entry-level motor, premium fuel is required, thanks to the forced induction and the higher compression.
Stylistically, I'm not a huge fan of the current-generation of SL. The pre-facelift model was a lot more appealing to me, and I'm a huge fan of classic SL models of the 1970s and 1980s. Even the R129 chassis that was around until the beginning of the 2000s was a timeless design that breaks necks to this day. The current car looks classy enough, especially with the 19" multi-spoke wheels and classy Magno Cashmere White paint, but it just doesn't stand out to me. The BMW 6-series Cabriolet or even the entry-level Porsche 911 Cabriolet are more appealing aesthetically.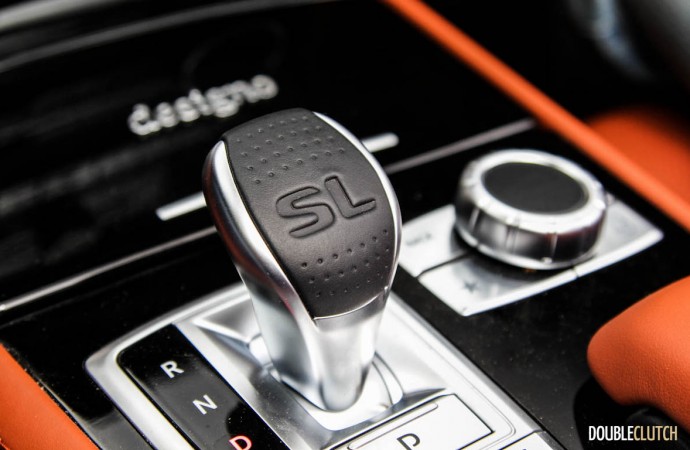 All of this changed when I opened the door and took my first look at the interior of my test vehicle. This car was equipped with thousands of dollars worth of designo® custom interior, including exclusive Sienna Brown Nappa seats, piano black lacquer trim, and beautiful leather upholstery that carried on throughout the cabin. Every bit of the interior is stunning from every angle and despite being a slightly dated design, appears fresh and upscale. An SL signature feature is the power retractable hardtop, which has a glass panel featuring Mercedes-Benz's Magic Sky Control. This allows the roof to go from transparent to almost opaque in just seconds – a striking thing.
Massaging seats should never be taken for granted, because I don't consider them a gimmick in the slightest. Perhaps in sports cars they're pointless and the electronics within take away from the actual support of the seat, but in a grand tourer like this SL, they're welcomed with open arms. With four settings ranging from "Slow and Gentle" to "Fast and Vigorous", it's almost as if there is a talented Swedish masseuse subtly hidden away within the front seats. Also on board is Mercedes-Benz's COMAND infotainment system with a suite of connectivity and safety features, including but not limited to night vision, adaptive cruise control, and full traction and stability control systems.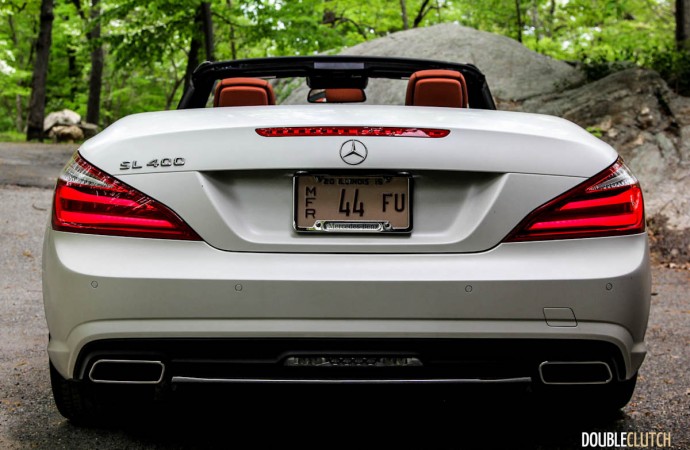 Our test vehicle, because it's a US-market car, is priced in American dollars. Adding to the base price of $85,000 for the SL400 roadster are a series of options and packages, which only add to the magnificent experience that is the SL, include the designo® lacquer trim and exterior paint, which add $1,500 and $3,950 respectively, Nappa Leather for $4,500, 19" wheels for $500, Magic Sky Control for $2,500, Night View Assist Plus (Night Vision) for $2,260, and a Premium Package. This package, for $4,900, adds active ventilated seats, keyless go, park assist, electronic trunk closer, active multicontour seats with massage, and reverse camera. Lastly, the $2,950 Driver Assistance Package adds adaptive cruise control with pre-sensing brakes, lane keeping assist, and blind spot monitoring, and brings the grand total of our tester to $107,985. With the current exchange rate, this comes to just over $140,000 Canadian before taxes.
The overall exterior styling is the only thing that bugged me after spending some time with the current SL. Frankly, that's something purely subjective, and I personally know of a couple of loyal SL owners that couldn't be happier with their purchases. The 2015 Mercedes-Benz SL400 is a magnificent way to spend over a hundred thousand dollars. It provides unequivocal Mercedes-Benz quality, immaculate precision and attention to detail, and a sensational motoring experience. It does all of this while sipping fuel at a surprisingly light rate. If a luxurious two-seat roadster with unmatched German characteristics is what you're after, there really is no other answer.
2015 Mercedes-Benz SL400 Gallery
See Also:
2015 Mercedes-Benz E350 Cabriolet