A great "fit" for urbanites. | The Fit offers an unmatched level of value as a great do-it-all car.
It's been awhile since I've driven a thrifty fuel miser. After weeks of driving mammoth SUVs, sports cars and a luxury sedan, it can be rather refreshing to jump behind the wheel of something small, nimble and thrifty. I was glad to take the all-new 2015 Honda Fit for a week, knowing I wouldn't be roughing it too much. My Fit tester is an EX-L Navi, loaded to the brim with every feature available on this practical little compact hatch.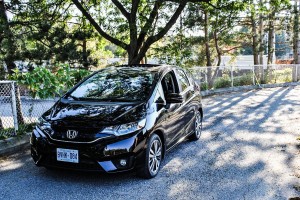 On the outside the Fit looks similar to the previous generation, only grown up a little more. The compact hatchback design has never been one of particular beauty in my eyes, but it is a great representation of function over form, and Honda has done a good job tying in their corporate styling. The side profile of the new Fit is nicely swooped back and a plunging body crease along the doors flows well with the sporty stance. Up front the Fit is very Honda – well proportioned despite the typically short hood. However from the back, the oversized taillights and large chrome trim seem a little awkward on such a small car. I've noticed that to be a bit of a trend recently on small cars, so maybe it's just me; I really like everything to be proportional to the overall size of the car. The 16" alloys standard on the EX models look great, as do the alloys on the less pricey Sport model.
While I've driven plenty of compact hatches, this is my first experience with a Honda Fit, so I was a little surprised when I didn't find it to be quite as responsive and nimble as I had anticipated it to be. As an enthusiast, one of the biggest attractions to these practical little hatches has been their light and nimble driving dynamics; the type of cars that you can safely and effortlessly toss around for loads of low budget fun. The Fit however isn't that type of animal; it's all business inside the Fit. Firstly, it feels more substantial on the road than I was expecting. While that might not make for the most fun, it does help to inspire a certain confidence and sense of security that is often missing in smaller cars. The Fit really does feel safe, which lends some additional credibility to its recent IIHS Top Safety Pick award. The steering is light and easy, and adding to the substantial feel is a ride that's far less bouncy than one might anticipate. In fact, the Fit's chassis makes light work of pothole ridden city streets and even manages to remain very stable and planted on the highway. So clearly, what is sacrificed in fun is made up in comfort and security; realistically a compelling trade-off for most compact buyers.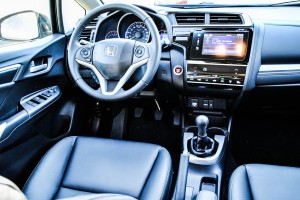 My Fit tester is powered by the only engine available, a 1.5L "Earth Dreams" direct injection i-Vtec 4-cylinder pushing 130 horsepower and mated to a tested and true Honda 6-speed manual gearbox. The engine itself has plenty of pep to move the Fit around briskly, and with the latest Earth Dreams technology now in the Fit, has proven to be an extremely efficient little power plant. In fact, I managed to average 6.1L/100km despite heavy traffic and regular A/C use. Considering my driving conditions, that's a very impressive number and not something I regularly see.
While I love the hardworking little engine in the Fit, for the first time ever I am not at all a fan of the clutch and gearbox that Honda has used. The gearbox is actually pretty tight and smooth, except for the fact that the gate for the reverse is very close to 5th. While the reverse lock-out will keep you from actually going into reverse accidentally, it is possible on a brisk upshift to 5th to get hung-up on the gate, making for a very awkward shift. I easily got used to exercising some caution with the gearbox, but I have yet to gain any warm and fuzzy feeling for the clutch in the Fit. The issue is that it has very, very little feel. The clutch grabs so gradually and soft that it can be difficult to feel out the "sweet spot". So while relatively easy to drive, the soft clutch does take away a lot of the satisfaction I generally derive from rowing through a tight set of gears. That said, given the car's target market, I don't anticipate that the 6-speed will be a popular configuration here. After spending a week with it, I may break the code of automotive enthusiasts and suggest that I'd prefer to have the Fit with the CVT, which would complement the Fit's comfortable dynamics and likely squeeze the most real-world efficiency from the little 1.5L as well.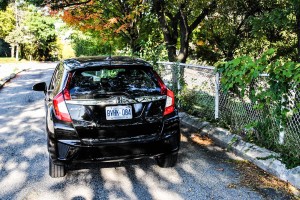 What the Fit may lack in driving excitement however, it more than makes up for inside with utility, features and comfort. The premium leather seats in my tester looked and felt almost identical to the seats in the much pricier Acura ILX I tested awhile back, which are by far the best seats I've come across in a compact car. Popping open the rear hatch and dropping the rear seats reveals a simply massive cargo area, as the fuel tank has been positioned forward under the front seat area to allow for the cargo area floor to be a low as possible. This creates loads of height for bulky and awkward cargo, meaning you can reserve all your cussing and yelling for building your Swedish modular furniture rather than transporting it.
With an as tested price just under $23,000 my EX-L Navi tester came with all of the high-tech modern features you could want; power sunroof, automatic climate control, touch screen infotainment with navigation, and loads more. While I realize these features may not be at the top of mind for many compact hatch buyers, I do think it's great that they are all available, and at very affordable trim levels. This trim is a great option for what I call "right size" buyers who recognize that a small hatch is a good fit for their lifestyle (pun intended), but still want have all the latest gadgets and luxuries without having to step-up to a bigger vehicle.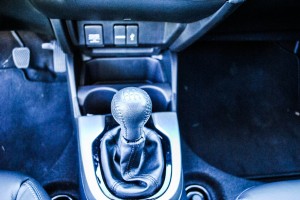 As far as small practical hatchbacks go, the Fit has been the benchmark for years. After spending a week with the latest iteration, I still feel it is worthy of its title. Sure, the 6-speed might not have been my favorite, but with a CVT and at these price points, the Fit offers an unmatched level of value as a great do-it-all car. Whether it's efficient commuting, cargo hauling or road tripping, the Fit is an outstanding tool to handle it all in stride.
2015 Honda Fit EX-L Navi Gallery