It's a best seller for a reason | Civic has been Canada's best selling car for 17 years running.
While doing some research for this article, I was reminded that the Civic has been Canada's best selling car for 17 years running. In the fiercely competitive compact segment, that statement is even more impressive. Over the course of 17 years, the Civic has earned its place in the hearts of many, and I think you'd be pretty hard-pressed to find someone who doesn't have some story to tell about a Civic, myself included. It's not easy being number one, and with so many great compacts to compete with, I can't help but wonder how Honda has managed to keep their Civic on top of the game for so many years. I took the opportunity to spend a week with a new 2015 Honda Civic Touring, the most luxurious Civic available.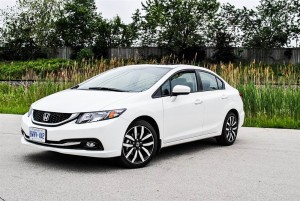 I've had mixed emotions about the Civic's exterior styling over the last decade or so, but I personally believe this latest version is back on the right track. Designing a car to be owned and driven by the masses means that it has to be visually appealing to a very wide demographic. My white Civic Sedan Touring tester fits that bill perfectly; it could easily be driven by a student, a middle-aged professional, or even a senior. Up close, it's sharp, aggressive and young, but at a distance or on the road, the Civic doesn't attract any unwanted attention.
Best of all, the Civic's bodywork is all nicely proportioned and looks pleasant from all angles. It's the right amount of "safe" without being too boring. That said, as someone whose personal stable consists entirely of very distinctive vehicles, driving the low-key Civic did come with its challenges. I walked out of a busy home improvement store and walked right up to the wrong Civic! It was white, looked just like my test car, and it was only parked a couple of spots over. Once I realized I was at the wrong car I quickly looked around and spotted my tester camouflaged amongst a row of similar white and silver compacts.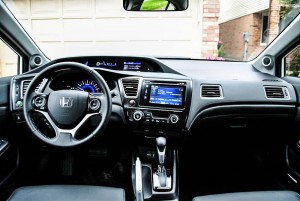 If the Civic doesn't exactly look unique on the outside, getting inside changes all that. The Civic's interior remains undeniably Civic, with its deep two-tiered dashboard layout and massive raked windshield. Despite the fact that the general layout in the Civic is coming up on 10 years old, it still feels very modern and fresh. Honda has made great efforts to improve the overall feel, fit and finish of everything inside the Civic. The leather seating, standard on the Touring, is very well done using good quality leather and supportive front seats. Speaking of seats, the rear seat offers an impressive amount of head and legroom; almost enough to make rear passengers forget that the Civic is still a compact.
Even the trunk is surprisingly large and the split 60/40 folding rear seats can really help maximize the Civic's ability to move cargo. The dashboard and door panels benefit from the use of upscale soft-touch material, and in typical Honda fashion everything fits together very well without any squeaks or rattles.  The layout is very driver-centric and everything is well positioned for ease of use.  The main gauge cluster is dominated by the tachometer, while the rest of the typical driving info is found above in a separate digital display, which also includes a customizable information center to monitor fuel economy, and trip information. The trifecta of screens is completed by the 7" touchscreen infotainment system. It's all very blue, and sitting behind the wheel the Civic feels very high-tech.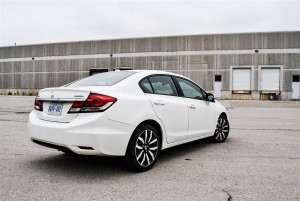 The infotainment system itself could benefit from a few usability updates. I found the system in my test car to be slow to respond to touch commands, some of the menus confusing, and I simply could not get used to the volume control which is a touch-slider rather than a knob.  Happily, the steering wheel mounted controls offer a quick and easy way to cycle through radio presets or change the volume without having to navigate the touchscreen. The navigation system that comes with the Touring trim is a nice touch; it's easy to use and I'd put it on par with what others are offering in this segment. Being the top-of-the-line trim, my tester came with a 160W 6-speaker sounds system, a power sunroof, 8-way power driver's seat, satellite radio, rear view camera and a host of other nice little additions.
My favorite feature on the Civic though is Honda's LaneWatch system. When the right signal is on, a camera mounted to the right mirror displays a view of your blind spot onto the center screen. This feature makes changing lanes in traffic an absolute breeze and garnered plenty of attention from my passengers throughout the week. Lane Watch is actually standard on the EX trim, so you don't need to step all the way up to the Touring trim to get it. As equipped, my test car came in at just over $27,000. That's as good or better than any other loaded compact we've recently tested.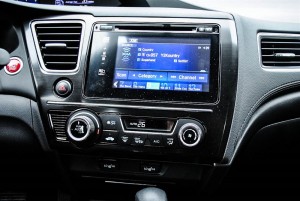 Let's make one thing clear right away though- while the Civic is very agreeable on the road, if it's performance you're after, the Civic Si is really where you should be focusing your efforts. Powered by Honda's ever-improving 143 horsepower 1.8L 4-cylinder attached to a CVT transmission, the regular Civic is set up with a pleasant and highly efficient drive in mind. Getting on the throttle of the Civic results in a lot of whining from the powertrain followed by slow and steady acceleration. Power aside, the handling of the Civic is very well balanced and provides more than enough confidence to enjoy tossing the Civic through some quick corners. The ride quality is very good for a compact and does a great job at absorbing the city's big bumps, while keeping composed on the highway and through the curves. Noise levels are also always minimal, adding to the feeling of quality inside the car. Whether on the highway or in the city, this car always feels right at home.
Efficiency is where the Civic really stands out in my mind and I've always managed to return favorable economy numbers in Civics, no matter the cars configuration or the conditions. This week, which involved mostly mixed commuting in rush hour traffic, I returned a thrifty 7.2L/100km. I did keep the Civic in "Econ" mode for about 70% of my driving. This does noticeably dull the cars throttle response, but I was happy to cruise along at a leisurely and efficient pace for most of my commuting.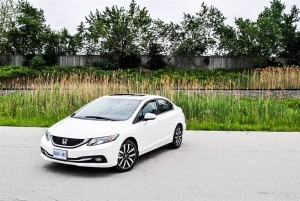 After spending a week with the Civic, I am confident that the reason it's remained the top seller in Canada for many years lies in the total package as opposed to one single aspect. The car really does everything that the average Canadian driver could ask of it. It looks agreeable, offers a surprising amount of space for passengers and cargo, delivers a very pleasant and easy driving experience, contains all the latest features, and of course is exceptionally efficient. When you combine all of these characteristics with the Civic's longstanding reputation for reliability and the highly competitive price, it's really no surprise that this car has been a success. It's still the quintessential compact, and I am confident that Honda is working hard to make sure it stays that way for years to come.
2015 Honda Civic Touring Gallery
See Also: