A feisty new face on a great crossover | Dodge has a pretty solid history of building great people movers.
The world of seven-seat people haulers isn't something most enthusiasts get all that excited about. However, over the last couple of years I've had the chance to drive just about every one of them on the market, and the truth is, they're not all bad. Crossovers have really made huge strides forward in styling, driving dynamics and features, which have allowed them to steal loads of market share away from the traditional mini-van and SUV markets. Certainly, as a self-respecting car-loving parent, you don't want to be seen in a minivan. When the fun car is safely tucked away in the garage, away from winter weather and the sticky hands of snaking children, all you really want is something that makes sense. That's why the Dodge Journey has been ranked one of Canada's bestselling vehicles for 5 years running.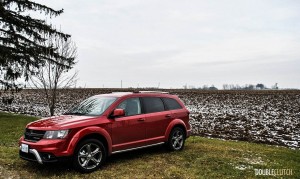 Dodge has a pretty solid history of building great people movers. The Chrysler Group, in my opinion, was one of the leaders in developing the crossover concept with vehicles such as the Grand Cherokee and even the dearly departed Chrysler Pacifica. The Journey, while now 5 years old, still remains the hottest selling seven-seater crossover on the market, so I figured I'd spend some time with the best one Dodge has to offer, a fully optioned Crossroad model, to see for myself whether it's still at the top of the game.
Dodge does a very good job putting together very compelling option packages, and the Journey is no exception. At this point, it's currently available in 9 different trim levels, starting with the value based Canada Value Package at $19,494, all the way up to my AWD Crossroad trim tester weighing in at $36,810. The Crossroad package is about $200 more than a similarly equipped R/T Rallye. Essentially an appearance package,  it includes a unique front fascia with a blacked out grill, 19" hyper black wheels and a handful of other exterior dress-up accessories. For the cost, it's the way I'd go if I were purchasing a Journey, simply because the extra kit goes a long way to shaking off some of the soccer mom stigmas. In fact, as far as crossovers go, I really like the way my bright red tester looks.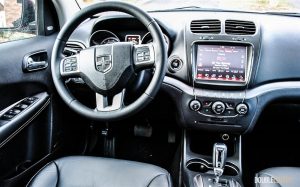 At first glance, the Journey Crossroad is pretty impressive inside. The black leather seats in my tester are different and quite a bit nicer from those in the R/T. In fact, my fiancée raved all week about how soft and comfortable they were, Looking closer though, it becomes apparent that the Journey is in fact built to the $20,000 base price, and the materials on areas like the dashboard, headliner and side panels do reflect that. What it lacks in flash though, it makes up for in function as the Journey's interior is very well thought out to make the absolute best use of available space. There are storage compartments everywhere and both split rear benches fold completely flat, revealing a massive cargo area. Access to the third row is easy by flipping the second row forward, but legroom in the third row is a little tighter than the Santa Fe XL.
The Crossroad trim level comes fully equipped with almost everything the Journey has to offer, including a 9" rear entertainment screen, UConnect multimedia center, Bluetooth, a 6-speaker Alpine sound system, heated seats and steering wheel and remote start. Additional options on my tester include navigation and a power sunroof. Commuting in the city in December, I had a chance to put most of these features to the test and was impressed at how integrated they all are. For example, remote starting the vehicle will also turn on the heated seats and steering wheel so it's toasty warm when you step inside. The navigation system is also very user friendly, and its clearly marked traffic reporting proved very useful when one of my evening commutes was hit with a small ice storm.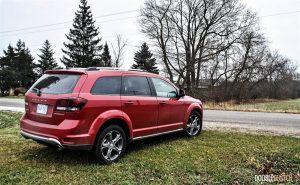 I am a big believer in the notion that if you're going to put yourself into a crossover, it should at least be AWD. Otherwise, you might as well stick with a sedan or a minivan because you're hardly going to gain anything from the additional ride height without some extra traction. Happily, my tester's all-wheel-drive and Toyo Observe GSi-5 winter tires proved to be an excellent combination and handled the skating rink that was briefly known as the 401 with ease, getting me home safe and sound on a dangerous night.  For me, that's the appeal of a Crossover like this; anything that's going to help get the family home safely when poor driving conditions show up is a big positive in my books. As an interesting side note, the Toyo Observe GSi-5s actually use crushed walnut shells in the tread to help bite into ice and snow. High-tech, yet primitive at the same time; very cool.
When not on ice, the Journey makes a very nice highway cruiser. It's both quiet and comfortable. Equipped with the corporate 3.6L Pentastar V6 putting out 283 horsepower, the Journey actually feels surprisingly quick and responsive. However, the 6-speed automatic mated to the V6 does feel like it holds the engine back a bit, as it can be slow to respond at times and I am sure it's not doing much to help out on the efficiency front. In mixed commuting and one short 2 hour highway trip, I averaged 12.5L/100km. I know this engine is capable of more impressive numbers, and I would love to see Dodge swap their 8-speed in to see what sort of difference it would make.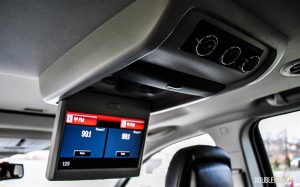 The bottom line here is that the Journey does a great job at what it's intended to do. It's not the most luxurious or the most exciting crossover on the market, but even when well-equipped, it is one of the most affordable. It's also one of the smaller 7-seaters on the market and the Crossroad model gives it an aggressive new look that I really like. At about $8500 less than a comparably equipped Santa Fe XL, my benchmark in the 7-seat crossover segment, it's impossible to ignore the value proposition offered by the Dodge Journey Crossroad and I understand why Canadians are buying these up in droves.
2015 Dodge Journey Crossroad Gallery