That thing got a Hemi? | The style, sounds and power of the R/T make it a true muscle truck.
It's hard to look cool while hauling a load of screaming kids around. I think that's exactly why vehicles like the Cadillac Escalade and Yukon Denali have done so well; they're of the few options out there that can double as a school bus and still garner looks of envy from your fellow motorists. With this in mind, the team at Dodge have really stepped up their game recently with the Durango. I took a week with the coolest Durango of all of them, the 2015 Dodge Durango R/T, to find out if it had what it takes to spice up the daily grind and play with the heavy hitters in this segment.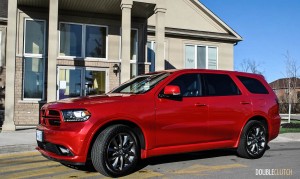 Prior to picking up my tester, I was a little leery about the Durango R/T. While the R/T nameplate has loads of proper tire-burning, gasoline-hogging performance history behind it, some recent iterations of the name have been little more than appearance packages. However that notion went out the window as soon as I walked up to my "Redline Red" Durango. Squatting on 20" Hyper Black wheels, sporting a mean blacked-out grill and massive dual exhaust tips, the R/T certainly looked like the real deal. Climbing up inside and starting the truck filled the cabin with an aggressive roar from the 5.7L HEMI. Finally, an SUV with a great engine that hasn't been censored by a muffled exhaust, this beast has cojones and it isn't afraid to let everyone around know.
That 5.7L Hemi puts out a healthy 360 horsepower and 390 lb-ft of torque. That power is transferred to the ground through the ZF-sourced 8-speed automatic and out to all four wheels. Acceleration in the Durango R/T is properly fun. The strong torque and outstanding grip of the AWD system is more than enough to throw you back into your seat, and that growling exhaust will keep a smile on the face of any enthusiast. Despite its size and weight, the Durango gets moving in a straight line at a very brisk pace and makes passing slower traffic on the highway an absolute joy. The suspension on the R/T is lowered just enough to give it an aggressive stance and a little extra firmness through the corners. However, this is still a full-size SUV, so don't expect to carve corners like a sports car. The R/T also has what Dodge calls Performance Steering, which does feel significantly more engaging than that of the regular Durango.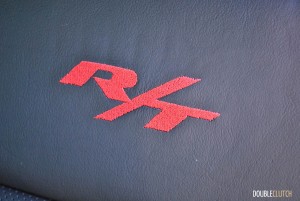 The style, sounds and power of the R/T make it a true muscle truck, but you will have to make some sacrifices in order to have all the 'badassery' that the R/T has to offer. Firstly, that lowered suspension is stiffer than I am used to in a full-size SUV. It's not uncomfortable, but I did notice the poor condition of just about every road I travelled in the Toronto area as we enter our spring thaw. Secondly, the performance steering is surprisingly heavy. Combined with the fact that the steering ratio is anything but tight and requires almost 3 full turns to hit full lock, parking in the city can also be quite the chore. Lastly, that lovely HEMI V8 is thirsty, even with the fuel saving cylinder shutdown technology known as Dodge's Multi Displacement System (MDS). I averaged 14.3L/100 over my week of mixed driving. To most of our enthusiast readers, these are all small prices to pay for the level of class and attitude this R/T has to offer.
My test truck came with every option box ticked off and weighs in at $60,000. While that might seem like a lot of cash to drop on a family hauler, the Durango R/T actually starts to feel like the bargain offering when you consider the fact that a loaded Tahoe or Grand Cherokee can easily extend beyond $75,000, and a similarly-equipped Escalade would set you back close to $100,000. Despite that, there was certainly no skimping on equipment in my tester, which has everything including heated and ventilated front seats, heated steering wheel, dual rear DVD players, 506-watt Alpine stereo, power moonroof and an 8.4 inch touchscreen with the excellent Uconnect multimedia and navigation interface. My tester also boasts gorgeous and plush Nappa leather seating, complete with red stitching and red R/T logos stitched into the back rests.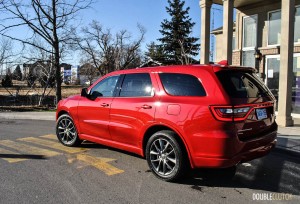 While the interior might be all glammed up, let's not forget that Dodge has been the authority on building family haulers for decades now, so they know how to build a functional interior. There are tons of storage cubbies everywhere and every inch of space has been utilized well. I am a big fan of how the rear DVD screen have been built into the backs of the front seats; it might not be ideal for third row passengers, but it avoids the common issue of the overhead screen blocking the driver's rearward vision. There is also a well-appointed center console sitting between the two second-row captain's chairs, a nice touch that makes rear passengers feel even more pampered. Unsurprisingly, the second and third row seats flip forward and fold almost flat with little effort, revealing a cargo area big enough to land a small aircraft. The only real solution for more cargo space behind the third row is to make the truck even longer, which isn't really what I'd want to encourage.
The Durango R/T is a very interesting proposition from Dodge. Unlike its close sibling, the Durango Citadel, or the strong competitors out there in the full-size premium SUV market, this R/T plays into the wants and desires of driving enthusiasts. Dropping the accelerator on the highway and throwing all 7 passengers firmly into their seats with the growl of the HEMI is an experience unique to the Durango R/T and something that's sure to put a smile on your face. What the R/T might lack in refinement, it makes up for in spades with attitude and all the features and functionality you'd expect in a proper full-sized SUV.
2015 Dodge Durango R/T Gallery
See Also: