Seriously huge and surprisingly cushy | The 2015 Chevrolet Tahoe is an impressively capable vehicle.
As the market is shifting more and more towards smaller, more efficient cross-over utility vehicles (CUVs), it's still important not to forget how things were, just twenty years ago. Full-framed truck-light SUVs were the norm at the time, and with those norms came the usual truck-like attributes: generous fuel consumption, heavy weight, and relatively poor on-road manners, just to name a few. For the vast majority of urban dwellers, the heavy-duty nature of the old-school SUV wasn't really necessary. Most people nowadays are looking for efficiency, comfort, value, and more often than not – simply a higher seating position. There will still always be the group of people who need the capability of a full-sized and full-framed SUV. Towing is the first to come to mind, and the dedicated four-wheel drive systems often available make for a go-anywhere sort of workhorse.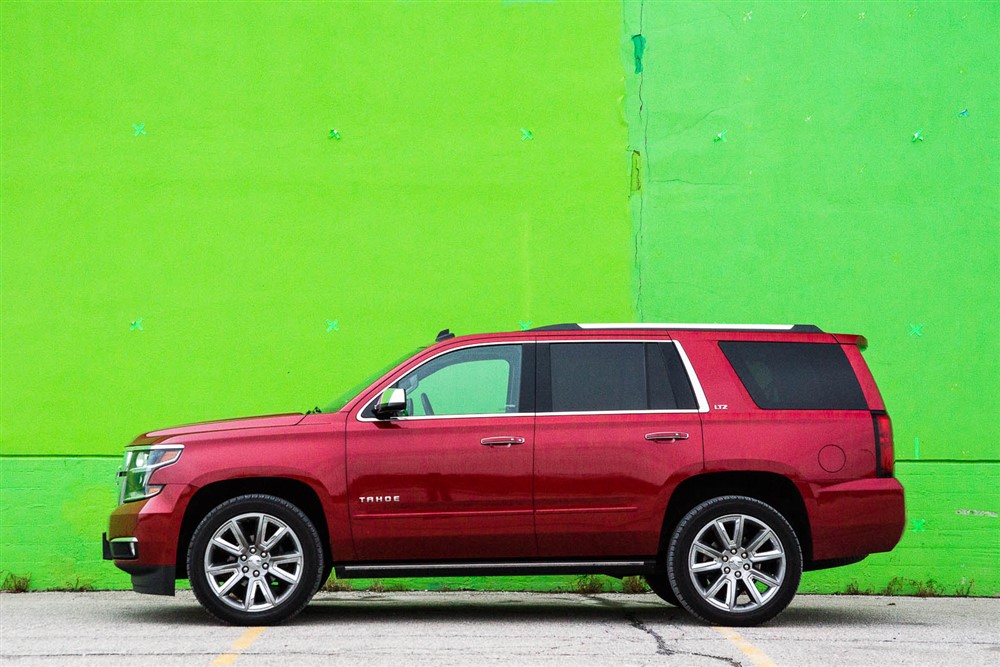 Chevrolet has seen a lot of success in the cross-over market with uni-body choices like the Equinox and Traverse. Both of them cater to the mass market – front-wheel drive is the default choice with part-time all-wheel drive available as an option. General Motors' full-sized trucks have enjoyed long product cycles, with the previous-generation GMT900 platform soldiering on for seven years. I am by no means a "truck person" – the Tahoe technically doesn't fit on my driveway (the power mirrors need to be folded in, in order to fully clear), but I was somewhat interested to see if I could understand how it fits into people's lives. I picked up a 2015 Tahoe LTZ 4WD, painted in a Crystal Red and loaded to the gills with nearly every option.
Chevy describes the new 2015 Tahoe as having a "Purposeful, Functional Design". Long-time followers of GM's full-size SUVs will already know that not a lot has changed in terms of the exterior design language. Still very much a two-box design, many of the design elements that make the Tahoe (and its cousins) almost unmistakable still remain, but are gently updated. The taillights are a big giveaway – while they are shaped and placed similarly to the units on previous models, the 2015 Tahoe outfits them with LEDs for a more premium look and better function. My particular car came wearing massive 22" wheels, wearing 285-section tires. A $985 option, the big wheels really do look great with the combination satin and glossy sections. Not often are you able to opt for such large wheels fitted from the factory.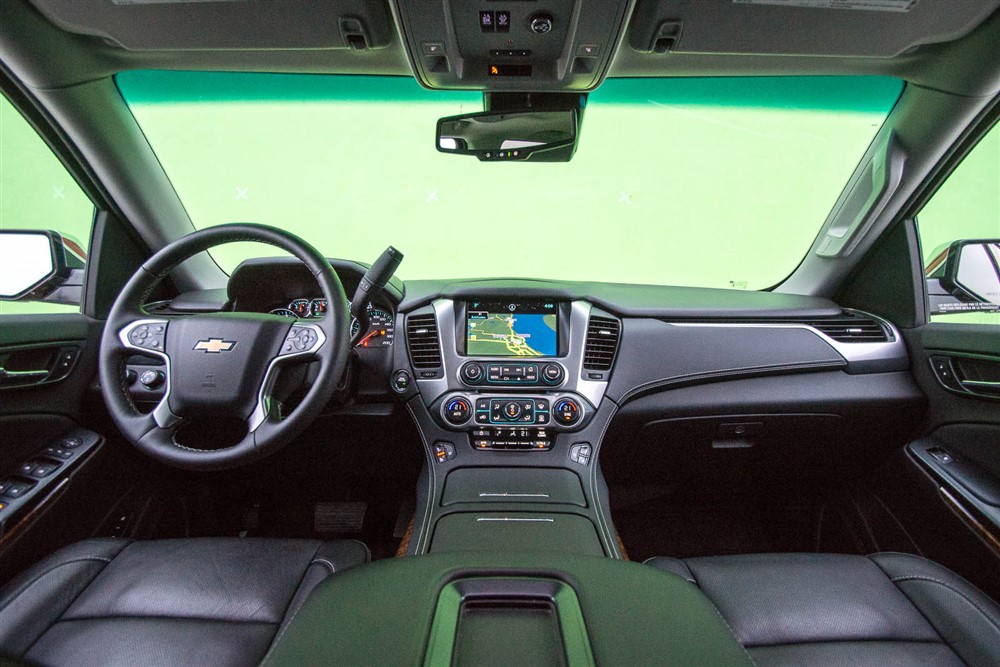 Up front, my LTZ test truck comes with high-intensity discharge (HID) low-beam headlamps with LED daytime running lights built in. For such a large truck, it's a little difficult to be too expressive with the exterior design without compromising on its utility. However, I find the front-end styling on the GMC Yukon (the Tahoe's mechanically-similar cousin) to be far more attractive. The headlamp cluster on the Tahoe is a little busy by comparison, and the Yukon does a far better job integrating its LED daytime running lights.
The Tahoe's interior is, as expected, cavernous. The sheer width of the body puts a surprising amount of space between yourself and your fellow passengers. The centre armrest is about as wide as a seat itself. The interior is extremely well appointed and approaches Cadillac Escalade-levels of equipment, save for the proprietary CUE system that is making its way through the whole Cadillac lineup. Some may consider the Tahoe's more conventional interior to be a plus over the very tech-focused Escalade (another cousin of the Tahoe). From the heated and cooled leather seats, heated steering wheel, satellite navigation, and power everything, the Tahoe LTZ is a great place to spend time if you're looking to stretch out. Even getting into the driver's seat is easy, with the optional power retractable assist steps. As soon as you open the door, a large step folds out from under the rocker panel, making ingress and egress much easier – even for shorter folks. They smartly hide away once all doors are closed.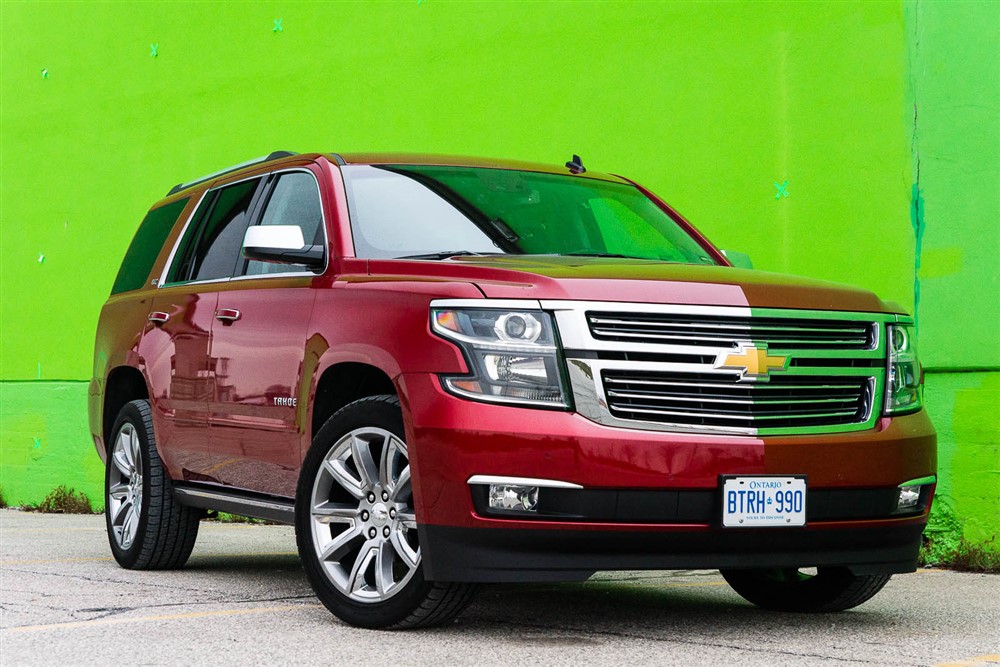 As for stretching out, my Tahoe LTZ tester was equipped with a second-row captain's chair configuration, which limits overall capacity to "only" seven people in a pinch. Lesser models are available with bench seats for all three rows for a maximum capacity of nine passengers. There's enough space between the second row captain's chairs to squeeze by to get to the third row. The third row is often the penalty box in smaller CUVs, but it's really not that bad in the Tahoe, though I only recommend squeezing two and not three into that third row. Bonus feature: the second and third rows can be fully folded down with electricity – just press some buttons inside the tailgate area. Because I was alone most of the week, I had the third row folded down – the seatbacks impede on rearward vision somewhat.
I did have some friends over in my rolling home, and we made use of the optional Rear Seat Entertainment System. A $2,000 option, it adds a flip-down screen in the ceiling just ahead of the second row. Catching up on everybody's favourite British motoring entertainment show was no problem – those looking to watch a movie privately can use one of the two included wireless headphones.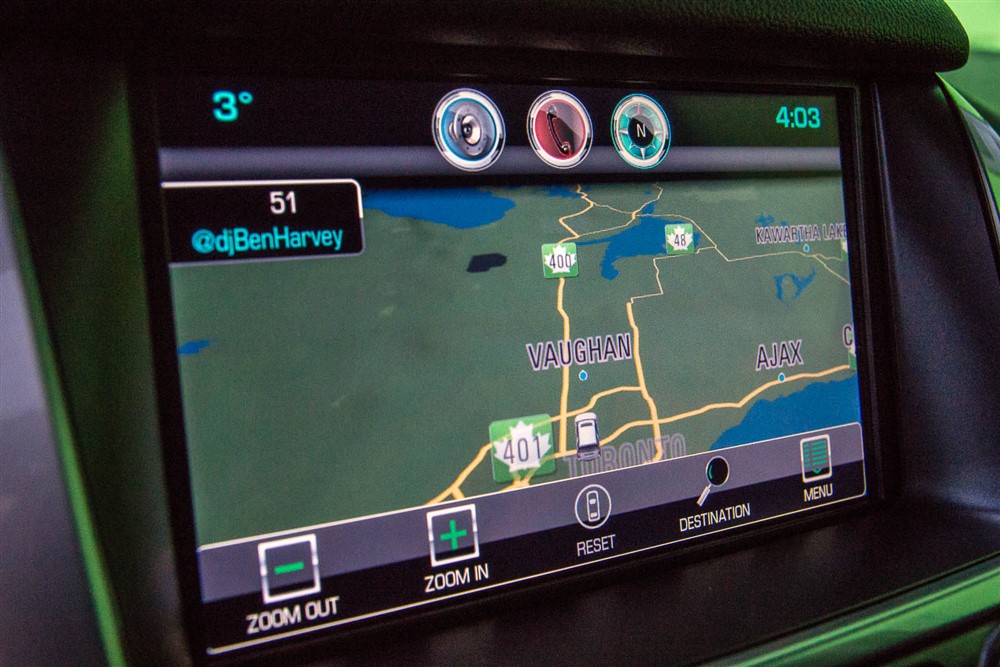 For something so large (it almost boggles the mind that the Suburban and its cousins are bigger still), there's a lot of content that GM can stuff into these trucks. Supreme comfort from the extremely generous proportions, and an interior equipment set that can match what Cadillac has to offer, make for an extremely competent long-haul family road-trip machine. On America's spacious roads, it's easy to see why these trucks are so popular.
Under the hood lives GM's new EcoTec3 5.3L gasoline V8. All new from the ground up, these new aluminum V8s feature all the latest technologies: variable valve timing, high compression, cylinder deactivation, and even direct injection. These are not the same old pushrod V8s in your grandparent's Chevy pick-up truck. GM is proud to tout the engineering advances in these new V8s, managing to provide durable power over the long-term while also keeping the cost of ownership down for owners. The 5.3L V8 in the Tahoe is good for 355hp at 5600rpm and 382lb-ft of torque at 4100rpm. This engine is mated to a six-speed automatic transmission. Depending on the option boxes you check, you can choose from a default 3.08 rear axle ratio, or a shorter 3.42 ratio for improved towing performance.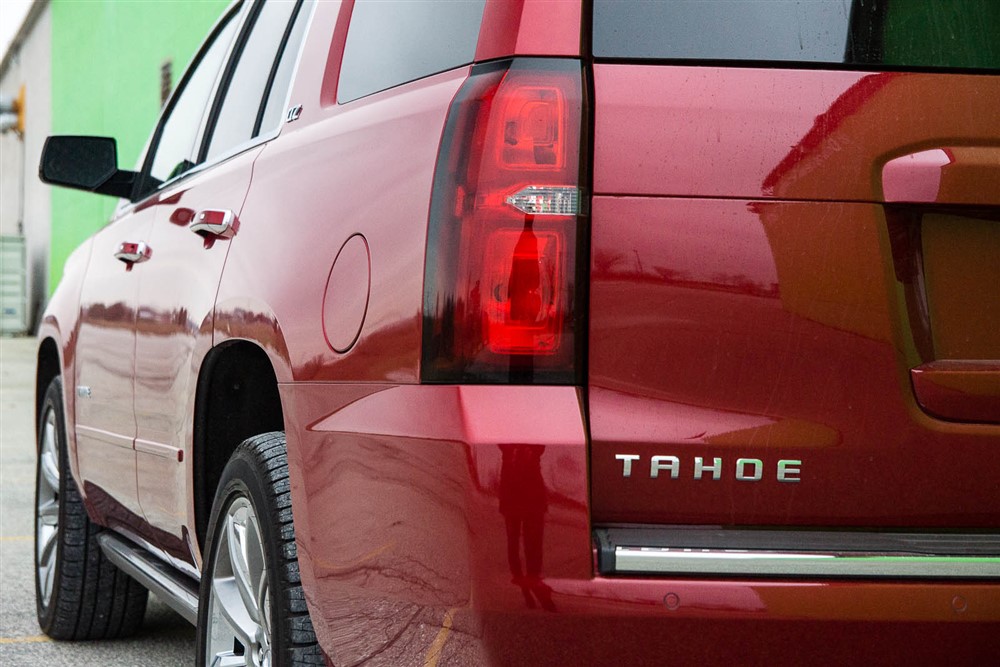 With a curb weight north of 2,500kg, I knew what kind of fuel consumption numbers to expect. The four-wheel drive model is rated at 15.1L/100km in the city, 10.4L/100km on the highway, and 13.0L/100km in a combined cycle. It wasn't a huge surprise to me to end up with an indicated 16.0L/100km average. The fuel tank will accept 98L of regular-grade fuel.
It's possible to see the average consumption number fall quickly if you're on the open highway. The Active Fuel Management cylinder deactivation program deactivates the valve lifters on certain cylinders, keeping the valves closed. There's a little indicator in the instrument cluster that tells you whether the engine is firing on all eight cylinders, or just four. In the city, the engine will be running in V8-mode most of the time – you'll only reliably see the green "V4" icon on the highway at very low loads. If you need to make a pass or go up an incline, you'll quickly exit Active Fuel Management. There is a very slight audible difference between the two modes, and you'll feel the engine shudder just slightly as the other four cylinders are re-enabled. Either way, large SUVs like the Tahoe seem to be happier on the open road, not so much in downtown stop-and-go traffic.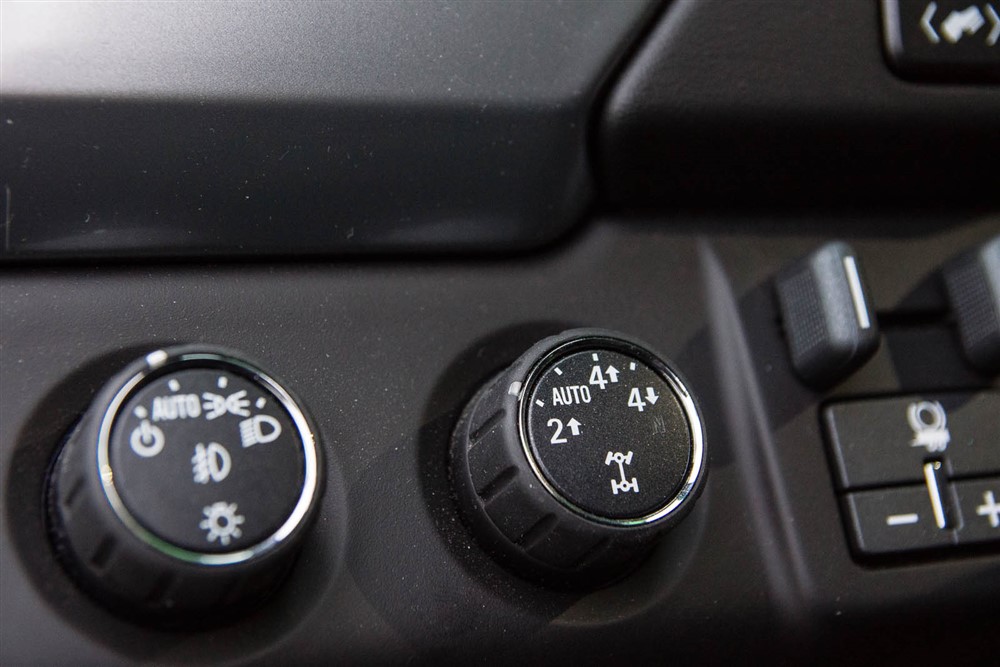 The 2015 Tahoe provides a lot of truck for the money. Those looking for its capabilities can get into a base Tahoe LS for $51,900. The good part about this is that you get all the important hardware that gives the Tahoe its serious capability. If you're looking for a full-size towing machine, look no further. The Tahoe LT, at $59,700, adds some luxury touches, such as heated leather seating, improved Bose stereo, power rear tailgate, and some driver assists, such as the forward collision alert and lane departure warning.
The Tahoe LTZ starts at $71,150, and adds Magnetic Ride Control (the dynamic damping is well worth the cost for the improved ride quality), the improved high-intensity headlamps, push-button start, 20-inch wheels, an even better Bose stereo (two more speakers than the LT), and the powered second and third row seats. My test truck had a long list of added options: rear seat entertainment, power retractable side steps, power sunroof, 22-inch wheels, trailering package, and a beefed-up anti-theft system. All these extras bring the as-tested price to $80,225. It's a lot of money for a lot of truck, but it starts to creep dangerously close to base Cadillac Escalade money ($83,245). There are some features the loaded Tahoe LTZ will have that the base Escalade won't, but many of the Escalade's standard features are big options in the Tahoe LTZ.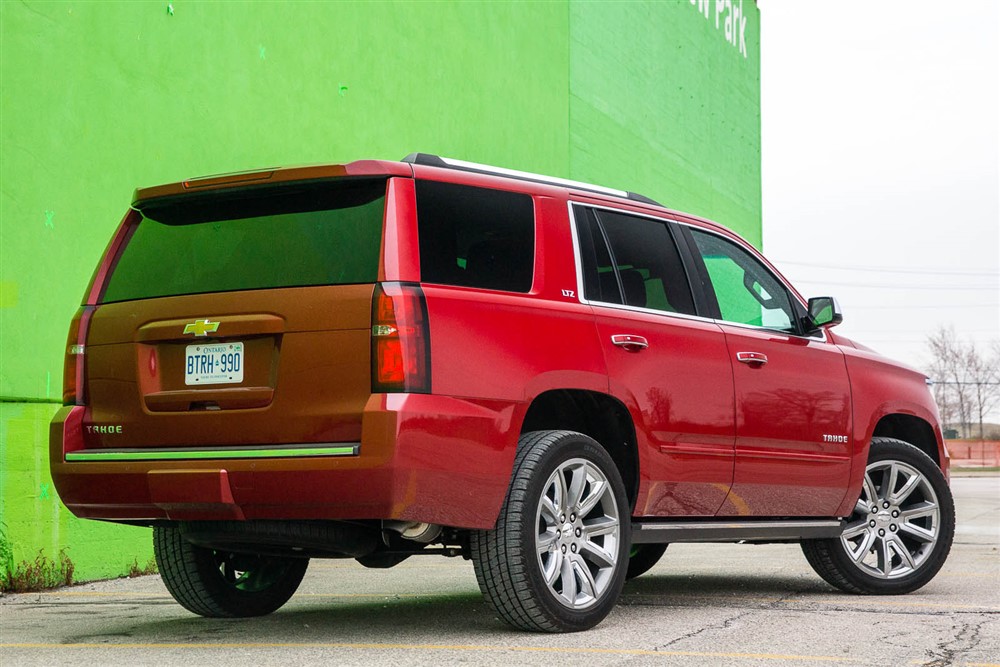 The 2015 Chevrolet Tahoe is an impressively capable vehicle, if your average (or even occasional) use scenario involves doing big things with this big truck. I personally don't have any use for something like the Tahoe, but it's important to see what it is capable for those who do. In that regard, it does a great job. Many customers will rarely venture off-road or tow very large items (sometimes both at the same time!), but are simply happy to know the capability is there, should they ever need it. The Tahoe is extremely roomy, comfortable, built for serious work, and you can get one superbly equipped. One last thing the Tahoe has that most cookie-cutter crossovers don't: road presence. Its overall size impresses people on the street. It's easy and tempting to get carried away checking all those option boxes – if you can exercise some restraint, you can find yourself with a decent value. If you'd still like all the toys and gadgets, Cadillac has something that might be more appropriate.
2015 Chevrolet Tahoe LTZ Gallery