Subtract two doors | I can only imagine how much fun the upcoming ATS-V is going to be.
The other day, someone asked me why I always drive 2-door coupes. It took me a while to come up with a valid response because let's face it; on the surface there are obvious concessions to be made with a coupe. Not only do rear passengers hate you, but loading and unloading anything from the rear seats is no treat.  Also, the huge rear pillars almost always impair visibility and you have to strategically choose parking spots where there is enough room to open your door.  I've held out though.  In my decade of driving I've never owned anything with 4 doors and I intend to hold onto that conquest as long as I possibly can. You see, there's just something about the low slung roof line and raked back seating position of a coupe that I absolutely love. It just looks and feels so right. Now I also happen to be a bit of a Cadillac fan, so when I heard that Cadillac was releasing an ATS Coupe, I was a little excited to say the least. Fortunately for me, I'd soon be spending a week in a loaded up 2015 Cadillac ATS Coupe 3.6 in Performance trim.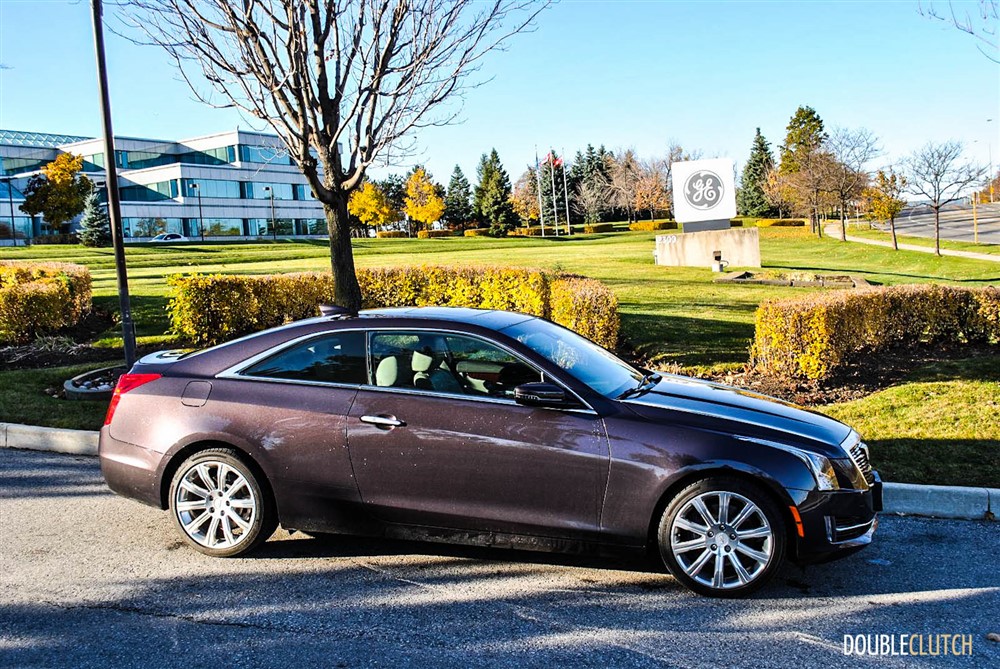 Getting into the new ATS Coupe, I immediately felt at home; this is my sort of car and I felt it right away. The seating position is just right and the slow slung roof line, long doors and frameless windows remind me of my older F-bodies. All the glitz and glamour of the Cadillac nameplate makes it clear that this car is nothing like a run-of-the-mill sporty coupe.  The interior fit and finish is impeccable, especially considering the affordable price points this car can hit, and the "Light Platinum" interior with plenty of high gloss real wood accents found in my test car is absolutely gorgeous.
It's not just beautiful, but the ATS's interior is also designed with functionality in mind, despite what its two missing rear doors might suggest. One of my complaints when I tested the ATS sedan was the lack of storage space up front. However, storage for things like cell phones, keys and breath mints is still at a premium in the Coupe, as the longer doors have longer door pockets to easily handle my day to day carry items. The front seats, which are immensely comfortable, have a simple handle to swing them forward for easy access to the rear seats without completely resetting the position of the front seat – take notes Honda.  You may actually want easy access to the rear seats too because they are usable, even in a coupe! Cadillac has craftily scalloped the headliner out above the rear seats to allow for extra head room, and leg room is adequate for kids or even smaller adults, provided that the ride isn't more than an hour or so. Cadillac's good use of space carries into the trunk as well, which is generously sized and effortlessly handled a week's worth of groceries. It's certainly no minivan, but the ATS never once left me wanting more practicality.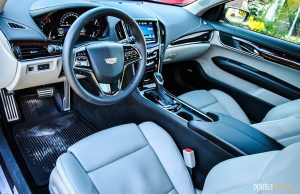 In true Cadillac fashion, the ATS also exceeds expectations in terms of features and luxuries. At what seems like a very reasonable $56,000 as-tested price, my top of the line tester came with just about everything you'd except to find in a full size luxo-barge Cadillac. But to have all that in this sexy little Coupe- it's great! Like the rest of the Cadillac line-up, all of these features are supported by CUE (Cadillac User Experience), which I've made clear in the past is far from my favorite system. However, I feel like GM has made some improvements in this 2015 model and the system felt significantly less laggy than I remember it.
With the cold gloomy weather settling into our region, I was particularly grateful for the heated steering wheel and seats and the RainSense automatic wipers. Though what I enjoyed most about the ATS Coupe is that it feels like a proper Cadillac. I was a little worried that the performance package on my tester, with its big Brembo brakes and well-received magnetic ride control, would have lost some of that plush Cadillac feel. However, with touring mode selected and a light foot on the highway, the ATS Coupe feels just like it should: soft, silent and plush. In fact, I spent a solid 2.5 hours in bumper-to-bumper traffic getting home on a stormy Halloween night with nothing but the ATS' impressive sounding Bose surround sound system for company, and I didn't mind it in the least bit.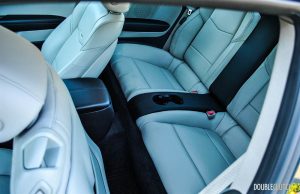 Don't get the wrong impression though; the ATS Coupe isn't only a soft luxury car for tired commuters like me. Switch the suspension over to Sport mode and open up the throttle on the 325 horsepower 3.6L and this Caddy moves. I did find the 6-speed automatic a little laggy right off the line, but the V6 pulls hard and fast – I can only imagine how much fun the upcoming ATS-V is going to be if the regular car is this good. The ATS chassis has not lost any of its celebrated rigidity in the coupe configuration, meaning the sense of control and feedback to the driver are very impressive for a car this big and this comfortable. Steering inputs are also very deliberate and precise, which combined with the overall rigidity and grip provided by the AWD system make this car a monster on those rough and worn out highway on ramps.
The experience on the outside of the ATS Coupe is almost as good as behind the wheel. While I am not a big fan of the "Majestic Plum Metallic" paint, my tester was still a definite eye-catcher. The Cadillac's edgy lines lend themselves well to the Coupe's low slung style and the 18" alloys on my tester really set off the whole look. Even as a coupe the ATS still looks authoritative and mature, like a fun toy that's grown up all business.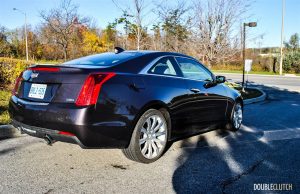 By now it's probably pretty clear that I like this car, but I think I really love this car. I dropped my test car off a day ago and I already miss it. It's everything I love about performance cars, combined with all the comfort and style that I've always appreciated from Cadillac. What a great combination! Moreover, with the tried and true 3.6L V6, AWD system and efficient use of interior space, the ATS Coupe fits the profile of my ideal year-round daily driver and it's something I'll definitely be on the lookout for to add to my own garage someday.
2015 Cadillac ATS Coupe 3.6 Gallery