One stylish new coupe | Cadillac has bent over backwards to inspire younger generations into their new vehicles.
Over the past couple years, Cadillac has bent over backwards to inspire and attract younger generations into their new vehicles. Back in the 90s, cars like the Seville STS and Catera tried to do something similar, but ultimately weren't successful in their goal, as the average age of Cadillac buyers didn't really change. For 2013 though, Caddy brought sexy back with their all-new ATS sedan. Over the past two years or so, I've driven a few examples of the ATS, and came away impressed each time. This year, they've chopped two doors off and created a low-slung coupé version of the car, so I grabbed a 2015 Cadillac ATS Coupe 2.0T for the week to see just how different it would be than the sedan.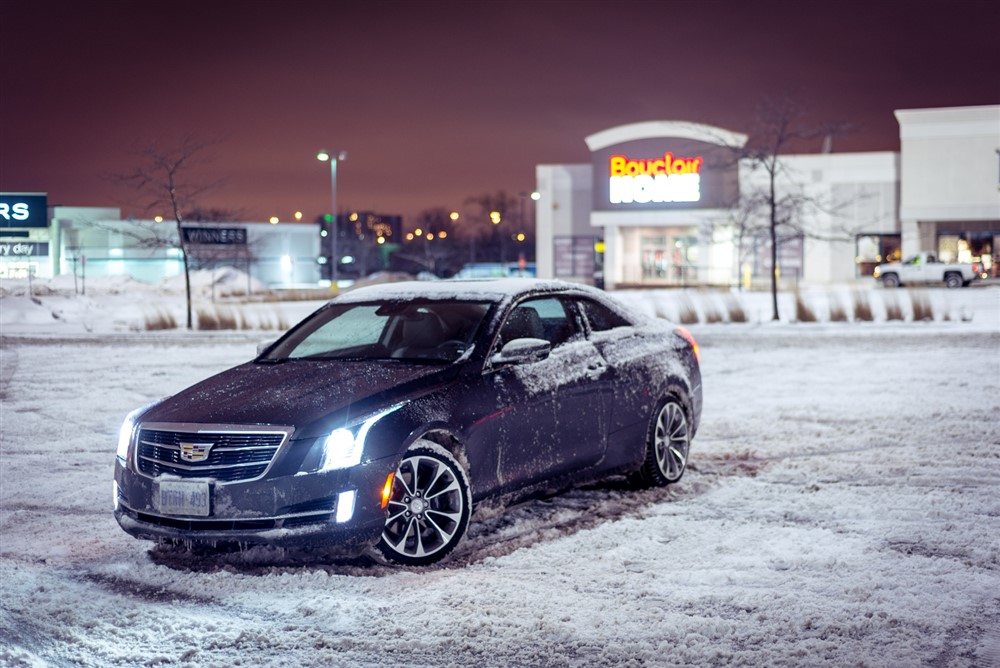 At first, other than the lack of rear doors and the slightly diminished amount of space for rear passengers, I was hard pressed to find any significant differences from the sedan version of the ATS. I will say though that the styling works beautifully in two-door form. If anything, the ATS Coupe looks like a toned down and less-radical version of the ELR. The LED accents on the headlights, the illuminated door handles, and LED taillights are stunning. This is a car that owners will be proud to walk out to; it's definitely one that you turn around and gaze at as you walk away from it. Being a coupé, it also had frameless windows, something I found is a sleek touch but were prone to freezing in temperatures approaching minus 15 degrees Celsius.
A 3.6L V6 is also available, and we've sampled it on various GM applications, so I opted to try out the 2.0L turbocharged 4-cylinder for my test. I was hoping for the 6-speed manual model, but alas, that transmission is only available in rear-wheel-drive form, unavailable for testing during the winter. My car was equipped with all-wheel-drive (called the ATS4, officially), and the 6-speed automatic transmission. This powertrain is good for 272 horsepower and 295 lb-ft of torque. What's definitely noteworthy is that the turbo-four actually packs more torque than the V6 model, and is only down 49 horsepower. It's a potent engine, and the car hustles nicely.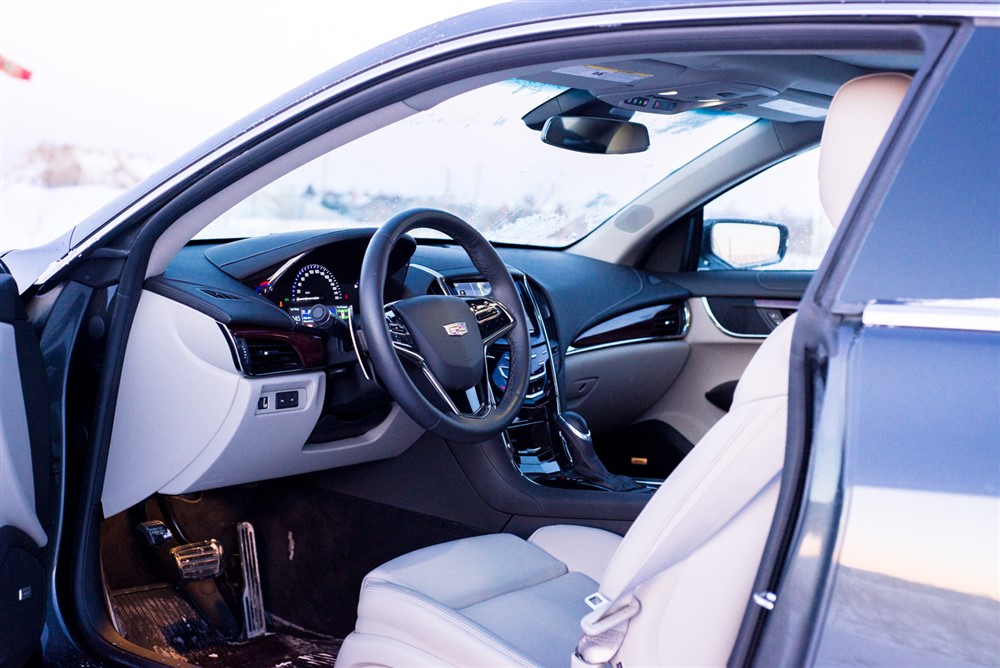 The transmission isn't bad, and the paddle shifters are among the nicest available in any car save for the supercar class. My ATS Coupe was also the "Performance" model, equipped with Brembo brakes and the sport suspension. One thing about the smallest Caddy that I can't rave about enough is the chassis; it's just sensational. The entry-level luxury class is one where players are continuously competing for most driving enjoyment, and the BMW 3-series has been considered the holy grail in this segment. Not anymore; the ATS is actually more tossable and pleasurable to pilot on your favourite backroads than the 3-series. The magnetic ride control helps make for customizable ride quality, and damping is brilliant.
Handling is where the ATS wins. Adjusting the mode on the magnetic ride control to "Sport", disabling stability control, and moving the shifter over to manual mode turns this sedate grand tourer into an athletic sports coupe. Steering is responsive and sharp, and the Brembos bring the ATS to a stop very quickly. I experienced a snowstorm while I had this car, and with the winter tires, I had a grin on my face the entire time while driving through snow-covered Toronto. The 18″ alloys look good and don't really impact ride quality at all. This is one excellent platform; quite possibly GM's biggest hit of this decade (except maybe the Stingray).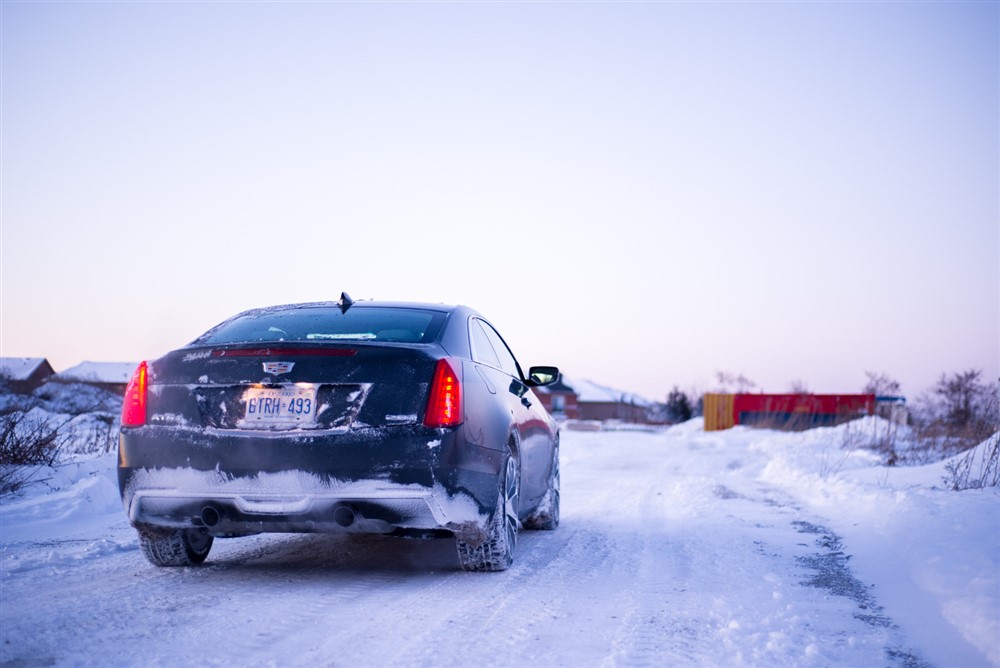 The 2.0L motor certainly helps with fuel economy, and being a forced-induction engine, I fed it premium fuel. After about 400km of combined driving with a good amount of highway, I averaged 9L/100km. I saw numbers on the highway drop as low as 7L/100km, and the city grind was in the 10L/100km mark. With winter tires, winter fuel, and cold temperatures, I came away satisfied. Also worth noting here is that I used the factory remote starter to start the car and allow it to warm up the interior every morning, which definitely uses a little bit of fuel and has an impact on my average efficiency.
My ATS Performance Coupe stickered for $55,955, which isn't a paltry sum. However, both the BMW 428i xDrive and the Audi A5 S-Line, optioned up similarly, cost a little bit more money, making the ATS a value pick. Plus, we all know that the Caddy will be cheaper to maintain out of warranty. Adding to the base price for the Performance all-wheel-drive model of just over $50,000, my car added things like Bose sound, forward collision alert, lane keep assist, a power sunroof, CUE infotainment, and optional 18″ wheels. Not bad at all, as this is essentially the fully-loaded car.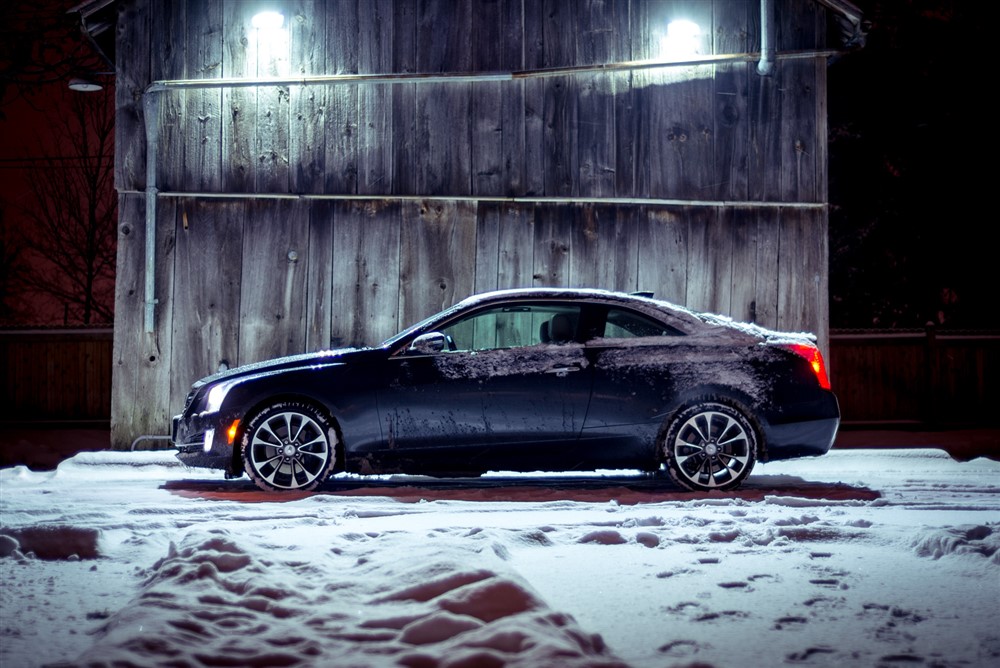 It's not all great with the little Cadillac though; I had a couple of gripes with it that bothered me a bit. Firstly, I just can't get accustomed to the CUE infotainment system. Everything is operated through the touchscreen, and I will say that it's gotten a lot better with the newer software since its introduction. The haptic feedback is pretty good, and the pinch-to-zoom is also a great touch. However, the system just didn't want to cooperate with my 160GB iPod Classic. It would freeze and reset the system after every eight songs, and more importantly, my 2 hour-long podcasts would restart from the beginning each time the car was shut off. I know it's not an iPod issue, as I use the same device with all other testers of different makes and models. It's also not very responsive with gloves on, which makes blasting the heat in the extreme cold especially difficult.
The Cadillac ATS is 100% a big game changer for GM. It essentially reiterates that despite some setbacks in the past, the General is still capable of producing a competent and genuinely fun entry-level car. If putting my money down, I'd opt for a manual-transmission model with the same engine and ensure that the LED lighting option is checked off. Other than the entertainment system that I found agitating, there's really nothing that would stop me from buying one of these. The touch setup for major controls just might prove challenging for older buyers, but shouldn't be a huge issue for the younger generations. There definitely is a learning curve, but the overall driving experience of this car is so fantastic that it's very easy to overlook its shortcomings.
2015 Cadillac ATS Coupe 2.0T Gallery